We love, love, love watermelon season, and why not? Sweeter than candy and just a wee bit healthier, here are some of the coolest ways to serve a watermelon at your next picnic or kid's party, that you can actually do. I mean, I'm a mom too. I'm not going to invest in a suite of professional tools and three hours each day to make a lifesize replica of the Hindenburg. –Liz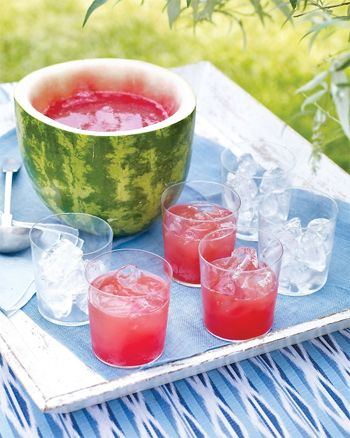 Watermelon Punch Bowl: Any drink at all made with watermelon will do, This punch recipe from Martha Stewart is great, but even a simple watermelon-lemonade sounds divine.
Watermelon Pig: Your kids will squeal with this one (ha, couldn't resist). To make it easier on yourself, you just need buttons or even grapes for eyes, a piepcleaner and a melon baller.
Watermelon Mint Skewers: Of course the kids will pick off "the green stuff" but we think the mint adds the perfect bit of freshness to an already perfect food.You an also serve in cups and keep them all upright.
Melon flower skewers: All you really need are skewers, a melon baller and a flower-shaped cookie cutter, plus some toothpicks to hold it together. Forget the crazy set up with the the sticks unless you are really into craft stuff; the kids will go nuts just for the skewers on a plate.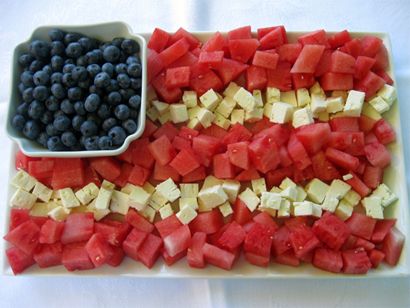 Watermelon Feta Salad with Blueberries: So perfect for a July 4th party! You can substitute the feta for pears, apples, or crenshaws but having indulged in feta-watermelon skewers recently, the combo is amazing.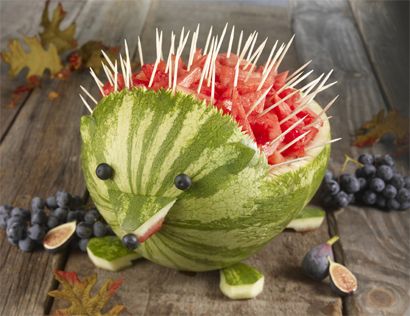 Hedgehog Watermelon: If you hadn't noticed, hedgehogs are huge now and this one is so easy to make. Mostly you just need a ton of toothpicks. Maybe keep this one away from small toddlers?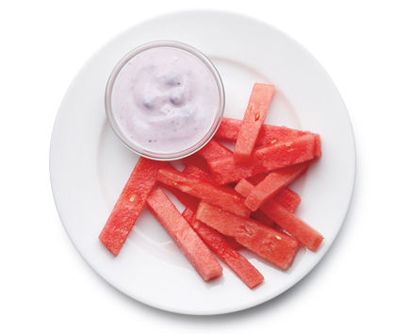 Watermelon Fruit Fries: with yogurt dipping sauce? Yum. Plus you can pre-screen for seeds which your young guests may appreciate.
Watermelon-Ricotta Bites: just add coarse salt, peper and a sprig of mint. This is like my dream h'ors d'oeuvres.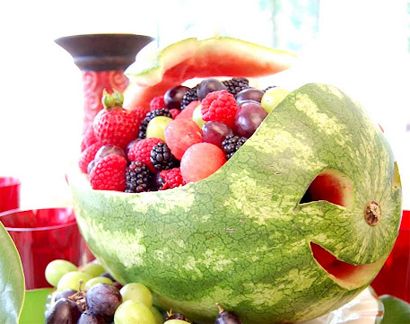 Watermelon Whale Carving: Possibly the easiest I've seen as far as all the crazy carving options go. If you're up for a crazy carving project? Start with this one. The kids will love it.