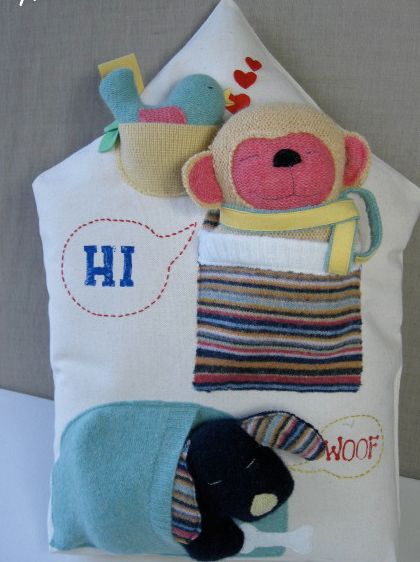 My kids (probably like yours) aren't lacking for stuffed animals. But when I saw the amazingly adorable Jungle House Pillow from Toronto's So Chic Gifts I knew I could totally justify getting them this handmade pillow-and-stuffed-animal combo.
Made from beautiful recycled fabric, each one-of-a-kind soft, squishy pillow features three little critters tucked into little pocket homes, each one a different combination of cloths and textures. It's totally fun for kids, since the stuffed animals can be taken out of their pockets at playtime or put back in for cuddling at night. If their bed is already crowded with lovies, or if you don't want to put a pillow in the baby's crib, you can hang the Jungle House Pillow from the attached loop, and it becomes a wall hanging.
Can you tell that I'm sold?
-Christina
Congratulations to Andrea M, lucky winner of the Jungle House Pillow!