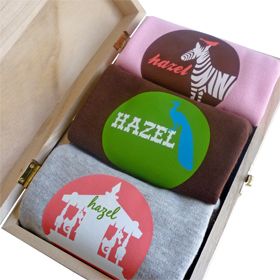 We instantly fell in love with artist Alyssa Coberly's adorable personalized onesies a few years back, and it seems like her work, sort of like babies, just keeps getting cuter and cuter – which is why we included her exclusive gift set in our new Baby Shower Gift Guide.
So if for some ridiculous reason you haven't clicked over to our guide yet, we figured we'd show you what you're missing. The set of three completely custom onesies make the perfect gift for any expectant mama or new baby, but keep in mind that because they go up to 12-18 months, you're looking at an equally awesome first birthday gift as well. We also love that Alyssa donates a portion of the sales from the box sets to charity. So cool. -Kristen
Purchase this three onesie gift set from jig exclusively at Mahar Dry Goods or visit jig for different designs in baby and big kid sizes.
Congratulations to Lorna B and Janella S, lucky winners of the two box sets!