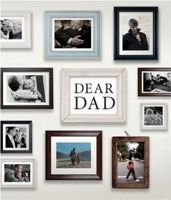 Stumped for Father's Day? Maybe it's because I'm married to a photographer (though I don't think so), but I'm thinking that if Dear Dad from Chronicle Books doesn't bring a little tear to his eye, he might not actually be human.
The volume is filled with breathtaking photos of dads and grandfathers and children all doing what they love best–just enjoying each other, every day. Throw in a few snippets of wisdom about the powerful role dads play in our lives, and you've got a little book that packs a wallop.
But don't take my word for it; check out the M.I.L.K. Project, which is where these photos originated. You'll be impressed. Then go pick up a copy for your favorite dad. -Mir
You can purchase Dear Dad from our affiliate, Amazon. And for more gift ideas for your favorite dads, don't miss our 2010 Father's Day Gift Guide!