We're so excited to introduce our much anticipated 2011 Back to School Shopping Guide! Every few days, check back for more categories, more great picks, and of course, discount codes for all the coolest back to school goodies.
Today's category, Parents' Lifesavers, is brought to you by our amazing sponsor Mabel's Labels, who happens to be one of our longtime favorite sanity savers. Their adorable personalized labels, like this Ultimate Back to School Combo pack have made September way easier for us and our kids (and thousands of moms and their kids) more than a few years in a row. We've got 8 more smart ways to keep your stress level down and start the school year ahead of the organization curve.
Dry Erase Calendar Wall Decal No need to commit to a huge organizational white board to keep your schedule together. Instead, pop this up on your wall without having to hammer any nails. ($74 at Simple Shapes on Etsy)
Mom List Pads If you live or die by your to-do list, then you'll want to stock on the new pads from perennial fave momAgenda and save the scrap paper for your kids. ($7.95 at MomAgenda / use code "CMPSHIP" for free shipping sitewide)
Neat Receipt Mobile Scanner It won't just curtail your paper trail, it's the perfect way to scan and organize your kids' artwork so you can actually see your fridge again. ($199 at Neat; also available for Mac)
Cleanwell On-the-Go disinfectant spray and wipes This brand new spray from one of our favorite natural hand-sanitizer brands, keeps the back to school germs at bay. The best part: it's powered by plants, not harmful chemicals. Also available as wipes. ($7.99/2 at CleanWell / Use code "CWsuper" for 15% off)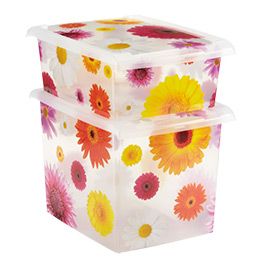 Daisy Storage Boxes Keep all those art supplies, work sheets, and craft projects organized with these fun boxes that make cleaning up a little easier on the eyes. ($12.99-14.99 at The Container Store)
Custom Mom Calling Cards It's okay to be "that mom" when you've got a sense of humor about it. The funky new styles of mom calling cards from Minted are a fun way to connect with your fellow classroom parents for carpooling, volunteering, or scheduling playdates. ($30 and up at Minted)
Zarbee's Natural Cough Syrup With cold and flu season around the corner (sorry for the reminder), you'll want to keep a stock of this natural, pediatrician-recommended remedy on hand. We love it.
Waterproof Mascara Come on, doesn't every mom need this for the first day of school? We sure do. (Lancome Definicils Waterproof Mascara, $25 at Lancome)
For more great back to school picks, check out our Back to School Shopping Guide tips on packing healthy school lunches.
Congratulations to Maggie M.!  Her little one's stuff need never end up in the lost-and-found bin, because she won an Ultimate Back to School Combo pack from Mabel's Labels.
If you think other moms would love Mabel's Labels, check out their super convenient Fundraising program, which eliminates the hassle of hauling boxes or filling out forms. (Or the need to hawk candy to your friends' kids.) They'll handle all of it with a specially created website link for your group.
More back to school guide picks:
The Coolest Kids' Backpacks
The Coolest Lunch Boxes and Lunch Bags
Better Lunchbox Snacks
The Coolest Kids Wear from Tea Collection