My daughter is turning 3 next month and is starting to outgrow her naps! I am trying to enforce quiet time on the days she won't nap, and someone gave me the idea of letting her listen to audio books as her quiet time activity. I was hoping you had some ideas or could point me in the right direction of somewhere to start. Many thanks in advance for your help! -Rebecca
I agree that audio books are a great way to get her to hold still for a little bit and relax, and we've pulled together a few ideas for you to check out. Hope they work for you!
If you'd like to have an audio book that is long enough to stop between chapters and pick up day after day, I encourage you to check out the audio books of E.B. White. We've listened to both Charlotte's Web (at top) and The Trumpet of the Swan, read by the author himself, and they are wonderful. (You can always skip over the whole "slaughter the pig" talk if it is too intense). They are usually available at your local library to check out if you'd like to see if she enjoys them before you purchase.
Even if she is too young to really get the gist of the stories, these are ones she'll listen to for years to come.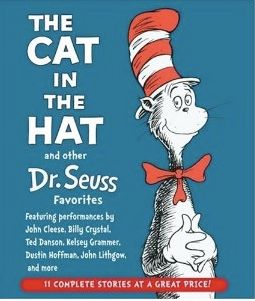 The Cat in the Hat and Other Dr Seuss Favorites looks pretty great and age-appropriate. Celebrities such as John Cleese and John Lithgow read the books aloud which won't mean anything to her, but should give you an idea of the quality of the recordings.
The Billy Brown series comes highly recommended by one of our book experts, and it sounds like it may be ideal for your daughter's age.
Tell Me a Story is a wonderfully produced, thoughtful collection of stories in one CD. It is listed for kids ages 5+, but if you were to listen to the stories ahead of time, you could decide if any aren't appropriate for your daughter. Just an FYI: I own the most recent Women of Wonder –their third release—and those stories are a bit too old. Save that one for when she's around 7.
Check out Storynory for free audio downloads of classic fairy tales like Thumbelina and Cinderella, as well as original stories. And, yes, all free!
Jim Weiss is well known in homeschooling circles for his extensive library of smart, kid-friendly audio books. Though I didn't start listening to him until my kids were a little older, he does have a bunch of audio books for kids 3+ that would be appropriate and pretty low-key. His voice is very soothing, and these are not overly produced with music and sound effects which makes them ideal for quiet time.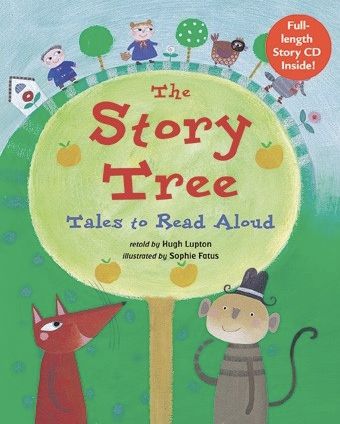 Barefoot Books publishes such lovely book/audio book CD combos; it's nice to listen to the CD at naptime and look at books at storytime, or let her quietly flip along with the CD. I like The Story Tree for toddler and preschool-age kids.
You may also want to consider joining Audible.com to gain access access to their huge library of books for kids under 4. I have heard good things about the Winnie the Pooh series which would ideal for your daughter's age.
And, one of my absolute favorite read-aloud children's stories, Toys Go Out, is available here too. –Christina