Love it or hate it, if you're a parent, you've got to feed your kids. Whether you already cook nightly or…not so much, but want to cook more, these, six of my staple cookbooks, provide just the inspiration you need to get food on the table with a minimum of stress.
Fresh & Easy: What to Cook and How to Cook It by Jane Hornby
Jane Hornby makes cooking simple dishes using fresh ingredients easy. Like super easy. Think you're not the kind to throw together Grilled Asparagus with Poached Egg? You might be if you own this book. Every recipe is illustrated  with clear step-by-step color photographs that show ingredients and illustrate each step of the recipe. Which, by the way, is as useful to expert cooks as it is to novice ones. Plus, the photos make this book especially pretty to look at.
At the Farmer's Market with Kids by Leslie Jonath and Ethel Brennan
The more you expose your children to the variety and deliciousness of fresh, seasonal vegetables, the more likely they are to get them in their mouths. So I say hit the farmer's market with this book as your guide. Once you pick out what looks good to the kiddo, Leslie and Ethel's recipes will help you both learn more about your fresh selections and figure out something delicious to make with them. There are age-specific tips too, to help you engage even younger kids in the process.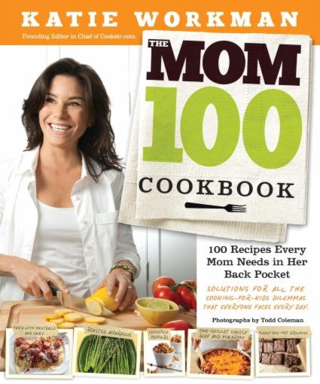 The Mom 100 Cookbook by Katie Workman
When Katie wrote this book, she set out to put together 100 of the most essential family recipes so that parents would have them in one convenient place. Picky eaters? Rushed weekday breakfasts? Last-minute entertaining? Katie's got it covered. Her recipes make homemade cooking easy under any circumstance. This book is a lifesaver. And forgive her, all ye dads who take care of the cooking at home. If you can get past the title, we imagine you'll like it too.


The Homemade Pantry: 100 Foods You Can Stop Buying and Start Making by Alana Chernila
This book was inspired by one family's tight budget and their mission to kick a packaged food habit. In her debut book, Alana Chernila shows that with a little determination, you can make nearly anything you can buy–even in a messy, hectic family kitchen. Making pantry staples from scratch may sound extreme, but the beauty of this book is that Alana focuses on simple staples and approachable recipes. A realist, Alana makes thoughtful decisions about what you can make at home to eat healthier and save dinero. Who can argue with that?

Parents Need to Eat Too by Debbie Koenig
This book is perfect for all new parents or, really, any parents still feeling overwhelmed trying to get healthy meals on the table. (All of us?) With more than 150 recipes–including "un-recipes" for parents who can't cook at all–advice from experts like a pediatric nutritionist, and tips on everything from how to eat while breastfeeding to cooking during nap time, this book is an essential resource for a new generation of parents.

SOS! The Six O'Clock Scramble to the Rescue by Aviva Goldfarb
I'm not the only cool mom who loves Aviva Goldfarb's sanity saving cookbooks. There were Cool Mom raves for Aviva's first book, The Six O'Clock Scramble and also for SOS! The Six O'Clock Scramble to the Rescue, my personal favorite. With her latest, Aviva gives us more than 300 recipes that can each be made in under 30 minutes with 10 ingredients or fewer, making green cooking a cinch. Which is good since we parents already have a few things on our plates that have nothing to do with food.
All these books are available from your local book store or our affiliate Amazon.
Do you have a family-friendly cookbook that's saved you?