I love Advent calendars as a way for my kids to count down to Christmas (did you catch our most recent picks?). But why should they be the only ones to have all the fun? If you're looking for an Advent calendar that's more sophisticated, here
are some amazing options that you may want to grab before the first of December. –Christina
I grew up eating waxy molded chocolates that I pulled out of the drugstore Advent calendar that my mom bought each year. Now that I'm grown up, I still love to find little treats, but I'd prefer them to be really delicious. That's why I've got my eye on Moonstruck Chocolate's Advent Calendar. Twenty-four truffles in flavors like Espresso Caramel and Raspberry Chambord come tucked into a chalet-type paperboard keepsake "house." Next year, grab one of their boxes of 24 truffles and refill the doors. Yum! ($65)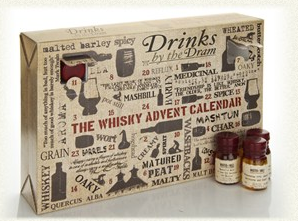 I don't drink anything much stronger than chocolate wine, but I know a few people who would think they'd been very good indeed if they received this spectacular Whisky Advent Calendar from Master of the Malt. With 24 little sample-sized bottles of whisky all packaged in a gift-worthy box, you can also agree to be their designated driver for the month. And if they aren't into whisky, check out the Ginvent Calendar too. ($240.37 for Whisky Advent Calendar, $128.16 or Ginvent Calendar; ships from the UK at a considerable expense–you'd better really be into your whisky!)
For you Starbucks-lovers, grab one of their dark-chocolate-filled Starbucks Advent Calendars and enjoy a little treat with your morning cup of coffee. Though this cardboard calendar may not be constructed to last for years, it's certainly festive enough to add some cheer to the season and the price is terrific. ($24.95)
If you'd prefer a non-edible Advent calendar, I love the looks of Ciate's "Mini Mani" advent calendar ($58) which features a different colorful nail polish behind each door. However I'm pretty sure I'd never get to keep this to myself; my tweens would be right by my side to see what color is behind the day's door.
Hey, as long as they paint my toes, I'd be up for sharing.
See more of our favorite advent calendar picks in our archives.