For those boys–and girls–who prefer bugs and dinosaurs to pink doily hearts, we've rounded up some of our favorite Valentine's cards for the kids to hand out to their classrooms. After all, I tell my kids that love comes in all forms; why should their Valentine's cards be only sweetness and light and pastel? -Christina
Related: 10 free printable classroom valentines for older kids, from unicorns to vikings to Ziggy Stardust.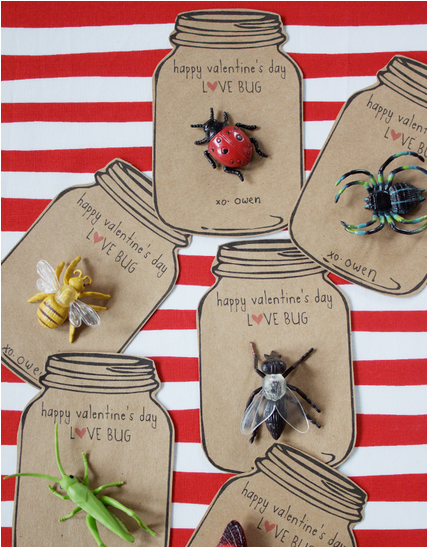 Tossing a bug into their classmate's Valentine's box is totally okay if it's on Dandee Designs' Love Bug Valentine card. Grab the free template and print on brown kraft paper or regular white cards tock and then affix a plastic bug inside the jar. A neat way for them to give a "treat" that isn't made of sugar. (free printable)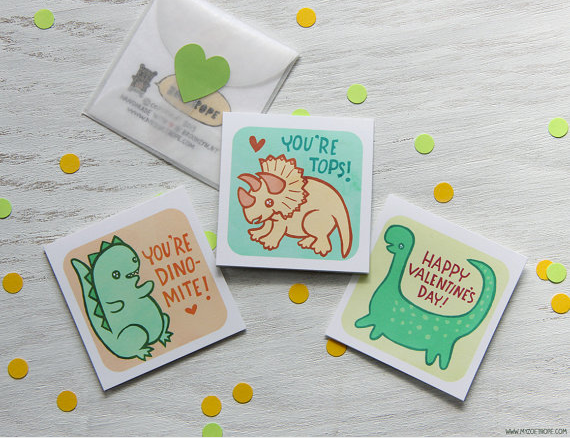 Super sweet and perfectly sized for those little shoebox mailboxes, My Zoetrope's Dinosaur Valentine cards offer Happy Valentines wishes without being too cute or lovey-dovey. I love the little glassine envelopes and green heart stickers too — and there are lots of styles available in the shop. ($10 for set of 15 cards and envelopes)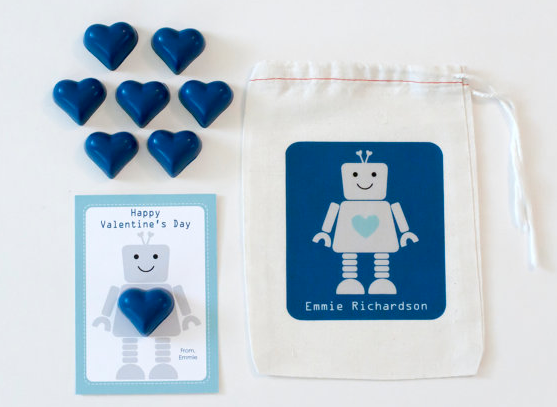 We recently featured NickWillJack's Robot Card Kit in red, though kids who don't want to be so traditional may prefer to see it in blue. Great for a smaller preschool class, these cards come in sets of eight onto which you glue a handmade crayon heart. Also love the little cotton bag that can be used to hold the finished Valentines on their way to school. ($18 for set of 8) NOTE: the shop is currently on hiatus
Related: 19 wildly creative, free printable valentines for the classroom
Frecklebox, that cool site for gifts with your kid's name on it, offers this free printable Valentine's Day card that is perfect for pre-writers—or kids who just really hate writing their name 25 times. I love that the cards come either in full color or just outlined so your child can color in the spaceships—or attach a couple of crayons and let the recipient do the coloring.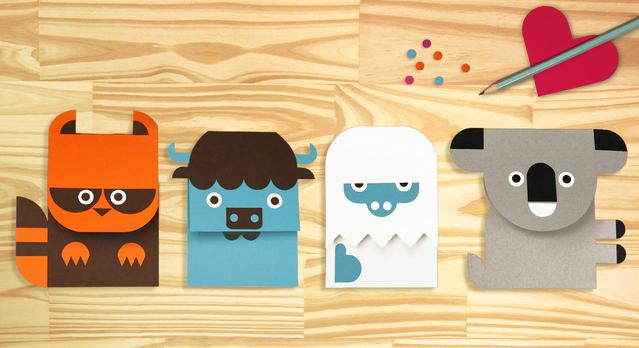 If you only have a few cards to make, or have a very prolific crafter in the house, Wee Society's DIY Wee Valentines tutorial makes such an adorable cast of characters. With their template, trace the pieces onto colored paper stock, and then get ready to cut and glue. I like that your kids can choose the colors of their critters and—for kids who don't want to hand out heart-festooned cards — these cards look so different from typical Valentine's cards. (free printable templates)
If you have a Minecraft fan, they'll go nuts for the set of Minecraft Valentines we featured over on Cool Mom Tech recently. The retro-pixelated designs and game-humor may not be something I totally understand, but I think that's one reason my kids think it's so cool. ($8 for set of 12)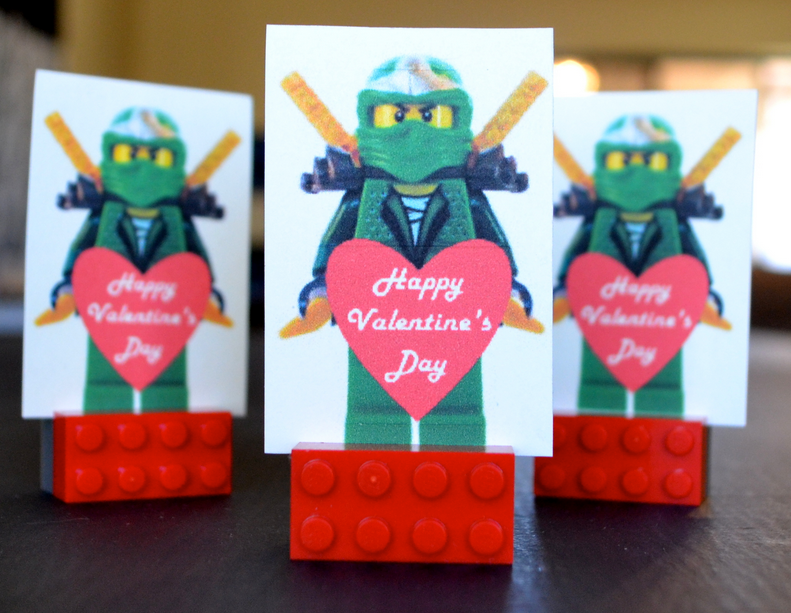 Have a LEGO Ninjago fan? Check out this adorable free printable LEGO Ninjago Minifigure Valentine card that stands up with the help of a couple of LEGO bricks snapped onto the bottom. I'm pretty sure we could make 10,000 of these with the number of LEGO bricks we have in this house. (free printable)
Related: 14 non-candy Valentine ideas for kids with printables: Perfect for classroom parties or kids with enough candy in their lives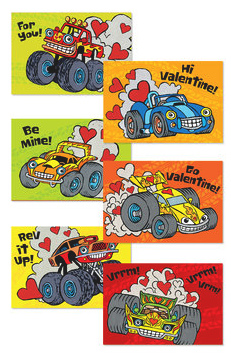 We loved Peaceable Kingdom's yummy "scratch and sniff" cards last year, and I know a certain eight-year-old who would get such a kick out of their latest twist on the concept. No mouth-watering chocolate or strawberry here: Instead their Burnin' Rubber Scratch & Sniff Valentine cards are a little more. . .rubbery. Perfect for the trickster in the bunch. For something a little less odoriferous, check out their less-stinky options too. ($7 for 30 cards) NOTE: No longer available on Amazon but may be available in local boutiques and indie shops