When spring hits around my house, that means time to clean and kick the clutter, which isn't such an easy task when you've got four kids running around.
As much as I'd love to scrub the baseboards and wash all the windows, that's probably not going to happen. But I can tackle my basic spring cleaning checklist, which will still give me a fresh organizational start to the new season.
If you have older kids at home, divide up these duties among the family to get the jobs done faster. Play music while you clean. Who knows, you might even have fun?
At top: custom acrylic chore chart from 1801 & Co
This post contains affiliate links, which means we may receive a small commission from certain purchases to help support the work we do at no additional cost to you.
Related: 9 smart tips for spring cleaning your phone, inside and out

Organize your kids' toys
Go through toys and books—or better yet, have older children go through themselves—and sort them into keep, donate/sell, and trash piles. Once you've gotten your trash and donate/sell items out of your house, you can tackle storing the ones you've kept.
Baskets or bins, like these gorgeous felt bins at Storange Studio, are a stylish and durable way to keep toys in sight and easy to find while looking tidy and organized. I love the muted tones in a space that's shared with adults, but you can choose from really bright colors for a playroom too. They even have a size that will slide under your kids' beds, whoo!
Don't forget about bathtub toys, too! Check to see which ones have gotten moldy and need to be tossed, then go ahead and get new bathtub toy storage, too! Those toys can take over your bathroom if you're not careful.
We also love finding really specific storage items for really specific family needs, like a carrying case for all their Pokemon cards, this combination bookshelf and toy chest that's perfect for a kid's bedroom, or combination storage bag and play mat made just for LEGOs.
Related: 12 smart tech organization tips
Clean out the closets
With the weather is starting to change, it's an ideal time to sort through clothing. Get your kids to try on anything you aren't sure fits, even if you have to bribe them with extra screen time to do it. Then, like you did with your toys and books, toss everything into keep, donate/sell, save for younger siblings, and recycle piles.
With the items you keep, organize closets by item size or type with these closet dividers, which will help your kids stay organized after you do all this work. Then, use the game-changing Kon Mari folding technique with these $3 clear storage bins for their t-shirts, leggings, and other folded items. If your kids use dressers, these customizable dresser drawer labels from Mabel's Labels can help them actually put things in the right drawer, imagine that!
For the items you're going to save for siblings to wear later, fold the clothes to store in these big clear plastic tubs, then label them by size with a label maker.
Services ThredUp or Poshmark are a smart way to resell those gently used items, and you can recycle any that can't be reworn with Terracycle.
Related: 11 great school supply organization hacks and tips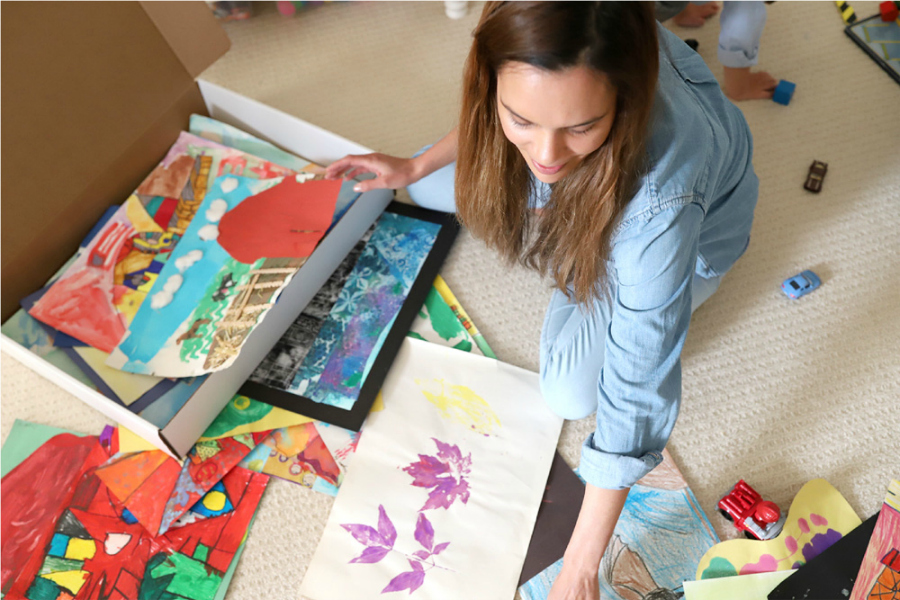 Organize your kids' art 
If your house is like ours, your fridge is covered with kids' artwork before they are placed in your special storage bin (aka: THE TRASH). Or worse, they're piled up on top of a bookshelf somewhere, where they live forever, collecting dust and never, ever getting looked at.
Now is the time to get this organized. You can do it! We've got some great suggestions for how to display your kids' artwork. If you're looking to store their art digitally—and even make a keepsake photo book from it all—then Artkive is our favorite app for that.
Related: A genius kitchen organization tip that will save you loads of time
Start a chore system
After a year in quarantine, we have figured out that there's no time like the present to start getting our kids more involved in cleaning. Creating a chore system is simple, especially when you have the right tools.
This custom acrylic chore chart from 1801 & Co is a can be filled in by you and checked off by the kids as they complete them. Or if you prefer something a little more high-tech, try a chore chart app on your tablet or smart phone which work for a lot of families.
Related: 5 genius nursery organization tips for new parents
Refresh your cleaning supplies
Don't overlook your actual cleaning supplies, when it comes to your spring cleaning checklist. In fact, we've found that a fresh supply of cleaners and cleaning tools can help us get motivated to do that deep clean we've been avoiding.
We recommend getting a fresh mop with spinner bucket, a washable dusting wand, and a rolling caddy to store all your cleaning supplies. Also be sure to stock up fresh cleaning supplies, from hand soaps to virus-killing wipes, like these eco-friendly and compostable ones we love.
Related: The best apps to help parents get organized

Put technology to work
Even with the whole family pitching in on the spring cleaning effort, it can still be an overwhelming task. So why not get a little extra help and treat yourself to a new cleaning device?
Our editor Kate swears by the Ecovac Deebot OZMO, which she received as a product sample, because she now schedules it to vacuum her hardwoods and carpets every single morning. Once a week, it mops too!
It's time to refresh your tech around the house too, like new filters for your air purifiers and refrigerator water filters.
Need more organizational tips for parents? We've got them for you! And check out these other posts to help you complete your spring cleaning check list:
–Arts and Crafts Storage
–Toy Storage Ideas Pt 1
–Toy Storage Ideas Pt 2
–Toy Storage Ideas Pt 3
–Cool Storage Bins
–Kids' Organizational Labels
–Back to School Organization
–DIY Storage Bins
–Get More Organized Collection