Who here has wanted to consign or resale clothes but just didn't know which service was the best, who would make it easiest, or even where to start? The Real Real? Vestiaire? Poshmark? Tradesy? threadUp? I don't know either!
But it's time.
Soon after reading Christina's excellent post on whether the Marie Kondo Konmari method of tidying is good for families, I took on my frighteningly overstuffed closet. Friends? This system is the first that ever worked for me.
I realized how many clothes and accessories I was hanging onto for sentimental reasons — not because they fit (or uh, ever would again). The result, besides a much cleaner, more manageable closet, was a number of bags of clothing and accessories in very good condition that might give someone else joy.
The thing is, a lot of those clothes are still (sigh) sitting in my basement while I figure out what to do with them. So I've done some investigating with a lot of help from Kate, and we've tracked down the best options for selling your used clothes on the top consignment and online resale sites depending on what you're looking to sell.
We've tried to break down the online consignment shop comparisons with:
-The overall experience
-The pros and the cons
-The kinds of items you'll find on the site
-Commission fees you can expect to pay
-What happens to items that don't sell
-How the items shop
-Overall, who the site is best for
As I recently learned, the average person has 52 items around the house — or $4,000 worth! — that they don't use and could easily resell. Wow.
So what are you all waiting for? -Liz + Kate
Top image: Tradesy
This post may contain affiliate links meaning if you join a site, we get a small commission. 
Related: Is Stitch Fix worth it? Two brutally honest she said/she said reviews from two of our editors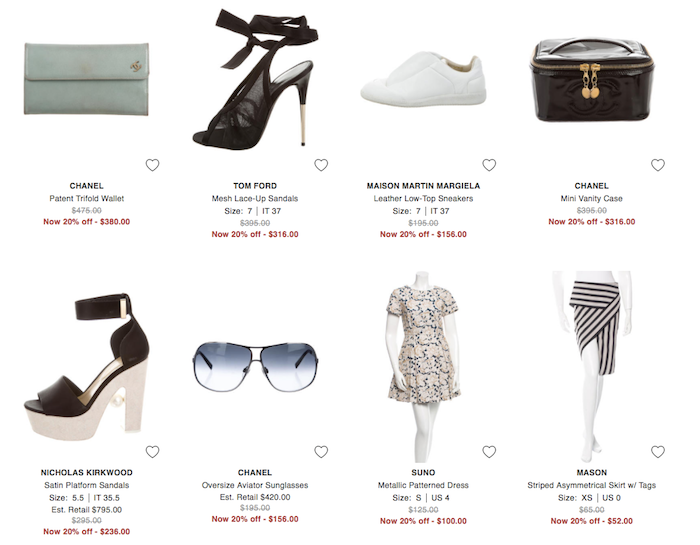 I've bought a few items at The Real Real, which resells top-notch designer brand clothing, accessories, jewelry and home goods.
For both buyers and sellers, the environment is clean and high-end. They do the pricing and thorough photos themselves and have the right to offer discounts if they choose — but don't expect to find tag sale prices here.
All this comes at a price: Relatively high commissions of 30–40% paid by the seller.
If you have then or more qualifying items in excellent condition, you can get free in-home pickup (in 21 cities) or a free label to mail them in. They do all the photographing, authentication (no fake LV bags!), and pricing, and have it online in 10–15 days.
Plus, the site claims that most items sell within three days. And when you consign for the first time, you can get a site credit up to $100.
They will return any item they can't accept, however if they determine them to be counterfeit, they destroy them. I really appreciate that.
Great find: Chloe Leather Shoulder Bag in good condition, $95
Now, that said, I have heard complaints from sellers about The Real Real that go beyond pickiness; my own mother reminds me that they refused several of her perfectly clean, brand new, 100% unworn designer items (Burberry, Armani) without explanation….WHAT?
From the shopper side, when I tried to return a purchase a mere two days after the deadline (I had been traveling when it arrived), they were like, too bad so sad you're SOL, but you can resell it with us at a 40% loss. Yes, I was late, but I find most companies' customer service is more considerate and flexible if you're nice, and it did leave me with a bad taste in my mouth — even if I do still browse the site for affordable designer finds.
Sweet finds: Prada wool coat with fur trim for $395; Burberry wool trench for $475; 3.1 Phillip Lim clutch for $145; Hermes Evelyn Crossbody bag for $2,100; Gucci Canvas Loafers for $125; Yeezy Military Boots $220-260
Site Commission: If your net sales are under $1,500, you earn 55% commission. Net sales under $1,500-$10,000, earn 60% commission. Net sales over $10,000 earn 70% commission. Shipping your items to them is free.
If your items don't sell: After 30 days, you can request return of your items, and pay for the shipping. If you'd like it back sooner, you pay an addition $15 per item.
Who it's best for: People with high-end designer items in truly excellent condition, ideally over $10,000 worth, so you don't pay 40% commission.
Related: How to create a capsule wardrobe for kids. Even kids obsessed with their clothes.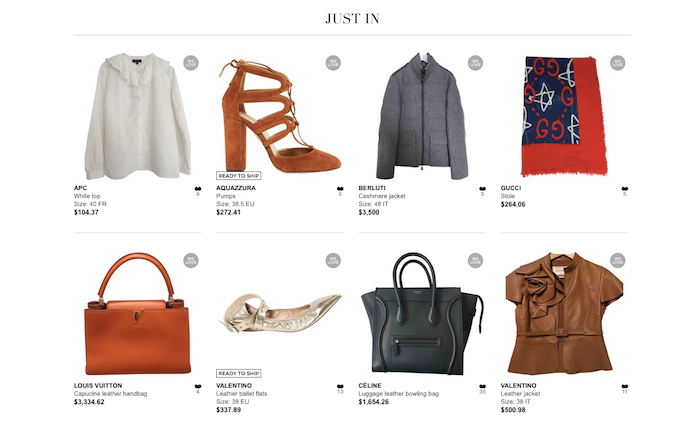 This global consignment resource is dedicated to buying and reselling luxury and designer goods, along with brands like Zara, Guess, and Nike. However there's a very modern social media component as well. There are tastemakers and influencers you can follow, and the ability to "love" items or add them to a wishlist.
You can search by brand or even type of item, but also specific popular items, like "Chloe Paraty handbags." You can also set up alerts for new arrivals if you're coveting something really specific.
Hint for sellers: set up alerts for similar items to those you're selling so you can scope out the competition.
To begin consigning, your item's value has to be more than €15/ £15, or about $30 US. If so, you fill out applications for each item you're selling, meaning you do a little more work here than with some sites — you do have to photograph and list your own items. That said, they do have a Concierge service if you want to send all your stuff to them and let them do the work, for a larger commission of course.
(Either way, they have fantastic tips for photographing clothing which everyone should follow, whatever site you use.)
Vestiare Collective indicates that pricing is easily calculated if you know the original sale price and what similar items are selling for on the site.
Like eBay, there's a "make me an offer" option to allow a potential buyer to bargain with you for up to 30% off the current price. Up to you whether you accept it, but you have 48 hours to decide.
Great find: Bellstaff quilted metallic jacket in very good condition, $281
If your goal is to clear clutter from your house right now, this may not be the best option for you unless you upgrade to Concierge service. Because only once the item sells do you ship it to Vestiaire Collective, then they ship it to the buyer.
Just know you can't pass off a Canal Street just-fell-off-a-truck knock-off here; every item is authenticated by them not just for counterfeits, but also to validate condition. You may even be required to submit a proof of purchase or have the item returned at your own expense.
Sweet finds: Topshop Leather Ankle boots for $40; Isabel Marant Etoile jacket for $92; Tom Ford Goggle Sunglasses $120; Burberry gold leather clutch $253; Tory Burch patent leather tote for $190.
Site Commission: You don't pay for listings, and only pay commissions once a product is sold. However the commission structure is super confusing, and fortunately the site will do the calculations for you. Commissions (which include VAT) are on a sliding scale in which you pay a flat $25 on the first $70 of an item, and then Vestiaire takes 33% for the next $70–140, with decreasing commissions stopping at 18% for sales above $4,130. (Yeah, we don't entirely get it either.)
In their example, a £250 pair of boots will net you 68% of the sales price, if that helps.
If your items don't sell: You can reduce the price, or unlist it from sale. Since you keep items at home until they sell, there's no need for Vestiaire to send it back to you.
Who it's best for: Resellers of high-end luxury goods who want to open their sales up to a global marketplace, and don't mind doing some legwork in exchange for paying lower commissions. But you have to be okay with hanging onto all your items until they're sold, so no "just get it out of my house now!" selling here.
Related: Buy and sell designer clothes for the whole family, right from your smart phone
Tradsey's site is heavy on authentic, high-end handbags and accessories. Just check the featured brands, and you'll see names like Gucci, Chanel, Louboutin, Prada, Hermes, and Valentino. There's an entire wedding section as well, so they're not messing around. You won't find deep discounts, which definitely benefits sellers, so it's the kind of place to sell Gucci sunglasses new with tags for $100 off; or a pair of never-worn $1200 Valentino lace-up boots with some minor scuffs for $658.
Note that clothing doesn't sell quite as well here as accessories, but if you can manage to move some high-end items, it's still a pretty good deal for the seller.
To consign here, just go through your closet and snap pictures of the items you want to sell — anything "from Zara to Chanel" — and send them to Tradsey. Their team will enhance the photos and help you with pricing, if you need it.
When the item sells, they'll send you a shipping kit complete with a lovely box, prepaid label, and garment bag (if that applies) so you can mail your items to the buyer with very little hassle. It also provides a more consistent, high-end feel to the shopping experience than just dumping stuff in a padded envelope.
Great find: Christian Louboutin black leather d'orsay st honore 70 mesh pumps, $431 (retail $995)
Every item is authenticated by Tradesy, with a 100% money-back guarantee. So if you're selling a luxury brand, they require you to ship it to them first so they can take a look.
Tradesy: The Nitty Gritty
Sweet finds: Louboutin black strappy wedge pumps $265; Chanel black matelasse wallet for $499.50; black lace Diane von Furstenberg jumpsuit for $349; black studded Gucci boots for $209; Rag & Bone silk dress for $75.
Site Commission: Tradesy takes 14.9% on every purchase. If you want your money in cash, rather than store credit, you pay an additional 2.9% transfer fee to receive the money via PayPal.
If your items don't sell: Your items stay with you until they sell, so you can just donate them or re-list them somewhere else if they don't sell.
Who it's best for: People with high-end accessories, shoes, or bags who are willing to trade some of their profits in exchange for convenience, great customer service, and designer authentication.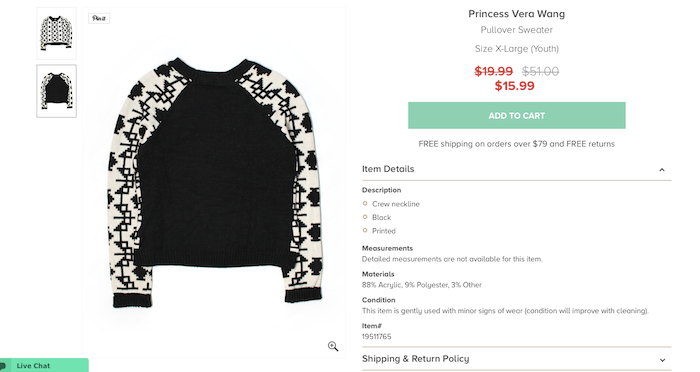 We've reviewed this service before, which has turned into quite the extensive resale site for women and children's clothing that lots of parents in particular adore. That said, their amazing prices seem to benefit the buyer far more than the seller.
Getting rid of your stuff couldn't be easier: Just send your on-trend clothing in very good or new condition in one of their Clean Out Kits ($9.99+, fee taken from your earnings). All items must be from thredUp's list of accepted brands, which range from mainstream mall stores like Gap, Levi's, H&M, and Zara, to mid-priced fashion brands including Coach, Vince, Theory, Tory Burch and Kate Spade.
The folks at thredUP will process all your clothing for you, and then pay you in one of two ways. It gets a little complicated, so hang with me, here:
Items that are on trend, in great condition, and in season are considered "upfront items," and thredUP buys them directly from you to resell. The money is immediately available in your account and the amount you earn is based on this pretty detailed commissions breakdown. They determine the selling price, which, judging from the current crop of stuff, seems like it will favor the buyer more than the seller.
All other items are sold as consignment items, meaning you get paid once they sell. You can get paid anywhere from 5% to 80% on these items, based on the price set by thredUp. That said, you do have the ability to adjust the price of a consignment item — something you can't do on an upfront item.
thredUP pays you via PayPal or prepaid Visa, by adding money to your ThredUp balance, or by letting you donate to one of their charity partners.
Also know that you can't even browse the site unless you're a member, so as a buyer, this limits your potential buyer base a lot. (Though they do have a lot of members.)
Another thing that differentiates thredUp from the others is that they only accept about 50% of the clothing they receive, and unless you pay $10.99 to have it returned, it will be sold to third-party sellers or donated. In fact, our editor Kate has sent in three or four bags of her kids' brand name (but not designer) clothes to be sold, and it's earned her a grand total of…$5.37.
thredUP: The Nitty Gritty
Sweet finds: Casual black Calvin Klein dress for $30; sleeveless J Crew silk dress for $46; Kate Spade NY metallic satchel for $127.
Site Commission: You can earn anywhere from 5% to 80%, depending on the selling price and type of item. Check their commissions spreadsheet for full details.
If your items don't sell: You can upgrade your Clean Out Kit for an extra dollar ($10.99) for "return assurance" to have rejected items returned to you. But pay attention to the fine print, because it isn't as straightforward as some of the other site policies.
Who it's best for: People who are seriously decluttering, with making money a far secondary concern. If you want an alternative to a local reseller or consignment shop like Goodwill or Housing Works, thredUp is a good option to get stuff off your hands, and maybe you will or won't make some money, but you will support a charity with your donations.
It's also good for people who want to just swap out old clothes for new ones — especially kids' clothing — since you can be paid in thredUp credit. And it seems to have a nice market for plus-size clothing.
Related: How to shop the country's coolest vintage shops, all from your couch
Poshmark was Jenna Elfman's pick of the week when she was a guest on our Spawned podcast, and we have to admit we've enjoyed using it too. Their mobile app makes it so easy to add, photograph, and price items all in one step.
Both Kristen and Kate have had success selling items here, although they've found that name brand, never worn pieces — like Kate's tall Hunter boots — sell faster than basic wardrobe items. In fact, sort by designer like Catherine Malandrino or Free People (above), which gives you a much nicer impression of the site than sorting by "recently in."
Also nice: you set your own price.
Once your item sells, Poshmark sends you a prepaid, addressed USPS label so you can ship it directly to the buyer at no cost (it comes out of your commission) with pretty much no hassle.
Great find: Kate Spade Laurel Way Baja Wristlet new with tags, 50% off ($60)
You can search by designer, trend or by category here — often in collections curated by their editors. If you up your photography game, you'll have a higher chance of being featured in a collection (meaning more eyeballs on your items) or in one of their three curated "Posh Parties" they host each day.
You can also follow specific users' closets as they add items for sale, so if there's that mom from school with the wardrobe you love — or if you can figure out Jenna Elfman's user name, heh — it's easy for you to nab their things as soon as they get posted. Or if you're a seller, you can keep an eye on the price of comparable items to your own.
As a buyer, I appreciate the fact that you can include your sizes in your profile, and Poshmark will search availability based on that info. It's not foolproof, but it's still a helpful filter feature since it kind of sucks finally finding the perfect pair of jeans you've been searching for — only you're a size 10 and they're a 0 petite.
If you want to sell luxury items like handbags or premium designer pieces over $500, there's a Poshmark Concierge service which provides free authentication as well as free shipping, for a limited time. Just note that the authentication is something the buyer requests; as the seller you don't have to do anything differently, though it's a nice feature to assure your buyers that your item is legit and potentially open yourself up to more sales at better prices.
Poshmark: The Nitty Gritty
Sweet finds: Dolce and Gabbana blazer for $55; White patent Doc Martens new with tags for $99; Tory Burch tote new with tags for $135; floral Belle Badgley Mischka dress for  $40; Madewell silk top for $35.
Site Commission: For items under $15, Poshmark keeps a flat rate of $2.95 per item. For items over $15, they take a 20% commission.
If your items don't sell: They're still in your possession, so you can just re-list them, sell elsewhere, or donate them.
Who it's best for: People with nice items in very good or new condition, and it helps if you have a great eye for photography. Poshmark is also smart if you have teens who want to make some money off of trendy items they've outgrown. But you have to be okay with hanging onto items until they're sold.

Got a ton of affordable, mainstream brands you want to get rid of? Swap.com is your place. The kids' section is packed with labels like Gap, Target brands (Xhiliration, Circo, Cherokee, Merona, Mossimo), Oshkosh and Old Navy. For women, I'm seeing lots of Ann Taylor Loft, Chico's, Lane Bryant, H&M, Express, LL Bean, Lands End, and plenty of maternity offerings, with the rare mainstream designer offering (Michael Kors, Marc Jacobs, DVF, Vera Wang but probably from her Target collab).
Ship your items, and Swap.com  is another service that will do all the work for you. You own your items and have total control over pricing and whether or not you want unsold items returned to you.
Even though we're not dealing with high-end clothes here, Swap.com doesn't accept items that are stained, ripped or pilled. If you want to send them tights, socks or nursing bras, they must be new with tags. (Phew.)
They also let you consign toys, movies, books, decor (which mainly consists of unwanted baby shower gifts from what it seems). What you can't consign? Handbags or shoes. Accessories are limited to scarves and belts.
As a buyer, I'd love a zoomier zoom feature, because their descriptions are somewhat lacking on the details — sometimes the brands aren't even labeled much more than "Scarf. $6." No material, no brand, nada.
And while I appreciate that the photos on the site are of the actual items being sold, it would be helpful if some of them didn't look like they've been crumpled into a box for a year. I'd suggest as a seller that if you want a leg up, send your clothes nicely pressed and they'll definitely stand out.
Sweet finds: Vera Wang jeans for $10; Michael Kors Pucci-inspired dress for $14; J Crew leopard cardigan (that I actually own and still wear) $12; Michael Kors shiny black puffer jacket for $27; Missoni for Target skirt $19.
Site Commission: Commission is on a sliding scale from 20% cash (or 30% store credit) to the seller on items priced under $10, all the way up to 60% cash and 70% store credit for items over $20 — minus the one time inbound shipping cost of your items (starts at $8.90). Cash payouts are made via PayPal
If your items don't sell: You can keep an item listed on Swap indefinitely, or have it shipped back to you for $5.99. There's also a SureSell option, where Swap will buy it from you, as long as the value is over $1.
Who it's best for: People looking to get mainstream basics and gently worn maternity clothes out of their closets, without too much concern for how much you'll make on them.