Every so often, it's fun to see how the rich and famous live, especially those with kids. Should you have a spare 10, 20, or 50k lying around, check out these unbelievable kids playhouses. Or hey, if you buy one yourself? Invite us over!
Related: 7 cool playroom ideas for kids that let you reclaim your living room
Attention Tolkien fans: this Hobbit playhouse (above) is mindblowing, and built right into the landscape. Just get your kids some big feet. (Wildflower Turf)
A Mondrian playhouse is awesome for fans of mid-century modern. Like me.
(Barnes Vanzes Architects)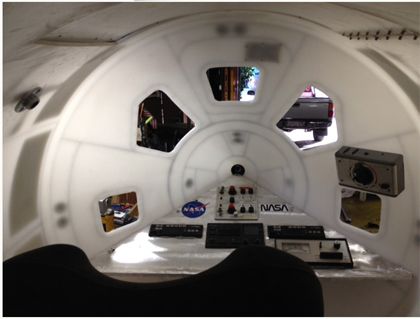 Little astronauts would love this space capsule playhouse that's actually built on top of a platform. So it doesn't look like it just crashed into a tree.
(Cy Lo)

For a mere $52,000, this subtle Red Beard's Pirate Ship Playhouse can be yours. It claims to have seating up top for 3-4 adults because…adults are buying this for themselves?
(At Posh Tots)

Related: 10 of the cutest pirate gifts for kids because, argggg it's Talk Like a Pirate Day!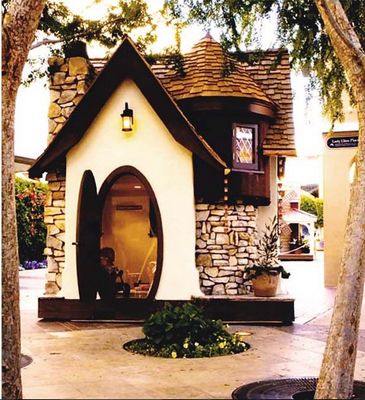 This 10-foot wide cottage playhouse is so charming I can't stand it. I love that it was originally built for a charity auction.
(Simpson Design Group Architects)

If your kid's a baseball fan, imagine one built to honor his or her favorite team, like this San Francisco Giants Playhouse. It's actually a tiny version of ATT Park completely with a second story artificial turf deck–AKA nosebleed seats.
(SDG Architects + Chesler Construction)

Something tells me you might need an actual building permit to put up this Mediterranean Villa Treehouse, complete with real tile roof and balcony. I'd rent it out as a guest house, personally.
(At Posh Tots)

This Mod Treehouse looks to me like a dollhouse come to life. It really is built around a tree, and has two floors and fully functioning lights.
(Bjon Pankratz)

Why am I not surprised that this monstrous Victorian Treehouse comes from Texas? It has staircases with four landings, and was completed over the course of 8 years.
(James Curvan)

Active knights, ladies, princes and princesses will go nuts for this Castle Treehouse which has a real rock climbing wall up the side.
(At Posh Tots)

Related: Cardboard playhouses for kids just not satisfied with the same old cottages and castles.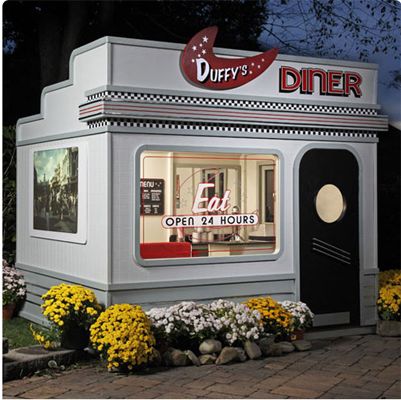 Should your kids not be satisfied with the little play kitchen and teacups that their friends have, the Duffy's Diner Playhouse will do the trick. I hope they learn to make a good black-and-white milkshake in there.
(At Posh Tots)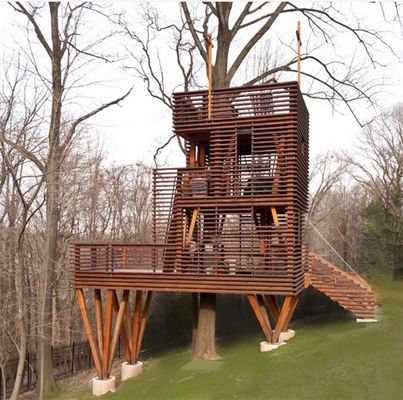 This Japanese Lantern Treehouse looks a lot like…a Japanese lantern. Even the stairs are marvelous.
(Chase Building Group)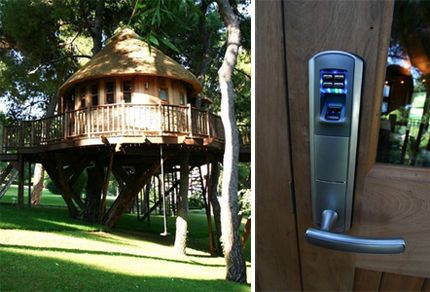 It may look like the Swiss Family Robinson, but this James Bond Treehouse in Greece is packed with high-tech gadgets including a CCTV system, a plasma TV, and even a biometric security system. Which is more effective than a "no girls allowed" sign, I guess.
(Simon Payne, Blue Forest)