Avast, me hearties, it's Talk Like a Pirate Day. And since this esteemed annual holiday falls on a Saturday this year, our kids can plunder the living room and giggle about the "poop deck" all day long without getting in trouble in the classroom. To get you and your little buccaneers in the mood, we've rounded up ten great pirate gifts for kids that we love.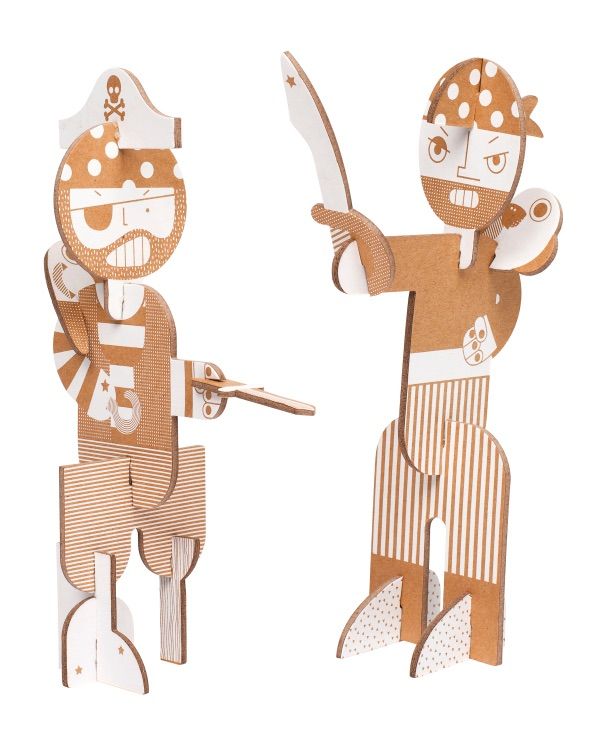 Flatout Frankie's Stack Up Pirates come together to make a fun plaything or bit of room decor for your pirate lover. Made of 100% recyclable cardboard, these two pirates are also a bit of a puzzle that your kids will have fun putting together. One tip though? Keep these pirates away from the water.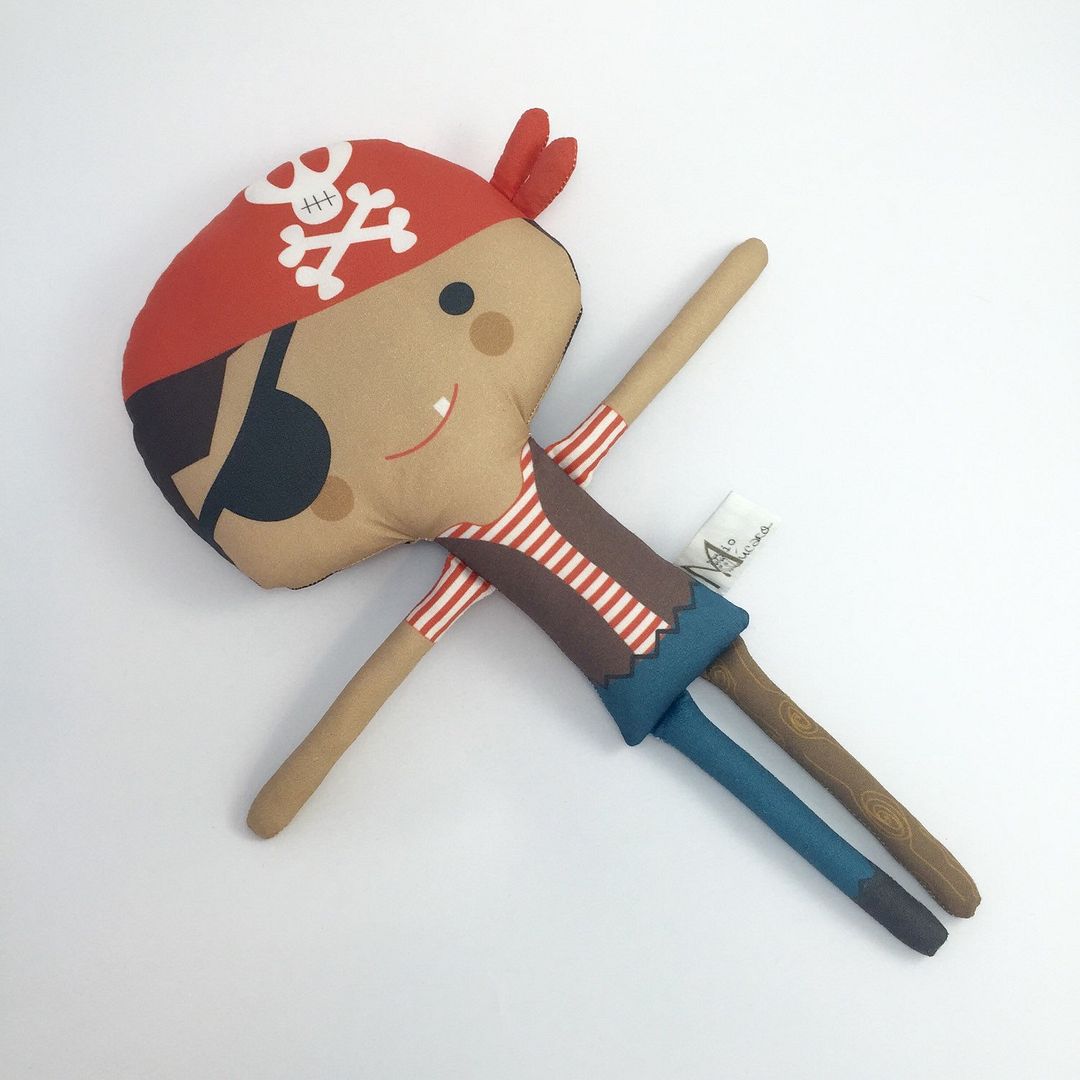 He may only be 10″ tall, but this handmade Pirate Doll from Brooklyn's Mio Múcaro is big on personality. With no removable pieces, he's a great toy for all ages, and we love his skinny little arms and legs that are just the right size for little hands to pick up and carry.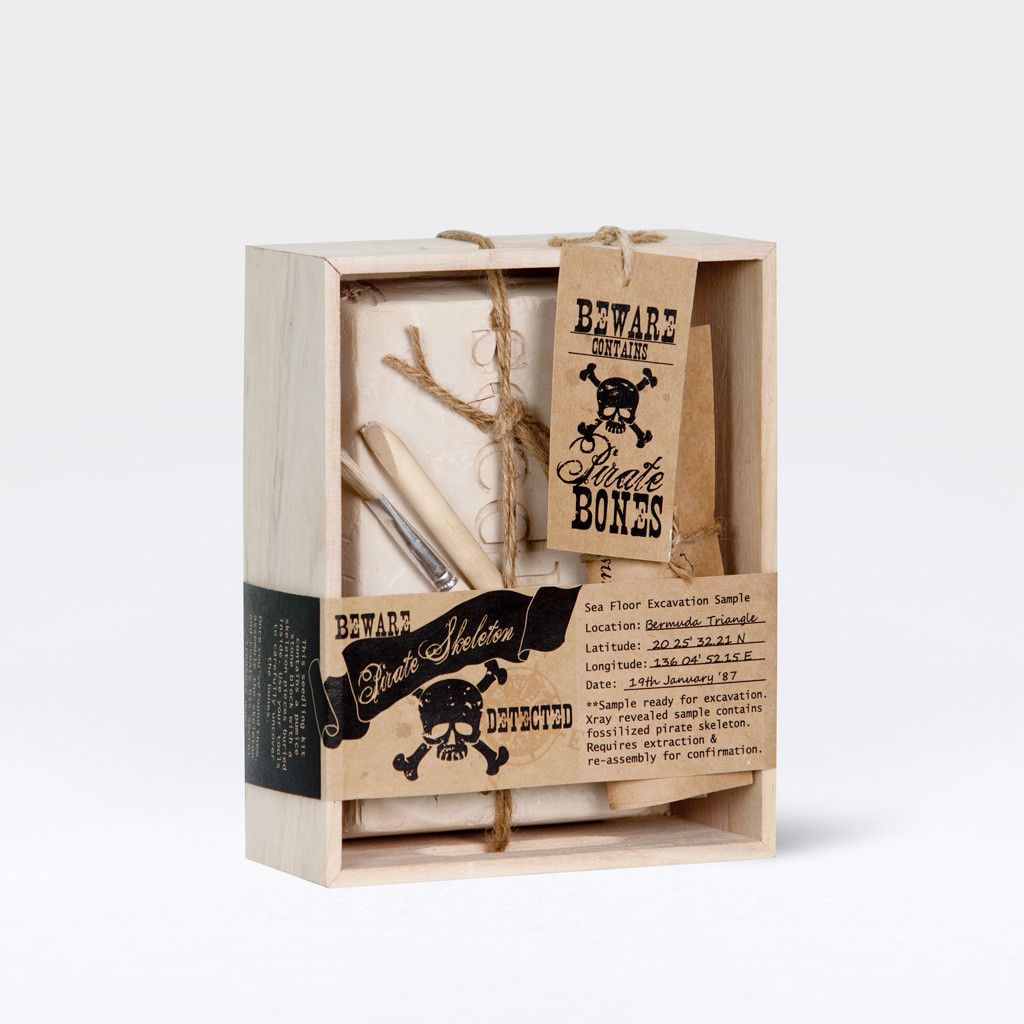 Seedling's Pirate Skeleton Excavation Kit lets kids search for a different kind of treasure: The lost "bones" of a pirate encased in pumice stone. This is an all-inclusive kit that turns our kids into mini-archeologists as they carefully scrape and dust off the bones. They can then follow the instructions to assemble the bones and create a secret treasure map. Made for kids 6+, we also know a few older kids who would really dig (ha) this kit. (at our affiliate Amazon)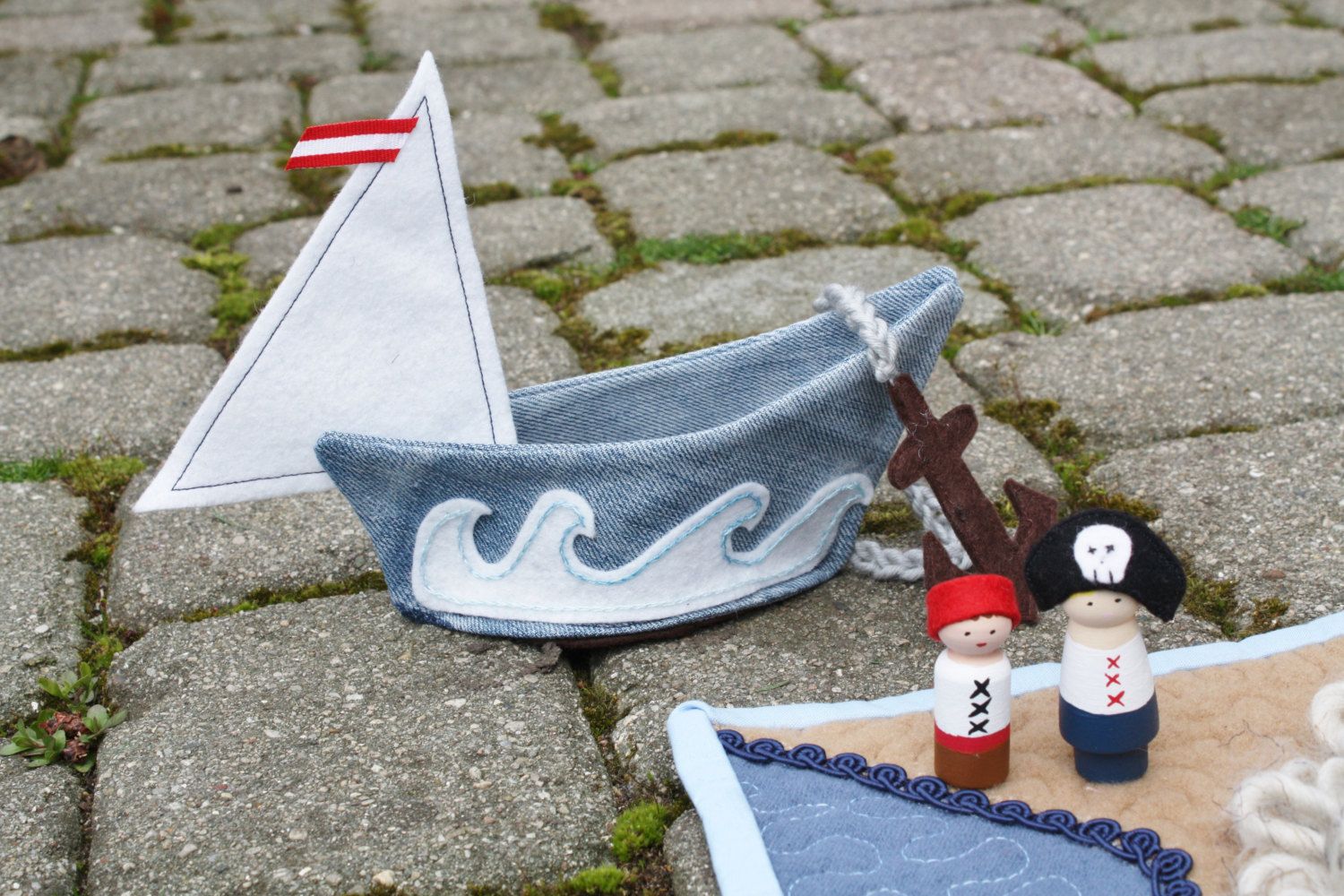 When it's time for your pirate to have a little quiet playtime, check out this detailed and handcrafted quilted Pirate Play Mat from Songbird & Hollow. Along with the 12″ square mat, two little peg pirates are ready to play in their cloth boat complete with anchor for going ashore.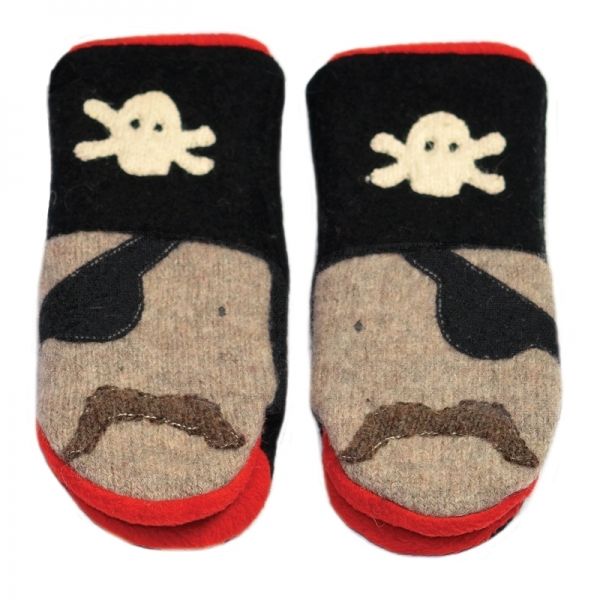 Arrgggg, all little pirates hate cold fingers (provided they haven't been replaced with hooks) which is why the handmade Pirate Mittens from Cate and Levi would be quite a treasure this winter. Using reclaimed wool for the outside of the mitten and lined in soft eco fleece, they come in two sizes to fit kids all the way up to around age 10.
There isn't much privacy on a pirate ship so when our landlubbers come home, they can have their own little nook from Pond Yard Play Tents. This beautifully made Pirate Ship bunk bed tent is designed to your specs to cover either the lower bunk or to hang underneath a loft-style bed. There's a little opening for crawling in and out, and even a porthole for peeking.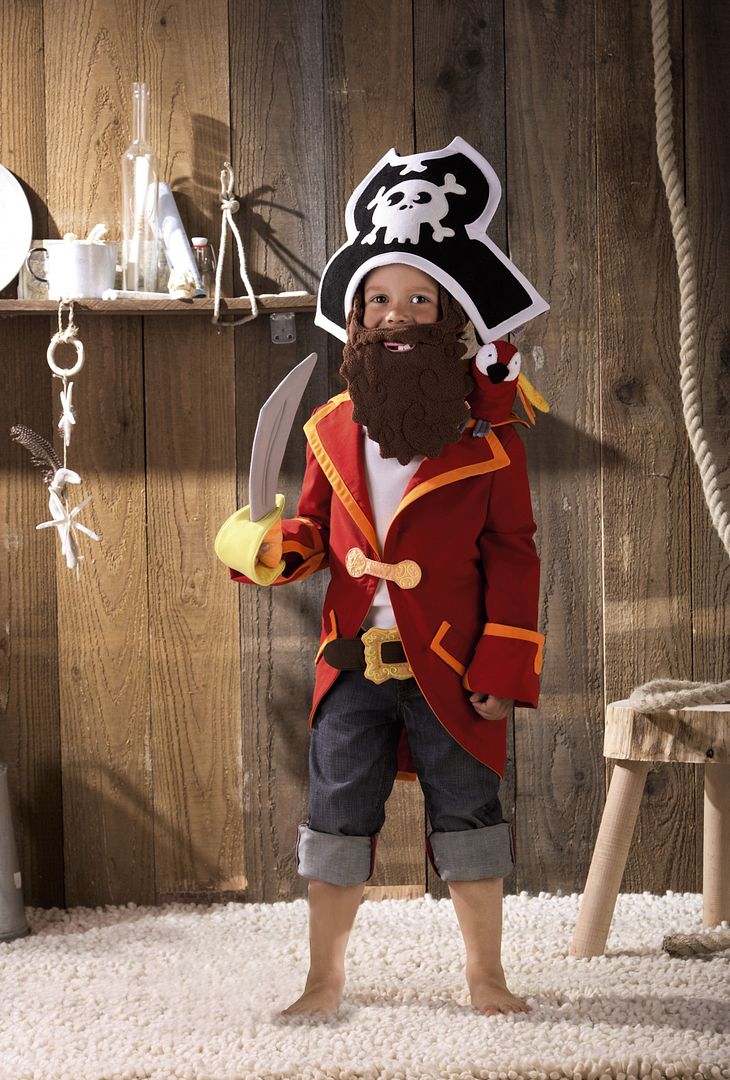 Shiver me timbers! This five-piece Pirate Costume from HABA is ready to go from Halloween to dress-up time. And, wow, is it complete, with a parrot that attaches to the jacket's shoulder, and a beard showing off a toothy smile.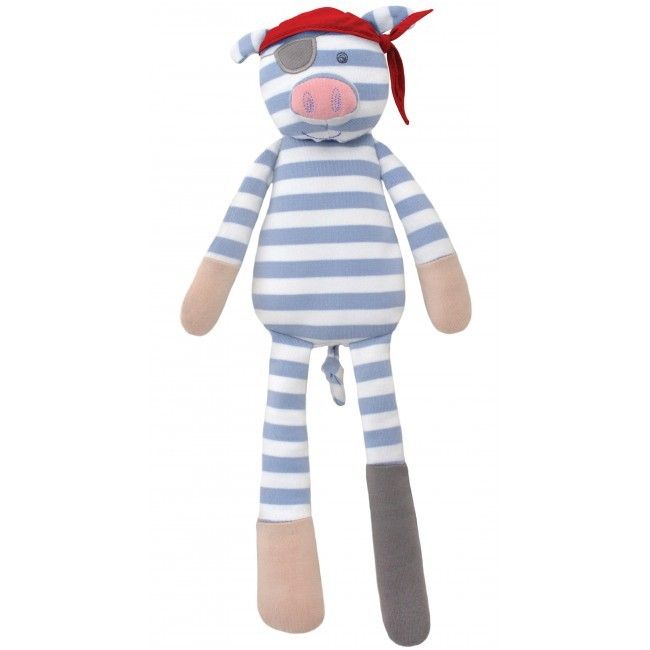 It appears that this cute and cuddly Pirate Pig from Apple Park has left the farm for the pirate's life. And while we wouldn't normally let our kids associate with pirates, the organic cotton fabric and hypoallergenic corn fiber stuffing of this plush pig make him okay for snuggling late at night. Coming in two sizes and very reasonably priced, you won't even need a treasure to snatch him up.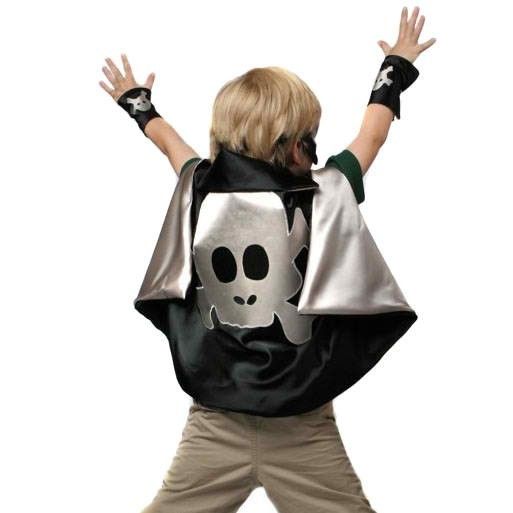 Even though Little Hero's Playful Pirate Capes may not be traditional pirate garb, we know many kids who won't care one bit. They'll be too busy throwing the cool-looking black-and-silver cape over their shoulders and zooming around the house. Their superpower is that they can plunder a clean bedroom in five minutes flat, right? (at Little Hero on Etsy)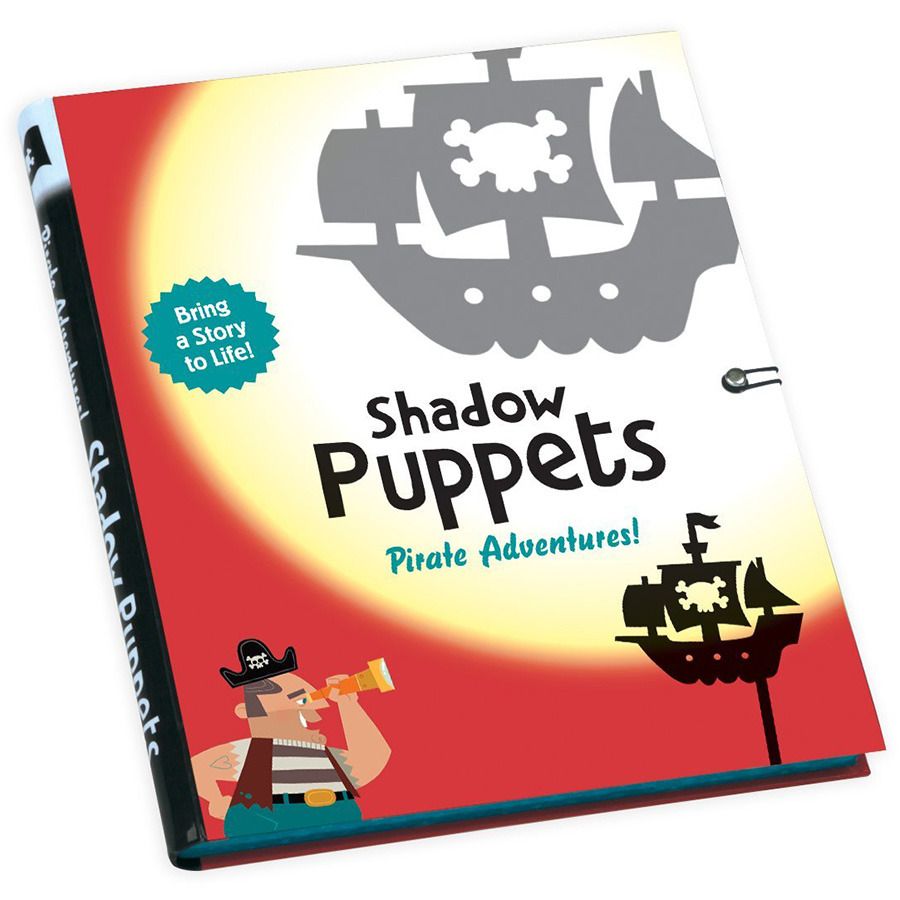 Encourage your kids to flex their storytelling muscles with Chronicle Books' new fun Pirate Adventure Shadow Puppets. With eight black silhouette puppet shapes, including three pirates, their ship, parrot, treasure chest, and skull and crossbones flag, there are plenty of pieces for even a few mates to get in on the action. Make sure you clap heartily at the end of the performance, or you may have to walk the plank right out of the bedroom! (at Fat Brain Toys)
Don't miss last year's Talk Like a Pirate Day post for even more pirate-related treasures for our kids.