Save yourself the last-minute crunch for classroom Valentine's Day cards by printing the cutest, most stylish Valentines now, right from the comforts of home. We just featured all sorts of DIY Valentine's classroom cards including printables made for handing out treats, but we couldn't resist offering up more than a dozen more.
Best of all? If your child comes home from school on the 13th with three more kids' names (and a teacher and an assistant teacher and a gymnastics coach) that he forgot, you can just print the extra cards and have them ready before he heads off to school on the 14th.
Don't miss our updated 2017 roundup of 19 of the coolest free printable classroom Valentine's Day cards.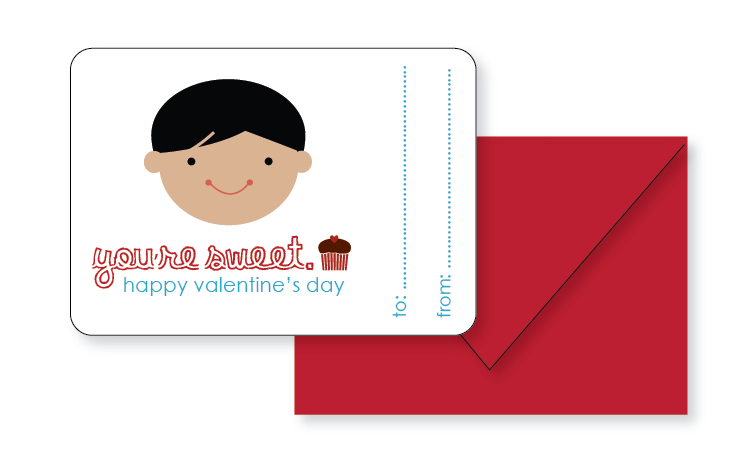 Custom Image Valentine's Day Cards
With Sophie & Lili's custom cards, you can create your child's likeness from three different skin tones, four hair colors, several hairstyles, and even little add-ons like glasses, freckles, and hair accessories. So cute! ($8 for printable file from Sophie & Lili)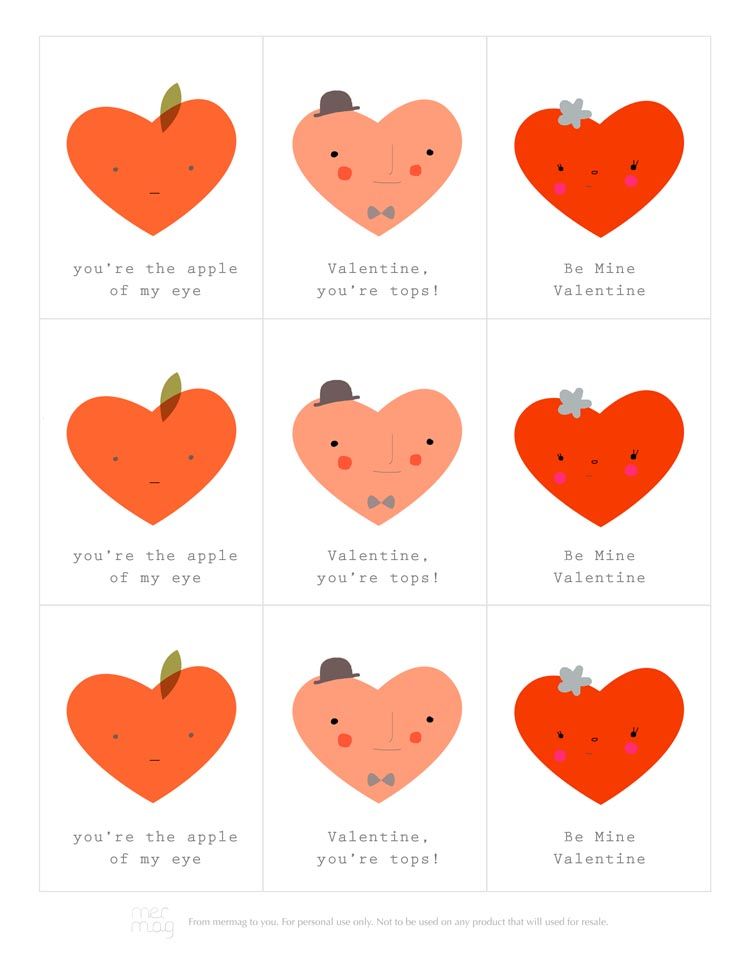 Valentine Hearts Printable Cards
Mer Mag's hearts have a little bit of personality to them and can be ready in a flash. Have an artistic child? Print out the blank hearts and let them create their own cast of characters. (free printable from Mer Mag)
Crafty Printable Valentine's Day Cards
Those of us staring out the windows at another snowstorm should turn our eyes to these adorable Valentine's Day cards that will keep the kids busy for a  nice long while. With some bits of yarn, watercolors, markers, and other art supplies, your kids can turn artist Anda Corrie's cute cards into unique mini portraits for everyone in class.  (free printable at Etsy)
Related: 30 super cool printable Valentine's Day cards for the class, all free or close to it
Cute Retro Valentine's Day Cards
Heidi Kenney's retro-style, pun-filled Valentine's Day cards remind me of cards I once passed out as a child. Though I'm pretty sure I wouldn't have understood "I like you a latte" back in the 70's. ($5 for printable file)
Monster Puppets Valentine's Day Cards
Monstrously cute Valentine's cards become little finger puppets with a few snips of the scissor. Great for kids who don't like things to get too mushy. (free printable from Small for Big)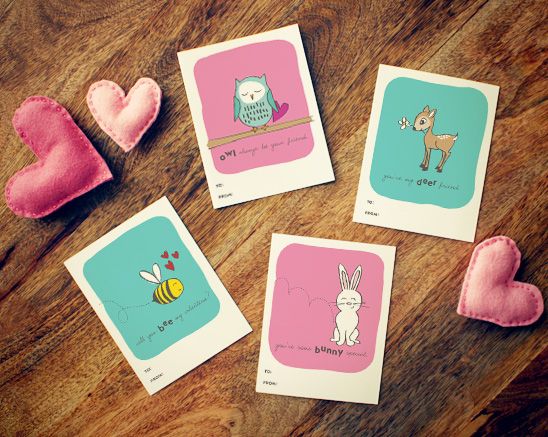 Animal Valentine Cards (with customizable color backgrounds)
Such sweet, gentle illustrations and kind wording on these free printable classroom cards by The Little Umbrella. I especially love that each card's background can be selected by you from any hue of your choice, so if your child doesn't want to hand out pink cards, just can choose blue or mint or yellow. (free printables from The Little Umbrella; formerly On To Baby)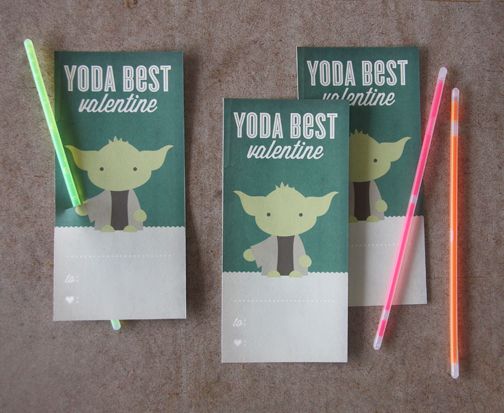 Printable Yoda Valentine Card
My Star Wars-obsessed son would love to hand out these cute printable Yoda Valentine's Day classroom cards with little glow sticks (uh, light sabers) attached. Not into glow sticks? A bright-colored pencil could take its place nicely or even a Pixie Stick. (free download from Design Wash Rinse Repeat)
Cupid's Arrow Printable Cards
Help Cupid hit his mark with these stylish free Valentine arrow cards that look pretty great as is, via Sweet Muffin Suite. If you're feeling ambitious, grab a stack of new pencils — glittery ones do look pretty cool — and insert them as instructed. (free printable cards by Sweet Muffin Suite) 
Wild Animal Valentine's Day Cards
My kids would love handing out these colorful cards with a tiny animal toy tied onto the middle. Choose just one design if you have, say, only plastic frogs, or all four for an entire menagerie. (free printable from Sweet C's Designs)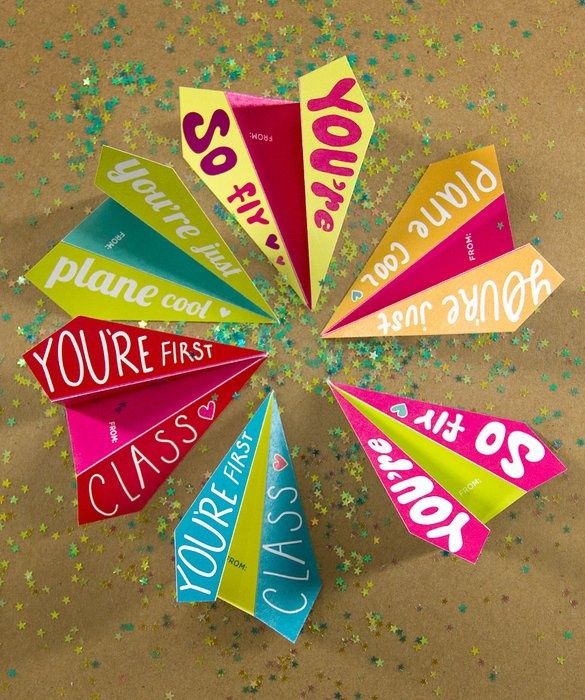 Paper Airplane Classroom Valentines
No promise that these won't be sailing all over the classroom, but I just love these colorful printable paper airplane Valentine cards too much to leave them grounded. Fun for older kids who may not want to hand out hearts and kisses. (free printable at mom.me)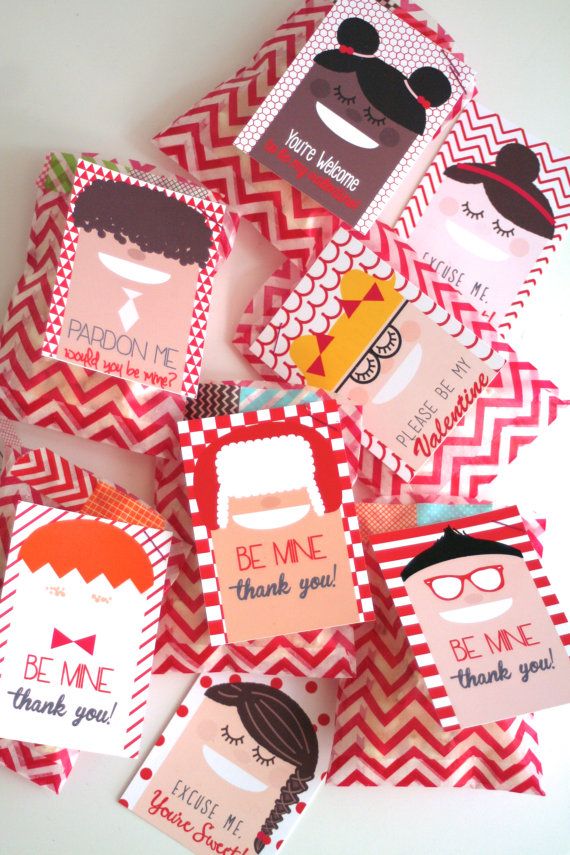 Cool Kids Valentine's Day Cards
Much love for these nicely mannered cards that don't forget to say "please" and "thank you." I also love the diversity of the faces and that each card can either stand alone, or attach to a small bag of treats. ($5 for printable file from Just Us Three Design)
Valentine's Day Cards and Tags
I really like all the options found in TinyMe's five pages of free Valentine's Day printables. Along with three cute foldable cards for classmates, there are also printable tags to hang on bags of treats, Valentine's coupons to fill out, and other goodies for friends and family members. (free printables)

Super Hero Valentine's Day Cards
Able to be in your email box in just a few moments, Anders Ruff's instant download printable Super Hero Valentine's Day cards just might save the day. With both male and female super heroes pictured at work, I love the details, bright colors, and retro style on each card. ($5.50 for instant download from Anders Ruff)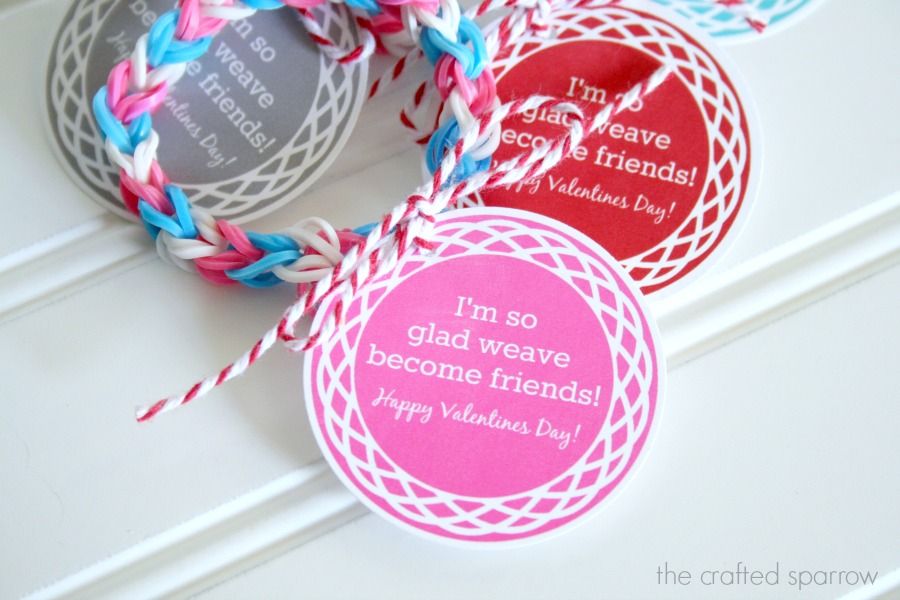 Loom Band Printable Valentine's Day Card
The only downside to the Great Rainbow Loom Crafting Explosion of 2013 is that we now have approximately 100 loom bracelets hanging around the house. I love this idea of turning these "extras" into special Valentine's treats to attach to little tags. Or stock up on some red and white bands and your loom master can make special Valentine-colored bracelets for the entire class. (free printable tags from The Crafted Sparrow; larger cards available here)
Check out last year's big list of printable Valentine's Day cards for even more options!