With Valentine's Day coming up, many of us are frantically searching for free printable Valentine's cards to get our kids ready for the Annual Valentine's Day Card Exchange that's a tradition in so many schools.  Get ready with this carefully curated list of some of the best, most fun printable classroom cards.
Plus, they're all free!
With just a color printer and some paper — and a few minutes of cutting and name-signing time — voila! Your kids are ready to hand out lovingly designed, modern cards for their classmates without a trip to the card store aisle.
Isn't it sweet that so many artists spread the love freely this time of year? -Christina and Liz
This post has been updated in 2020 with new links
Book lovers will adore Positively Splendid's Free Printable Valentine Bookmarks (also at top) which can be topped with a pretty ribbon to finish them off, or left plain too. It comes in great colors, with a not-too-lovey-dovey sentiment that boys and girls will both appreciate. How sweet that kids can use them all year round too.

We love so much from The Black Apple, from their printable paper dolls to their notebooks, and when we first discovered these free Valentine's Day Heart Printables a while back, our girls all were taken with the multi-cultural illustrations and bold colors. Plus the imperfectly shaped hearts means amateur cutters can go at it all on their own.
Related: 19 wildly creative, free printable valentines for the classroom
We love this free Valentines printable card set from Eat Drink Chic so much, we've featured as the kind of DIY gift you can make yourself. The sophisticated design is perfect for an older girl to hand out to her girlfriends, though that fella is awful dashing himself. There's a PDF for the envelope as well, but if that's a little too much work, stick with the gorgeous card.
The Printable Pirate Valentine Cards from MerMeg are another favorite for boys and girls. She recommends printing on heavy card stock and sticking on the heart patch with a quick swipe of the sewing machine, but you know, we find a small heart sticker, or construction paper and some glues stick makes just as cool an eye patch.
Related 18 printable Valentine's cards for boys (and girls!) that aren't too sticky sweet.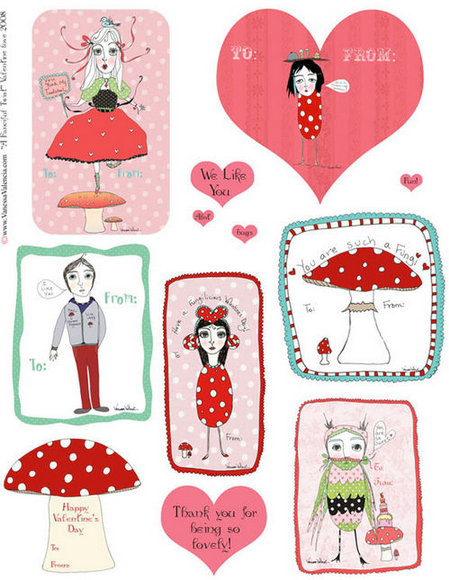 A little bit quirky in the coolest way, these funky free printable valentines from A Fanciful Twist would be my tween's pick. My favorite sentiment? "You are such a fungi" on top of a mushroom.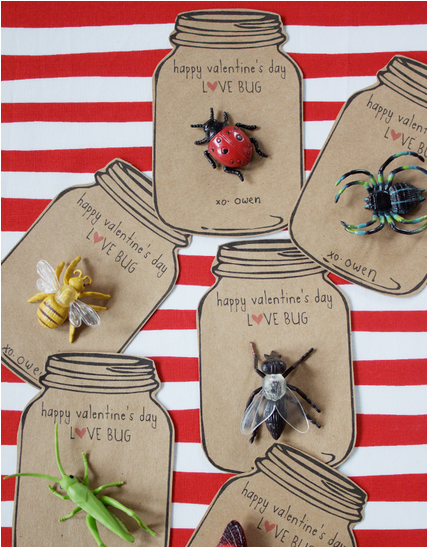 In our roundup of cool Valentine's printables for boys (and girls not so keen on pink), our favorite is easily the Love Bug valentines from Dandee Designs (cached link here).  Print on craft paper or card stock, and affix all those cheap party favor bugs from the dollar store you may already have lying around.
Last year we shared 8 great printable valentines for kids and the one our kids keep coming back to are the punny, mid-century feeling printable animal valentines (cached link) from letterpress card designers extraordinaire, Hello Lucky. This year, Liz's daughter wanted "only the bananas" because "it's so funny" Appeal…get it?
Living Locurto is always a source for printables galore, and this year, Amy's offering up a free Vintage Valentine printable from artist Angeli-Zankel Verastagui. Adorable choice for preschoolers when you want to stay away from the cartoon characters on TV.

The Zebra printable valentines were a quick favorite of Liz's five-year-old who who seemed to be very concerned that the boys and girls would like the same cards. If you're okay letting your kid sign her own name instead of having it personalized onto the template, the PDF is totally free. [h/t alpha mom]

Paper dolls meet valentines: That's like our kids' dream! This mid-century style Valentine by A-Meri-Card (cached link) has four styles featuring boys and girls. Don't even bother with the cutting–just print on card stock and hand them out as is, so the kids can have fun putting them together themselves after school.
Feliz "Día Del Amor y la Amistad", or "Happy Valentine's Day", with Spanglish Baby's Spanish language cards in either sweet pink or "little monster" styles. Perfect for your little bilingual baby, or perhaps that child who still thinks Dora and Diego are tops.
For even more Valentine cards, scroll through our ever growing collection of Valentine's Day posts.
And a tremendous thanks to all the artists who offer up so many free printables just for the love of sharing. We hope you'll share, pin, and find other ways to support their work throughout the year.