While a full school week left until Valentine's Day may not feel "last minute,"  those of us with kids who are busy with after-school activities and homework need to get our crafty selves in gear stat. And these last-minute Valentine gifts to make with the kids should help. Last year we featured 17 DIY Valentine's Day gifts to make and now we have 17 all new favorites that are all easy enough for kids to do themselves, or with some help from you (which they'll love anyway).
Whether you need to decorate the front door, fun up a Valentine's Day classroom party, or make little classroom gifts, these ideas should help. Also, be sure to catch our posts on the best Valentine's Day printable cards for the classroom, and DIY edible classroom Valentine's Treats for crafty kids, which are packed with fun ideas too.
DIY Glitter Heart Necklace
Thanks to Alison Faulkner of The Alison Show, our bauble-loving girls have a great craft project for their BFFs. Maybe even their moms. If they're willing to part with it at all.
Confetti Heart Craft
Whether you have a hot glue gun or just stick with rubber cement, this craft from Soleil Moon Frye's blog is ridiculously cute. My kids would want to turn theirs into pins to wear on their sweaters, but you could affix them to handmade cards, or just pop one in your kid's lunchbox with a love note on the back.
Paper Heart Garland from Upcycled Maps
We fell in love with the idea of custom map artwork to mark an important place (or future vacation). Similarly, this project from Crafting a Green World lets kids make use of those old Rand McNally pages that we've eschewed in favor of GPS.
Heart Strung Valentines Day Embroidery for Kids
I would never suggest that young kids should undertake embroidery as an "easy craft idea" but Moomah has a tutorial that's fairly simple for them–provided you're crafty enough yourself to get it set up. A DIY Lacing Card craft against a cardboard heart could be a nice substitute for preschoolers.
DIY Handmade Paper Flowers
Our associate editor Christina made these with her own kids from the instructions at Dozi Designs, and she swears they are super easy and come out just like the pictures. (Unlike most crafts on Pinterest.) Also, whether you glue them to branches, place them in a bowl or hand them out to classroom friends, they're bound to last longer than real roses.
Giant Printable Valentine Coloring Page
If coloring is your kid's thing, we recently found this free Valentine's Day printable which would make a great group craft for a classroom–or could keep a single kid occupied long enough for you to sneak some of the good chocolate in the other room.
Printable Candy Heart Banner
This printable makes it really easy to enjoy the non-caloric version of this Valentine's Day icon, thanks to Hello Little Home. You could even use the hearts individually as note cards.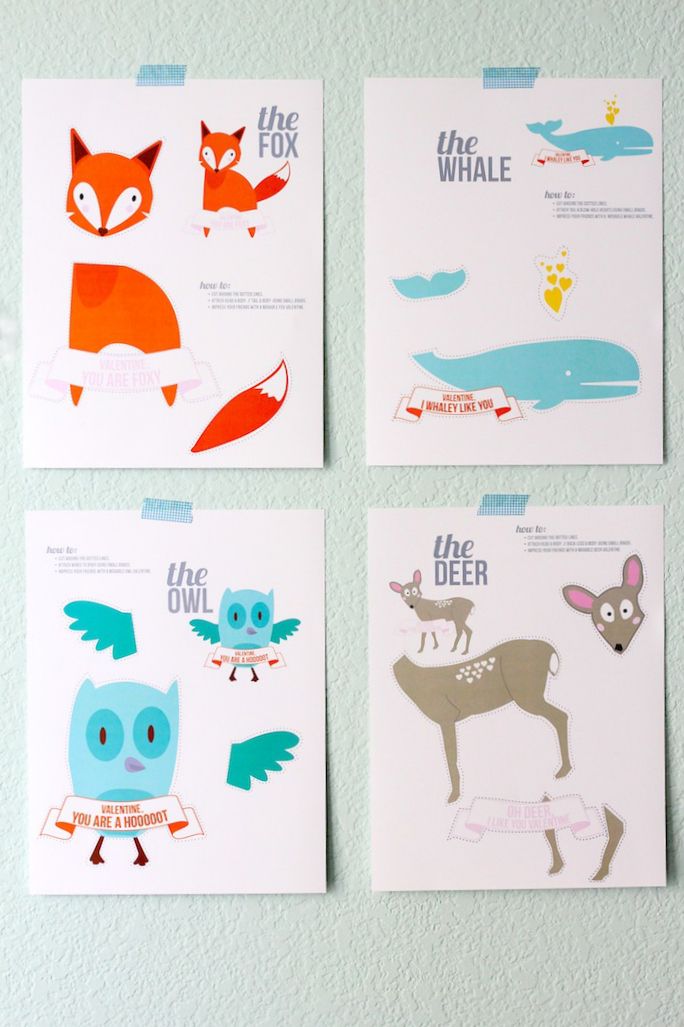 Free printable paper puppets 
We love this craft project from  You Are My Fave which would make a really fun card to give to your kids. Or just put them together for a Valentine's Eve puppet show. (Romantic, I know.)
DIY Pop-Out Valentine Love Letter
If your kid wants to get more crafty than printable Valentine's cards (which I heavily rely on, so no judgments) this is such a neat and really easy DIY Valentine's Day card from Minieco. Print out the template, cut up some colorful paper, and write a secret love note inside.
DIY Marshmallow Petit Fours
There are so many easy handmade Valentine's treats that kids can hand out , and this one is such an easy cheat from Liz Stanley of Say Yes. It mostly involves dipping mini marshmallows in tinted melted white chocolate, then decorating. Liz has a cool substitution idea for fondant, but it would look cute with just a red hot or a few sprinkles on top.
Photo Lollipop Valentine Cards
Last year we discovered Design Mom's clever card idea in our roundup of DIY Valentine gifts and we remain impressed. Just know that you will make all the other kids want to up their card-giving game next year.
DIY Painted Heart Rocks
Little is easier than this craft project found at Color Me Katie. I know my girls would love to have a bowl full of them on the dining room table that they could bring out every year. (If they ever let me put them away.)
Valentine's Day Bubbles
The next best thing to chocolate on Valentine's Day for kids is probably bubbles. I love that Martha Stewart's Kevin Sharkey writes, don't worry if they're not perfect–you're hand-labeling bubbles, for goodness sake. Amen.
Printable Valentine Bingo Cards
Until the kids are old enough to watch Love, Actually with me on Valentine's Day, this seems like a cute way to make a family-friendly game more festive. Free download in three different styles  from Makoodle.
Color-In Valentines Gift Wrap
To make any gift (my kids are making Rainbow Loom bracelets for everyone. Again.) more personal, try some DIY gift wrap. At Minieco, you'll find a free printable for three cute gift wrap patterns that kids will be dying to have their way with. Plus another printable gift wrap option from last year that's just as fun. Get the water colors, crayons and colored pencils ready!
Printable Valentines Hershey Kiss labels
As one of those moms with no time and good intentions, this may be my favorite of all: A super simple way to make those little Hershey's Kisses just a bit more handmade feeling. Just print the labels, stick them on the bottom of the Kisses, and hand them out in cute baggies with custom labels (if you're Camille from Makoodle) or by the handful right out of your bag (if you're me).