Hi Cool Mom Picks! I'm looking for some cute gender neutral crib bedding ideas for my surprise baby who will be here soon. I like modern design and bold patterns but I'm open to other ideas. Can you help? Thanks, Julie
First of all, congrats Julie! And yes we can definitely help in the gender neutral crib bedding department. Here are just a few ideas I love right now–modern, playful, and 100% pastel-free in a variety of color ranges that work for any kid at all.  Hope one is just right for you and your style.
1.YELLOW CRIB BEDDING
Not a Peep Crib Bedding at Land of Nod
Traditional little chicks don't look traditional at all with such a bold pattern, and the mix-and-match look against stripes and dots works wonderfully.
Organic Lion Baby Blanket and Crib Set from Smiling Planet
When Smiling Planet created eco-friendly crib sets we indeed smiled. Doesn't this little lion print feel like something out of the Little Prince?
2. AQUA OR TURQUOISE CRIB BEDDING
Olli and Lime Forrest Bedding Collection
Soft blues don't have to feel like traditional pastels. I love this modern print, and the way the plaid sheets play off the graphic bed skirt and quilt.
Multicolored Quilt at IvieBaby
Don't count out a bright color like turquoise as a gender neutral option especially if it's not the whole room.  Look how amazing it looks accented with colorful neutrals like this handmade quilt.
Rabbit Patch crib bedding at Little Auggie
We've always liked the clean, modern, but not too challenging designs at Little Auggie, like this lovely crib bedding with little rabbits, mushrooms and singing birds hopping around trees and flowers. This multi-colored crib set is shown anchored with a turquoise and white blanket, though you could really pull out yellow, grey, red or any color you want from it.
3. NAVY BLUE CRIB BEDDING
Serena and Lily nursery basics crib collection
Don't automatically discount blue as a boy color; a strong navy is a gorgeous neutral and looks terrific with any accent color at all. So you can stay gender-neutral with this new-for-spring set, then add pops of yellow, lime, orange or white–or even lavender or pink decor accents should you end up in a more feminine place.
4. ORANGE CRIB BEDDING
Olli and Lime Billie Crib Bedding Set at Diapers.com
I always love the happy brightness of orange in a baby's room, whether it's a main color or an accent.  If you wanted to make this a little more traditionally feminine, you could swap out the strong brown bed skirt for white or a softer orange.
When in Roam crib bedding at Land of Nod
Animals are a great go-to theme for any nursery, and here, orange pops from the palette of neutral greens and tans. This is easily one I might have picked for my own girls.
5. LIME GREEN CRIB BEDDING
Oilo Crib Bedding Set at Layla Grace
Like the orange Olli and Lime set above, I gravitate toward mid-century color palates, like this retro-modern lime color bedding from Oilo. I used a color like this for my own daughter's nursery, with pops of bright red, hot pink and yellow, and because the lime was so understated, it really worked. For a boy you could switch the pink for an electric blue.
6. BRIGHT GREEN CRIB BEDDING
Land of Nod Fine Prints Crib Bedding
If you like simple bedding, this bright grassy green keeps from being too overpowering with colorful X's and O's across a white field. So your baby is always surrounded by lots of hugs and kisses. (Or uh, tic tac toe icons.)
A super bright grass green gets a little subtler with accents of blue and crisp white in an Indian inspired bumper and quilt. (Of course, research the use of bumpers and quilts and use at your own discretion depending on the age of your baby.)
7. GREY CRIB BEDDING
GalaxyBedding from Dwell Studio
Dwell Studio is always a go-to site for modern nursery decor and I love everything about this galaxy bedding. Whether you want to go all out with a space theme and project stars on the ceiling, or just love the dreamy night sky in a subtle creamy gray, it's a beautiful choice for a boy or a girl.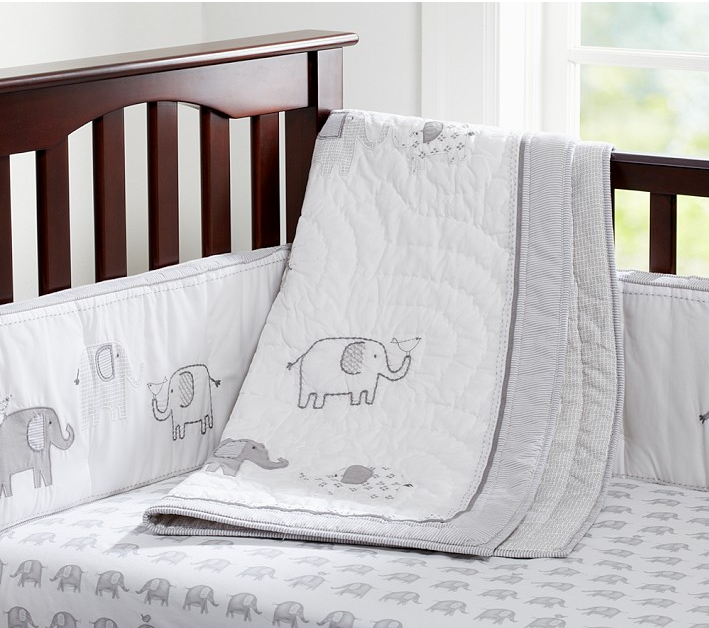 Taylor Nursery Bedding at PBK
These grey elephants against white will look fantastic with any accent colors at all, and the appliques and embroidery on the quilt and crib bumpers (if you are comfortable with bumpers) make them way more interesting than ordinary printed flat sheets.
8. MINT CRIB BEDDING
Green Antlers Print at IvieBaby
Mint green is so hot and I love it for boys and girls. We recently found this wonderful Etsy shop filled with great, gender neutral modern patterns, all beautifully handmade and this antler print is just so cool.
9. TAN OR TAUPE CRIB BEDDING
Miller Crib Bedding from Ollie and Lime
Don't count out tans or taupes as "boring" – in the right pattern,  it can be really striking with blonde wood furniture. Or use some really bold accents like turquoise, aqua or the yellow seen here to amp it up.
Olio Cobblestone Crib Bedding at AllModern
Another taupe and cream set I like is this cobblestone pattern offset by stripes and solid accents. Though I would skip the matchy-matchy pendant lamp in this photo. Just me.
And psst…here's a tip. If a shop doesn't have a specific "gender neutral" section, try looking under the boys' collection of crib sheets. That's where you'll find everything that isn't pink, purple, or princess-adorned.