I have three just-a-wee-bit-obsessed Minecraft fans who would love nothing more than a Minecraft birthday party, to celebrate their big days surrounded by their favorite virtual world. Oh, you too? Then keep reading for some of my favorite Minecraft birthday party ideas that will have big impact–all without a week of prep, or a celebrity's budget. We're busy, you know? But we do have time for these.
Minecraft Birthday Party Invitations
I love the bold yet not-too-busy Printable Minecraft Birthday Invitation from From Me With Love Design. Just send in your party details and receive a digital download to print the finished product out at home. I appreciate the ability to print out invitations as I need them, since my kids always  want to add at least one guest at the last minute.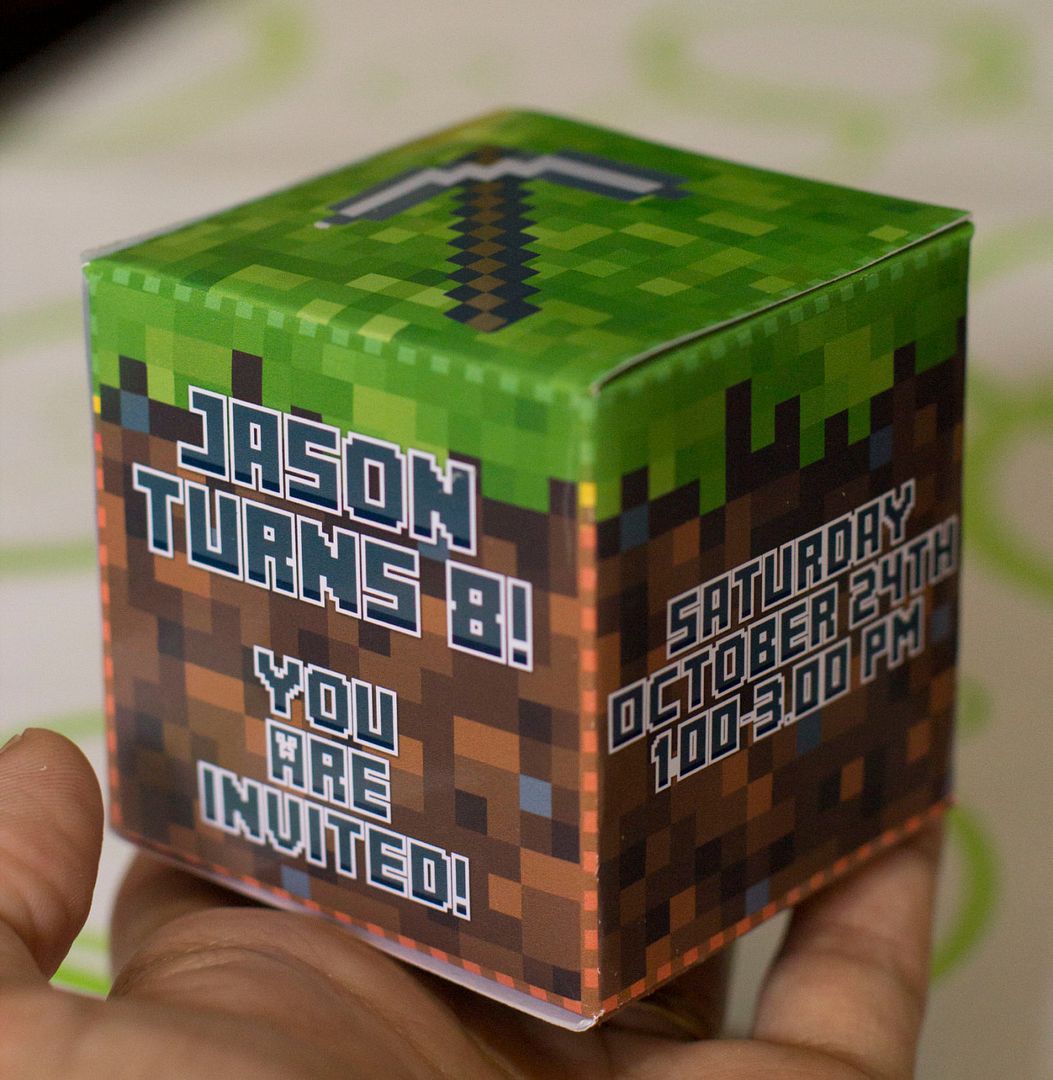 The print-and-assemble-at-home 3D Minecraft Birthday Party Invitation from TuKit Design would be great to hand out to prospective party guests. I think they'd make a big impact as-is, though you could also fill them with a few small pieces of candy to sweeten the offer. Print out a few extra for decorations around the party room too.
UPDATE: this box is no longer available but we did find these cool printable minecraft treat boxes on Etsy from Kenneth Quade Designs.  
Minecraft Birthday Party Decorations
There's no need to go too crazy with decorations in my house since my kids are mostly excited to eat cake and run around with their friends. You can still make a big, kid-friendly impact with fun touches like these cute (and easy!) Ghast and Creeper figures made from paper plates, black paper, and streamers. This is a fun project for the kids to do too.
And a green paper lantern is quickly transformed into a hanging Creeper head lantern with a few pieces of black construction paper. (The lanterns are on sale at the aptly named Paper Lantern store)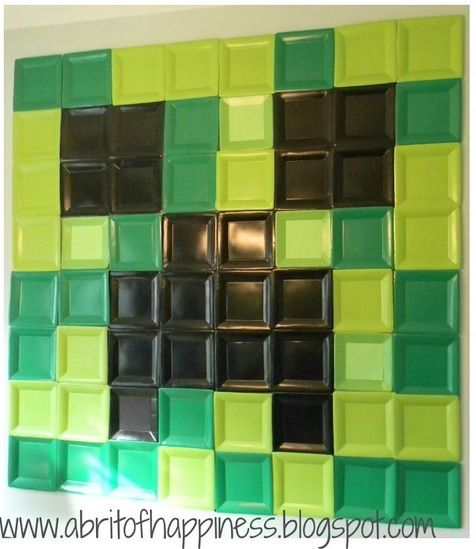 Party planners with a little more time–and the ability to hang things in a straight line–should check out this big Minecraft Creeper DIY mural, made of square paper plates–dinner size for something this large, or dessert size for a smaller finished product. The only downside? My son would want me to transfer this to his bedroom after the party.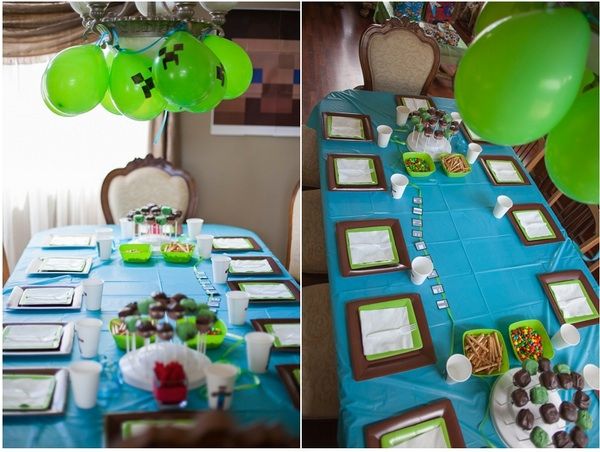 Never underestimate the power of a color scheme and matching balloons. I love how photographer Margarette Sia decorates for her Minecraft birthday party with a bright tablecloth, square plates, and a few clusters of balloons. Voila! Minecraft decor! Black electrical tape is optional, but works to great effect.
Minecraft Birthday Party Activities
Though my kids would think it's perfectly acceptable to set everyone up on the computers to play a few games, I'd rather their Minecraft birthday games and activities be a bit more social. I love the idea of doing  a fun scavenger hunt to search for "diamonds" in exchange for small treats.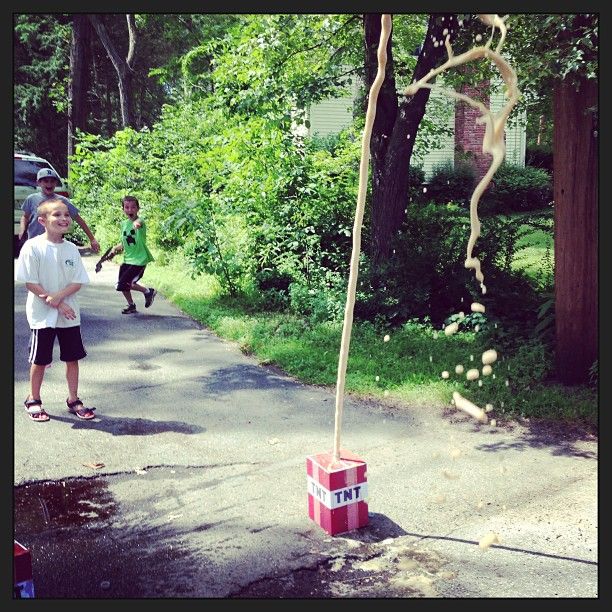 A fun way to finish off your scavenger hunt? Light off some TNT and cheer at the explosion. Don't worry, this is definitely kid-friendly, if a little sticky, if you borrow Paula Gilarde's idea to combine the Mentos-in-soda experiment with some DIY Minecraft TNT wrapping that looks pretty easy to make. I am positive I'd run out of soda before the kids tired of this explosive activity.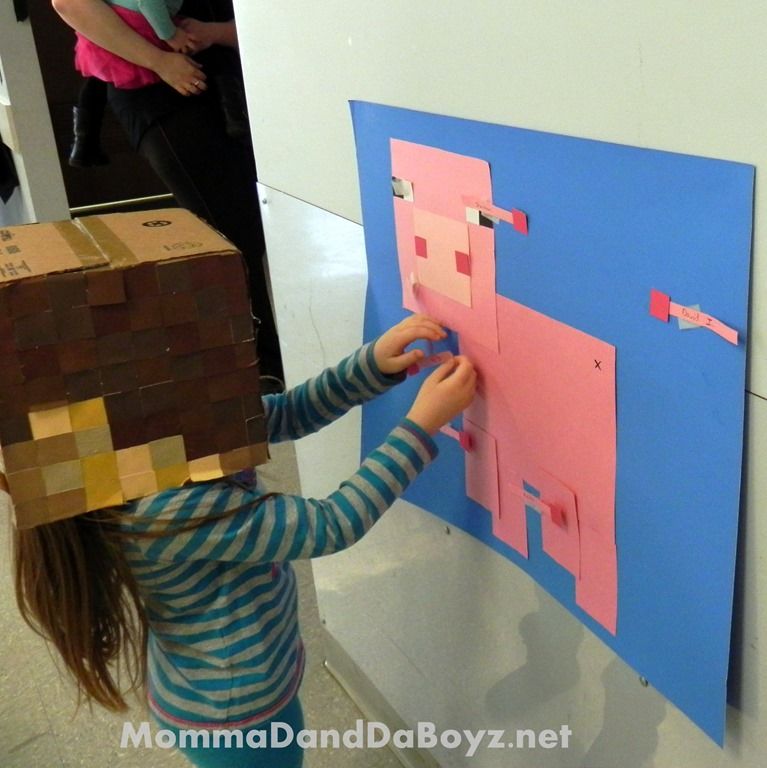 Pin the tail on the. . .Pig.  How cute is this twist on Pin the Tail on the Donkey, using a few sheets of square pink paper and some pig "tails."  I really like how  mom/party thrower Jennifer has used a handmade Minecraft Steve head instead of the traditional blindfold. I'd probably use my son's store-bought Halloween-costume Enderman head which is pretty hard to see out of anyway.
This Minecraft party mask activity might just get a few excited, sugared-up kids to calm down for a little while as they create their own unique Minecraft character. Use squares of cut construction paper, or grab a set of precut Origami squares or even colored Post-It notes, and let the kids create their own designs on a piece of cardboard. Great photo opp!
Minecraft Birthday Party Food and Snacks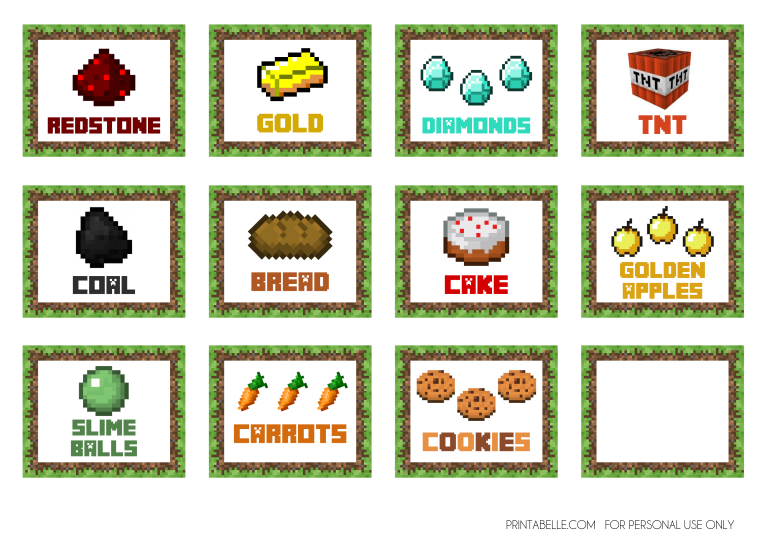 Download these free Minecraft printables by Printabelle which are made to stick in front of snacks like cookies and carrots. It's up to you how you decide to interpret "diamonds" and "slime balls." And though I wouldn't go crazy trying to make everything cube shaped,  foods like hard cheese, mini sandwich bites,  pizza, and brownies can be easily made square-shaped to fit the party theme nicely.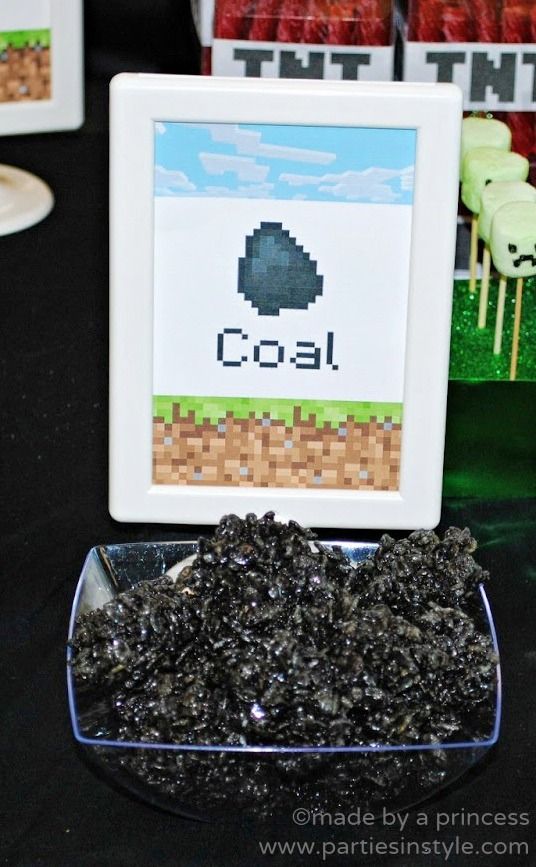 Along with regular party snacks, these pieces of edible Minecraft coal at Made by a Princess Blog are in keeping with the theme and are no harder than your basic Rice Krispie recipe with some black food coloring. And yes, you can get black natural food coloring too. Click over for the easy DIY.
There are many unbelievable Minecraft cakes out there, though I know my kids would be perfectly happy with a yummy handmade (or store-bought) cake topped with some adorable fondant Minecraft birthday cake toppers made by Like Butter. Don't balk at the overall price which is for an entire set of twenty; message the owner with the figures you want for more wallet-friendly a-la-carte pricing.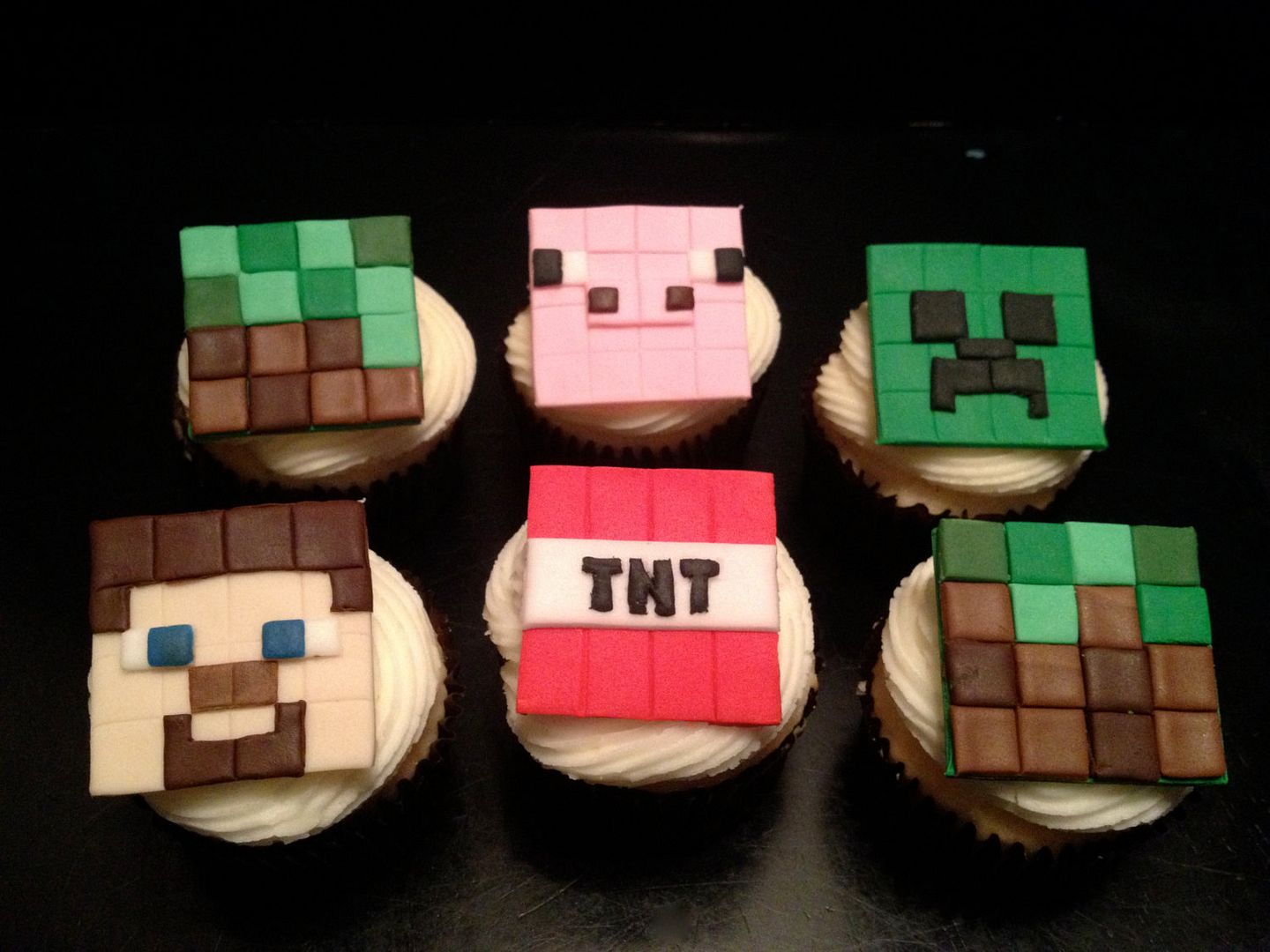 If cupcakes are the guest of honor's sweet of choice, I'd definitely consider topping them with these edible handmade Minecraft Cupcake Toppers by Peace, Love & Cake. They'll sit stiffly on top of your cupcakes, and she can even include a coordinating topper with the birthday child's initial or age on it.

For the not-so-edible route, check out these free printable Minecraft cupcake toppers at Catch My Party, which will make green-frosted cupcakes Minecraft-party ready. Just print on cardstock, cut, and tape to toothpicks or small lollipop craft sticks. So easy!
More fun printable Minecraft cupcake toppers: The ones from Austin Craft Invites on Etsy, also seen at top. They're not free, but $10 gets you the whole set of toppers plus the cute green cupcake wrappers.
Minecraft Birthday Party Favors
If you want to send the kids home with more than memories, here are a few Minecraft-related party favors that won't end up immediately at the bottom of the toy box. Or so we hope.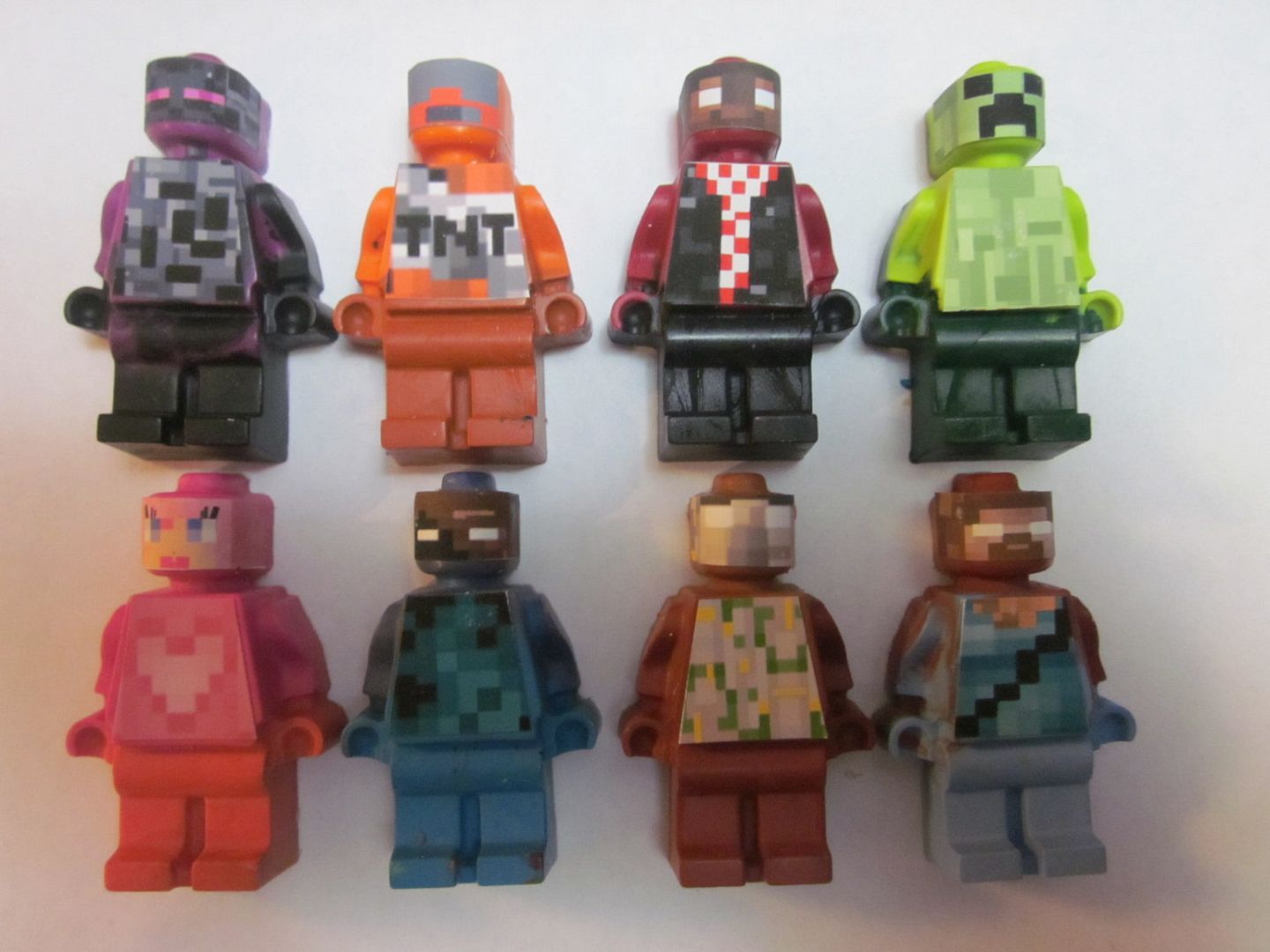 Encourage your guests' offline creativity with a set of these amazingly detailed Minecraft-and-LEGO inspired crayon party favors. I bet my kids play with them as much as color with them.
I adore these Minecraft wooden teaspoons by Bespoke Party Products that could go from the table to the take-home favor bag (after a quick rinse, of course). With ten Creepers and ten Pigs, they are surprisingly affordable and ready to dig into whatever you serve.
These free printable Minecraft bookmarks would be a great party favor, especially tucked into a favorite paperback. Or, check out this brand new Minecraft book which looks pretty great for all-age Minecraft fans.
Want more Minecraft? Check out other Minecraft-related posts on Cool Mom Tech for even more ideas. And don't miss all of our birthday party themes which cover loads of themes and age-appropriate games and activities.