Travel journals for kids are such a brilliant idea. I mean, what kid doesn't want to remember every detail of a family vacation in his or her own way? A little drawing of the world's largest yoyo you saw in California, a ticket from the museum in Madrid, or a list of things you want to see when you land in NYC for the first time–they're all amazing memories, and they deserve to be preserved in a really cool journal.
Here are some of our favorite travel journals made just for kids, from DIY projects to ones you can buy. I hope your young travelers will like them too.
The Journey Journal for Kids by Cracked Designs
How cool is this journal spotted on Etsy? Insert the pins that come with it, and tie off your route with the red string. I love that kids can chart where they're going on the front and record their memories inside. So cool.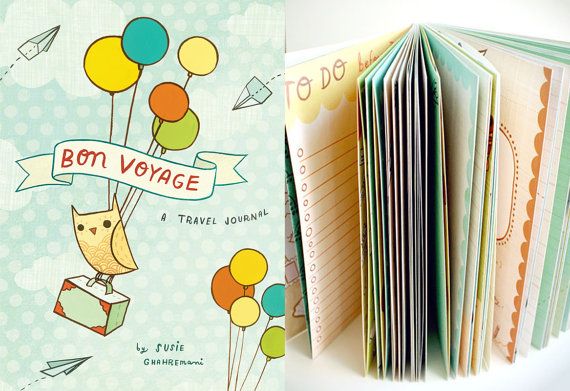 Bon Voyage Travel Journal by Boy-Girl Party
This full-color journal is so fun, complete with writing prompts and plenty of blank space. And we love that it includes a phthalate-free vinyl cover and four postcards for sending home while you're on your trip. So smart.
Personalized Map Journal by Nellie & Elsie
For a beautiful bespoke journal option for a very special trip, check out this custom map journal by Nellie & Elsie. You can even choose your own text for the front cover. Wow.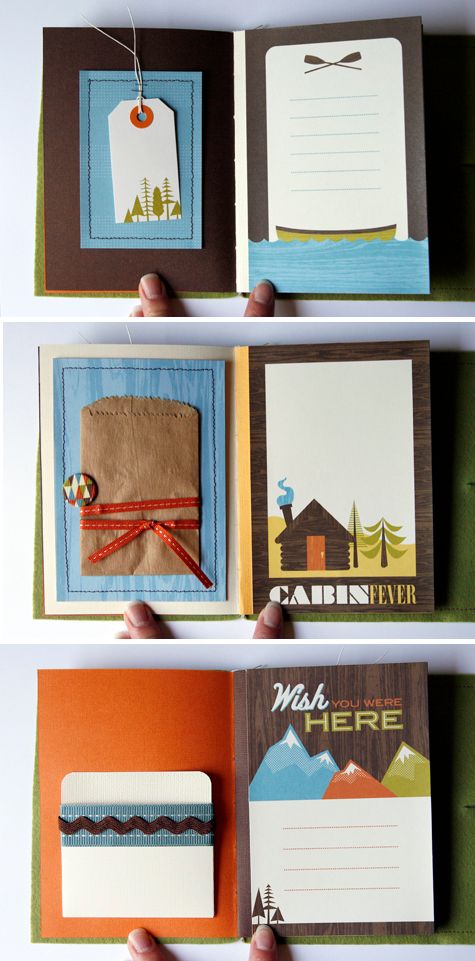 DIY Travel Journal for Kids by American Crafts
The step-by-step instructions for this DIY journal make this look easier than you'd think, considering the result are super impressive. Great way to stash keepsakes and ephemera too.
Printable Sun and Ski Travel Journal for Kids (at top)
We love this free printable from Willowday which becomes a DIY journal on a ring that your kids can make and then fill out, whether you're going somewhere sunny or somewhere snowy. Hopefully sunny, this time of year.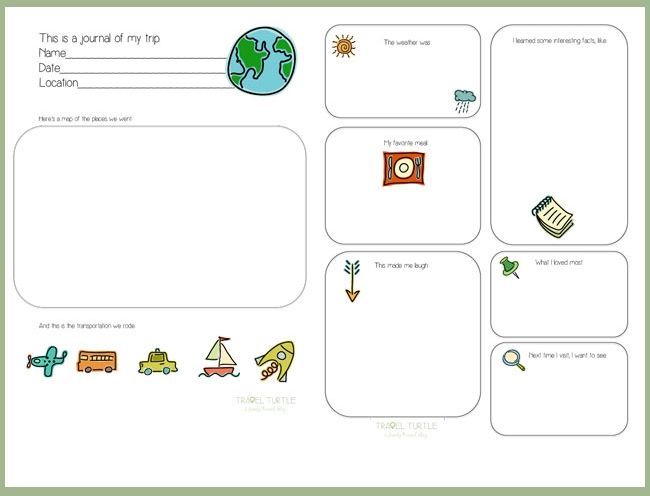 Free printable Travel Journal Pages for Kids from Travel Turtle
Print out a free page for each day of your vacation, then run over to your local print shop to get it spiral bound with a fun cover featuring your kid's photo. Or, if you're too busy packing bags, just staple them together with construction paper covers that the kids can decorate themselves. They'll probably like that better anyway. (Update: This site no longer exists but you can right click to download and print this direct image, even if it's not quite full size)
By the way, journals work great for staycations too, if you happen to be stuck at home over Spring Break while everyone you know is at the beach. Trust me, I feel your pain. We hit our own town like tourists, booked a hotel room, and went to visit a nearby national park. And now that school's back in swing, the kids like looking back over their journals to remember just how much fun we really did have at home all week.
Get more great ideas for travel with your kids at Cool Mom Picks's On the Road Pinterest board.