They say that a balanced lunch box should include at least one serving of fruit. Apples count, but only if your kid actually eats them–and apparently they can get boring after a while. (Psh, kids these days.) This year, I plan on switching up our back to school snacks with these six fresh ways to pack fruit for school lunch.
Fruit roll-ups are one of the most popular back-to-school snacks, but I'm not so sure you can consider most varieties actual fruit. These health,  homemade Mango fruit roll-ups (above) from Just a Taste are different, though. Made with just pureed fresh mango—yup, nothing added—these snacks are as close to real fruit as you can get without, you know, being a piece of real fruit. I'm not sure that a single roll-up makes up quite a whole serving of fruit, but I'm also not sure that my kids could eat just one. And with no added sugar, I feel better about giving them more.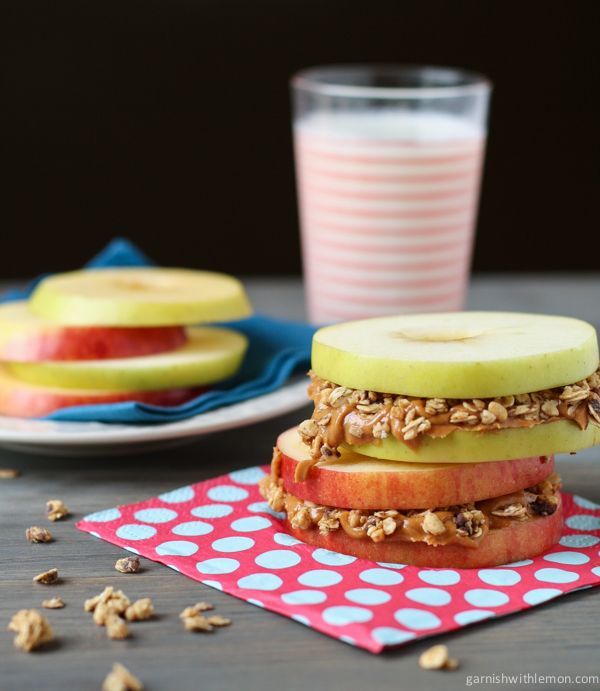 We've been serving these Apple Sandwiches with Almond Butter and Granola from Garnish with Lemon as a play date snack for a while now. It turns out that they're also a great back to school snack for the lunch box. Use seed butter instead of almond if your kids go to a nut-free school. Either way, two of these plus some pita chips is filling enough to serve as your kid's sandwich and fruit. Two birds, one snack—love it.
If you love the idea of sandwiching nut or seed butter between slices of fruit but want something other than apples, try these Peanut Butter Banana Bites from my own site, One Hungry Mama. Same idea, different flavor, all good. And for young kids who can never seem to finish the sandwich and the fruit, this is the perfect solution.

Don't let the word salad throw you off; this Mango Apple Salad from Shutterbean is natural, sweet and most definitely lettuce-free. Just sliced fruit sprinkled with lime zest that's been mixed with granulated sugar, this "salad" is perfect for the lunch box. I love how lime pairs with apples and mango, but you can put the sugared lime zest alongside any fruit and watch it disappear fast.
I'm kind of obsessed with this easy fruit sushi recipe, or frushi, as Rachel from Kids Activities Blog calls it. Whatever you call it, the recipe is clever and tasty, and one of my favorite new back to school snacks. It's also a great way to use up leftover cooked rice. Instead of packing it up after dinner, take ten minutes to make these rolls and stick them in the fridge. In the morning, a fun, fruity snack will be lunch box-ready and waiting.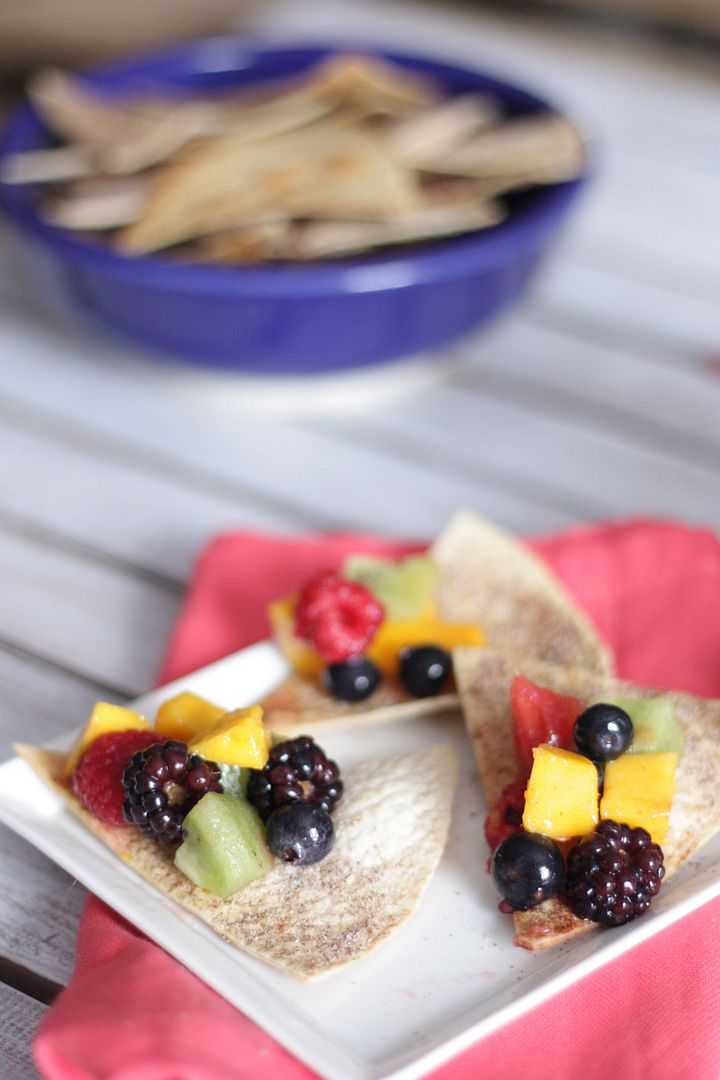 We love chips and salsa and the Fruit Salsa with Baked Cinnamon Chips idea from Paint and Tofu counts. This sweet take on the popular snack is a great way to get kids to gobble up a rainbow of fresh fruit. You can also make the salsa ahead of time with overripe fruit, which is a smart way to keep things quick and convenient for you.
For more back-to-school snack ideas and other delicious recipes, check out our Pinterest food board!