Labor Day does not mean labor intensive, so keep your eats fresh and easy this holiday weekend. With late summer produce at its peak, nothing needs a heavy touch. Sip on a Blackberry Smash cocktail, grill up one of these amazing burger recipes or hot dog recipes, if you prefer, and make some sweet corn to top it all off. Here are 4 easy ways to cook corn on the cob this weekend—or any time of the year—to get it just right without much effort. Then just top it off your meal with a gorgeous summer pie recipe, if you feel like going the extra mile.
Boil It
The most common way to cook corn on the cob is also the easiest way to accidentally overcook it. The good news is that avoiding soggy boiled corn is as easy as setting a timer. For kernels that are still a little crisp (the way that I like them), you'll want to cook the cobs for about four minutes. For softer corn, you can boil them for up to eight minutes.
Get detailed instructions on how to boil corn on the cob from our friends at The Kitchen.
Microwave It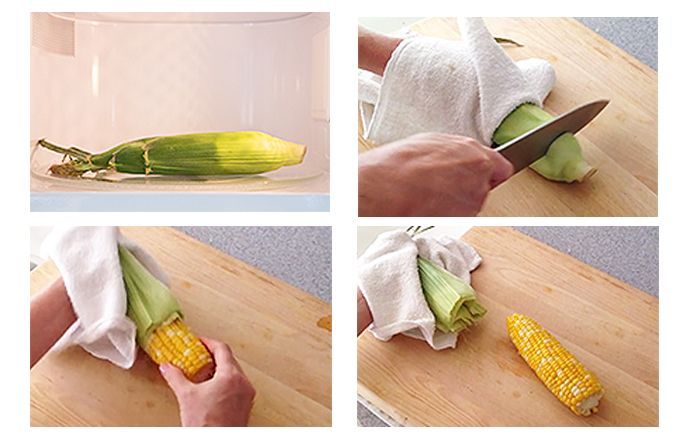 You read right! Microwaving has become one of my favorite methods of cooking corn on the cob because of how quick and easy it is. No shucking. No pesky corn silk everywhere. No waiting for a huge pot of water to boil. Just put the corn, husk on, in the microwave and cook on high for four minutes. The corn will steam inside the husk, which will slip right off when you take it out of the microwave. Be sure to use oven mitts, as the corn is super hot once done.
Get detailed instructions on how to cook corn on the cob in the microwave at Simply Recipes.
Grill It
When the grill is already fired up, skip the pot and the microwave and keep all of your cooking outdoors. There are three ways that you can grill corn—in the husk, out of the husk, or wrapped in foil—and the folks at Serious Eats have detailed directions on each method. If you ask me, throwing naked corn on the grill is the move. If you don't love the charred bits, though, the other two methods will result in corn similar to how it comes out of a pot.
Get detailed instructions on how to cook corn on the cob on the grill at Serious Eats.
Roast It
Roasting corn is just as easy as microwaving it, but takes a little longer. If your oven is on already, though, why not? Just place corn, husks still on, in the oven. You don't need a pan or anything! Thirty minutes later, your corn will come out perfectly cooked. You can also adapt this method for flavored corn by husking the cob and wrapping it in foil with herbs and butter before baking. Yum.
Get detailed instructions on how to cook corn on the cob in the oven (pictured at very top) at the Food Network website. You can also get the recipe for Buttery Herb Baked Corn (pictured here) at the BBC website.
For more food ideas for Labor Day, check out the recipes in our archives.