Baby food. Oh, baby food. Some parents love it, but me, I dreaded the mess. Still, your baby has to learn how to use a spoon sometime, and that can be harder than you might think, with all of that scooping, balancing, and mouth-eye coordination. So we've come across three new feeding utensils for babies that are making it so much easier for them to feed themselves. Yay for learning–and for no more pureed avocado on the curtains.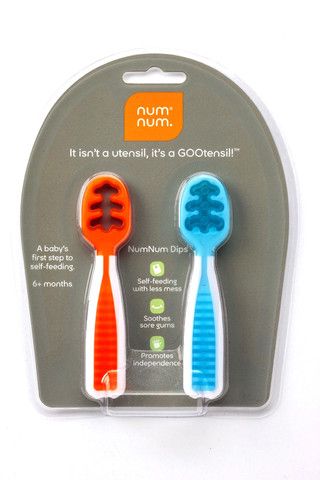 NumNum Dips are an innovative fork-spoon-spatula thing that's like training wheels for your baby as he learns to feed himself. NumNum as designed them to have either a dimpled center for thinner foods, or an open one for thicker foods, each of which allow food to cling to it long enough to make it into your baby's mouth. That means there isn't a "right way up," so the focus is entirely on getting the food to his mouth. (Or maybe more than normally might,  to be frank about it.) Plus, it can act as a teether when mealtime is over.
A nice bonus: The NumNum Dips are also helping feed another child who'd otherwise go hungry with a portion of every NumNum purchase donated to end childhood hunger. Cheers to that.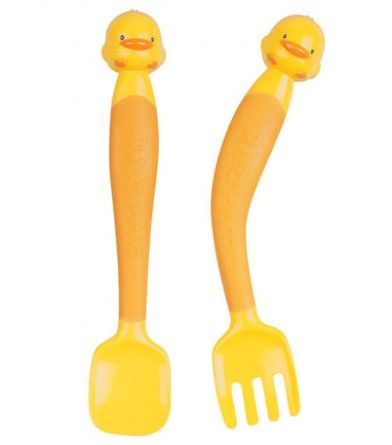 If your kids have mastered the NumNum Dips and are ready to move onto a real spoon and fork, you can start with the Piyo Piyo's Stylish Bendable Spoon and Fork set. And yes, stylish is their word, not ours, since we would probably call that little duckling on the top adorable instead.  The grip section of the utensil bends making it easier for little hands to use as they're learning to balance their food on their utensils, plus it's designed so that both righties and lefties can use it no problem.
Finally, if your family is big on noodles or Asian foods, you can help your kids master the art of eating with chopsticks with the same company's training chopsticks. We've seen other cool kids' chopsticks before, but the ergonomic design of this one is made for the youngest kids. (Though sorry, this one's not for lefties yet.)
If the ease and independence of letting your baby feed himself isn't enough motivation for you, the NumNum website shares research showing that early self-feeding promotes brain development. In other words, letting your kids play with their food–and trying not to mind the mess along the way–can potentially make kids smarter. Of course not sure what the research is about parents who suddenly have to clean the ceiling after every meal.
Shop for cool new feeding utensils for babies from  Num Num and Piyo Piyo. 
For more easy mealtime tips, visit our archives.