Back when I shared new trends for back to school snacks I promised to only pass along food and drink trends that stand the test of some time. I have watched new tea drinks and tea-flavored foods hit the market nearly every week since I started spotting them several months ago, each more delicious than the next. These tea goods are the real deal, worth sharing, and tasty enough that you just might ditch java–or at least let it share the spotlight.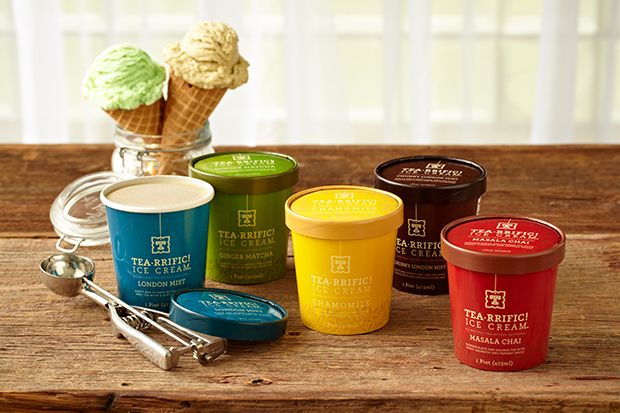 Tea-riffic! ice cream is a brand new, amazingly delicious tea-infused ice cream made from only all-natural ingredients without any gums, stabilizers or preservatives or other icky fillers. As much as I love an all-natural product, I especially love a tasty all-natural product and this stuff is totally irresistible. It's no wonder that Tea-riffic! was a 2014 Martha Stewart American Made finalist.
I have to admit that I was skeptical about this ice cream, twice. The first time I had the chance to try Tea-riffic! I almost passed it up. In just a matter of minutes, though, I went from trying one bite of one flavor to sampling—or more honestly put, devouring—the entire six flavor line: Chamomile, Masala Chai, London Mist, Chunky London Mist, Ginger Matcha, and Lavender Blueberry. Then, as much as I love this ice cream, I was sure that it was too grown-up for my kids. Wrong again! My kids love it too, which makes it the ultimate sophisticated-enough-for-grown-ups/yummy-enough-for-kids dessert. We're all totally hooked.
Tea-riffic! is a brand new product just starting to make its way across the country. Check the Tea-riffic! website to find out if it's sold in a store near you. Otherwise, recommend Tea-riffic! to your grocer and check back with them. Often.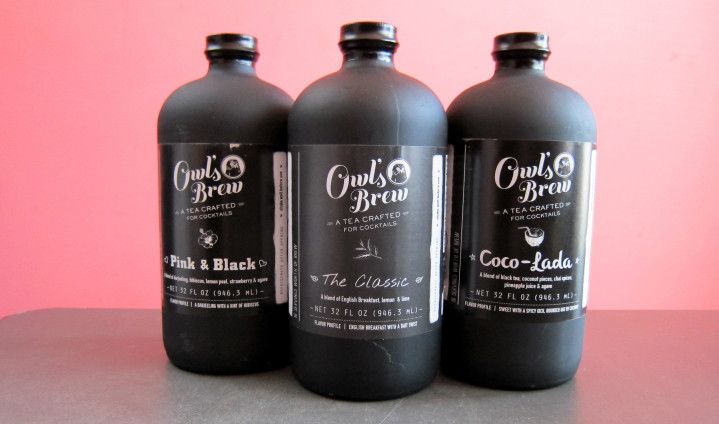 I've tried a lot of hand-crafted mixers for artisanal cocktails and Owl's Brew is my new favorite. A ready-to-pour tea blended specifically for cocktails, Owl's Brew is made to be paired with vodka, tequila, rum, whiskey, gin or champagne. As the bottle says, it's as easy as "2 parts brew, 1 part booze," but you can get fancier if you like. With three tasty flavors, I haven't felt the need.
My favorite flavor is is the Pink & Black, a blend of hibiscus and Darjeeling which I've tried mixed with vodka and Prosecco. The Classic flavor is a blend of English Breakfast tea with lemon and lime juice that I think goes great with whiskey. If you're feeling tropical, try the Coco-Lada, a sweet and spicy blend of black tea, chai spices, pineapple juice, agave and coconut which most obviously calls for rum. Yum.
My kids have had sips of each flavor sans alcohol and they'd totally drink Owl's Brew out of the bottle–if it was sweetened up just a little. These brews contain caffeine though, which is just fine, because I'm happy to keep them just for me.
You can find out where to buy Owl's Brew at a store near you or buy them online through the Owl's Brew website.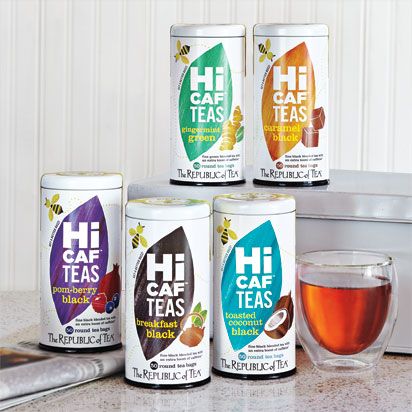 HiCAF teas are part of a new line from Republic of Tea, the folks behind our favorite Downton Abbey teas, that are boosted with green tea extract and pure caffeine extracted from tea leaves. Tea may be gentle, but these give a serious buzz. The boost from HiCAF teas wake me up without causing me to go into overdrive. It's like coffee, but calmer.
The line has five flavors: Toasted Coconut Black Tea, Pom-berry Black Tea, Caramel Black Tea, Breakfast Black Tea, and Gingermint Green Tea. Unlike flavored coffee, which I normally avoid, these flavors are subtle. I find every single one pleasantly drinkable, as tea should be, and especially love sipping on the Toasted Coconut flavor. I may not completely give up my morning cup of joe, but I'm sold on these for my afternoon jolt.
Look for Republic of Tea HiCAF teas at a store near you or buy them online through the Republic of Tea website.
Tea Drink Boxes for Kids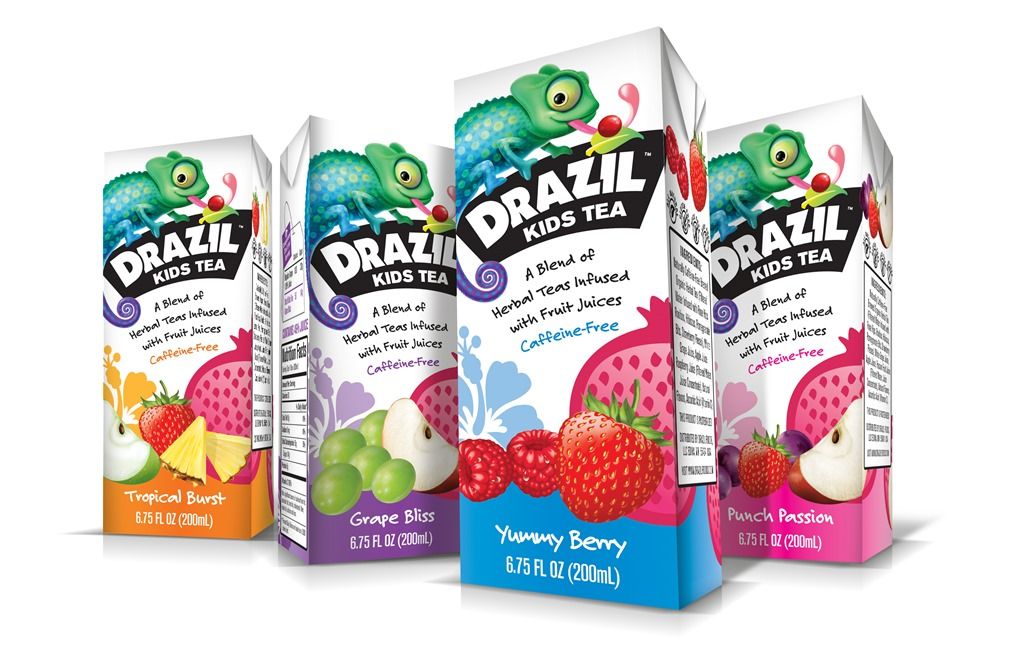 It started with one and now there are two awesome tea drink boxes for kids. Both Little Me Tea and Drazil Tea combine caffeine-free tea with fruit juice to make a super sip that even I can't get enough of, never mind my kids!
Both brands come in several flavors, every single one of which has gotten the seal of approval from my kids. And both brands have zero added sugar, which has gotten the seal of approval from me. A win-win.
You can find out where to buy Little Me Tea at a store near you. You can find out where to buy Drazil Tea at a store near you if you live in California or in the Southwest. Otherwise, find out where to buy Drazil Tea drink boxes online at the Drazil Tea website.
For more tea products, visit our archives.