How many times have you heard "Just meal plan!" when you groan about the never-ending responsibility of feeding your family night after night?  But time constraints, logistics, or the fact that organizing ahead isn't everyone's strong suit mean meal planning just doesn't work for all of us. Now, thanks to new awesome meal planning website gatheredtable, someone else can do it for you.
Don't miss a big update below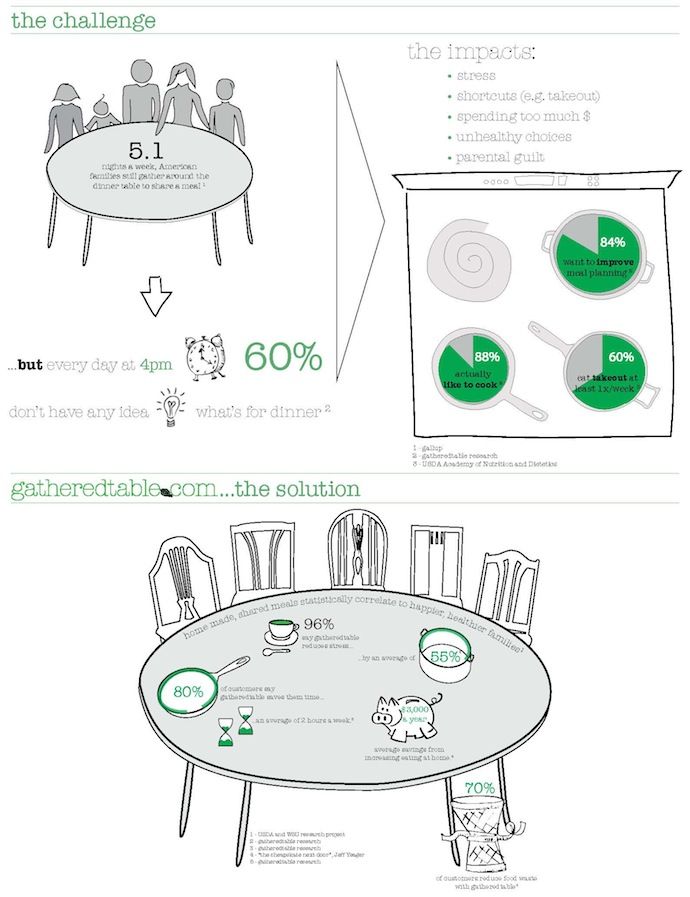 Does any of these statistics resonate with you? You're not alone, which is why so many meal planning sites and apps have popped up lately. I've looked into many of them and haven't found one that I thought was usable for all kinds of families, working with all kinds of budgets, schedules, and tastes, until now.
The gatheredtable service is different because it is personalized. Like highly personalized. You set up preferences when you join that make the service smart about what you and your family want to eat. Then, instead of receiving the same generic meal plan that every other subscriber gets every week, you'll find a tailored list of meals—each one with a main, a carb side dish, and a vegetable—plus a shopping list in your inbox every Friday.
To join gatheredtable, you're asked to fill out a detailed profile about how you cook and what your family likes to eat. You start by inputting how many nights a week you plan to cook, how many servings you typical make, and your diet (omnivore, paleo, vegetarian, vegan, kosher, pescatarian). Then you rate ingredients according to how often you eat them. For example, I gave chicken and fish a 4 out of 4 rating because we eat them often; I rated beef 3 and tofu and tempheh 2. There are tons of other options so that the system can get a handle on everything you eat, from grains to veggies. You're also asked to indicate how frequently you buy organic produce, organic dairy, natural meats, and "more expensive, higher quality groceries."
With all this information in the system, gatheredtable can generate a menu plan that actually works for you. And if not, you can edit your menu to add or remove recipes for any day of the week and replace them with recipes from your personal library (you can electronically snip recipes from the internet or enter your favorite cookbook recipes) or the gatheredtable list of suggested recipes which are based on your profile (think Netflix suggestions).
The grocery list that comes with your meal plan every week includes ingredients for all of the approved recipes, your pantry list, and any items that you add to your weekly replenishables list. So, if you know that you'll want a loaf of sandwich bread, baby carrots, and cucumbers every week for school lunch, say so and those items will be on your shopping list, too.
The best part of gatheredtable is that you can check, edit, and add to your meal plan, recipe library, and grocery list from your computer or—thanks to their new app—your iPhone or iPad. And—yes, it gets better—gatheredtable is preparing to roll out integration with grocery and farm delivery services. So not only do you get a meal plan and shopping list, but you'll soon be able to click from your list to a shopping cart to get all the food you need to execute your weekly meal plan. Boom.
You know how much we love companies that give back so I can't forget to tell you that gatheredtable has partnered with the Edible Schoolyards Project, to which they donate 1% of their profits. That's a nice touch that helps make the $10 per month price worth it.
If you join gatheredtable now, you'll be able to take advantage of a limited time offer for 6 free months. You can also download the gatheredtable app for your iPhone or iPad from the iTunes store.
Edited to add, 10/14: Now gathered table is integrated with Peapod, so if you're in one of the 24 markets they cover, you can get everything on your grocery list delivered. Awesome.