Halloween is coming soon, and it's time to plan our parties. First up: invitations. And not just any Halloween invitations, but seriously impressive, over-the-top, creative Halloween party invitations this year. If you're not up for the print-and-ship status quo, as cool as those can be, find inspiration from thee invitations that tell your guests this is one party not to be missed. Then make sure the party lives up to the promise.
Note: we recommend sending these by owl post instead of regular old Muggle mail.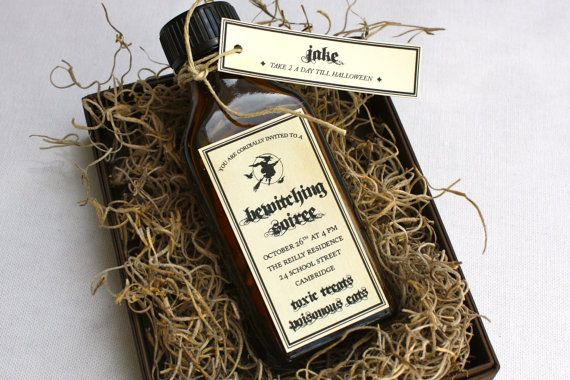 There's something that makes me feel a little uncertain about vintage medical supplies, and this amber apothecary jar Halloween invitation from Still River Press on Etsy captures that feeling in a perfectly creepy way. Also, the jar's filled with candy, which is what Halloween's all about, right?
If you're ready for a real DIY challenge, try this Gothic book-inspired Halloween invitation at Magpie Meadow Handmade. Pressed flowers and diagrams of bats alongside your party info on the inside make this feel eerie. In a good way, of course.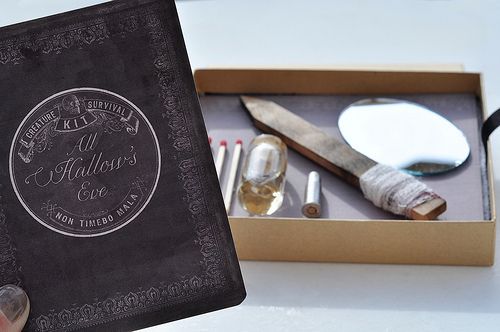 Keep your guests safe from vampires with this impressive boxed survival kit Halloween invitation idea (also at very top) from the clever Stephanie of Brooklyn Limestone. The wooden stake, holy water, and silver bullet are fun details your guests will remember for a long time. If they live long at all. Bwahahahah…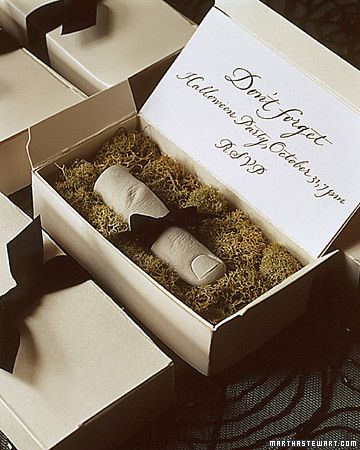 Martha Stewart's DIY for a severed finger Halloween invitation gives a whole new meaning to "handmade Halloween invitations." Ha. Something tells me your guests will not forget this party.
If you're looking for a less-creepy and more kid-friendly party vibe, try this simple handmade pumpkin Halloween invitation from Dandee Designs. Just write your note and attach it to the stem, then fill some thermoses with cider and make a fun afternoon out of hand-delivering your invitations around the neighborhood with your kids.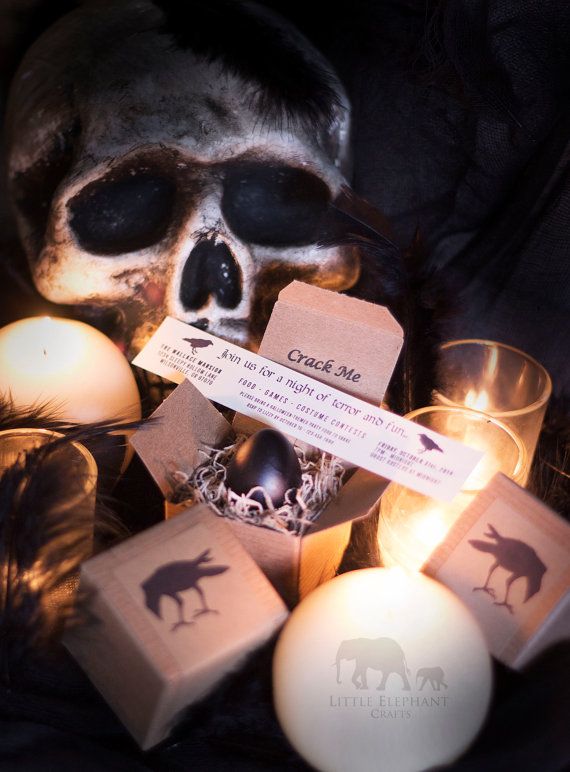 I'm dying over this black raven's egg Halloween invitation made by Little Elephant Crafts. It's a real quail's egg painted black, and the invitation is rolled up and slipped inside the hollowed out egg. Crack it to reveal the party info. I mean, wow.
For something simple but still cool, check out the antique morgue toe tag printable Halloween party invitations from the uber creative minds at Blush Printables. Order the PDF and you can edit on a PC (sorry Mac users) to complete your own info with any font you've got. If you really want to get creepy, tie each one to the feet of an old doll scavenged from a local thrift shop.
To invite guests to a Bayou-inspired Halloween party, send out individual voodoo dolls as Halloween party invitations with all the important details stabbed into their chests with pins. Whoa. Ironically, these are made by an Etsy shop called Sweetly Said Press. Indeed.
Get more party inspiration at our Halloween Coolness Pinterest board.