I tend to think that making my kids' Halloween costumes is a great idea. I also tend to be wrong. Not only does it always take way much time than I have, but it can end up being every bit as expensive as buying something. My 9-year-old is feeling like maybe a full costume isn't cool anymore, so this year I'm helping him plan a simple Halloween costume around a really exquisite mask like these gorgeous handmade Halloween masks I've been admiring on Etsy for the last few weeks.
As for my daughter, she still wants an elaborate costume, but maybe she can use one of these masks as inspiration. Meanwhile, I'll be happy to tell everyone that my kids' costumes are handmade. Only not by me.
I'm a little bit obsessed with the handmade beauty of the leather Snowy Owl Halloween mask at Sundries and Plunder. In fact, the entire shop is breathtaking. Check out the bunny, at top, and the fox and bear masks too. Stunning.
My kids have finally quit singing What Does the Fox Say? (annnd, there it is again, in my head), but they still think this handmade fox fur mask by Spirit Parade is cool because it's so realistic. I'm thinking it would make a pretty cute interpretation of the classic Robin Hood cartoon on my preschooler.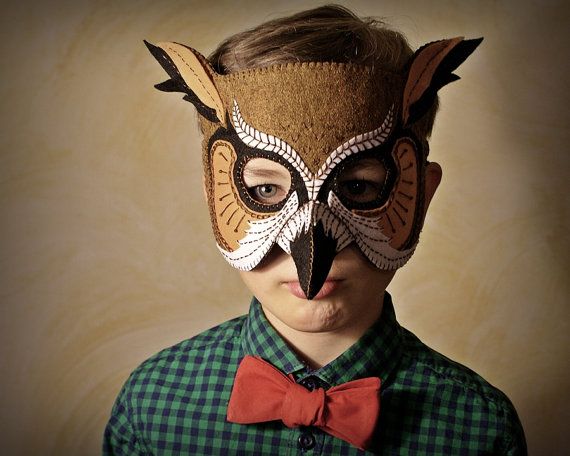 These handmade masks are just too good to pass up, so if the idea of a little DIY doesn't scare you, then check out OxeyeDaisy's PDF patterns. I love her jaw-dropping handmade dragon mask (at top), the sweet unicorn mask, and quirky owl mask. Gorgeous.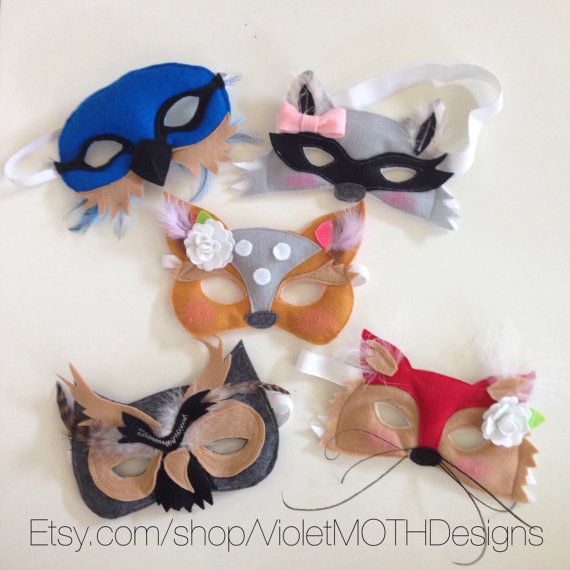 Who knew woodland creatures would be so popular with our kids lately? I never would have predicted mass hysteria among grade-schoolers cute over owls, foxes, and hedgehogs. But these felt woodland creature masks by Violet Moth Designs out of Canada are cute enough to get me awwww-ing too.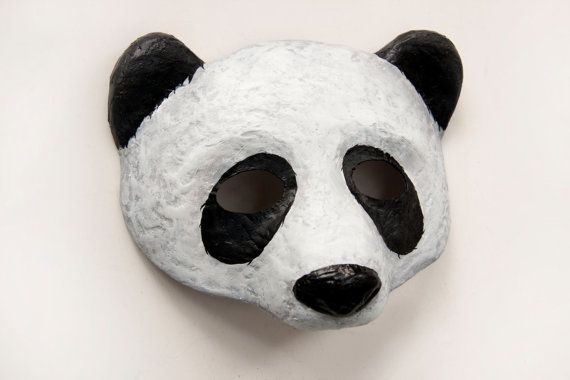 We named pandas this year's cutest back to school trend, and this paper Panda mask at Nib & Chisel is one of my favorites. I'm picturing my kids as panda ninjas now. This mask ships from London, UK, though, so if you want your own, order it…well, now.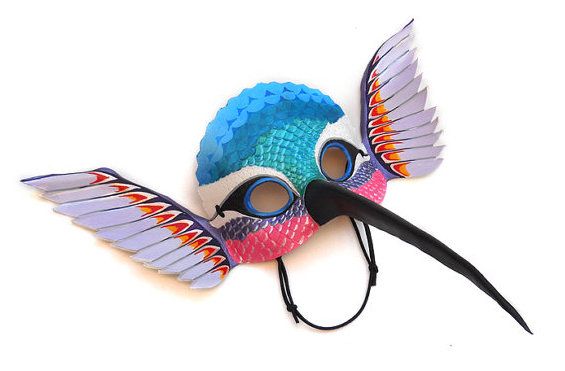 This colorful leather handmade hummingbird mask by LMEmasks is so beautiful, and I know our readers could come up with some outrageous costumes to go with these. Pay attention to the order details on this one though: It's made-to-order to fit your face, which takes some time. Order soon to have it in time for Halloween.
Hedgehogs have been the kings of all those trendy forest critters lately, so I'm liking this handmade Hedgehog mask for Halloween at Magical Attic as a hot item for the 31st. And of course, everyday thereafter if you've got imaginative kids.
Wow, check out the impressive handcrafted leather dragon masks from The Artificer. These are a serious investment, and after Halloween, I'd love to hang ours on the wall as decor. Definitely not one to toss in a costume box with boas and broken mardi gras beads.
For something more sophisticated for older kids–or adults–I absolutely love this cut leather Snowflake mask by Tom Banwell. There are so many places your imagination could take you with this one: the White Witch from Narnia, The Snow Queen (which Frozen was based on), a Nutcracker snowflake, or something brilliantly creative I haven't even considered.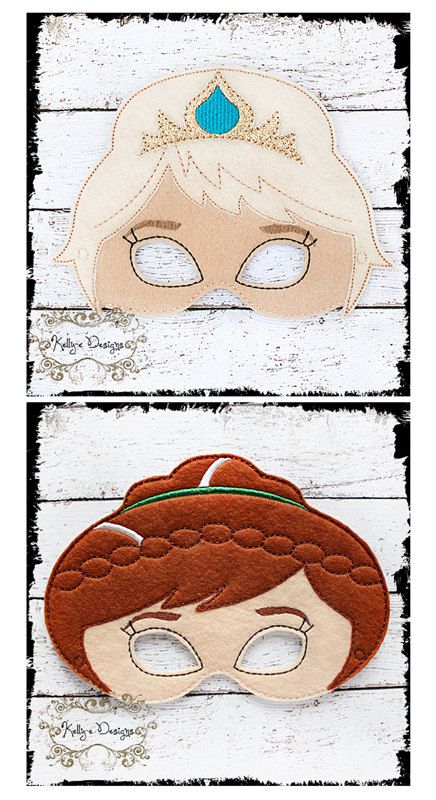 Felt masks are ubiquitous on Etsy but these Anna and Elsa masks by KellyJoe are some of the nicest we've seen. And considering Frozen costumes will be all over our sidewalks this Halloween, these could add a special handmade touch to a more common costume. (Hey, nothing wrong with wanting your kids to be the cutest Anna and Elsa on the block.)
So yeah, this probably isn't for your little ones for Halloween. But for a mere $2,000, you and a friend can pass out candy in your own haunted house as the most spectacular Adam and Barbara Maitland from Beetlejuice ever seen since the original Tim Burton film. They won't scare your kids or anything.
We have more amazing Halloween costume ideas all over Cool Mom Picks. Tis the season.