I've got a very particular formula for selecting hot designer bags, which includes style, function, and versatility. Because as much as I love those super tiny crossbody bags with spikes, if I'm dropping a pretty penny on it, I need to be able to use it all the time. That  is why I'm very pleased to introduce you to Dagne Dover.
CMP is an rstyle affiliate
The label was created by three women with extensive fashion and business backgrounds who were tired of having to carry around two bags for all of their stuff (here here!)–and clearly these ladies know what they are doing. The bags are classic in appearance and color, made from coated canvas with leather handles. The styling is definitely on the preppier side, at least for me, although the floral (shown here) and the blue bag (which actually leans towards purple) that I've been carrying add a little bit of funk, as do the bold gold details–I love the spike feet, large gold zippers, and the chain link on the shoulder strap which makes it all fun.
But inside! You guys! Dagne Dover bags have the perfect amount of pockets and pouches.
Related: How Dagne Dover is now making tech organization easy and stylish
The mini tote features a padded tablet sleeve, with the regular tote equipped for a full 15-inch laptop, along with places to stash your smart phone, pen, lip gloss, or anything that needs zippering like keys or change.
Then there's my favorite feature of all: a water bottle holder. Which also works for an umbrella, by the way. Or if you've got young kids, it's great for a baby bottle or sippy cup, making these great diaper bag alternatives.
Oh, and hallelujah, there's no huge logo to be found anywhere; just a discreet label inside the shoulder strap. As someone who's not a huge fan of big logo plates and tags, this warms my heart.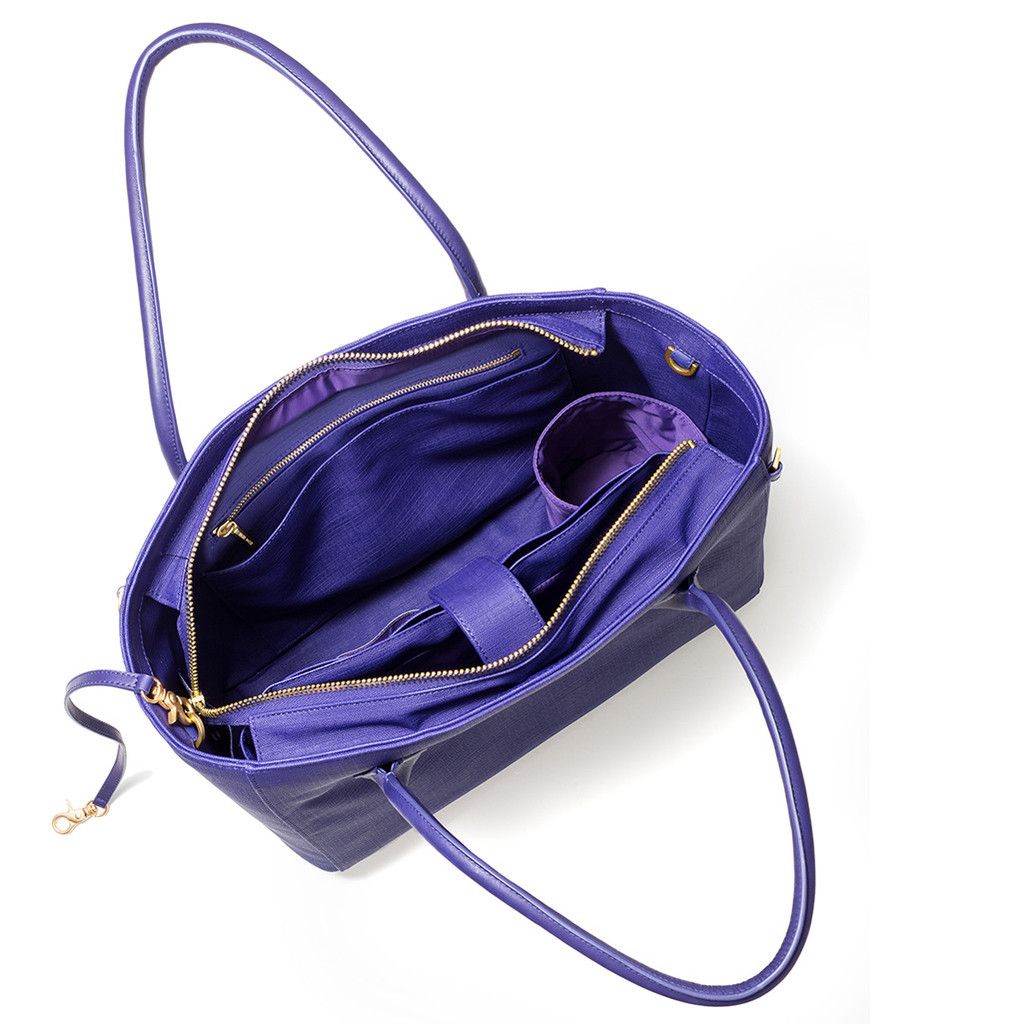 Now if you tend to carry a whole lot of stuff like I do, or are looking for a handbag-slash-workbag, I'd go for the signature tote in the larger of the four sizes.
And yes, you'll find the bags come at designer prices that are often reserved for your bigger, more recognizable brand names. But I love how smart and stylish this bag is. So much so, that I wouldn't be surprised if you hear the name Dagne Dover up there with all those other fancy department store mainstays very soon.
You can purchase your own Dagne Dover bag on their website. Thanks to the company for providing CMP with a mini-tote for editorial consideration.