It used to be that you couldn't find funny reusable grocery bags. Back when we started seeing them blow up for the first time, if anything at all was printed on them, it was usually some chest-beating statement about how super eco-friendly you are–pretty obvious considering you're carrying a reusable grocery bag. Also, is a message on a bag really going to shame people into changing their habits? Eh, probably not.
Well, now we're seeing more and more reusable grocery bag that are less preachy, and more downright funny.
Here, 10 of the funniest ones I've found that will give you (and your fellow shoppers) a giggle while you fight over the prime beetroot at the food co-op. Or you know, the frozen dumplings at Trader Joe's.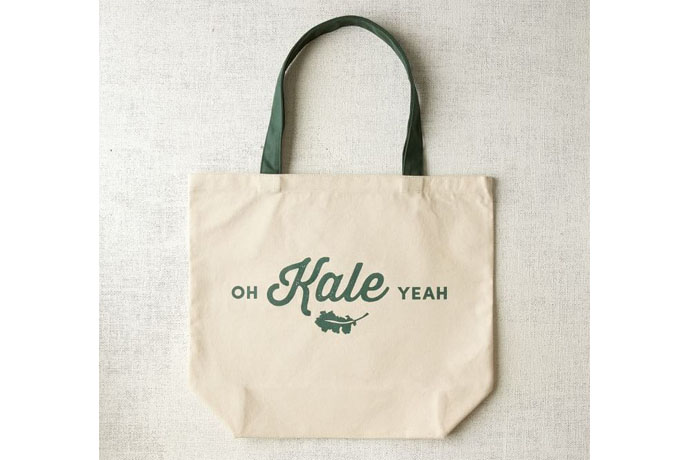 Oh Kale Yeah! reusable grocery tote bag ($18 at West Elm)
Kale isn't just a healthy, hipster vegetable. Its fans have got a sense of humor too. At least outside of Portland. (Kidding! We love you Portland.)
I Remembered my Grocery Bag! reusable shopping bag ($20 at Emily McDowell)
One of our fave illustrators, Emily McDowell, pretty much nailed it with this bag. So perfect for every busy parent on the planet, right? We need all the credit we can get.
Chocolate Doesn't Ask Silly Questions Chocolate Understands reusable grocery bag ($9 at Ex Libris Journals)
This awesome ode to chocolate explains why I love it so. It's bound to stand out in the sea of reusable grocery bags at the food co-op, featuring images of kale and beetroot and heirloom eggplant.
Be the person your dog thinks you are reusable grocery bag ($32 at Zappos)
I chuckled at this grocery tote and I don't even own a dog. Maybe that's the whole point.
I Like Big Books And I Cannot Lie reusable shopping bag ($25+ at She Sells Fairhope)
I'm sucker for a play on words, and when it includes a song lyric and promotes reading? Sold. It's perfect for library books but I'd take this bag anywhere.
Warning! I know all the lyrics to Frozen… reusable shopping bag ($17.23 at Miss Harry)
This has got to be the reusable bag that best defines 2014. Besides, there's nothing like breaking into a rousing rendition of Let it Go to clear everyone away from the last bag of your favorite potato chips.
Always be yourself, unless you can be a unicorn reusable grocery tote bag ($22 at society6)
We remain in love with this quote that we've seen on all kinds of items from shirts to smartphone cases. Can you think of any better advice? Just think of the wisdom you'll be passing on to other shoppers.
Talk Nerdy to Me reusable grocery tote bag ($15 at Ex Libris Journals)
Like this bag implies, nerds are hot stuff. And so is Weird Al, I guess? Let's spread the message far and wide.
Some People Just Need A High Five reusable shopping bag ($13.11 at Blue Ivory Lane)
I'm not one to promote violence but I have to admit I've so been there. And considering every time I read this I get a chuckle, you're sort of doing a service to the world by carrying this bag. Just uh, maybe not around the kids.
My Non Plastic Bag Is Totally Judging You. Just Sayin' reusable grocery tote ($25.33+ at Hope a Little)
Well, if you're going to be smug, might as well be ironically self-referential about it.
You can find more cool reusable grocery bags in our archives, though we can't promise they'll be as funny as these. Cool Mom Picks is a reward style affiliate.