Every year, we are huge supporters of Small Business Saturday, ever since the first grassroots effort. You can look back through our archives for our writers' favorite small businesses from Brooklyn to Albuquerque but this year we wanted to point out another way to support small businesses today while tearing through your holiday lists: Local chocolate gifts.
Independent chocolatiers are some of my favorite small businesses to support any time of year, because fresh local ingredients combined with regional flavors and packaging means treats you just can't find anywhere else. And whether you want to send a special gift or have something delicious on hand for your guests this holiday, I've put together some of our favorite, outstanding local chocolate shops across North America, all submitted by our writers and editors.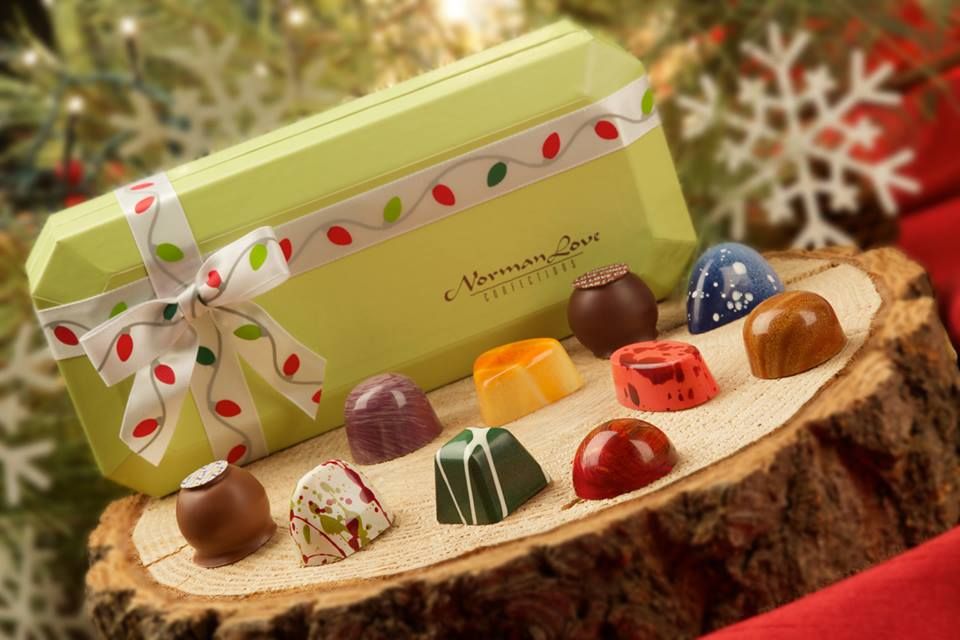 Norman Love Confections, 3 locations in Southwest FL
Liz fell in love with Norman Love Confections when she was able to taste their almost-too-pretty-to-eat Mother's Day chocolates. But, lucky for us, taste she did, which is why we can now pine for the gorgeously-hued holiday arrangement with seasonal flavors like gingerbread cookie, candy cane truffle, and the dreamy sugar plum. Too pretty to eat? No way.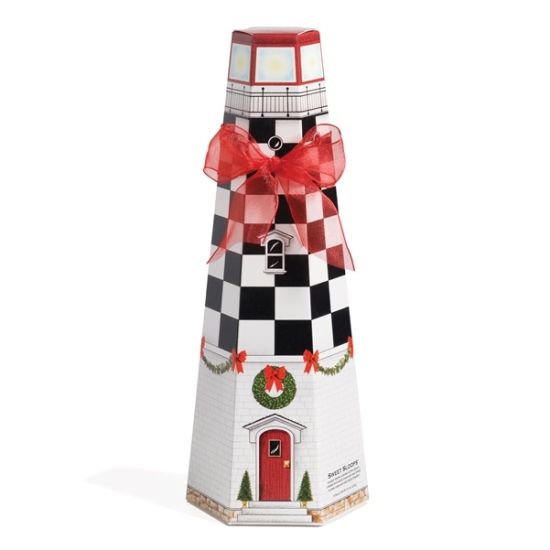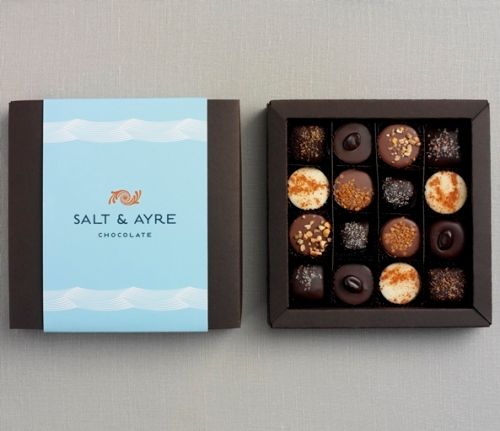 If I can no longer fit into my skinny jeans, it's because I've been unable to stop eating Harbor Sweets' Sweet Sloops, a delicious handmade almond-buttercrunch toffee shaped like a tiny sailboat and dipped in white and dark chocolate. Their little iconic shape is a great gift for anyone who loves or misses the ocean, and I especially like their tall lighthouse box. It just screams New England shoreline.
If you have more adventurous taste buds to please, check out their Salt & Ayre boxed chocolates which are packaged beautifully and include more exotic flavors and salts like chai and Thai ginger sea salt. The only saving grace for my wardrobe is that this North shore location isn't close enough for me to run over daily for a refill.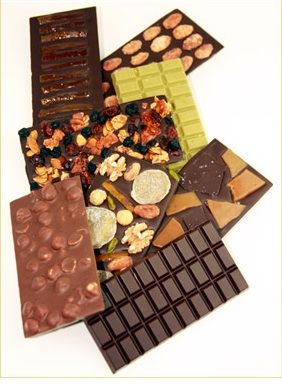 La Tulipe Desserts, Mt. Kisco, NY
Our own Melissa is in good company with her suburban Westchester pick. Martha Stewart also gave La Tulipe Desserts a big thumbs up when she visited their storefront. With sophisticated flavors and ample use of dried fruits and fresh nuts, their confections can be ordered to your specifications. And don't miss their colorful, gluten-free macaroons if your recipient isn't as fond of chocolate as the rest of us are.
Related: Mouth.com finds the best artisanal goodies nationwide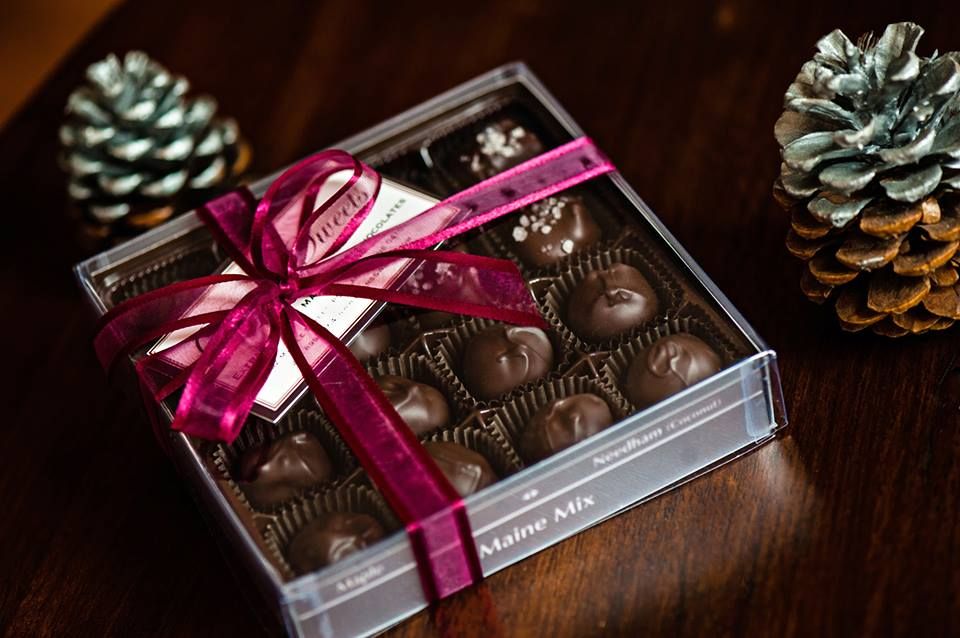 On a recent visit to Portland, Maine, our hotel left a sampling of Dean's Sweets chocolates in our room. I ate those and then ran out to buy more of the amazing hand-dipped truffles in such "Maine" flavors as Blueberry, Maple, and Needham, a traditional Maine potato-and-coconut confection.
Esther Price, Dayton and Cincinnati, OH
Dayton native Julie swears by Esther Price Chocolates, which has built up a loyal following over the 85 years it's been in the area. Along with their scrumptious assorted chocolates wrapped in their familiar gold box, Esther Price's chocolate-and-peanut-butter Buckeyes are among Julie's favorite treats from her childhood.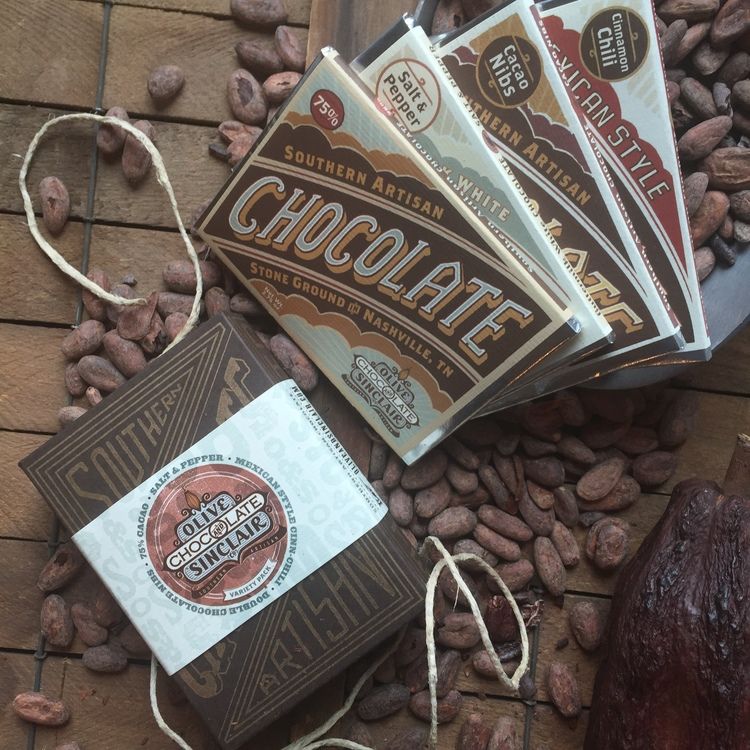 Olive & Sinclair Chocolate, Nashville, TN
Kate can't resist Nashville's own  handcrafted, bean-to-bar Olive and Sinclair chocolate. Her favorite is the Bourbon Nib Brittle, though their Sea Salt and Mexican Cinnamon-Chili sound pretty tasty to me. I think big and little kids alike would go crazy to find their huge one-pound Merry Christmas chocolate bar in their stocking.
Related: VA Hanukkah set from Vosges Chocolate that takes the cake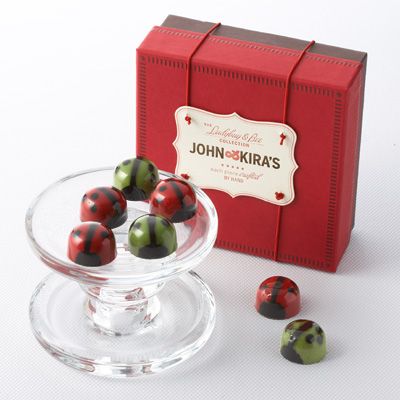 John & Kira's, Philadelphia, PA
Filled with sweet raspberry or fresh garden mint cream, John & Kira's handpainted ladybug chocolates in holiday colors have been one of our favorite local chocolate gift recos for years. And their new Holiday Marshmallow Heaven is making me drool just thinking about it.
Lake Champlain Chocolates, Burlington, VT
Lake Champlain Chocolates take their commitment to local ingredients seriously, even keeping their own bees to produce honey, which helps them make some of the best chocolates I've had the pleasure to gobble down. I'd be thrilled to receive anything from them, though their Holiday Chocolates of Vermont gift box, made with their own honey and maple syrup, is at the top of my wish list. They also have loads of fun stocking stuffers, like the adorably wrapped Organic Chocolate Bars (shown at top), plus plenty of sweet treats for the vegans in your life.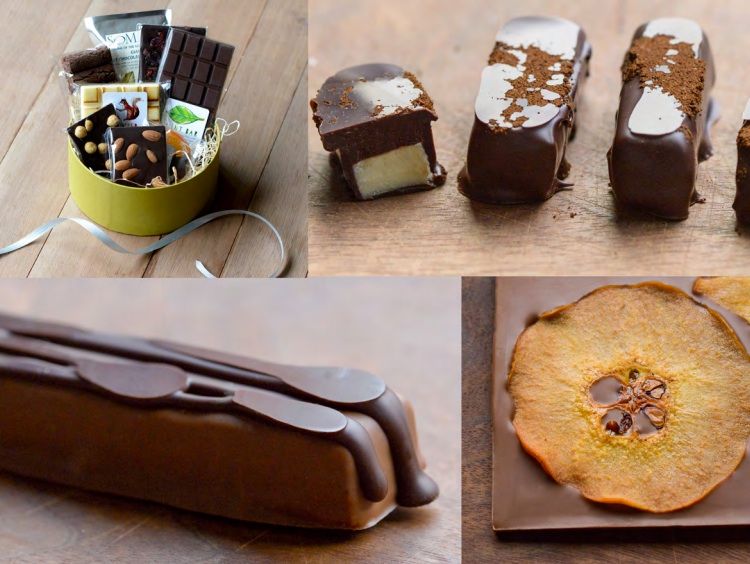 Soma Chocolate, Toronto, Canada
Our north-of-the-border contribution comes from Stephanie Slate who loves Toronto's Soma Chocolate. Pioneering microbatch chocolate making for over ten years, Soma Chocolate roasts their own beans from all over the world before turning them into beautiful and delicious chocolates. Their truffles are a foodie's dream with flavors like Arbequina Olive Oil, Feuilletine Caramel, and Douglas Fir, which is likened to eating chocolate in the middle of a Canadian Pine forest. And while online ordering won't be set up until next year, you can e-mail them directly to inquire about shipping their chocolates. Or ask Stephanie if you can visit her for a while.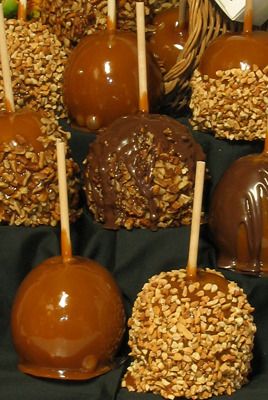 The  Fudge Factory, Dahlonega, GA
Delilah's pick by way of Atlanta, The Fudge Factory, offers a full range of fancy chocolates, coveted Southern Praline, brittles and barks, and old-timey candy. Delilah says they also have the most amazing candy apples on Earth, made with local apples coated in fudge or caramel which perfectly combine candy and crunch. Or try her favorite, the Dahlonega Nugget, which is drizzled in chocolate and caramel and rolled in fresh Georgia pecans. Yum.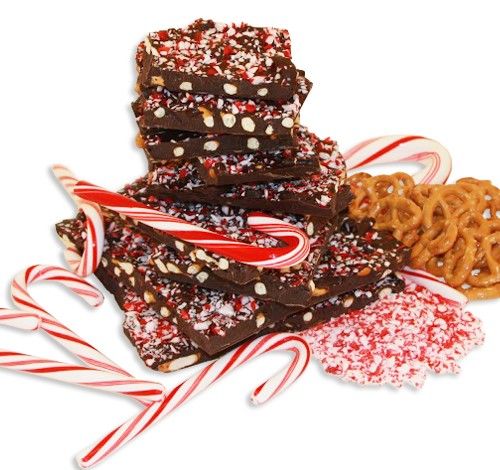 Jacques Torres Chocolates, New York City
With all the options she has in the city, our own chocolate gift-giver and editor-in-chief Liz adores Jacques Torres' outrageously delicious confections. With eight NYC locations including a charming DUMBO shop in Brooklyn (with ice cream, too!), it's not too hard to find a spot for a treat–though the rest of us can order online. Check out a 3-month Chocolate Heaven subscription, or Liz's favorite: Chocolate-covered Corn Flakes. Don't knock it; it's outrageous. And if anyone is looking to send me something sweet, I think the Pretzel Mint bark, shown above, is the perfect mix of sweet, salty, and holiday.
Where is your favorite local chocolate shop? Feel free to add it in the comments below. And please remember to shop small for Small Business Saturday!