We love personalized jewelry which makes such a special gift, but buying personalized jewelry–or personalized anything, really–also means planning ahead, especially at the holidays. And hey, sometimes we parents aren't able to look further ahead than what we've planned for tonight's dinner.
So I did some planning for you and put together some wonderful personalized jewelry options with all the last order dates for holiday shipping. Of course there are some rush shipping opportunities for a little extra too. Hey, we're all about making you (and someone very lucky in your life) look good.
Stacking rings are so popular these days, and these cool ones at Centime are completely customizable. Think of all the possibilities — kids' names, nicknames, or even a hashtag.  Our Editor Kristen loves hers that says #cool, which she wears as midi ring. And they're so affordable starting at $29.
We also love this pretty personalized message necklace from Centime, which includes engraving on both the front and the back (or just the front, if you prefer). You can even add a tiny diamond charm. Like the stacking rings, the price is right for this sweet necklace, making it a lovely and thoughtful gift for a tween daughter or niece.
Express shipping, order by 12/14
Charm & Chain is always one of our go-to sites for custom jewelry for holidays like Mother's Day, and we're browsing again for the holidays. There are tons of options but we really like  the fun, affordable acrylic pieces from Moon and Lola, as well as gold and rose gold bracelets and necklaces from Maya Brenner.
Select pieces from Maya Brenner, order by 12/10; select pieces from Moon and Lola, order by 12/13
Lisa Leonard is another longtime favorite of ours (we're talking, 2008!)  and her offerings now have grown to include tons of jewelry options plus beautiful personalized Christmas ornaments that you'll find in our 2014  holiday gift guide. As for personalized jewelry, we're crushing on this simple sterling silver cuff ourselves, but be sure to explore the whole shop. It's hard to stop browsing.
Standard shipping, order by 12/17; Expedited shipping, order by 12/19
It's been a while since we checked in on Three Sisters Jewelry, but we're so glad we did. Their new stacking squares personalized necklace is a cool modern twist on custom jewelry. Plus they have a whole range of classic, vintage, and modern personalized charms, even in rose gold. Swoon.
Order by 12/8
For an extra-personal touch, the custom jewelry at Metalmorphis features your own kids' drawings and handwriting, or perhaps heirloom words written by a dear grandparent. Maybe even a love note to your partner. (Or from your partner. Hint, hint.) We've ordered from her ourselves before, and her work is spectacular and she's a doll to work with. It's amazing that you can even get this kind of a gift with such a tight lead time for holidays, so jump on it!
Order by 12/16
This gorgeous cursive personalized initial necklace from Olive Yew is one good reason to keep teaching cursive in schools. (Says me, the cursive advocate.) They also offer block letters necklaces and bracelets, and simple stamped bangles, all in gold, silver, and rose gold.
Order by 12/16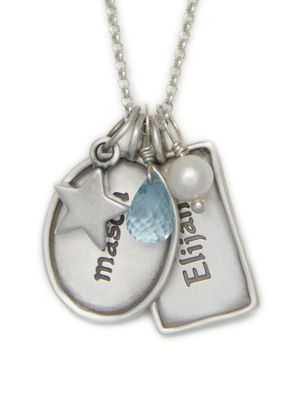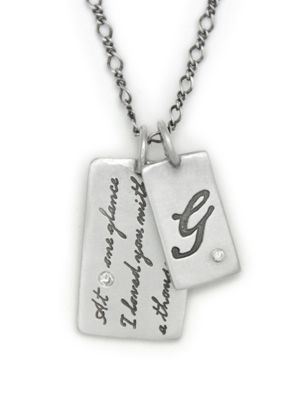 Mom-owned Heart and Stone Jewelry continues to wow us with their personalized designs, from classic initial characters, to a new collection of nomogram necklaces. We also love how owner Julie Booras keeps adding to her Giving Is Good collection that gives back to several worthy causes.
Order by 12/16
We discovered the vintage ball lockets from Dearest Mine earlier this year, and we're still smitten. Shop owner Lori finds the vintage lockets, then can personalized them just for you. Write a secret message on the strip of paper included inside, or have Lori print it for you. It's like passing notes in school, except with lots more style. Plus you can order a full week before Christmas in time for something special under the tree.
Order by 12/18
We have been fans of Julian & Co. for years, which is one of our favorite places to find handmade, personalized jewelry with a modern sensibility. From nameplate rings to personalized number jewelry, pendants and lockets, you've got a lot of choices at great prices.
Order by 12/10
Suzanne Myers is another jewelry designer we've been following for years, and we're thrilled to discover her new bar charm necklaces. Each charm is stamped with an initial, and you can add more as time passes and your family grows. Remember the Add-a-Bead necklaces from the 1980's? These are so much cooler, and more meaningful too. But check out the rest of her collection, like the original name charm necklace, featured at very top. Sometimes we can't help but go back to the classics.
Order by 12/16; mention Cool Mom Picks for free shipping