The Rainbow Loom band bracelets (and necklaces, charms, rings, headbands, oh my) we've shared here are just as popular as ever, as kids find new ways to put them to use. Now, the trend is to ditch the looms entirely and learn how to make loom bands with your fingers. Our kids have been doing it, and they're making the coolest crafts during playdates, on long car rides, or while watching TV.
I still have bands scattered all over my house, and our loom band tutorial roundup (and our advanced loom band tutorials) continue to be some of the most popular posts on our site. But if you want a loom-free way to go, here are 10 of our favorite loom band tutorials that don't require anything more than the bands and your fingers. Or maybe some pencils, a hook, or a fork.
You may know by now that there are thousands of video tutorials on YouTube, so we've watched a lot—a lot, you guys—to find the patterns we love with decent video and clear instructions kids can actually follow. Hope you love them!
Top image: Sara Beauty Corner
1-5. Fishtail Bracelet, Beaded Band Bracelet, C-Colored Bracelet, Charm Band Bracelet, Double Cross Bracelet Pattern Tutorials: SaraBeautyCorner

We love the party vibe on SaraBeautyCorner's loom band tutorials. From the balloons around her feet and the cute graffiti commentary (LOL), to the bright watermelon print on the table and her look-at-me manicures, she is just plain fun. And we kind of can't get enough of her charming accent! You'll find 5 loom band bracelet tutorials in this tutorial (also at top) which are some of the most stylish around too.
6. Starburst Loom Band Pattern Tutorial: Made by Mommy
Made by Mommy has some of the easiest-to-follows tutorials on YouTube, and this Starburst loom band pattern using only a crochet hook is a great starter pattern. You can even make it in any length you want. You know, in case you want a loom band belt, necklace, or headband.
7. Triple Link Chain Loom Band Pattern Tutorial: Aira Tran

Aira Tran's Triple Link Chain Rainbow loom band tutorial is no-frills, but the instructions are clear and easy to follow. This bracelet pattern is a favorite with its big, bold loops of color. Note: With any of these videos, you can always use two fingers instead of the pencils which is sometimes easier. And you can simply pull the bands over with your fingers instead of a crochet hook if you want to make this with no extra tools at all.
8. Angeline Loom Band Bracelet Pattern: DudeLoomer

Jay Salvez of DudeLoomer makes tutorials that are a bit more grainy than some others, but kids enjoy his funny voices and can follow his clear instruction, so they're worth a look. I'm loving the Angeline loom band bracelet using only a hook, which was originally developed by Instagram user @queb_5898. So pretty!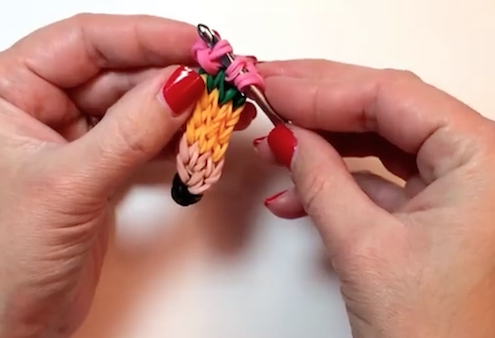 9. Pencil Charm Loom Band Pattern: Made by Mommy

This loom band pencil charm made with just a hook, as demonstrated by Made by Mommy, will probably be hanging from my kids' backpacks before the weekend is over. And lunchboxes. And zipper pulls.
10. Willis loom band bracelet pattern tutorial: Olgacrafts
Visual learners should try the Willis loom band bracelet tutorial by Olgacrafts. Her videos don't feature any audio instructions, but you'll find clear, close-up shots of her work and she goes very slow so you can keep up. Peppy instrumental music is playing in the background, but I will say it does get a little old considering how long this is. So two hints: Use your mute button, and give yourself plenty of time–this is nearly a 50 minute video. But the results? Very cool.
Keep in mind, you may want to hang with your kids while they get the videos loaded. I've seen a few ads for adult movies before some tutorials (geez, YouTube) that scared my younger kids. But once the loom band video tutorials start, you can get back to what you're doing. Or hey, grab some bands and get crafting with your kids.
Want more? Check out even more Rainbow Loom band bracelet craft ideas.