Yes, parenting in the digital age comes with the hassle of monitoring screen time and wondering if our kids are using social media for good. But there are also printable valentines, so we never have to comb through boxes of Dora and SpongeBob cards in a last-minute rush again. Instead, I'm letting my kids shop from some of the best printable valentines online.
These cards will stand out from the crowd and score your kid major cool points with their friends. Plus, you don't have to make them choose just one because almost all of them are free. So stock up on ink, because life just got way easier.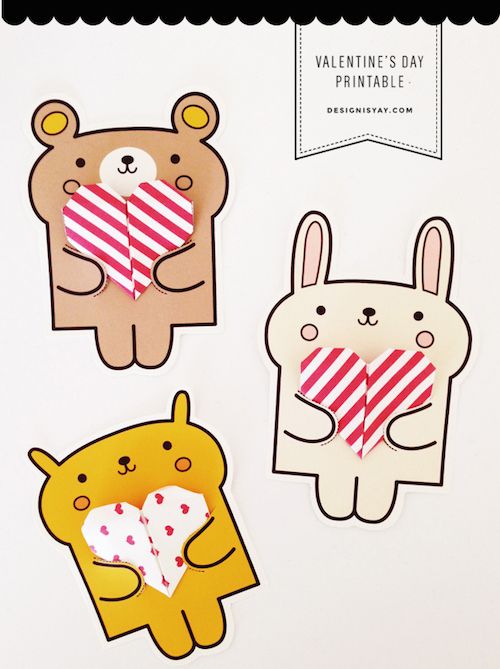 Free Printable Valentine Animal Cards with Origami Hearts by Design is Yay

These printable valentines will put your kid to work writing personal notes and learning a little origami in the process as they cut and fold the hearts these adorable Kawaii animals are holding. Of course if you have 64 kids to hand out cards to, this one is a little time consuming. No Pinterest guilt allowed! Check out some of the other options here. (free)

Related: 9 cool printable Minecraft Valentines for kids, and other geeky themes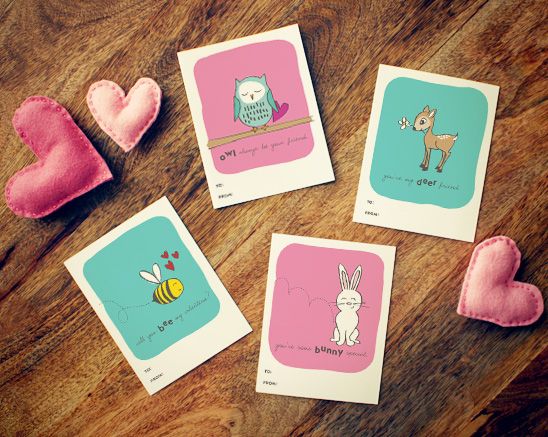 Free printable animal valentines by The Little Umbrella
One of our favorite finds for printable Valentine's cards ever, the background colors are customizable, so your kid will spend a ton of time picking out his or her favorites. But once that's done? It's just cut and address. So easy. (free)

Printable Superhero Valentines by Anders Ruff

I always love finding valentines for those kids who aren't so into the lacy, cutesie pink and red thing so much. We found these vintage comic book-inspired cards last year, and they really pack a lot of style. My guess is you're going to get a lot of parents asking where you got these. ($5.50)
Related: 14 Printable Valentine's Day Cards for the Classroom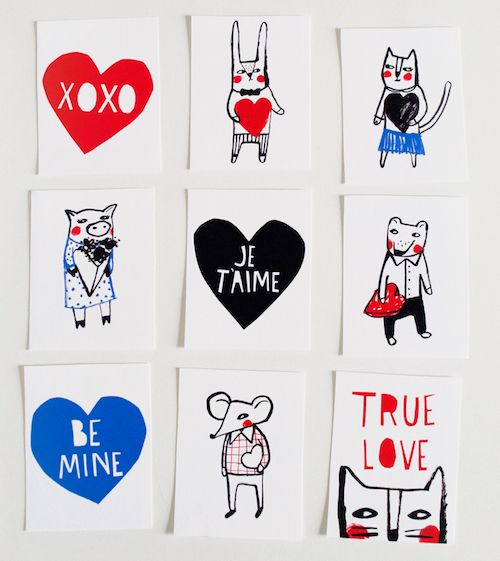 Printable Love Letter Pals Valentines and Party Pack by Mer Mag

Merilee Liddiard of Mer Mag has a real knack for creating whimsical, mysterious images that are perfectly appropriate for kids but still with a modern style that adults can appreciate too. I mean, how awesome is that suspicious little mouse? Though our kids might want to give the bunny to everyone. (CORRECTED: $12.99, as part of an entire Valentine's Day party pack of printables)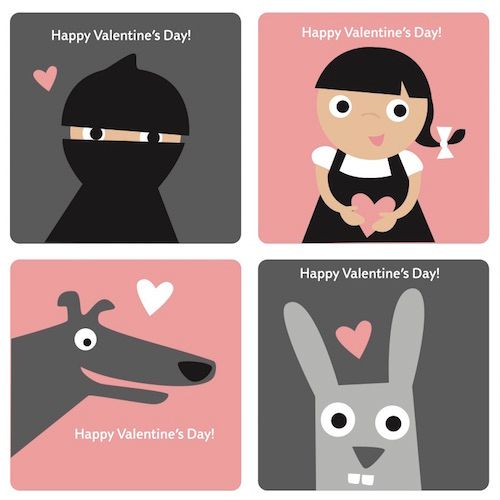 Free Printable Valentines by Secret Agent Josephine

Um, I'm pretty much loving the ninja in Secret Agent Josephine's printable, which has so many more cards than just these four in the download. There's a quirky side to these modern designs that is just great. Don't be surprised if your kid asks you to just download 28 ninjas and skip the others. (free)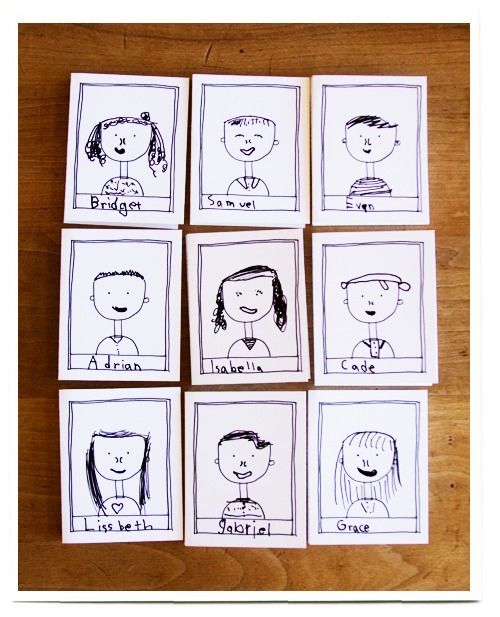 Free printable Valentine's Portrait Cards by Inchmark

If you have a budding artist with a decent attention span, print out this simple template and let your kid's creativity loose. The PDF includes the frame, shoulders, neck and chin. Your kid adds the rest of the face to personalize each card. Not that you couldn't make one like this, but we love that Inchmark did it for us. (free)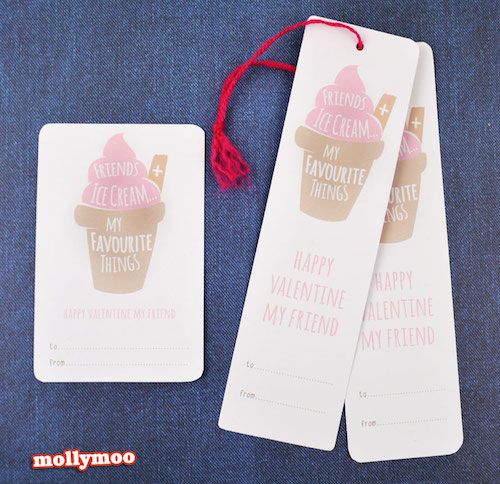 Printable Favourite Things Valentine's Day bookmark by Molly Moo Crafts

I'm a big fan of finding Valentines that you won't throw away the second you get home, so this is perfect for little readers. And it gives you a chance to explain the difference between US and British spellings too, if your alert reader wonders about that errant U in there. Adding the little string bookmark is optional. How much time do you have? (free)
Related: 10 easy Valentine's Day crafts that make cool DIY gifts
Animal Finger Puppet Valentines by Smallful

These adorable cards are a craft project and a toy all wrapped up in one, and the different animals are irresistible. I'd send them flat and let the recipient have the fun of assembling them. ($4)
Free Printable Viking Valentine (PDF) by Paperelli for The Dating Divas

The Norse goddess of love will treat you well if you send your kids to school with this pun in their Valentine's boxes. I love how graet it is for both girls and boys. Hands down, my very favorite valentine ever, and that's saying something.  But there are even more to choose from when you click through to the PDF. (free)
I Only Have Eyes for You Printable Valentine by Tutus and Tea Parties

With this fun card your kids can do more than just cut and sign their names. Grab some googly eyes and follow the instructions for these cute monsters, or get creative and illustrate the monsters as you see fit, or with a thumbprint, an inkpad, and a Sharpie pen. Just don't wait until the night before Valentine's Day–if you use paint they'll need time to dry before you add the eyes and sign your name. (free)
Free printable Star Wars Valentine's Cards by revidevi
Recently discovered by Christina in our Cool Mom Tech roundup of cool printable geeky valentines cards, we have to give a nod to these awesome Star Wars Valentines printables. Not just because they're Star Wars, but the kawaii style illustrations, the very cute sayings on top, and the sweet Jedi signature on the bottom pull them all together. Click over to the post for 8 other fun printable card ideas, too. (free)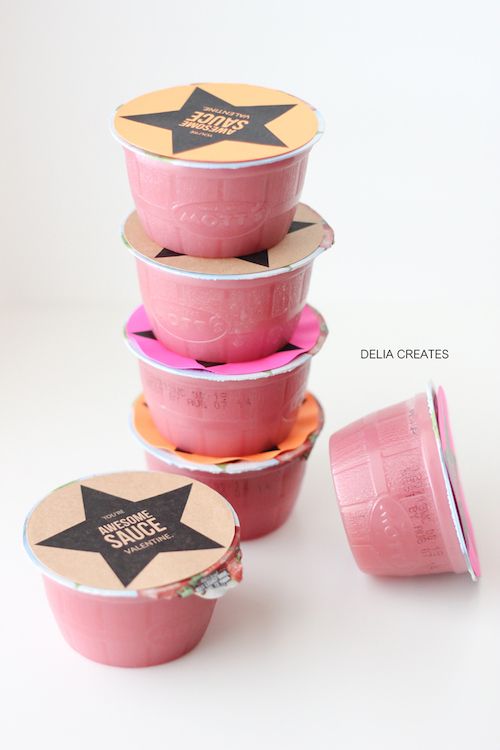 You're Awesome Sauce Printable Valentine by C.R.A.F.T.

Okay, so "awesome sauce" is a little 2011. But this valentine idea makes it kind of ironic and fun. Plus, yay for healthy valentine's snacks. Because what my kids need right now while they're stuck inside is more sugar. (free)
Related: 8 ridiculously easy, last minute Valentines treats

Loom bracelet printable valentines by Paging Supermom

There are only so many loom band bracelets I can wear at a time, so I'm all for my kids making them and giving them away. Isn't this a cool idea from Paging Supermom? (Also at very top.) And iff you need some loom band pattern inspiration, check out some of our favorite tutorials on our site. (free)
Free Scientific Printable Valentine by Babble Dabble Do
This valentine doesn't look particularly science-y, but wait! When your kids twist the rubber bands and let it spin, the images blend to make it look like the arrow is shot through the heart. Optical illusions for the win. (free)

Free printable Valentines bookmarks by Positively Splendid

More Valentine's Day love for readers with this witty bookmark which is a favorite of ours from years past. This one is great for kids at the stage where they don't want any messages to be misunderstood as romantic. Cool bookmark, no drama. (free)

Free printable Paper Doll Hearts Valentine by The Black Apple

Liz insisted we include these since this is the one her daughter turns to  year after year. These vintage-looking valentines have really modern colors that stand out from all the neon pink, and we love the diverse skin tones which for some reason, is tough to find on Valentines. (free)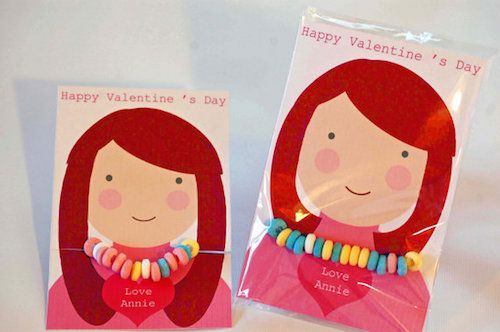 DIY Candy Necklace Valentine by Your Pretty Party

Jewelry and candy are obviously the classic Valentine's Day gifts, and these candy necklace cards are a perfect way to put them both together for kids. I chose the redhead, because I'm kind of partial. But they also have blonde, brunette, darker skin tones, and boy styles too if you want to customize them to match your own kid's look. I find my boys will always wear necklaces when they're this delicious. ($7)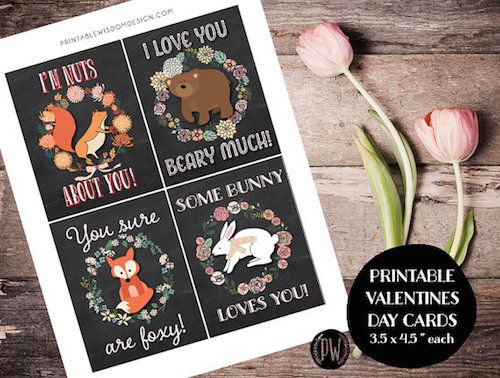 Printable Valentine's Animals Cards by Printable Wisdom

These woodland cards aren't exactly cheap, but we understand why such gorgeous, professional design might be worth the splurge. It's cheaper than buying a few boxes at the store, and definitely better looking. Plus, when you think about the fact that you can keep this file and print it year after year, it's not a bad deal at all.  ($10)

Don't miss the great Valentine's Day printables we've featured here before.