With Valentine's Day less than a week away, I'm going to take advantage of this weekend with the kids to finish up their printable Valentine's Day cards and make a few yummy Valentine's food gifts to hand out to all our favorite people. We're also going to keep our hands busy and out of the bowl of candy hearts by doing some of these awesomely unique, fun, and easy Valentine's crafts for kids.
I hope you'll agree they're all pretty simple, and definitely kid-friendly, with supplies you already own or are fairly easy to find. No need for buzz saws. Yet.
Recycled Valentine's treat bag craft for kids  (tutorial, Art Bar Blog)
Art Bar Blog's recycled Valentine's Day heart craft uses your already-read newspaper, colorful paints, and some washi tape to create treat bags for classmates, teachers, or anyone special. I love how the bags look with names stamped on them in haphazard fashion, though even handwritten letters would look great. Don't forget to tuck a tiny treat into each bag, like temporary tattoos or something a little more sugary. (via small for big)

Related: 20 easy Valentines crafts that make cool DIY gifts
Valentine's Day Yarn Hearts craft (tutorial, Aunt Peaches)
My kids would love transforming some red and pink yarn into cool freeform hearts. Aunt Peaches' instructions are easy to follow and only a wee bit messy, though that'd be my kids favorite part. The finished result looks so pretty hanging in a window or grab some branches from outside and make a little Valentine's Day tree.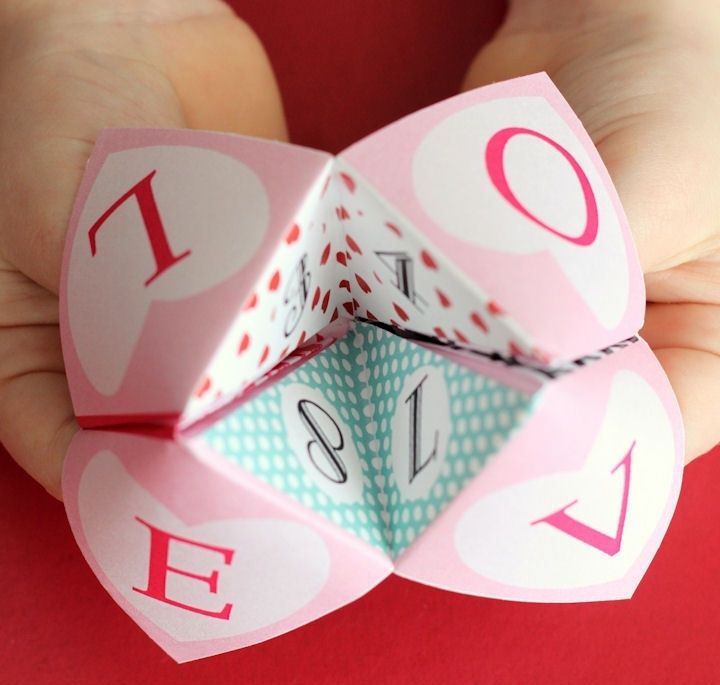 Printable Valentine's Day Cootie Catcher (tutorial and free printable, Lil' Luna)
I showed my kids how to make "cootie catchers" a few years ago, and they quickly fell in love with this easy toy to make and play. I love Lil' Luna's free printable version for Valentine's Day with its pretty pink-and-mint colors and cool design. And while the outside of the cootie catcher is complete, there's still blank spaces so kids can write in their own final message.
Related: 19 of the best Valentines printables for kids, mostly free

DIY Felt Valentine Medals craft for kids (tutorial and free printable, Misako Mimoko for Handmade Charlotte)
Older kids who are handy with a needle and thread can stitch together some adorable DIY felt Valentine's Day medals out of some felt and embroidery thread. They look great both on the free printable card as well as attached to a shirt worn proudly on the 14th. This would also make a special gift for a gold-medal teacher to receive.
Valentine's Day Necklace Craft for Kids (tutorial, Sunshine and Hurricanes)
A great craft for working on little kids' hand-eye coordination, these Valentine's Day necklaces come together with just some colorful cut-up straws, Valentine's erasers and some basic jewelry hooks. Make just a couple to wear on the 14th, or whip up a bunch for a unique non-candy treat to hand out to special friends or siblings. I think they'd look cute and colorful even without the eraser pendant, so skip that step if necessary–or just grab a ready made charm–and they'll still be proud of their finished pieces.
Valentine's Day Heart Paper Chain craft for kids (tutorial, Art Bar Blog)
If you have paper, watercolor paints, and a stapler, you have everything you need to create a paper chain worthy of Valentine's Day. My kids would love seeing how long they could make their chain. Plus, I like that it's something siblings of different ages could do together, with older ones handling the stapler and younger ones doing the painting.
DIY alentine's Day LEGO heart jewelry craft (tutorial, Gave That)
I'd be remiss if I didn't include a LEGO craft since it's the #1 toy in my house of three kids.  And I love Gave That's easy tutorial to make a heart-shaped LEGO pin using commonly found LEGO bricks. Glue the pieces together and affix a pin for a wearable broach, or just stand up a few on an end table for a little LEGO display.
Valentine's Day Graffiti Art Craft for Kids (tutorial, Modern Parents Messy Kids)
Need the kids to work off some creative steam when stuck indoors on another (sigh) cold winter's day? I love this super-easy, super flexible idea from Modern Parents Messy Kids which repurposes a paper shopping bag into an artist's canvas. Just lay down some washi tape into any suitable Valentine's Day design–hearts, arrows, love letters–and let the kids paint all over the bag in their favorite colors. When you peel back the tape the graffiti will look awesome. Especially because it's not directly on your walls.
DIY Heart Crayons for Valentine's Day (tutorial, 100 Layer Cake-let)
Bits of broken crayons get transformed into cute little heart-shaped treats when melted into a heart-shaped silicone mold . My kids would have fun trying out different color combinations to see what looks best. And don't miss the cute adaptation at 100 Layer Cake-let which can turn these crayons into surprise "sweet" treats for the classroom–see the photo at very top.
Related: 8 easy Valentine's Food gifts that kids can help make
Clay Heart Necklace Craft for Valentine's Day (tutorial, Muffin Tin Mom)
We featured Muffin Tin Mom's clay heart necklace tutorial in a Mother's Day gift roundup, but it'd also make a great Valentine's Day craft for older kids. Just string the creation on a simple chain or even some satin cord for a more informal look. If you don't have red clay, just let the kids decorate plain clay with whatever colors they'd like.
Clay Heart Magnets for Valentine's Day (tutorial, At The Picket Fence)
Younger kids will have fun making and decorating heart-shaped clay magnets to hand out to friends and teachers. Follow the recipe for Homemade Modeling Clay at the site if you want to save the trip to the craft store. The decorating can be as easy as using colored markers.
DIY Balloon Valentine's Day Cards (tutorial, Willow Day)
Now this Valentine's Craft is wildly impressive. My kids would have so much fun posing for a photo where it looks like they are floating up, up, and away on a red balloon. Willow Day's detailed instructions offer tips for getting the best shot and for adding text to the photo as well. I can't say whether ours will come out as perfect, but I have a feeling my goofballs would have a whole lot of fun doing it.
Need even more ideas? Check out last year's 17 last-minute gifts and crafts to make with the kids.