Other than diapers and onesies when it comes to babies, is there anything more iconic than Sophie the Giraffe? Even my friends without kids recognize the now ubiquitous French baby teether. So so it makes sense that she's branching out into the new Sophie la Girafe Bath and Baby line.
(So fancy, that giraffe.)
This is a new line of natural and organic beauty and bath products made just for babies, and when I say natural and organic, the folks who created the Sophie baby skincare line have really done their homework, eliminating potential allergens, synthetic perfumes and dyes, no-no's for parents like parabens and phthalates, and even strong oils that can irritate a baby's nose.
Parents of babies with sensitive skin will definitely want to check this line out.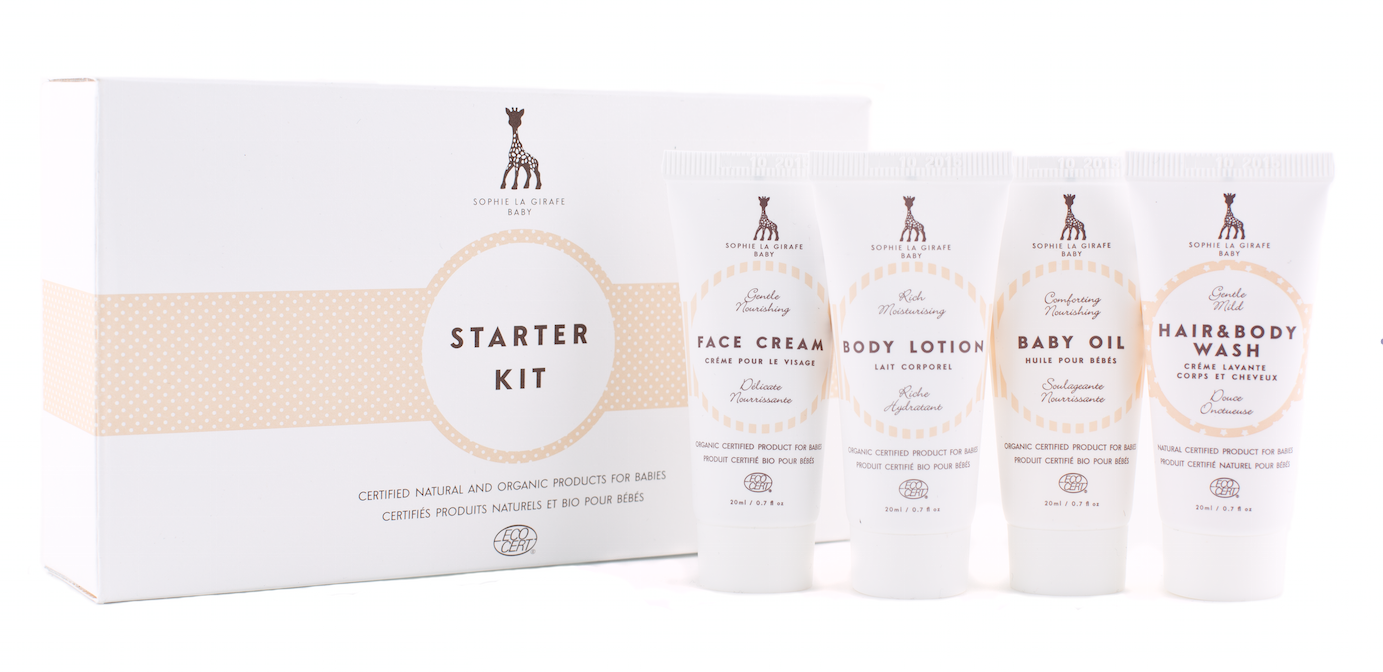 After using the Hair & Body Wash, Face Cream and Body Lotion for a month on my three-month-old with sensitive skin (for awhile there, I had been discovering a new rash every day), I can confidently say that Sophie does not disappoint. None of the products have irritated her skin. Even though it's not technically a tear-free formula, my daughter seemed completely nonplussed when some of the soap got near her eyes. (Hey, it's hard to keep the bubbles away sometimes!) And I love the delicate scent which leaves your baby smelling so sweet and delicious, it almost makes you forget how many dirty diapers you changed that day. Almost.
I also credit both the Baby Oil and Face Cream for keeping my daughter's unfortunately dry forehead moisturized, after what felt like a never-ending battle with some persistent cradle cap.
Now admittedly this is not one for frugal shoppers — the body lotion will run you about $22, and the face creams are $18. Meaning this is one special baby shower gift from some really special people.  And while I'll be the first to admit it's certainly not the most affordable baby skincare line, it just might be the most gentle and lovely I've ever tried.
Sophie la Girafe Baby skincare is available now at beautyhabit.com and other stores worldwide. If you're looking for the "Protection Cream" be sure to search for "SOS Cream" in the United States.