Before slipping on my pair of 3-D glasses at a recent press screening of the new Home movie, I realized it had been a while since I'd seen an animated feature in a theater. I'm sure that will change drastically as my three-year-old son gets a bit older and can get through more than a 30-minute chunk of Cars from our sofa. So I had two questions in mind as Home's opening sequence began: Will I enjoy this PG-rated film as a grown up? And is this something my son would like?
The short answer to both questions is yes, but with the caveat that I'm not sure my son is old enough to really understand the plot. Even I struggled trying to explain it to my sister right after the screening. And she's decidedly older than three. But that doesn't mean kids won't love it.
Based on the book The True Meaning of Smekday, the movie Home is a movie about acceptance. It's also about being brave and having hope, and understanding that our differences and our mistakes are part of being human.
Also, that you should never accidentally hit "Send All" on an intergalactic email. (Not a spoiler)
Related: Family movie night ideas: 7 classics that still hold up today
The plot centers around two characters who don't fit into their respective worlds — Oh (voiced by Jim Parsons of The Big Bang Theory), a lovable misfit from another planet, and Tip (Rihanna), a spunky little girl from Earth — who form an unlikely friendship through a series of comic adventures.
Oh is the Boov (that's not an insult; it's what his alien species is called) who sent the electronic party invite to everyone in the universe, including his people's arch-nemesis, the fearsome Gorg. Seeing as how the Boov had taken over Earth to hide from the Gorg, Oh's fellow Boovs were none too pleased with him. Now Oh must run from his people after Captain Smek (the incomparable Steve Martin), the Boovian leader and head coward, demands his capture.
Along the way, Oh teams up with the tough, smart, and seemingly fearless Tip, who's on a mission to find her mother (Jennifer Lopez) after the Boov arrived on Earth and displaced all the humans. While her mother and the rest of our planet ends up in Australia, Tip and her cat,  managed to avoid relocation.
Are you still with me?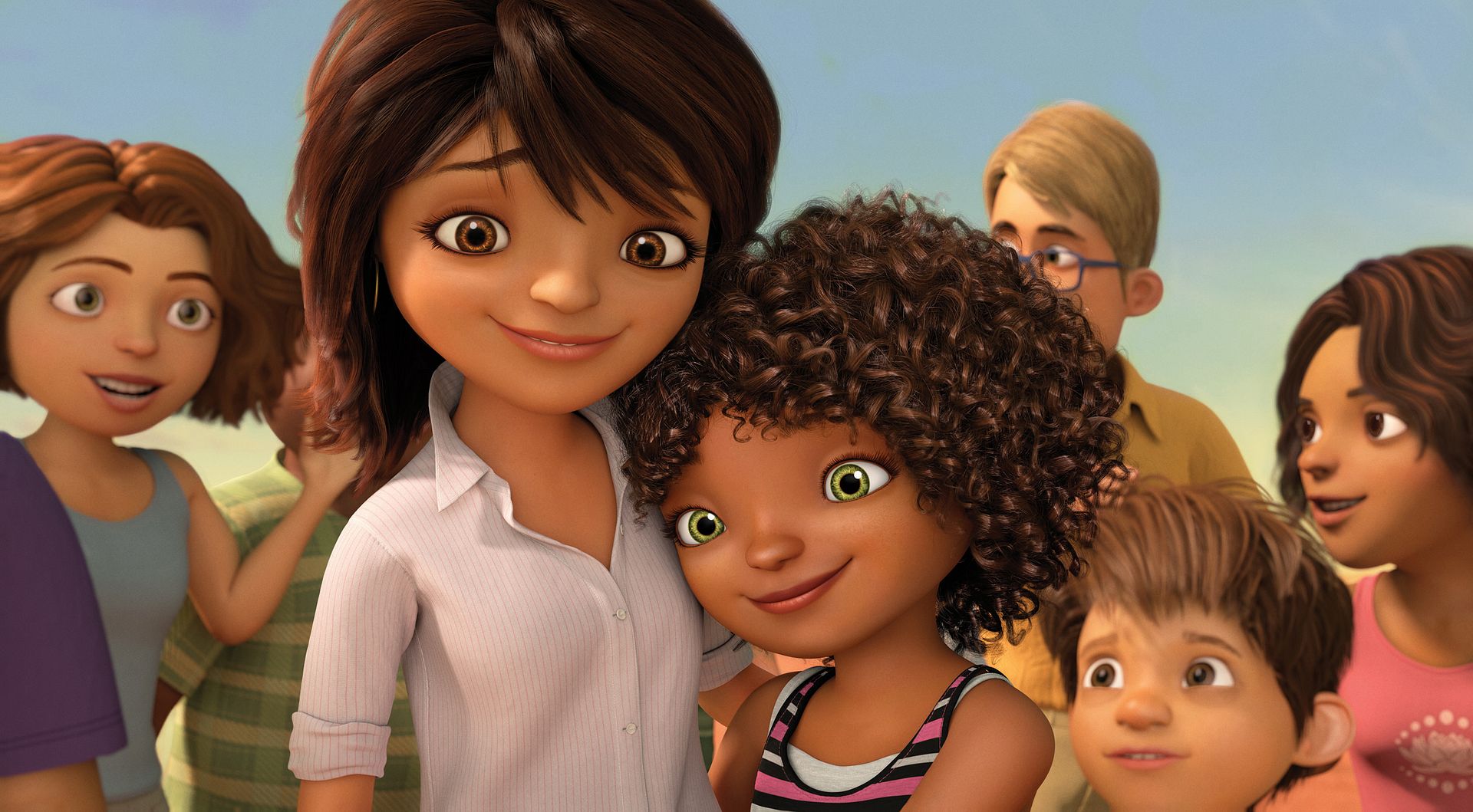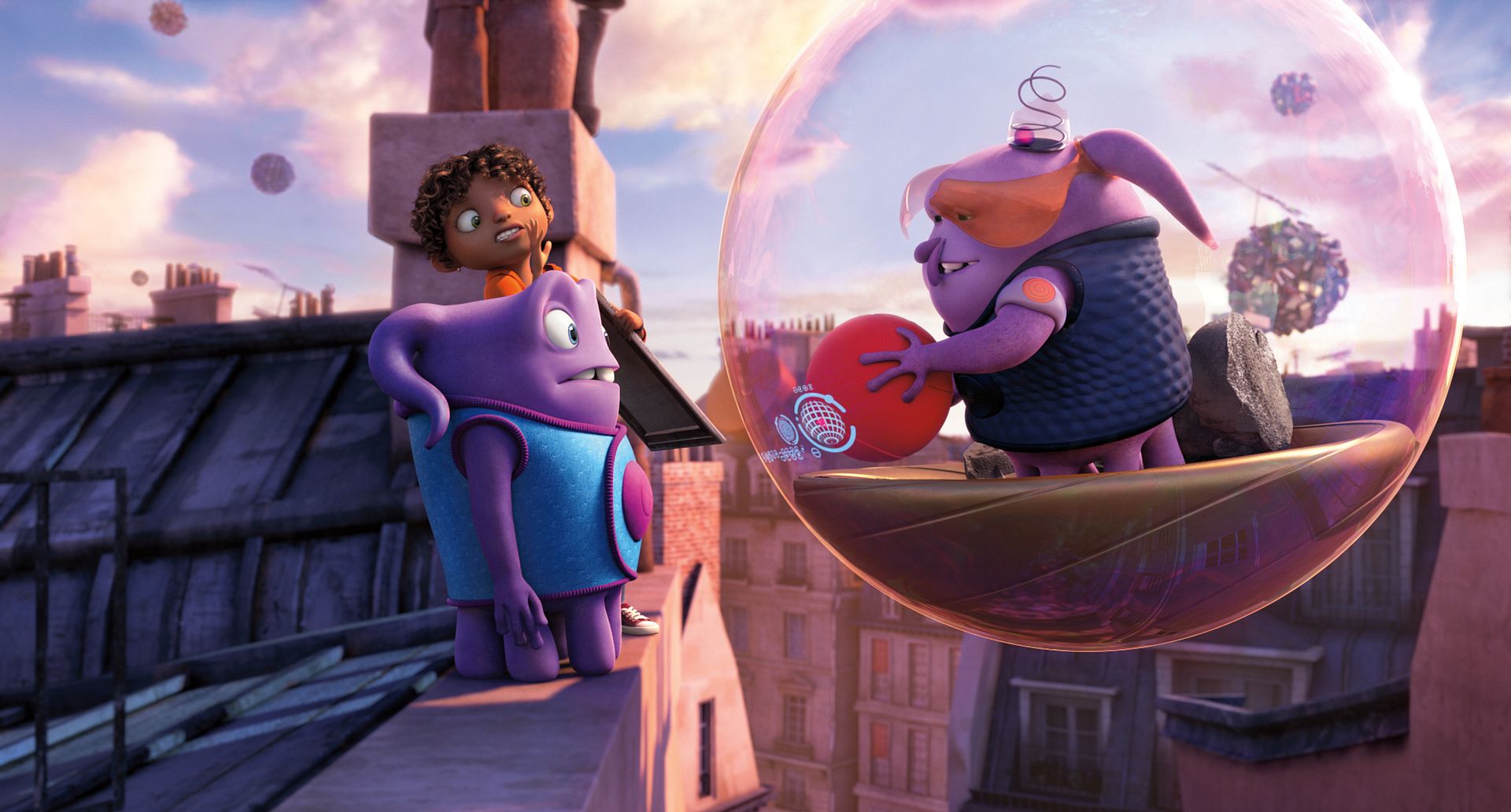 As you can imagine, the importance of family is one of Home's many, many messages. Maybe too many messages? There are in fact a whole lot of morals interwoven throughout the movie, and possible two or three too many scenes. By the end, I admit the film was dragging a bit before the big climax.
And yet, I still really enjoyed the movie.
Despite its imperfections, Home definitely made me laugh out loud, from Captain Smek's slapstick comedy to witty details like a hover car that's fueled by Slushies and armed with cheesy nachos. Director Tim Johnson calls Home the first "post-apocalyptic, alien invasion buddy comedy, road trip, animated movie," and I happen to like both buddy comedies and road trip movies. And I really appreciate a movie with a lead female who isn't your typical cute white teenage girl.
The music is also a surprisingly great aspect of the film. In addition to making her animated feature debut, Rihanna worked closely with Johnson and music producers Stargate on the adult-friendly soundtrack. The upbeat album features a new emotional ballad from J-Lo, as well as several tunes from RiRi herself.
Finally, the animation is simply amazing. Our editor Liz, a self-proclaimed animation fanatic, will appreciate that Home is the second film after How to Train Your Dragon 2, to use DreamWorks Animation's new proprietary software, Apollo. Tech intricacies aside, it's why the lighting looks so sophisticated and the facial expressions so detailed and realistic. (Though I can't quite say human.)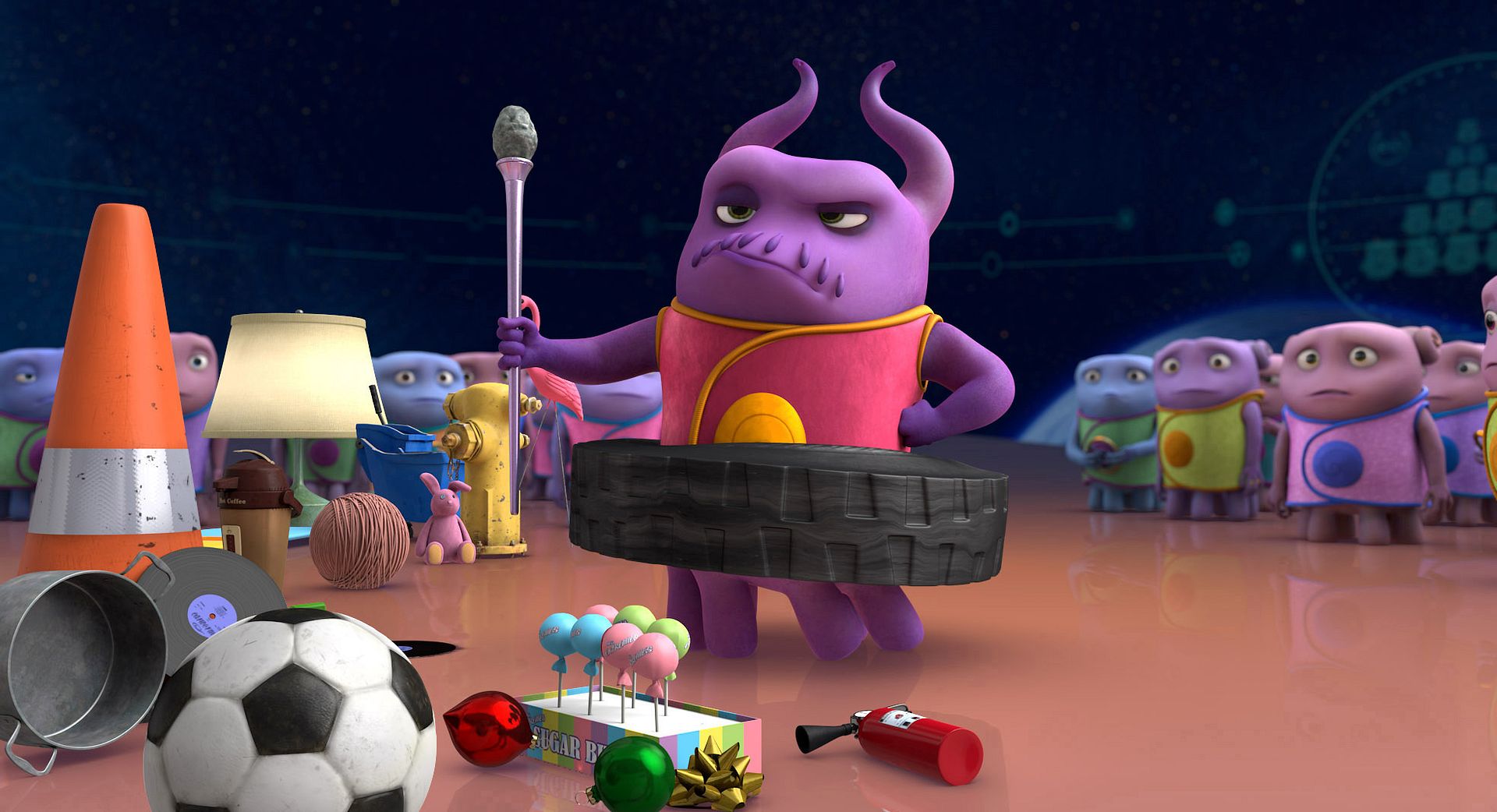 I'll probably wait a few years before watching Home with my preschooler. It might be a little too fast-paced with a few too many storylines for him to follow, though I'd say it's great for kids a bit older who will love the slapstick antics and all the futuristic gizmos and gadgets.
If you have a few kids however, there's no reason a younger child couldn't join you as well; there's nothing much scarier here than the Gorg's outfits which feature some spikes with skeleton heads. The Boov themselves are like adorable Minions who talk. Sensitive kids may react to Tip's sadness about being separated from her mother, but that's no different from pretty much any Disney movie in which the mother is generally dead to begin with.
And if you're wondering about the PG rating, I can only presume it's because of a few intense action sequences some fart jokes.
Still, it's a lot of fun, with a great moral, and I'd definitely recommend the movie Home as one of those films you can enjoy too.
Oh and the answer is yes; do go ahead and splurge on the 3-D tickets.
Home hits theaters March 27. Visit the Home movie website to watch a trailer, play games, hear songs from the soundtrack, and buy tickets. Thanks to DreamWorks for inviting us to a screening.