Music is such an important part of children's lives from both an educational and entertainment standpoint. As a former music therapist and college professor I might be a little biased, but there are plenty of personal stories and scientific studies to back up the theories.
What a lot of parents don't know is that it a child's music aptitude (think, music IQ) is still forming up through the age of 9. So while some kids are definitely "born with it," even if your kids don't seem to be, you can still absolutely raise their level of musical intelligence in those early, formative years. And even better, it's not as hard, expensive, or even as time-consuming as you might think.
So whether you hope your child becomes a professional violinist, a casual guitar player, or even a regular tween who likes to belt out Taylor Swift with friends, it's really important to start your kids young.
That's why I'm so pleased to welcome our newest sponsor, Gymboree Play & Music, a community and program that fosters creativity and provides fun, educational experiences for kids 0-5, and of course, their parents too. It's like a very organized, super fun playdate and the kind of course I always recommend to parents.
– Don't miss a special offer for our readers below!  – 
Within each class, babies and kids enjoy all sorts of expertly-designed play and music activities to inspire discovery and exploration, plus some quality time with other kids their age, and of course, you or another caregiver. (I always love seeing grandparents with their grandbabies in these classes!)
So as a trained music therapist and teacher, I've put together 6 simple, no-stress, age-appropriate ways you can foster a love of music in your kids right now.
Musical activities for babies (0-12 months)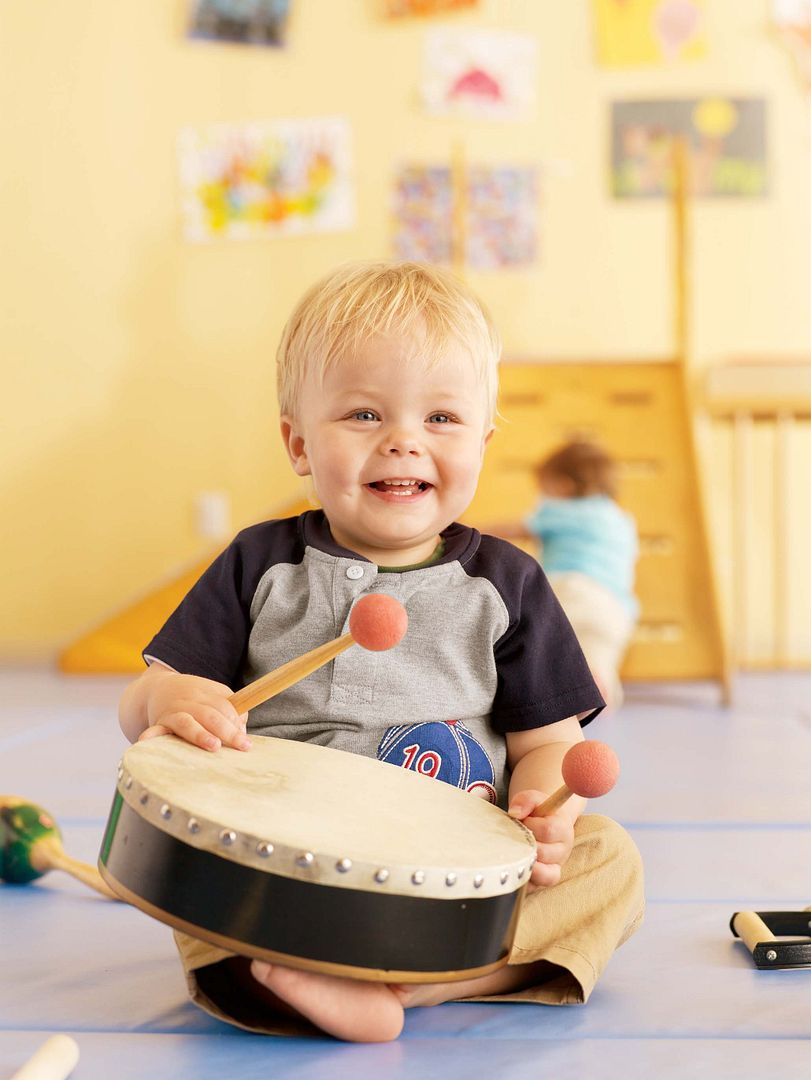 1. Sing to your baby, even if you don't sound like Mariah Carey.
You won't be surprised to know that music is a wonderful way to bond with your baby, and well, it can soothe them and help them fall asleep. Hence, um, lullabies. But so many parents I've met feel as though their voices aren't good enough so they simply don't sing.
Guess what? Babies don't care what your voice sounds like at all! Babies only care that it's your voice.
So take a deep breath, hand them an instrument to play with if they're old enough, and just sing whatever you want. Sure, lullabies are nice, but if it's easier for you, go ahead and sing pop songs or show tunes or really, anything except maybe Metallica. Then again, that works too if you can sing it a little more quietly and gently than James Hetfield.
The point is, it doesn't matter what it is that you're singing, just that you're doing it with them, and to them.
2. Listen to lots of music and lots of different kinds of music.
It's been shown that familiarity breeds preference, which explains why covers of songs (and yeah, even really bad covers of songs) do so well on the charts. It's because people know them, it makes them nostalgic, and they can instantly sing along. That being said, if you want your child to have an appreciation for a lot of different musical types as they grow up, play a lot of different genres of music at home.
This can be challenging, of course, for those of you who may only like a limited style of music; but then, consider it a good way to broaden your horizons. (Parenting will do that to you.)
So create a bunch of different playlists on Spotify or your favorite streaming app, and have the music going during the day. Contrary to what a lot of people think, it doesn't just have to be classical music. Think classic rock, world music, alternative, country, reggae, hip-hop, hey, even your favorite hair band rock anthems from the 80's.
By exposing kids to different kinds of musical genres, you're giving them a huge gift later on in life when they are exposed to music styles that some of us might think sounds "weird" or "bad," when it turns out it's just not exactly what we're used to hearing in the Western world.
And by the way, I think exposure to a variety of musical genres lends itself to an appreciation of other cultures and other people — an excellent lesson for kids to have.
Music activities for toddlers (1-3 years)
3. Get some rhythm instruments and just play.
As much as I love singing to babies (because singing is way more fun than silent diaper changing, right?), music with toddlers is so fun because they can finally do stuff. Sorry, babies. 
Keep in mind that you don't necessarily need to invest in fancy rhythm instruments. Tell the grandparents, no $50 tambourines! Just grab some fun egg shakers or a set of toddler drums and just have some fun while your music blasts in the background.
It's super important that you remember the element of play here. At this age, it's pretty amazing for toddlers to simply find the beat or being to sing notes in tune (mostly because their vocal range is so limited; they're little!). So just engage with them, play like you would with toys, and whatever you do, don't try to correct your child or push him to find a beat or note.
You're not pushing for YouTube Toddler Sensation status; just trying to show them that making music is super fun.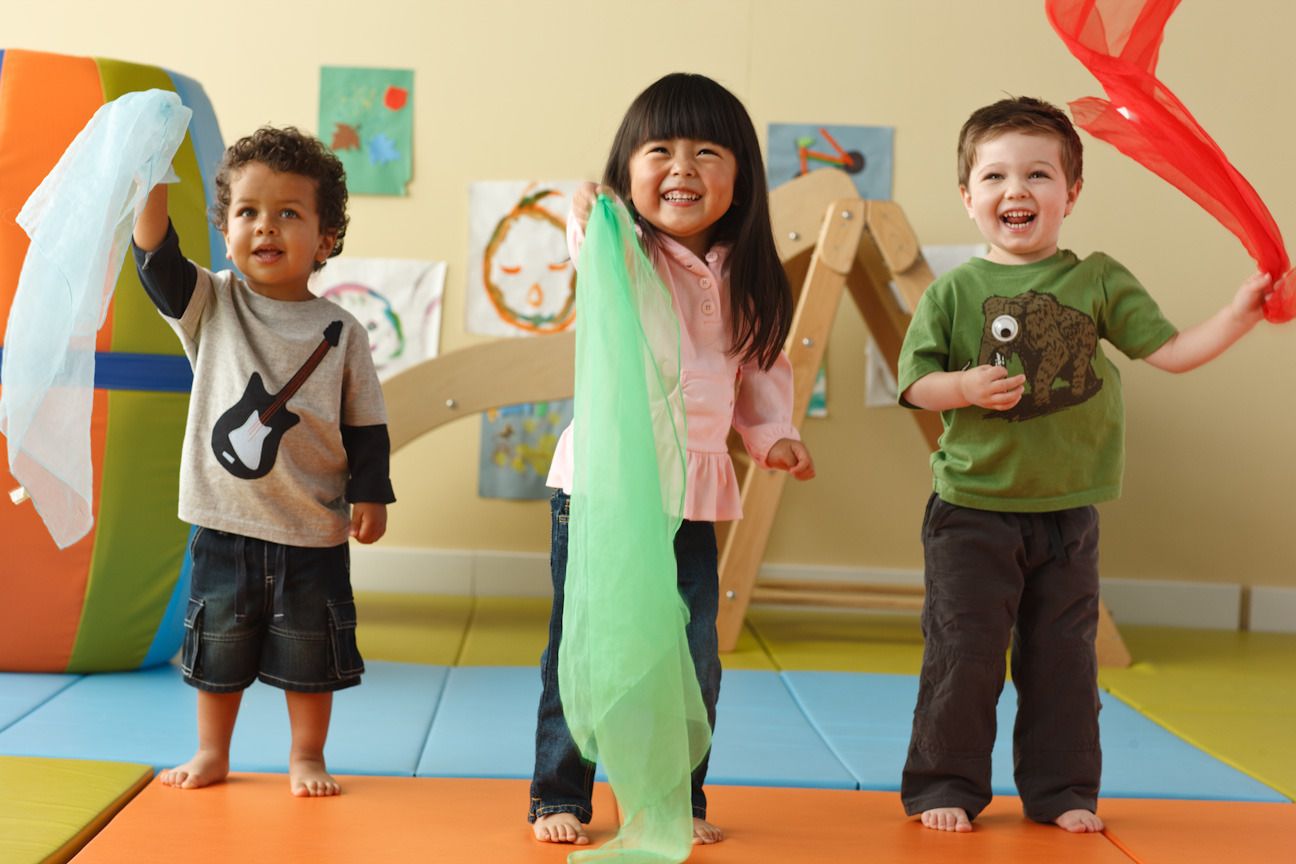 4. Dance, dance, dance.
Music and dance are intrinsically connected, and since toddlers are starting to learn how to move, it's the perfect time to encourage them to do more of what they're already inclined to do. Whether you're holding a younger child and dancing around, or grabbing a walking child's hands to move to the beat together, it's all good.
Just like when you're playing instruments, you want to allow them to have their own free expression, so no need to instruct them on specific moves.
And try not to laugh at them, as adorable as your child might be. You don't want him to feel embarrassed for any of his trademark dance moves. There's always the teen years and adulthood to worry about that.
One of the things that I like about parent/music classes like Gymboree Play & Music is that there's a lot of movement involved. We often get so tied to the idea that music is a sitting still sort of activity and really, it's a full body experience. So pop on your favorite jam, and have some fun. If nothing else, it's special individual time with your kids and an extra calorie burn too.
You can even take a trial class for free to see if it's something your baby, toddler, or preschooler would enjoy before committing.
Music activities for preschoolers (4-5 years)
5. Play games. Musical games that is.
Preschoolers are already so curious, this age is the perfect time to put that curiosity to work. Engage them by asking whether the song is slow or fast, loud or quiet. Or if they're older, ask what sorts of instruments they can hear in the song.
Rhythm games are also great to play, like singing or clapping a rhythm for them then having them repeat it back, in sort of a call-and-response type way. Or do it with instruments and play a musical Simon Says.
You can do the same thing with tones too, though be sure it's just tones and not tones AND words; these are actually two separate brain functions. Since preschoolers are still formulating language, make it easier on them by just singing "la la la" because chances are, they'll get hooked into the words when you're really trying to challenge them to sing notes in tune.
6. Take them to concerts. And not just kids' music.
Hey, we love kids' music too, and let's be honest, it's come a long way. But it's important to take your kids to all types of musical concerts — within reason of course. With summer coming, look into all the awesome outdoor concerts, fairs, and festivals in your community which give them a chance to see different kinds of people playing different kinds of instruments. (Liz always tells the story of her kids falling in love with a steampunk brass band at a local festival when they were little.)
Lots of orchestras even offer special kid days so you can bring your children in a friendly environment, and even meet some of the musicians.
Just like when they were babies and you were exposing them to all sorts of recorded (or live) music in your home, now's the chance to take your kids out to see what it really looks like when someone plays the trumpet or the saxophone or the upright bass. This is a fantastic way to get them excited to play an instrument themselves if that's a goal.
I can promise you that when they have a love and appreciation of music, getting them started in a formal setting is much, much easier.
Thanks to our sponsor, Gymboree Play & Music, for helping so many parents get our kids excited about music. 
Special offer: Find your local Gymboree Play & Music. and pay only $59 for your first month with code SPRING59 through 4/30/2015  This includes: 4 Play & Learn Classes, no initiation fee, and access to open gyms.
*Offer for new families at participating locations only, not valid at Manhattan locations. For all the terms and conditions, click "See offer" when you click on this promotion on the Gymboree Play & Music Facebook page.