If cackling witches and spiders that drop from doorways aren't quite creepy enough for you for Halloween, perhaps a zombie-themed party is more your speed. I started looking for some fun zombie party ideas now that my kids are getting older, but I realized so many of them are absolutely gross. As in brain cakes, that look so realistic I couldn't even eat one. So I pared it down to the party ideas that are more fun and creative; hey, we don't want your guests to lose their appetites for all the delicious food you're serving at your party.
Before you invite the undead to your home for a fantastically terrifying evening of braaaaains and brew, check out these fantastic ideas from the semi-creepy to the eeeek and get inspired.
One word of caution: These are still probably best for families with older kids, or for an adults-only evening. Unless you really enjoy sleeping with the kids. With the lights on.
Top image: Zombie invasion projections from AtmosFX
CMP is an rstyle and Amazon affiliate
Related: 10 outrageously creepy Halloween pumpkins for when your kids are out of the nightmare stage
DIY Zombie Barbie Party Lawn Decor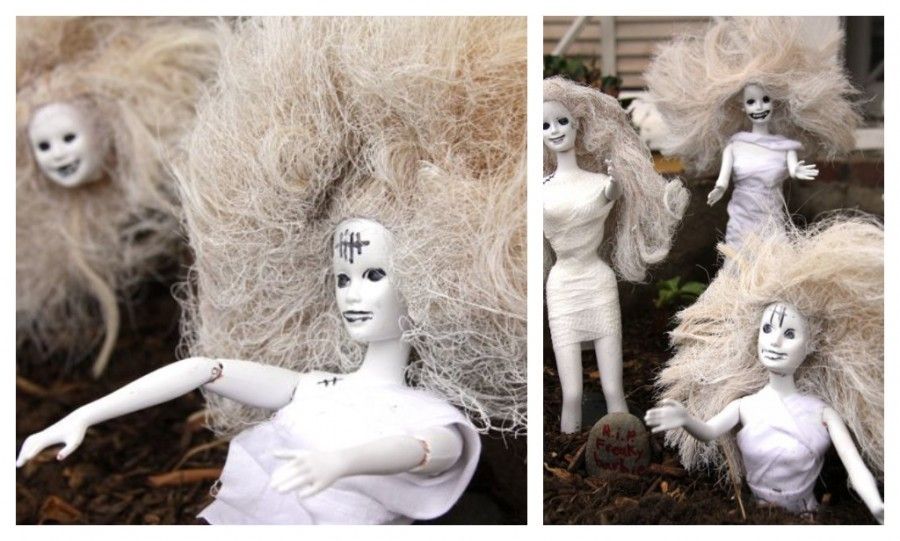 You'll scare everyone before they even set foot in your house if they encounter an entire hoard of Zombie Barbie dolls hiding on your front lawn in the dark. This Mama Makes Stuff shows how she's created this doomed — yet undeniably awesome — garden from discarded Barbie dolls and a bit of paint.
Apartment dwellers can even make these zombie dolls and hide them around the house in surprising places. Then sit back and watch your guests jump as they are discovered.
Creepy Zombie Wall Art
Hungry Happenings put together a zombie party that's chock full of ideas, though my favorite is this incredible wall of zombie portraits. You can the step-by-step instructions at Instructibles for how to turn your smiling family photos into creepy portraits, but know that it requires Photoshop. We suggest you use PicMonkey and we've got our own tips for turning your photos into zombie photos with very little effort.
Of course there's no need for you to do as many portraits as shown here, but the more zombies you have time to make, the merrier. Or scarier.
Related: Surviving the Zombie Apocalypse: Essential tips for parents from James Breakwell | Spawned ep 86
Zombie Party Window Coverings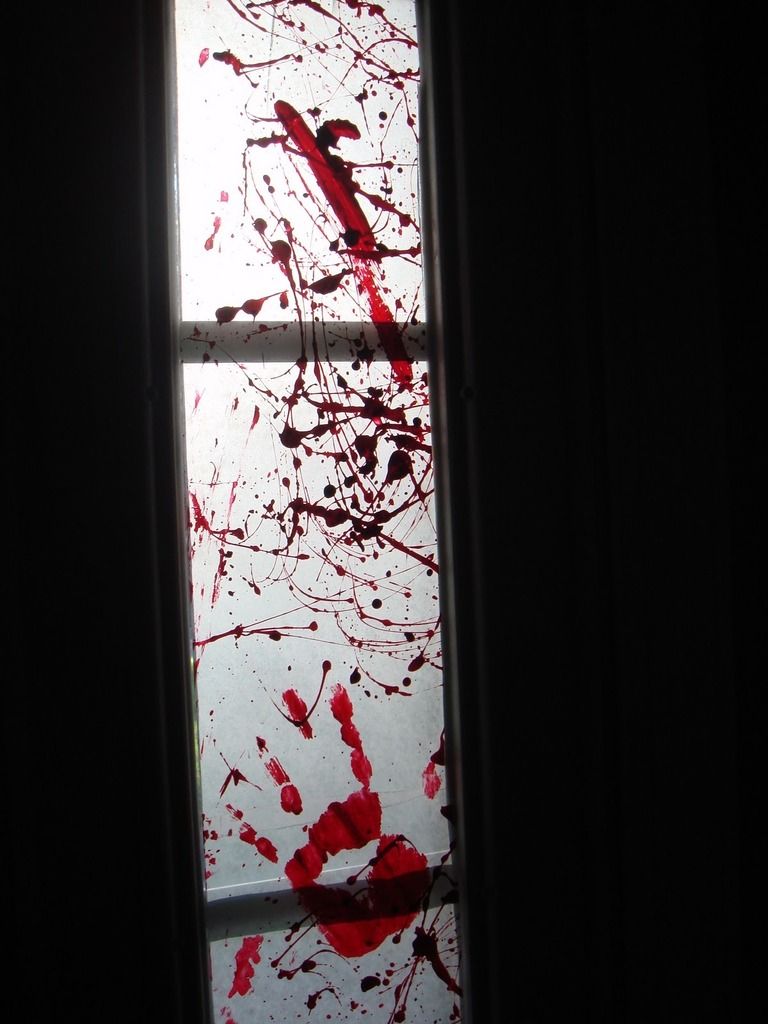 Muse Lodge's zombie party bloody window coverings warn your guests that this party may be their last (cue evil laugh). Or the last one this awesome. It's clever, simple, and perfect for a zombie theme.Though you might to remove the coverings before any kids start trick-or-treating or you may not have anyone brave enough to ring your doorbell!
Zombie Party Digital Projections
Another alternative for creepy wall art: Last year we discovered the very cool Halloween FX company AtmosFEARfx (now AtmosFX), which makes technology for professional haunted houses and amusement parks. You can get their Halloween haunted house projections — like the one seen here or the zombie invasion at very top — as an easy download for your own party, provided you've got a projector. Or just hook up your TV in the party room and pop in the DVD version to project out your first floor window. (For a zombie party, I'd check out options like these fun unliving portraits shown above.
There are also seriously creepy horror movie inspired blood walls, all with phenomenal quality. We give it a 10/10 on the eek factor.
Related: 17 of the best pop culture Halloween costume ideas for kids right now, from Meghan and Harry to Serena to Riverdale
DIY Cardboard Zombie Party Decor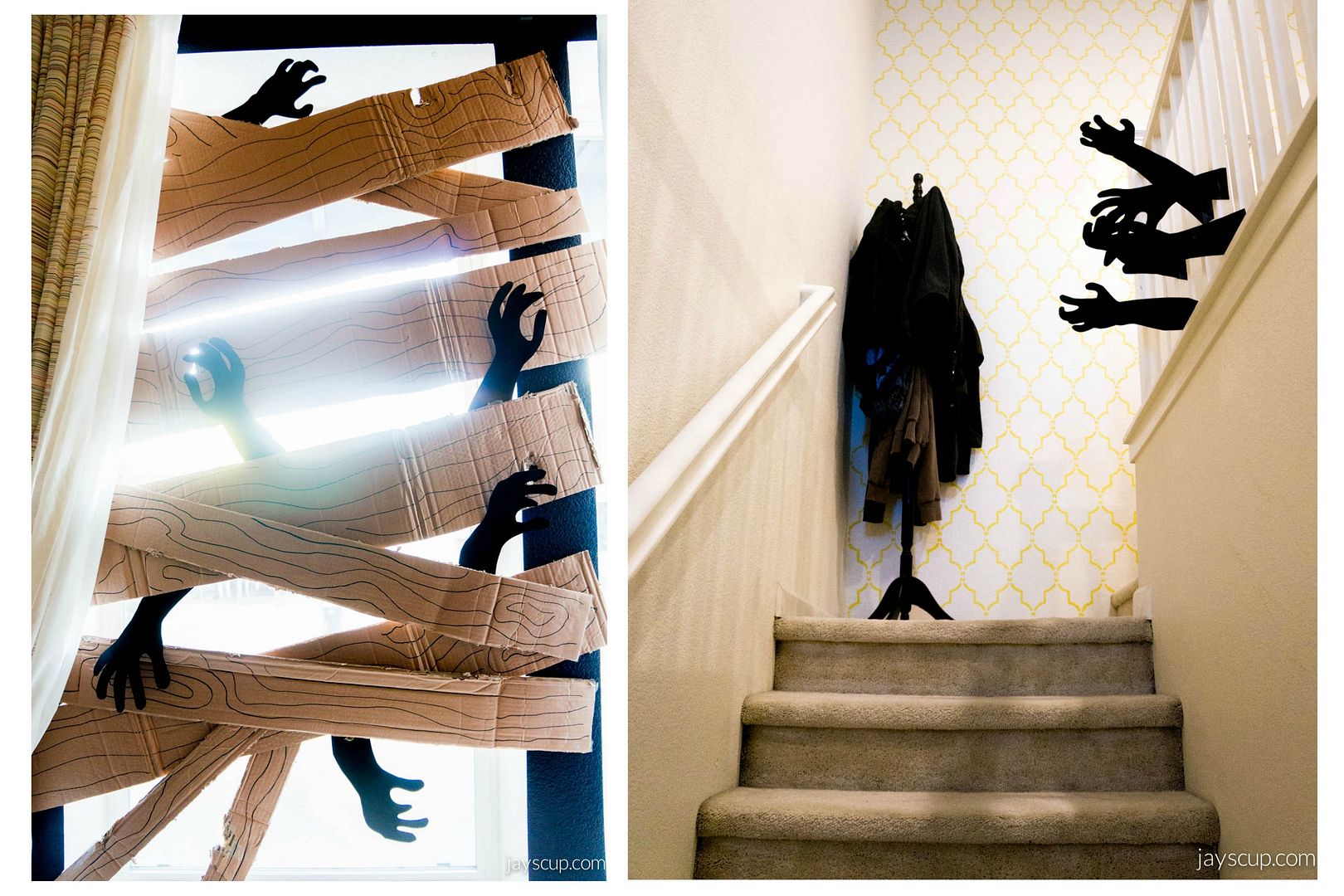 Filed under "creepy but not too gruesome," these DIY cardboard zombie arms from jay's cup are inexpensive and relatively easy to make with a pair of scissors or X-Acto knife and some time. We love how you can place the arms as if they're struggling to get into the boarded up window, or stick them through your banister slats to make them look like they're grabbing for victims as they go up the stairs. So much you can do with disembodied black arms — who knew?
DIY Zombie Party Photo Booth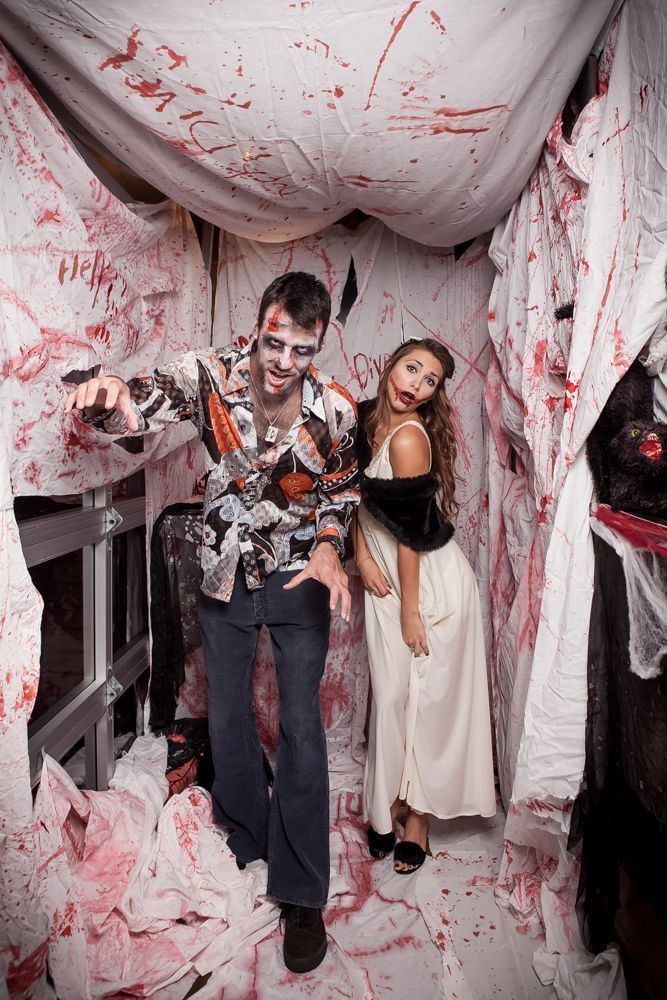 Capture the best photos of your undead friends by setting up a gruesome Zombie photo booth in the corner of the room like this San Diego restaurant did for their own Halloween party, as shown on Brit + Co. I like that there's no need to go crazy with props, just hang some red-paint splattered sheets all over the place, have a good photo booth app on hand,  and let your guests do the rest. Of course a few rubber brains or those disembodied arms above could be fun to play with too.
Related: 5 of the coolest photo booth apps for a picture-perfect party
Zombie Party Paper Goods

Though you can't go wrong with a classy black and red color palette, we really found some really affordable zombie party supplies at Oriental Trading with just the perfect amount of gore. Because if you're serving food off it, you really don't want all your guests to lose their appetites (or at least that's how we see it). This set includes plates, cups, and napkins, and you can the tablecloth yourself with some strategically splattered red paint. You can also search zombie party supplies at Amazon for some fun options.
Zombie Party Food Picks
Since we're less in the camp of serving bloody, brain-shaped treats, we like this cheat: Offer really good party food, only serve it with a set of plastic zombie food party picks found at Amazon, which include a dozen reusable undead figures that are rather adorably grotesque. I guess I prefer zombie figures that look like they're rising from the dead among our appetizers, as opposed to zombie figures being served for actual appetizers.
Zombie Party Cupcakes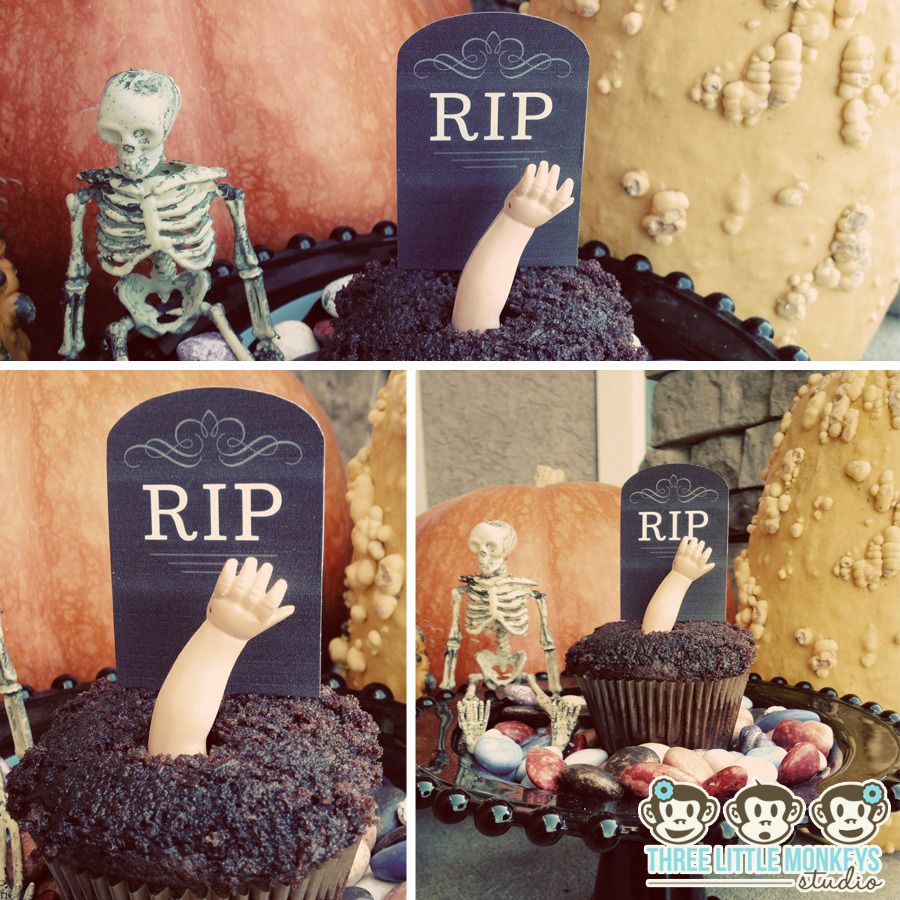 You can always splatter red food coloring around a white cupcake as a shortcut, but for something a little more impressive, use Three Little Monkey's free printable Halloween party gravestones, add some random doll body parts, and your chocolate zombie party cupcakes will look just the right amount terrifying. If you really want to add a surprise, check out what she's hidden inside her cupcakes to give them that extra "zombie" touch. Ha.
Zombie Party Cocktail Recipe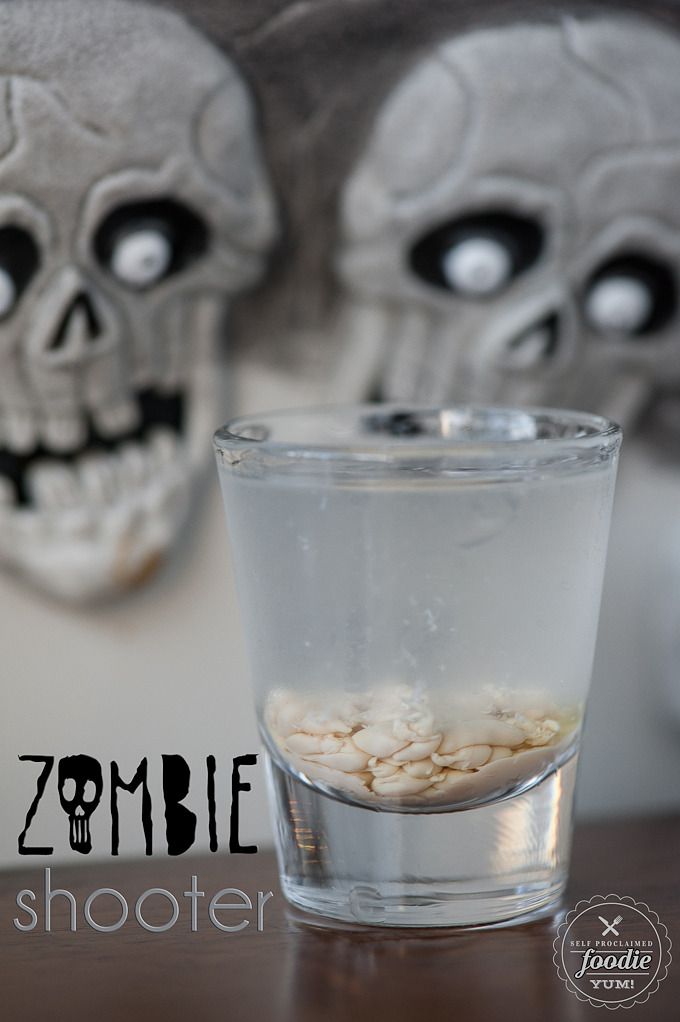 Zombie Shooter via Self Proclaimed Foodie
A grown-up zombie party requires a grown-up zombie cocktail. This Zombie Shooter recipe from  Self Proclaimed Foodie is one of several impressively creepy Halloween cocktail recipes that we absolutely loved in a recent roundup at Cool Mom Eats. But this one in particular is so perfect for a zombie party; not only does it look there are brains preserved at the bottom of the glass (don't worry, it's just Bailey's), you only need three ingredients to whip this one up. Just don't drink too many; we want all our zombie guests getting home safe when the party is over.