Usually, my favorite Halloween costumes that our readers come up with each year are clever pop culture reference costumes. Do you remember the "Derry with the Bat" costume that Kristen's son wore last year, from the viral meme last year? It was amazing!
So, to spark your creativity this year, we've listed some of our favorite pop culture Halloween costumes for kids, babies, tweens and teens, from the buzziest people, films, books, and heroes of the year.
Psst…we bet you'll be seeing tons of these next year, too.
-Kate with Liz
CMP is an Amazon and rstyle affiliate.
Related: 13 of the coolest family costume ideas, from Moana to Guardians to Avocado Toast
Photo ©Toddlewood
Prince Harry and Meghan Markle Costume
Pop culture moment of the year probably goes to Meghan Markle and Prince Harry's wedding, and it's actually a really easy costume to pull off for your kids. If you want to go all-out, you must check out the Meghan and Harry costume photo shoot by Toddlewood, photographer Tricia Messeroux's brilliant service in which she transforms kids into all kinds of iconic figures and celebs — then captures them spectacularly. I mean the details here, from Harry's scruff (drawn on with a reddish-brown pencil to Meghan's earrings and tiara. Her site even has a video about the shoot from Access Hollywood so you can see how a pro achieves that facial hair on a pre-adolescent.
(PS check her site for a TON of incredible pop culture costume inspiration, from movie posters to Grammy winners.)
If you want to keep a Harry/Meghan costume simple, you can do that with a kid-sized veil and bouquet sold at Chasing Fireflies (or DIY of course), then just find a simple white dress like this cotton t-shirt dress I found on Amazon for $11. With all that extra time, you can whip up a papier-mâché horse and carriage too.
Photo: Gigi Dinsena
Miguel from Coco
My kids have been streaming Coco over and over again, so we think this Miguel Halloween costume I spotted on at Gigi Disena's Instagram demonstrates it can be both fun and easy. All you need is a red hoodie and we found a really affordable Coco Guitar on Amazon for $26.99 (versus the super spendy Mattel version) or you can try to paint your own basic one.hen, recreate Miguel's Dia de los Muertos face paint to complete the look.
For more inspiration, check out the outrageous Coco Family cosplayers on our family Halloween costume idea post. They're incredible!
Photo: Primary
Serena Williams
OMG, this baby Serena Williams costume at Primary is amazing. We love Primary's costume gallery, because it's filled with ideas made from their kids' clothing basics that can be all be  disassembled and worn again. For Serena, a black leotard and leggings and a tutu will do it. Just add a tennis racket and you'll have the grand-slam champion of your Halloween party. You don't even need to spend $1700 on Nike's Queen Collection Sneakers to pull it off. Phew.
Photo: Bored, Inc.
Justice Ruth Bader Ginsburg Costume
RBG is a perennial favorite of ours for Halloween, because so easy and so smart. We've shared this awesome costume from Bored, Inc. before — but this year, reach to the artist to see if she'll make one custom, since I don't see it in the shop right now.
We've also shared a fun Ruth Bader Ginsburg costume tutorial in last year's strong girl costumes roundup. Or, just grab an affordable black long-sleeve tunic dress and add a lacy white collar and a bun.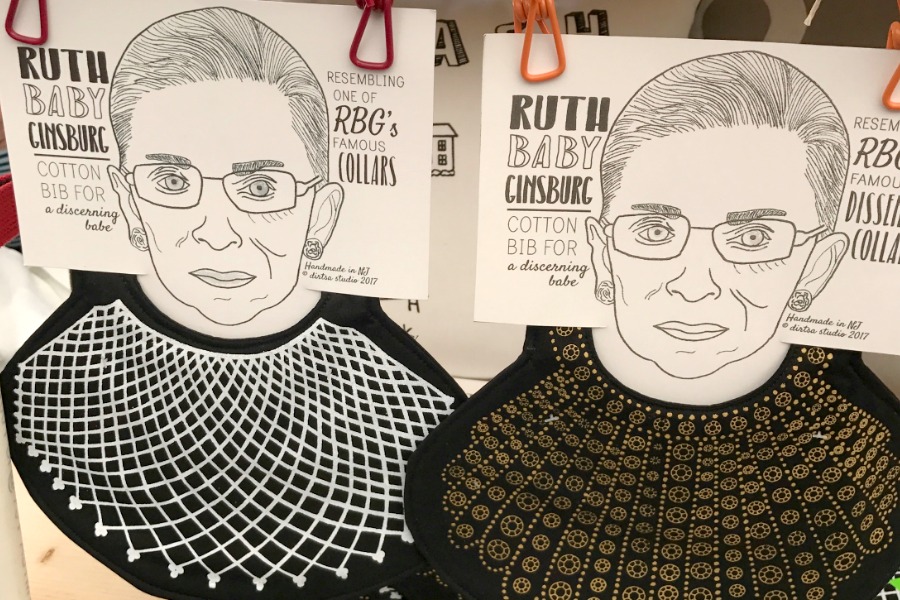 For a baby, just add one of these RBG dissent collar baby bibs from Becky Garcia Dirtsa Studio to a black onesie and you're set. But whatever your trick-or-treater's age, be sure to give that girl a judge's gavel too, because she's got important, life-altering decisions to be making. Beyond whether to pick the Milky Way Dark or the Butterfingers.
Black Panther Dora Milaje/Okoye Costume
The fierce female warrior costume of the year — besides Ruther Bader Ginsburg — is definitely Okoye and the rest of her Dora Milaje sisters. While we honor you DIYers who can put together this costume, honestly, buying a child's Okoye costume is so easy and affordable at Target, and you can amp it up with your own personal touches like authentic face paint (Ebony Jane's YouTube tutorial is terrific).
For a younger kid who wants to balance her fierceness with her inner tutu-lover, I adore this Okoye tutu dress costume att Etsy shop The Royal Rose Boutique. Sure, maybe the real Okoye couldn't fight so well in this considering even her wig was a hindrance but you know, Halloween.
Related: Fun Halloween costume kits kids can DIY themselves
Photo: Primary
T'Challa/Black Panther Costume
Of course, you can find a Black Panther costume in any costume shop right now but unlike a Dora Milaje uniform, T'Challa's costume is a lot easier to DIY. Primary has some easy instructions to create your own diy Black Panther costume for kids just using a simple set of their black pajamas — meaning the kids can even fall asleep in them that night after the sugar crash. Perfect!
Photo: Hanalulu12 on Instagram
Colin Kaepernick Costume
Over the past two years, Colin Kaepernick has become a symbol of peaceful protest and committed philanthropy for millions, and we imagine we'll be seeing a lot of baby Colins out trick-or-treating again this year.  Especially as Nike chose him as the face of their 30th anniversary ad campaign this fall (as you might have heard.) @hanalulu12's baby Kap costume totally went viral last year and we still think it's perfect.
All you need is a kids' 49ers jersey (although, instead of giving them 15 bucks, we could easily DIY our own with a plain red jersey or onesie and some white duct tape) and a football. Easiest costume ever. Just remember — honoring isn't the same as appropriation. Skip the afro or cornrow wigs.
Photo: Modern Kids Photography for Oh Happy Day
Mr. Rogers Costume
Did you see Won't You Be My Neighbor? this year? It brought back all the memories and renewed our love for Fred Rogers all over again so we hope we see lots of kids dressing up in a Mr. Rogers costume this year. This idea at Oh Happy Day shows how easy it can be. You just need khakis, keds, and a cardigan — and those Land of Make Believe puppets don't hurt.
Photo: EM Ford/My Pale Skin Blog
Mean Girls Costumes
With the huge success of Mean Girls on Broadway this past year, our tweens and teens are all obsessed with Regina, Karen, Gretchen and Cady — though we (as parents, ahem) highly suggest kids go for the pink Wednesday look, and not the Santa costumes or Karen's sexy mouse. )Of course it's hilarious if you accompany them as "the cool mom.")
One way to do Regina that's more funny than sexy is with this hihlarious Regina George prom costume, complete with headgear, as seen in a YouTube video tutorial from EM Ford. She's got makeup tips and even DIY tips for that neck brace!
Photo: Always Erin
If you want to be even cooler, have your kids dress in a Damian costume which Always Erin nails here with simply a light blue hoodie pulled up plus dark glasses — and that perfect sign. Of course Damian needs his Janis Ian, which you can pull off with all-black clothing. lace-up boots, and an oversized army green jacket, or a funky jeans jacket if you're going for Barrett Wilbert Weed's cult favorite Broadway version of Janis.
If you trick-or-treat in Liz's Brooklyn neighborhood this year, you might even see her accompanying a Janis and secretly stealing her Reeses.
Photo: © Sarah Macon / @sarahmacon_
Riverdale Halloween Costumes
Do you have tweens or teens obsessed with the insanely campy Riverdale? We can't believe how totally perfect this kids' Jughead costume is from Sara Macon on Instagram! She nailed it, down to the South Side S on the shirt, the leather jacket (you can even get a serpent patch for the back) plus her own perfect, DIY Jughead beanie — though you can find those for sale as well. Maybe add a felt hamburger in the back pocket?
photo: © Nicole Stetter / @bearmom
There are so many easy ways to go for Riverdale Halloween costumes, from the Vixens cheerleaders to the varsity team jackets, to Josie and the Pussycats. If you want to go dark though (hey, it is Halloween) you have to see the Cheryl and Jason Blossom costumes from Nicole Stetter @bearmom. Whoa. No wonder this image went super viral last year. Halloween Mom of the Year Award!
PS Season One is way better than the others, and so are the references.
Fader Magazine via Boombox
Drake Costume
My Instagram feed is full of friends' kids doing the Kiki challenge. (Sigh.) With Drake so huge with so many kids, this kid's Drake costume I saw over at Boombox from a Fader Magazine cover is spot on should you need some inspiration. Of course it helps if your kid can nail the facial expression, but that distinctive beard isn't too tough to replicate. Plus his wardrobe is so varied, you can do a leather jacket, varsity jacket, puffer jacket or vest.
Related: 11 of the best homemade kids' Halloween costumes of 2017
Photo: Primary
Rachel Chu Costume from Crazy Rich Asians
I read the book and watched the movie and have to admit, Crazy Rich Asians was the entertainment highlight of the fall for me. So I loved this Crazy Rich Asians DIY wedding dress costume I found at Primary. They share the step-by-step instructions to help you make Constance Wu's Rachel's dress for the big wedding — just add a tiara, of course! You can skip the flooded sidewalks outside your home though.That would be smart.
Photo: Warner Bros
I bet we'll be seeing a few Go Peik Lin (Awkwafina) and Goh Wye Mun (Ken Jeong) costumes too. That's the cool thing about a huge movie hit with a big ensemble cast and amazing costume design — it's just made for group Halloween costumes!
Image: The Daya Daily
The Mrs's from A Wrinkle In Time Costumes
Speaking of group costumes, our kids were fairly obsessed with A Wrinkle In Time this Year. (Did you catch our AWIT inspired Science Guide for Kids? It's awesome!) Whether your kid is trick-or-treating alone or in a trio, check out the video tutorial for A Wrinkle In Time Mrs's Costumes and Makeup from The Daya Daily. I mean, it's impossible to live up to costume designer Paco Delgado and makeup artist Derick Rutledge's original work, but still, pretty impressive! Especially for kids.
Photo: Loot Llama Designs
Fortnite Halloween Costumes
Search for any Fortnite character on Etsy, and you'll have plenty of costume options to choose from. But I love these Fortnite Onesies from Loot Llama Designs, because they tone down the sexy vibe of characters like Zoe, shown here, while still making an obvious connection to the characters.
If you want to DIY, Lilly Singh has a video on DIY Fortnite costume ideas and wow…she has some energy! Skip to about 4:00 in if you want to jump right to the ideas for Amazon,
Related: 14 empowering girl Halloween costumes inspired by real life heroes
Ready Player One Halloween Costumes
Geek culture is obsessed with Ready Player One this year, and Target has a ready-to-wear kids' Parzival costume that's budget-friendly. Even if your own kid decides to DIY their own jean jacket to give it a bit more authenticity, the grey-and-blue wig will complete the look. And yes, for authenticity sake, Wade wears a VR headset, not his avatar Parzival, but if you want to drive home the costume concept, we found this cheap VR headset to top it off.
Of course some of us around here are rooting for more Art3mis/Samantha and Helen Harris/Aech costumes, but…good luck with that Aech one!
Photo: Brenda Ponnay for Alpha Mom
Wonder Woman Costume
For another fierce fighter, the original Amazon Queen is still a pop culture costume hit, and while there are plenty of Wonder Woman costumes in shops right now, I love this comfortable DIY DIY Wonder Woman t-shirt tutorial from our friends at Alpha Mom. Brenda offers the step-by-step instructions so that you — or your older, crafty kids — could make this yourself.
Photo: Netflix
The Queer Eye Guys Costume
We find that whenever we watch an episode of Queer Eye with our tweens, we end up with a smile on our faces. And these costumes would be so hip — so much so, we can't even find any photos of kids wearing them yet. Plus, the costumes are easy!
If you want to be Antoni, throw together a white tee and jeans with a bandana tied around your neck. And, of course, an avocado in your hand. Tan is all about the hair — and any patterned collar shirt you can find. For Jonathan VanNess, you pretty much just need a fab outfit, a blowdryer, some facial hair drawn on, and a long black wig, but you may have to trim it depending on your kid's height. Even Jonathan has his hair length limits. Kind of.