Now that my kids are a little older—and a little braver—we can finally bump up the fear factor when it comes to decorating our home for Halloween. That means that the smiling cartoon ghosts and friendly pumpkin faces are about to be replaced with decorations that are a bit scarier.
However, I'm making sure that the decorations that we use aren't too creepy since I still need my kids to go upstairs without a personal escort.  So, I'm aiming for DIY Halloween projects that we can work on together, which will hopefully make them a little less scary since they'll have a hand in creating them.
For a creeper and scarier Halloween, check out these 10 DIY decoration ideas that are sure to put the 'boo' back into your Halloween.
Related: 10 creative, creepy-fun Zombie party ideas
DIY Scary Halloween Silhouettes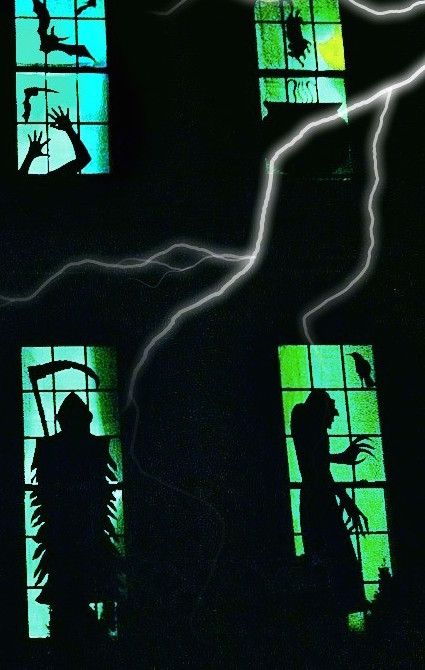 The scary Halloween silhouettes on Snazzy Little Things are a great way to turn even the quaintest country cottage into a haunted house with just some black paper and scissors. Similar to the zombie arms Halloween craft we recently shared, these creepy and cool silhouettes can be made freehand style and turned into any shapes that would like to draw. Or, you can keep it simple and become a subscriber to the Snazzy Little Things blog which gets you access to her free downloadable silhouettes that you can enlarge and cut out. Be sure to check out how to get that awesome great green background that glows from behind the figures. Spooky fun!
Floating and Glowing Jack-o-Lanterns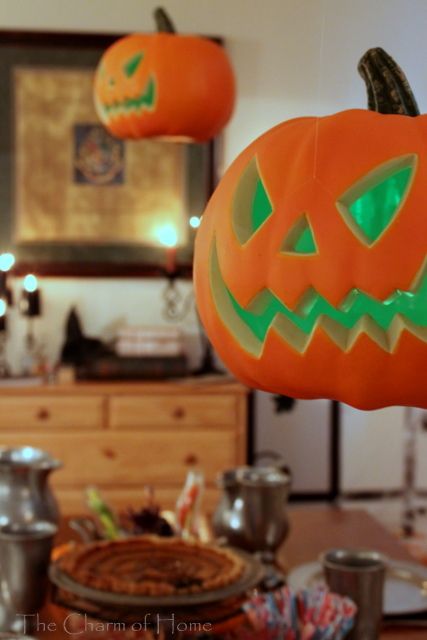 Whether you can make your glowing jack-o-lanterns levitate above your dining room table as shown on The Charm of Home, or if yours will glare angrily from your front porch, we love this idea that uses lightweight plastic pumpkins and lights to add a spooky ambiance to your home. Visit the site to see how this was originally part of a larger and pretty spectacular Harry Potter-themed Halloween party. Crafty parents may just get inspired to kick-up their Halloween game and turn their home into a mini Hogwarts.
Related: 13 fabulously easy no-carve pumpkin ideas for the kids. (Yes, they really are easy.)
Scary Zombie Twins Craft
Have your older kids abandoned their once-beloved Barbie dolls? One cool, and semi-creepy idea is to turn them into an entire graveyard of old Barbie dolls, or just one spectacularly scary conjoined pair, so that they can can live forever as zombies. The tutorial on Just Crafty Enough will take you through the steps you'll need to create this spooky undead plastic pair. To up the scare factor, place the dolls somewhere unexpected to frighten the daylights out of anyone who stumbles upon them.
Spooky DIY Ghost Heads for Halloween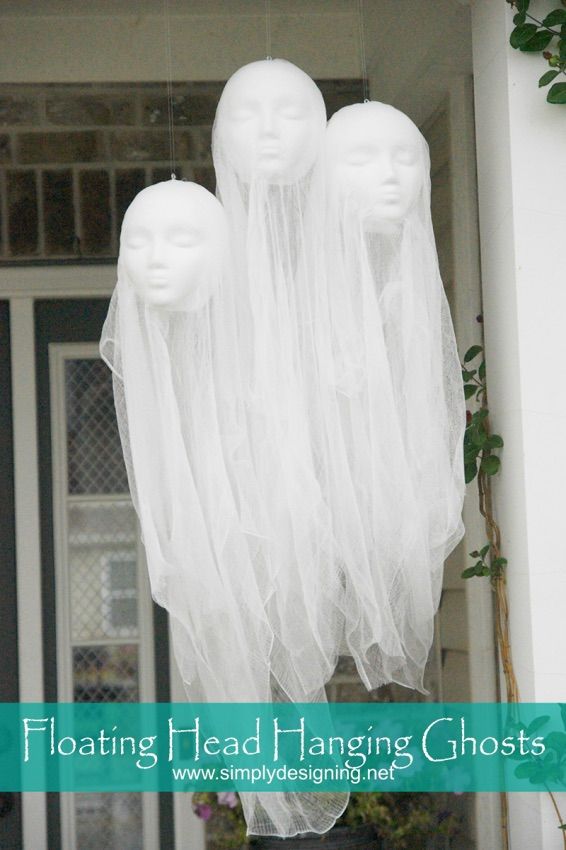 Spooky — yet surprisingly elegant — this trio of floating ghost heads would make a fantastic fixture on a front porch or entryway. Simply Designing offers a tutorial that takes you step-by-step through their process and the end result is eerily perfect. If you'd like to make this even easier, a simple white foam ball can take the place of the faces, though I love the unsettling feeling that those eyes will open at any moment.
DIY Paper Mice Halloween Decoration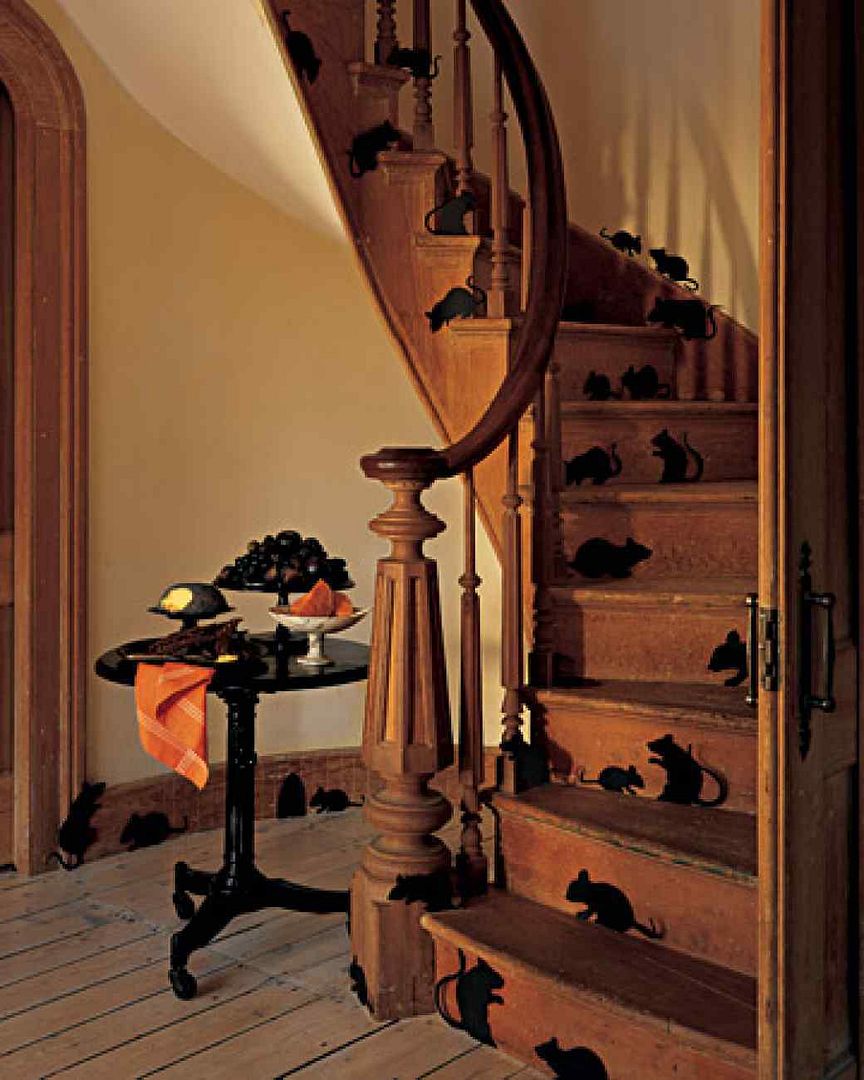 You'll give everyone the heebie jeebies if you cover your entryway in black mice silhouettes using the free templates from Martha Stewart. For extra spookiness, dim the lights or light up some candles so that the mice can have a eerie glow in the flickering light. Don't forget to hide the cheese!
Scary Halloween Wall Art
Whether you turn your own  family into zombies in this idea from Hungry Happenings that we recently shared in our Zombie Party post, or doctor their photos in other scary ways, an entire wall of creepy photographs will certainly set the tone for Halloween. If you have little ones, you might want to make your wall more silly than scary. Gluing on some googly eyes on those creepy peepers is sure do the trick.
Related: The easiest way to Halloween-ify your photos, from spooky to silly
Edible Witch Fingers Halloween Recipe
I admit I can't stomach some creepy Halloween treats that look a little too realistic and gory. Halloween punch bowls with fake eyes! Yuck. But, Texan Erin's whole wheat witch fingers manage to look scary and yummy at the same time with their crunchy fingernails and bony knuckles. Okay, so maybe it's still prety disgusting. But I'd eat them anyway. Serve with her sweet dipping sauce, er blood, and your guests will gobble them up.
Glowing Eyes Outdoor Halloween Decoration Instructions
Older kids who are handy with a pair of scissors will have a blast helping you make this glowing eyes craft as described on Rust and Sunshine. We've hidden them in the bushes outside our family's house and, whoa, they do look really scary as you walk up to ring the bell.
Angry Pumpkin Carving Tutorial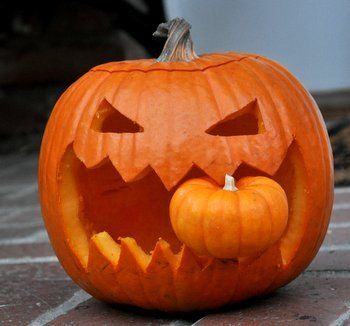 Ack! Cannibal pumpkin! Baking Bites takes an idea we've seen around the web on a very elaborate scale and makes it doable for us average pumpkin carvers. If you want to increase the horror factor, draw a scared face on the smaller pumpkin in Sharpie. Poor little guy.
Spider Egg Sac Halloween Decoration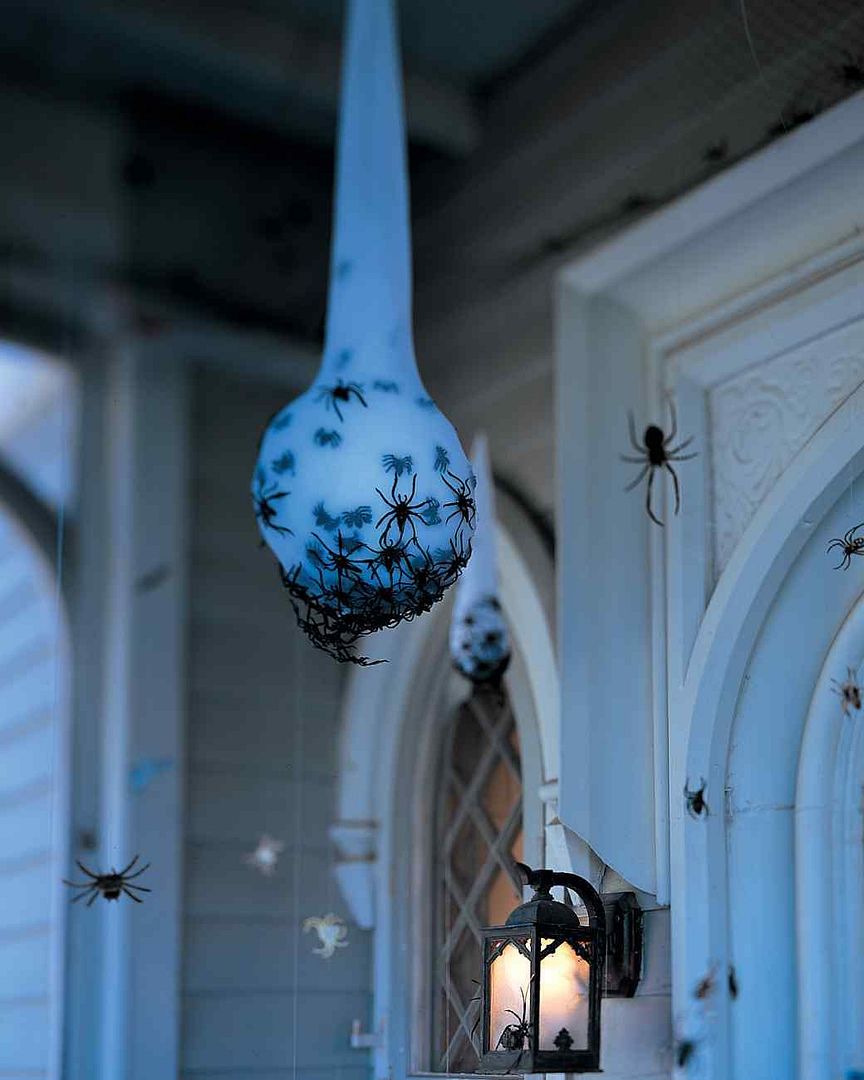 Is something crawling on me? Because I get the creeps just looking at Martha Stewart's creepy crawly DIY Spider Egg Sacs for Halloween. Made with just a few materials and a ton of plastic spiders, this is one seriously icky decoration that will make a huge impact when your trick-or-treaters see it hanging above their heads. Make sure you stick extra spiders all around the doorway to really freak everyone out.