For the last few years, we've been finding more and more Easter egg decorating ideas that skip the traditional dip and dye, and go straight to Sharpies. What's cool for us as parents is that not only is there less mess, but what kids don't jump at the chance to get a Sharpie in their hands? So, I've sought out 19 of the coolest Sharpie Easter egg ideas to try out.
For what it's worth, we don't suggest you use Sharpies on the shells of hard-boiled eggs you actually plan to eat. But if you're worried your kids won't be able to resist devouring your designer eggs, you can also create these mini masterpieces using inedible plain wooden eggs, plastic eggs, or faux Eggnot ceramic eggs instead of the real deal. You can also grab a set of colorful edible food pens from Wilton and get to work without the worry — even if your kids turn their noses up at the very thought of eating an egg.
Hey, that only means more for us, right? Happy decorating!
CMP is an rstyle and amazon affiliate
Related: 20 of the most artful Easter egg decorating ideas that are easy but don't look it.
It doesn't get much easier than this: Eggs, meet Sharpie. Love how Paper & Stitch uses a marker and plain egg to make these whimsical Sharpie decorated Easter eggs. Check out the post to see how cute this looks on brown eggs as well. Nice for those of us who have such pretty backyard eggs you don't want to cover in dye.
We found this adorable Mr. Humpty Dumpty Sharpie Easter egg decorating idea a few years back, and while Confetti Sunshine, the blog that first shared them, is no longer up and running, they're pretty easy to figure out. A quick dip in some colored dye will get your eggs dressed (well, at least on the bottom) then just decorate with a Sharpie or other marker. Just don't sit them on a wall, for obvious reasons.
I love this thumbprint Easter egg decorating idea from Childhood 101 which combines a little painted thumbprint with some delicately drawn details in Sharpie. A nice way to enlist all those tiny fingers that can't wait to help. But really, no need to paint the whole egg first. Just a thumbprint and some marker will be plenty of work for your kids.
Related: 9 ways kids can decorate Easter eggs without dyeing them.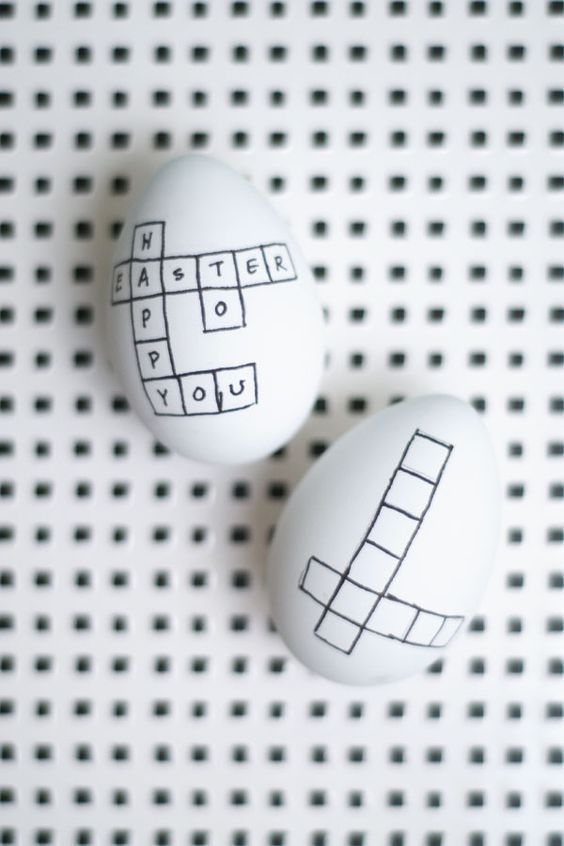 This clever idea for crossword puzzle Easter eggs (also from Confetti Sunshine) seems tailor-made for our editor Liz, our resident crossword nerd. Make your own special puzzle that spells out Happy Easter or your kids' names.
The adorable connect-the-dots Easter egg decorating idea (link no longer active) from Nearly Crafty would be so much fun for kids to do. Just use a fine-tipped Sharpie to freehand a picture in numbers and dots, then hand them over to the kids for the finishing touches. Before your get started, be sure to read the tips on her site for getting the best results.
I love this idea we found on Artzy Creation of using a pointillistic style and stencils to create monogrammed Sharpie Easter egg (link no longer active). It would be a special treat to create one for everyone at attending your Easter brunch.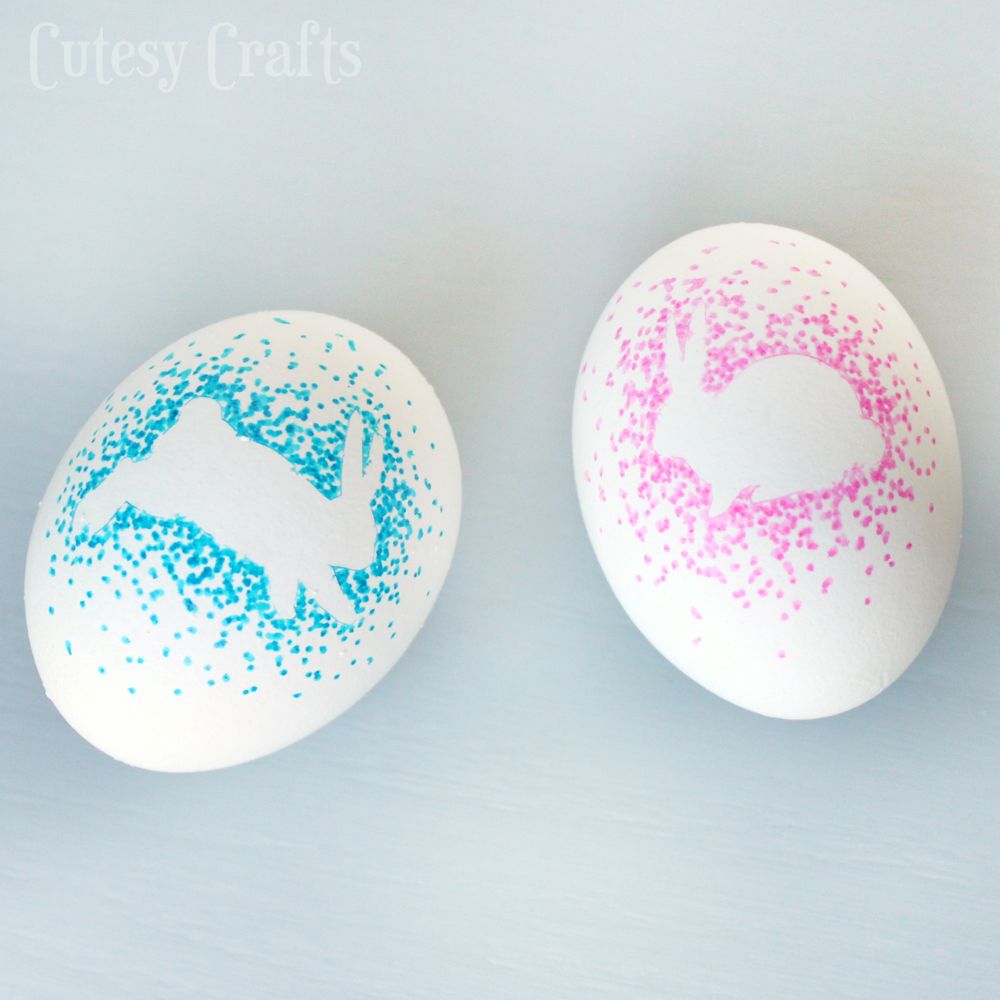 For another variation on the same theme, use some well-placed stickers or stencils and colorful markers to make the pretty Sharpie silhouette Easter eggs as seen at Cutesy Crafts. Older kids could handle these delicate dots, though even a younger kid's scribbles across the egg would make a pretty cool outline.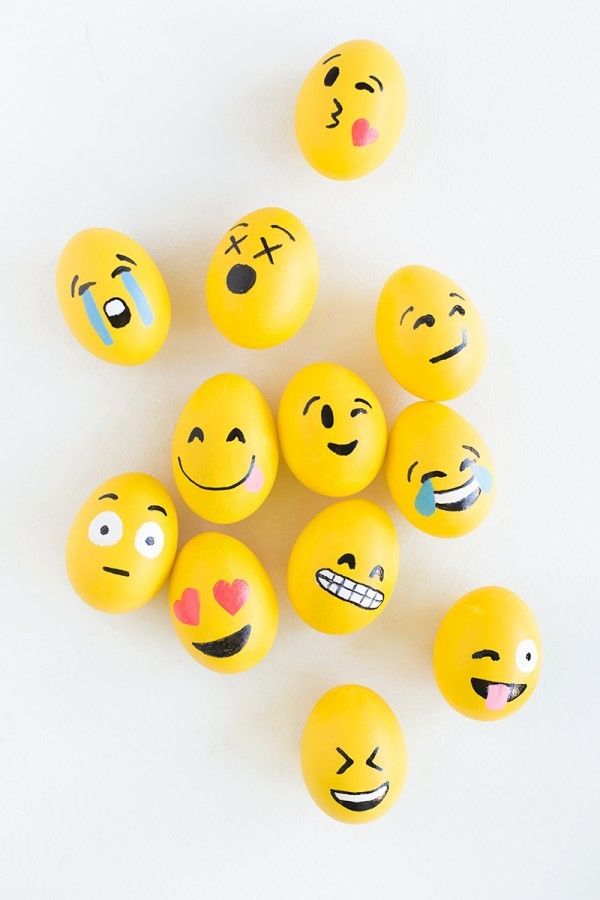 Our tweens and teens will have a blast making these emoji Easter eggs which we featured on our site last year. This idea from Studio DIY has a bunch of really helpful tips, so make sure you stop over there before you put Sharpie to egg. (Bonus points if you can get your kids to keep from making poop emoji eggs.)
Related: 17 of the most incredibly clever pop culture Easter eggs: Star Wars, Frozen, Minecraft and beyond.
Also from Studio DIY, we're totally giggling over these funky retro bouffant lady Easter eggs! Follow her instructions for the hair, then hand the kids Sharpies (black for eyes, bright colors for lips and glasses) so they can make whatever crazy faces they want. PS: If you love the kitschy hair spray backdrop, she offers a free printable for it. Fun wrapping paper, right?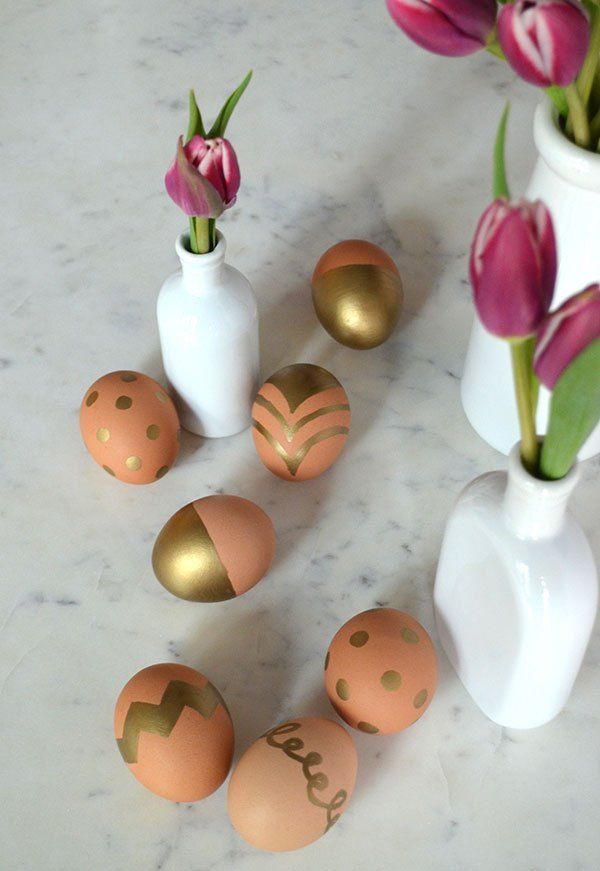 My new favorite way to dress up natural brown eggs is with metallic ink, like in this easy idea from Waiting on Martha. Her gold Sharpie decorated Easter eggs are an easy, elegant addition to your Easter table and I love the blend of the earthy eggs with the glitzy gold.
If you can draw a simple face with a Sharpie and gather up some baby's breath or even herbs or long grass, you can make these floral wreath Easter Eggs as seen on Flax and Twine. Don't they look so sweet and peaceful? Kind of like how we will look after the Easter brunch table has been cleaned up.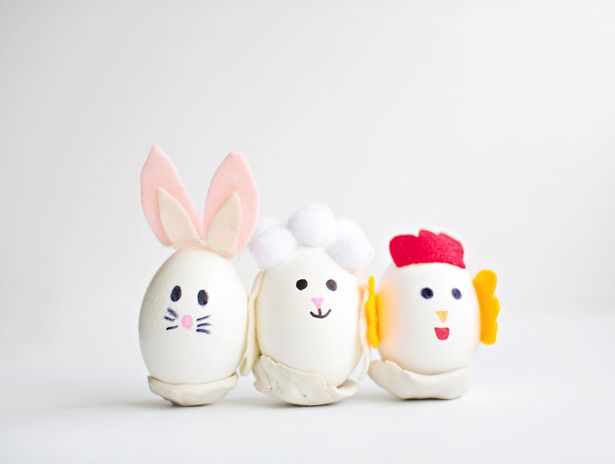 For kids not satisfied to call something a craft until the glue stick is out, gather up a few craft supplies like pom poms and felt scraps along with some Sharpie markers, and your kids can create a menagerie of DIY Easter egg bunnies, lambs and chicks. The critters shown at Hello, Wonderful are perfect for Easter, though we think that our kids' monsters, zombies and other original creations would be perfect too.
Before handing over the markers and eggs, draw your own frames on this clever Sharpie picture frame Easter egg idea I found at Artful Parent. It turns the eggs into canvases, which kids can fill with anything they'd like — special words or sayings, hearts and flowers, pictures of the Easter bunny. They can even color outside the lines. You have to click over to see the awesome things her kids came up with, and how they used Kool-Aid dye to add some fun color.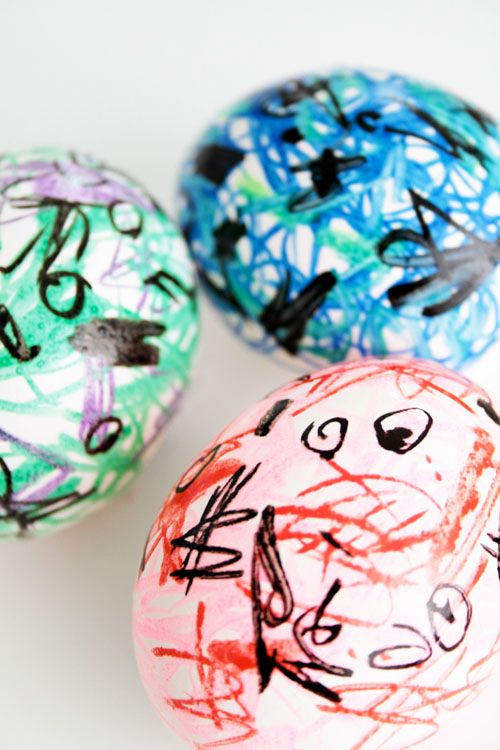 We think perfection is overrated when it comes to our kids' craft projects, so let them have a blast making these Sharpie-scribbled Easter eggs seen on Alisa Burke's blog. The finished product looks like little oblong bits of modern art, don't you think? Make sure you check out the post for a ton of cool Easter egg decorating ideas using items you have around the house. So impressed!
Related: How to dye Easter eggs and get just the right shade? Expert tips.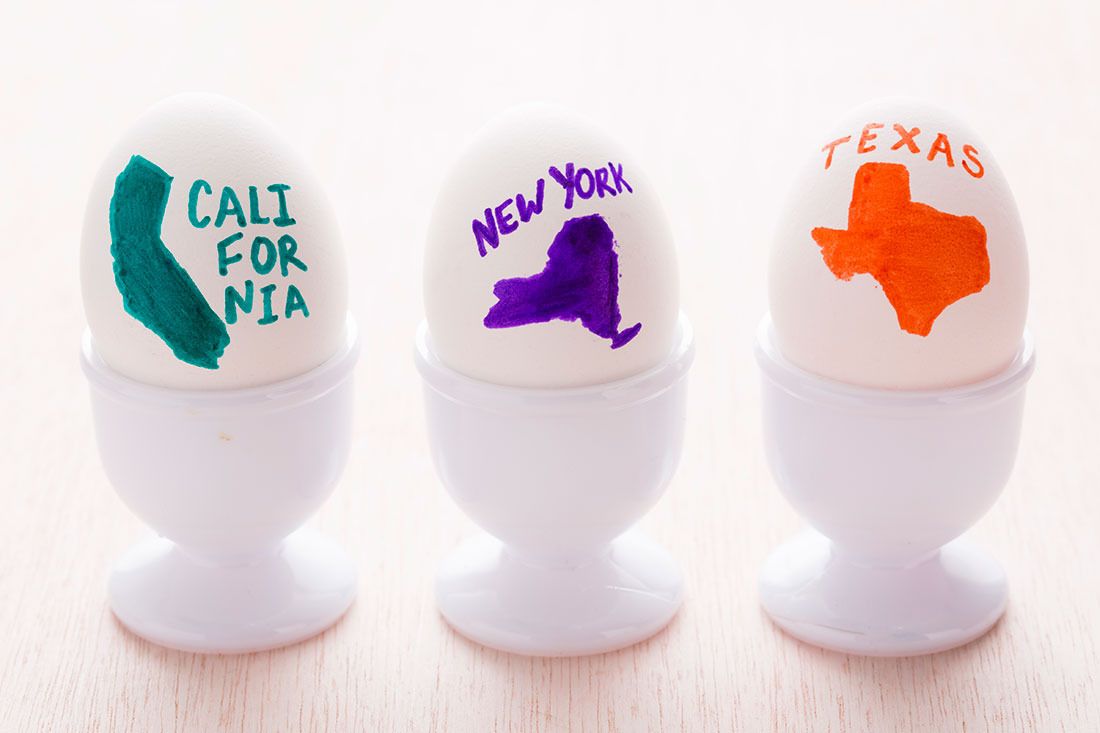 If you'll be celebrating Easter with visiting family, take a look at this fun United States Easter egg idea from Brit & Co. Grab the stencils they offer for a few of the states, or make your own if you'd like to rep, say, Rhode Island or Iowa on your eggs. Intrepid geography buffs might even try their hand at making all 50 — if you have nothing better to do, of course.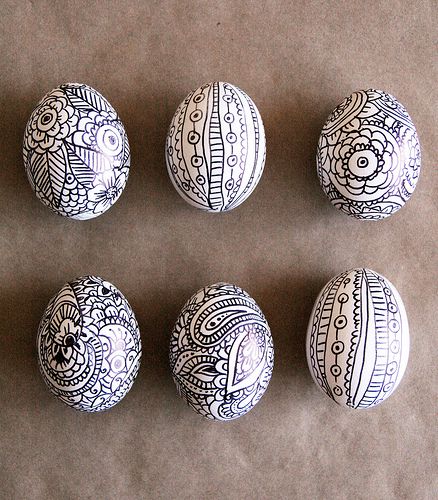 The adult coloring book trend hit the world big time this past year, and you can see it come to life on Alisa Burke's Sharpie Doodles Easter eggs we shared a few years ago on your post of 20 easy but impressive Easter egg decorating ideas. Do we expect most of you to be able to make yours come out this good? No way. But for those of you up for a challenge, it could be kind of a zen activity. Then you can even let your kids fill in all those intricate lines with colored Sharpies.
OK, we know that these are not eggs — they're white Christmas ornaments — but we still love The Crafted Life's idea of using a rainbow of markers to make striking patterned Easter eggs. Younger kids can help with the easier patterns while you can challenge your older kids with shapes like stars or hearts.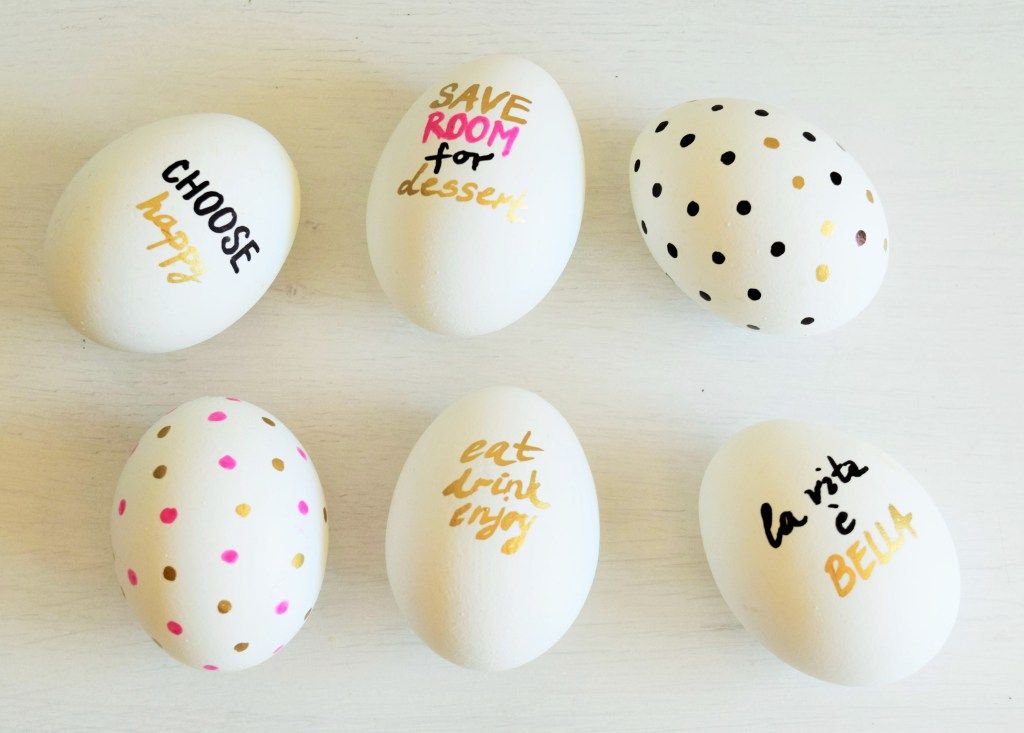 While the sayings written in Sharpie on the pretty hand-drawn Sharpie Easter eggs from Wear Eat Love were clearly made by an artist with a steady hand, we think this is all the inspiration that our older kids would need to write their own fun messages in festive colors. Or, you write the messages and let younger kids decorate with sharpies or dunk in natural dyes. (website no longer active)
Related: How to dye Easter eggs naturally: Step-by-step instructions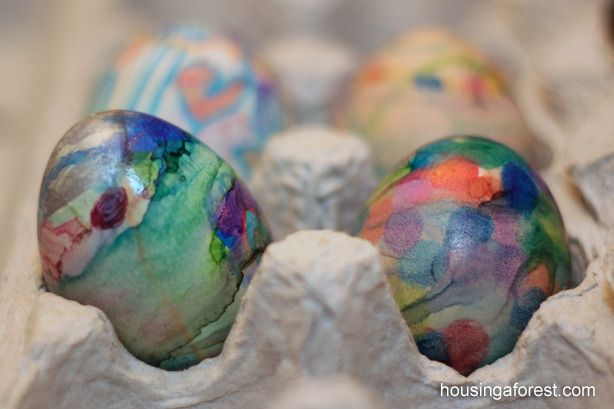 The Sharpie tie dye Easter eggs from Housing a Forest look like they've been dipped into many colors of paint, but are actually even easier to create than that. Follow the tutorial to make these unique-looking eggs, but keep in mind that these eggs are only for show, not for eating.