We admit it, we're not always the perfect models of healthy behavior. And we know our kids take in eeeeverything. But old habits die hard, whether it's making a few questionable food choices in front of our kids (ahem), or driving two blocks to the store when we totally could have walked.
(Come on, suburban parents, admit it — who's done it?)
That's why we're happy to team up with the Fuel Up to Play 60 program. It's providing health and wellness solutions to schools across America, and working to increase school breakfast awareness and participation, so that more kids can start their day with the fuel they need to help them do their best.  Who isn't for all kids doing their best, right?
The thing is though, we know that even our apple-loving, milk-drinking, veggie-finishing kids are not guaranteed to make the same choices when they're off at school or with their friends and left to their own devices. We also know that our kids take in everything we do, and we strongly believe that when they see us eating right and being more physically active, they just might be more apt to follow suit. Even and especially when they're not with us.
To quote one of our favorite bits of parenting advice, We're not raising kids. We're raising adults. Which is why we're excited to think about simple changes we can make to do better.
Now we totally get it; change is hard and bigger changes are harder. We definitely didn't ditch our favorite guilty pleasure snack foods or start training for triathlons just because we had kids. But the more we think about it, the more we realize there are small things we can do to be better role models for our kids when it comes to health and nutrition.
We hope these tips help you too! – Kristen + Liz
1. Breakfast. Every day. No exceptions.
We imagine you've noticed it in your kids, same as we have: When our kids start out with a nutritious breakfast, they have more energy (and hopefully more focus) for school. So, make sure your kids know that you don't skip breakfast any more than you'd skip dinner. Look for healthy make-ahead breakfasts that make things a little easier for you on busy school days. As a back-up plan, consider having some grab-and-go options ready, like hard-boiled eggs, a container of yogurt, or even peanut butter sandwiched between two whole-grain waffles.
2. While you're at it, you eat breakfast too. With the kids. Coffee doesn't count. (Sorry.)
We are totally guilty of standing at the counter drinking our java while feeding the kids in the morning. And they take that in. Get in the habit of sitting with your kids and actually eating with them. It's a really perfect opportunity for you to make good food choices in front of them that hopefully they'll emulate when they're on their own. Besides, it's nice to have a little more together time too. And no, you don't have to give up your coffee. Come on, we're not sadists.
3.  Go grocery shopping together
Yes, we know it can be way easier alone, especially if you've got younger kids or more than a few of them. But we find that when we bring our kids to the grocery store with us, we're presented with so many opportunities to talk about our shopping choices — and having to put them into words makes us more mindful of them.
When kids see us reading ingredient labels, picking the whole grain breads over the white stuff, spending lots of time just to pick out two perfect avocados, it sends a really strong, positive message. And hey, when they ask for stuff that we say no to — which they do, allllll the time —  it gives us an opportunity to explain why we're saying no. Then, you give them the chance to pick a better alternative and they appreciate having that power.
4. Each shopping trip, pick one new food to try together
This is one of our favorite tricks for getting kids more involved in making healthy food choices. Whether it's opting for plain greek yogurt to serve with a little honey, a melon they've never heard of before, a vegetable now in season, a new kind of fish, or a really good, fresh wedge of cheese with a name that sounds funny to them, we've found that giving our kids choices can get even the pickiest of the bunch eating better. When kids are involved in the choosing, they're more likely to actually try it. You might be surprised — our kids end up fighting over who gets to pick the new food next.
(We're okay with that kind of fighting.)
You can also encourage your kids to eat around the rainbow like this Fuel Up to Play 60 participating school did, and each week, focus on a different color of fruit or vegetable to try. Clever!
5. Research better snack recipes together
We have a secret pinboard (shhhh) called "healthy snacks for our kids." Every so often, we sit down with our kids, search out snack recipes that look healthy and interesting, and with their approval, we save them to the board. You can also use Evernote, Pocket, a spreadsheet — whatever tool works for you. It's an awesome way to get our kids thinking consciously about making their own good choices. It also gives us alternatives when the kids say they're hungry… "but only for cookies."
Now, we open up the board together, look at the range of nutritious choices, and let them choose between a fresh fruit smoothie, a mini quesadilla, or peanut butter on apple slices.
There are even some good tips on snacking smarter at school on the Fuel Up to Play 60 website, including the Smart Snacks in School FDA recommendations (PDF) which can give you some guidelines to work off of at home too, like fat, sodium, and sugar limits for snacks.
fitnf
———-
about our sponsor
A wholesome school breakfast program goes beyond food. It not only can help provide the proper nutrition that kids need, but an opportunity for them to get social and share a meal with classmates. Plus in-school wellness programs including school breakfast initiatives, coupled with parental involvement, can truly provide the opportunity to instill healthy habits that stick.
Fuel Up to Play 60 provides some terrific solutions, but it's up to parents and the community to make sure as many kids as possible can take advantage of the program. So check out the parents section on the Fuel Up to Play 60 website, and see how easy it is for you to make a difference both for your own kids, and for your entire community, to help children meet their nutritional and physical activity needs.
Also check out the success stories pages on the Fuel Up to Play 60 website where you'll be really inspired by the creative ways dozens of schools helped bring good nutrition to life for their students.
———
6. Find simple opportunities to get more exercise as a family.
Sometimes there are just little opportunities to get in more physical activity that you can take advantage of if you think about them. Like taking the stairs a few flights instead of waiting for an elevator. Parking farther from the store entrance. Taking a scooter or bike on a short errand, instead of walking or driving. It's also a sneaky way to get in that 60 minutes of exercise a day that kids should have.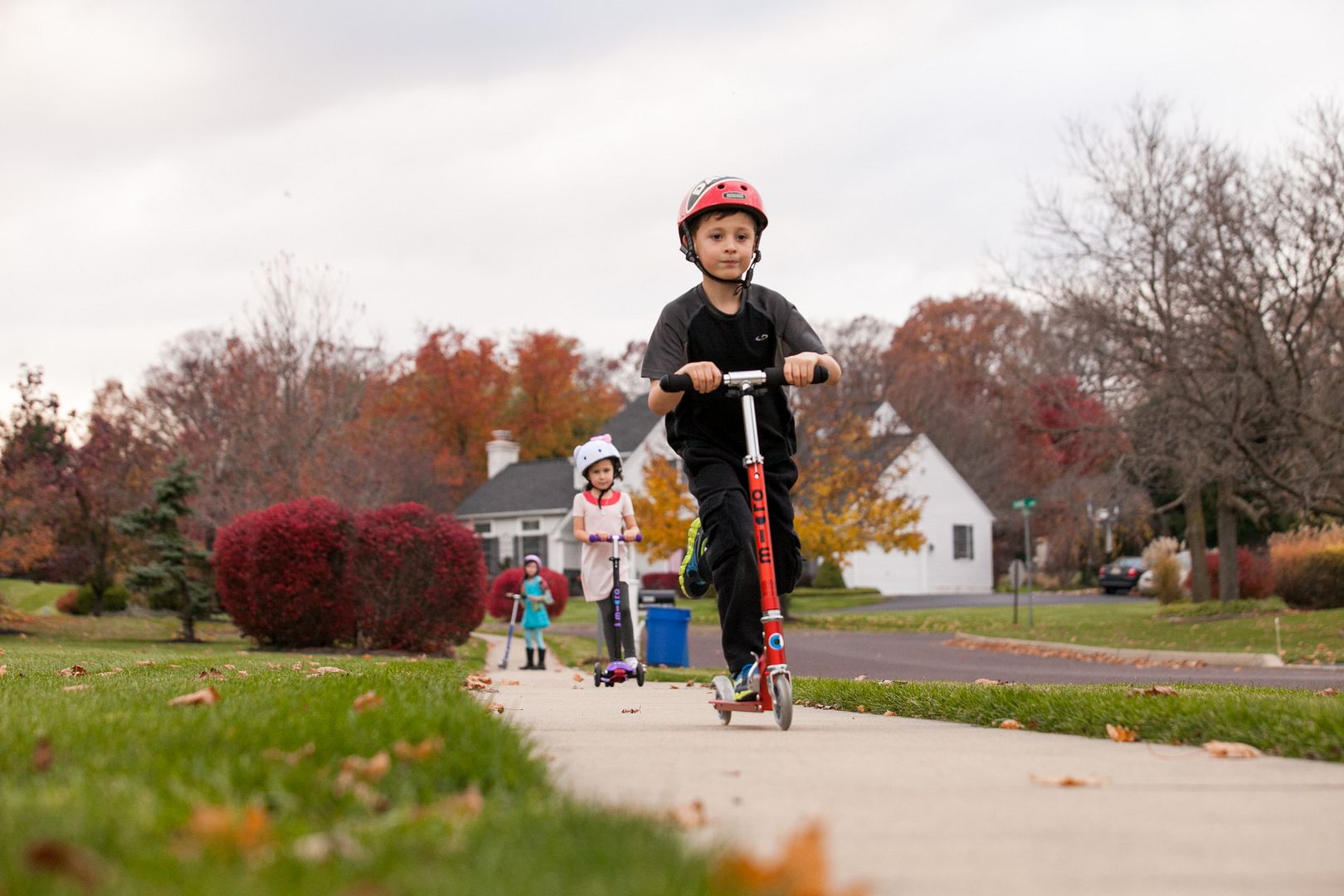 Bike or scooter with your kids instead of driving or walking. They'll love it.
Here are Kristen's kids tearing it up!

Also, when we're hanging around the house, there's nothing our kids love more than those times we say, sure we'll play Just Dance with you. Stretch a little, crank up your song of choice, and be prepared for your kids to laugh at you for picking 80's pop tunes because old people are funny and so is our music. Oh wait — maybe that's just us. Sweating to the oldies, indeed.
7. Find a few big opportunities to get more exercise as a family
If you have a pet cause, we guarantee there's a walkathon or fun run somewhere in your community or the nearest city to help support it. Liz still remembers running a 5 mile race for charity with her dad when she was in fifth grade — that's how impactful it was. The best part was crossing the finish line together at the same time, holding hands.
And if you can't find one? Organize one yourself through your community or school. A family friend of Liz's started a small Thanksgiving morning fun run on a local school track to support the American Heart Association, and it's grown to an annual event with upwards of 100 families coming out to run together, even in the snow. Pretty cool.
8. Make the good foods more accessible at home
We've seen it over and over: If our kids can see it, they're more likely to eat it. (Which also explains why supermarkets put the cookies at children's height, right?) For this reason, we keep bowls of fruit out on the table, make sure healthier pantry snacks are on a lower shelf, and stash milk somewhere in the fridge that even our little ones can reach it easily themselves. Everyone has "sometimes foods" around the house, but if it's more effort to get to them, you'll find kids tend not to reach for them first. (Especially knowing they'll have to go through you to get them, heh.)
9. Hand over the wooden spoon. You can do it!
As with shopping, it can definitely be easier to get dinner on the table without lots of little rugrats scampering around your legs, or teens sticking their hands in the bowls. We know as parents that getting kids involved in the kitchen can yield amazing results in terms of learning about nutrition and making better choices for themselves. You might even be surprised how much your kids love the responsibility of doing "grownup" things like turning on the stove, working the salad spinner, or finishing off the pasta with a fresh grating of parmesan. As for Kristen's kids, they have a thing for cutting the tops off the strawberries.
Seeing your kids experience the pride of preparing food that others enjoy is pretty awesome.
(Here's a parent tip, if your kids are reluctant: Have them watch MasterChef Junior. If they don't want to get into the kitchen after seeing a kid their age dominate a sautée pan, then we're at a loss.)
10. Put positive peer pressure to good use
We freely admit it: Sometimes we parents can only do so much. That's why we love inviting certain playmates over who happen to be fantastic eaters. (Peer influence FTW!) If you never thought you could get a finicky fifth-grader to try ricotta with a drizzle of honey, or olives on their homemade flatbread pizza, leave it to their more adventurous friends to show them the way. Then reinforce — over and over, ha –what a great eater Jack/Ella/Benjamin is.  Seriously, it's one of our favorite tricks that we've both learned as parents.
Thanks so much to our sponsor, Fuel Up to Play 60. For more inspiration on how to model healthier habits for your kids, including information on Fuel Up to Play 60 and school breakfast resources that make good nutrition available to all students, visit FuelUpToPlay60.com.