If you're up for the adventure, camping with kids can be a really fun, inexpensive way to get away for the weekend. While it's admittedly not the best night's sleep you'll ever get (though really, what parent gets a good night's sleep anyway?), I'm a big fan of the unplugged quality time you get when you camp with your family — hiking, cooking over the campfire, snuggling up in sleeping bags.
(Provided you leave your devices at home or in the car, that is. Free tip, from me to you.)
Of course, knowing what you're doing makes the whole experience so much nicer, so as an avid camper with my own family, I've put together 11 of my favorite tips for camping with kids — from smart DIY hacks to cool, innovative camping gear — to help you camp like a pro, even if it's your first time out with kids. Now, sit back in that hammock and relax. You've got this.
CMP is an rstyle affiliate
Related: Ready to try camping with kids? Here are 8 camping essentials you need, and how to get them affordably 
1. Rent, don't buy, your camping gear.
The first thing we do when we get to the campsite is, of course, set up the tent. But if you're not frequent campers, you may not own one. No big deal. Most REI locations will rent you camping gear: everything from tents and sleeping bags to snow skiing equipment and canoes.
You can also join OutdoorsGeek to rent all kinds of outdoor gear, including their awesome North Face Family Camping Package, which basically does your camping packing for you. I love their "try it" option which lets you apply a portion of your rental fee toward the cost of the gear should you like it so much you want to keep it.
2. Get the right size and style tent for your family.

When you are ready to buy a tent, be sure to really evaluate the size. My own 5-person tent is big enough for the 5 of us to sleep like sardines. So we finally switched to a 10-person tent and it's so much more comfortable; and it actually didn't cost us much more. In fact, a good tent can be really affordable if you take the time to shop around; the 8-person Coleman tent (photo at top) is under $150 and will last you years if you put it away carefully — that is, don't break any poles or lose the clips.
If you fear all those poles and clips because they are, let's say…difficult to assemble, then you have to check out the very cool inflatable tents from Heimplanet (above). Just pump it up and go. Couldn't be easier. Although all that simplicity comes at a cost, so be sure you're a camping family who will use it more than a few times before you invest.
Related: The very best campfire recipes for breakfast, lunch and dinner
3. Get off the ground for a good night's sleep.

I love my sleep, if you haven't guessed, so the hardest part of camping for me is waking up on the cold, hard ground, probably exhausted, knowing I have a big day of hiking, fishing, or canoeing ahead of me. But if you have the right gear, you might be able to sleep well so you can enjoy your trip that much more.
If you're with me, look into a camping cot, which is nowhere near as plush as my bed at home, but so much better than sleeping on roots and rocks. These Cam-o-Cot bunk bed cots for camping would be really fun for the kids to sleep in, and they're big enough for adults too. Plus, they're a huge space saver, which means we have room to play cards inside once the sun goes down and the mosquitos come out. They can also be separated to sleep as two cots if you don't need the room. But the best part? They do double-duty, converting from bunk beds by night, to a sofa by day. Yay for smart design!
4. Leave the sleeping bags at home, maybe.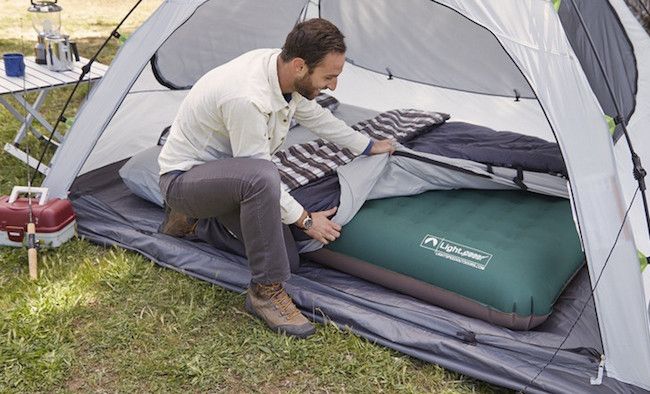 I just bought a new Mountain Hardware 20F sleeping bag for myself but hesitated before I invested in another for my daughter. Sub-zero-degree bags are essential for hard-core enthusiasts who are willing to camp in snow and freezing temps, but…that's not me with the kids. Since I'm primarily camping in warmer weather, I've realized my daughter may be even more comfortable with blankets and sheets instead of a sleeping bag meant for frigid temperatures.
So, instead of buying everyone premium sleeping bags, which can get north of $300+ each, consider spending your money on a nice air mattress, like this one I found on Amazon that's PVC-free and conveniently comes with a battery-operated pump. Just be sure to check the measurements to be sure fits in your tent with room for everyone to sleep well.
5. Prep for the campfire before you leave home.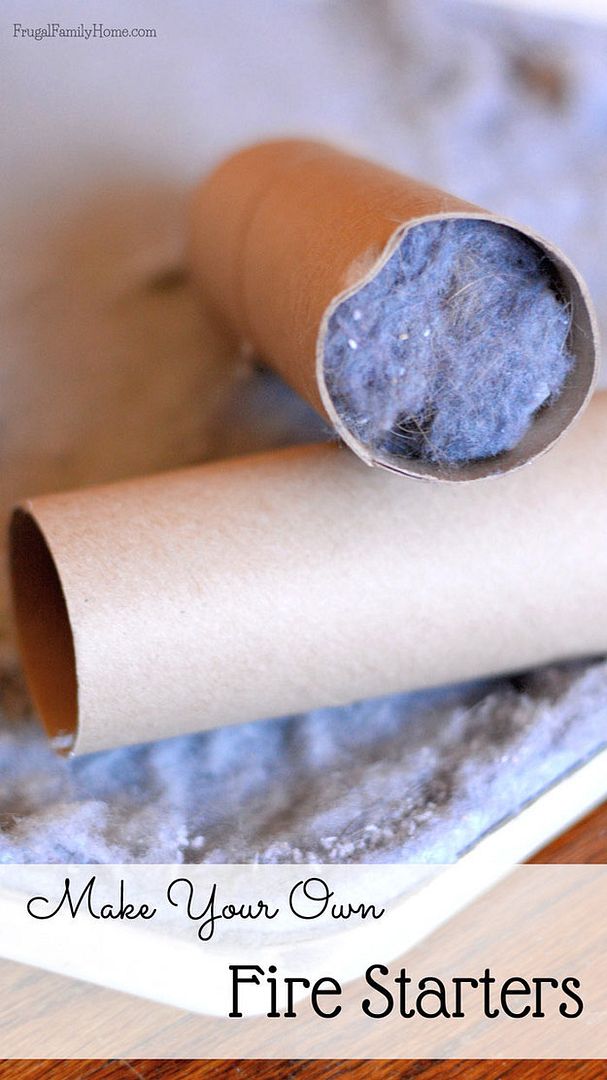 After setting up the tent, the next must-do is getting that fire started. It's so much easier if you do some of the work before you even leave the house. So get your kids to help you make some of these DIY fire starters that I found at Frugal Family Home. (Just be sure to keep little ones away from matches!) These fire starters are incredibly effective, lighting up your campfire almost instantly, and so simple to make from materials you already have at home. In fact, we're constantly making them at home and setting them aside for our next trip so we have a stash ready to go at any time.
Related: 7 terrific tech gear picks for camping and hiking
6. Bring the right cooking gear, so you can eat like you do at home (sort-of).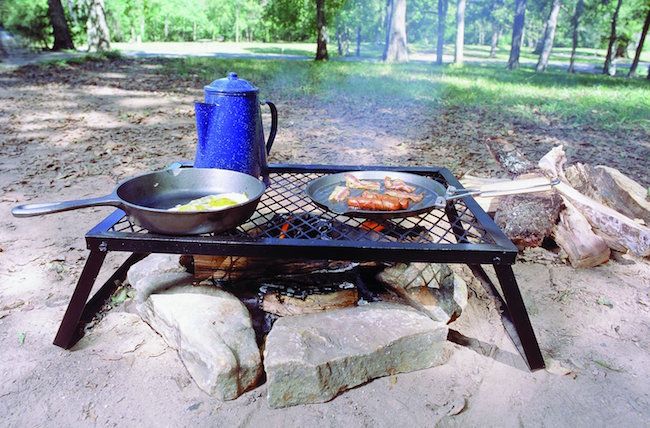 I prefer something a little more sanitary than old hangers when we're roasting hotdogs or marshmallows over the fire, and while old-fashioned sticks work just fine, I've found a good set of roasting forks has been a big help around our campfires. You can load 4 marshmallows or a few hot dogs on there, no problem.
If you'd rather cook over a grill, consider taking along a gas camp stove that feels more like cooking at home (provided it's allowed at your campground, be sure to check the rules). You can also bring something like this handy camp grill from Texsport which sets right over the fire — it couldn't be easier. And, there's nothing quite like waking up to breakfast near a campfire with a pot of coffee brewing nearby.
One of best things about camping with the kids? Guilt-free eating. S'mores of all kinds — be sure to check out our 9 ooey gooey S'mores recipe recommendations — plus hot dogs, pancakes, crispy bacon, Belgian waffles… yes, Belgian waffles? We think our kids would freak out at the idea of campfire waffles, and a cast-iron waffle maker is a surprisingly inexpensive way to do that. We're talking under 15 bucks. I love this one from Rome with the extra long handle that lets you cook over the fire from a distance. Good, because those short handles can get hot!
Related: The most delicious campfire recipes for your next family camping trip
7. Keep your tent well-illuminated.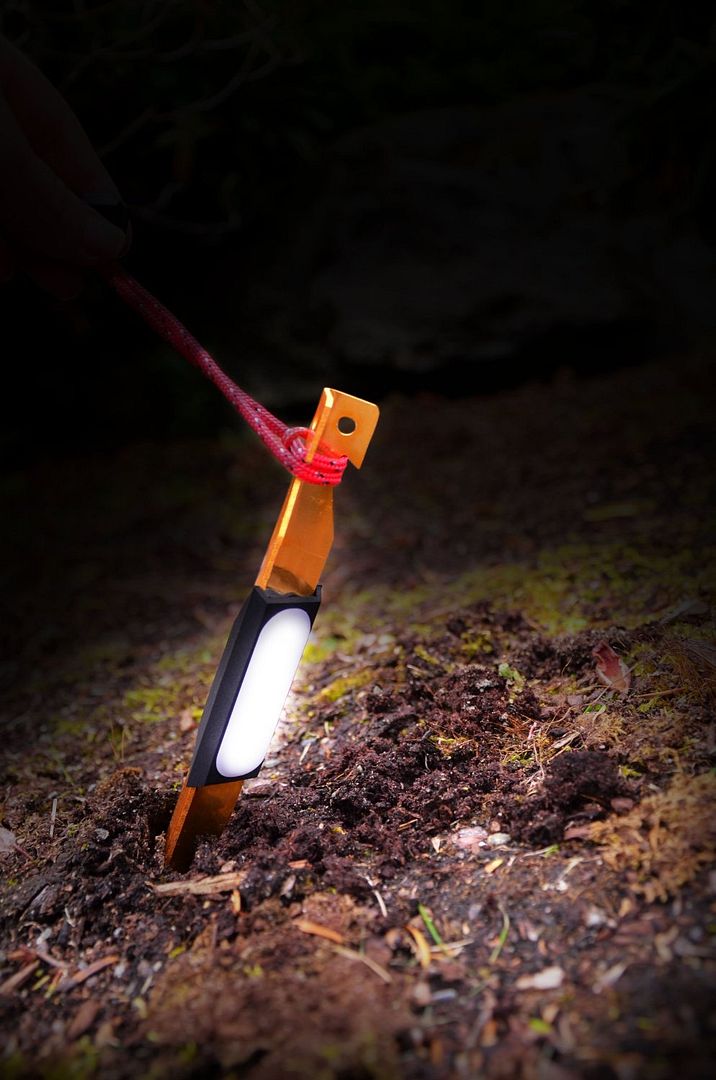 The sun will most likely go down before you're ready to hit the sack, so some lighting around the campsite is essential both for your fun and your safety. The most common camping injury I've seen happens when kids trip over tent stakes in the dark. Okay, full disclosure, I've done it too. But these LED tent stakes light up so you can see them after the sun goes down.
That said, go ahead and pack a first aid kit while you're at it. You'll probably need it at some point.
8. Bring the right seating for every member of your family.
When camping, do as campers do and put some planning into your seating options. And I don't just mean chairs; you're going to want a hammock, trust me. I've found my kids are so much happier in ones made just their size. These handmade kid-sized hammocks from Sluice are lightweight and easy to toss in your bag, and they set up in just a few minutes. Sluice will even add your kids' name on theirs, so no fighting over who gets which hammock.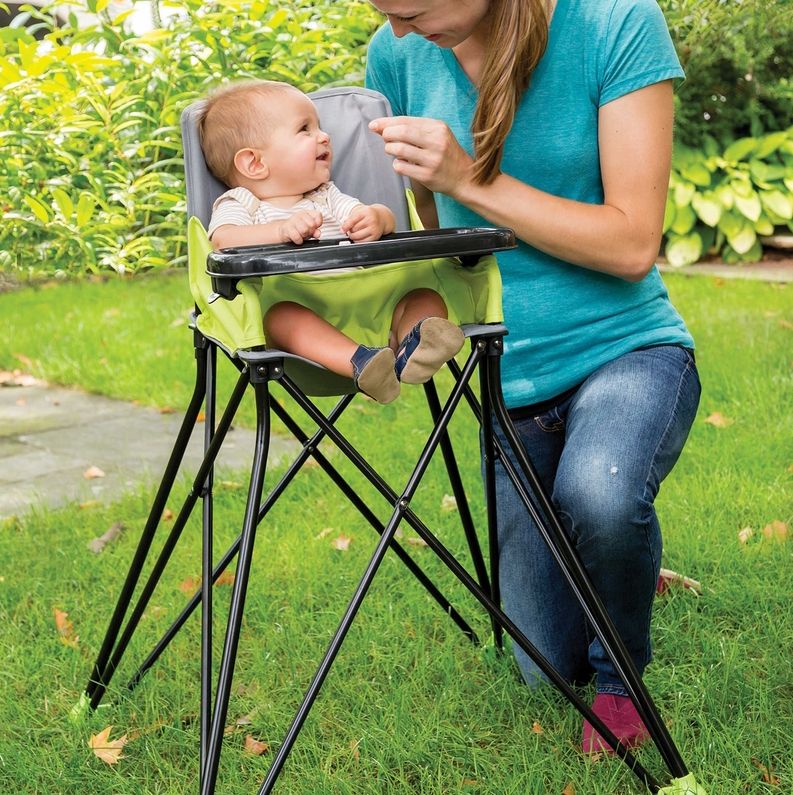 I've personally never tried camping with a baby before, but if you're braver than I am, you might want to bring along this portable folding camping high chair for babies from Summer Infant. It folds up like a travel chair, and your baby can still be up high (and out of harm's way) so you can easily pass them bites of graham cracker while you and the rest of the family are closer to the fire making S'mores. This chair isn't just for camping, of course — it's great for any kind of travel or even just hanging out in the backyard so if you're the outdoors type, it's a smart investment.
As for seating for Mom and Dad? Yep, I've sat at enough campouts to know it's worth it to go ahead and get yourself a good camping chair instead those cheap ones stashed at the store checkout line. They will inevitably break, most likely on your first night away, so it's really worth it to get better one. The ALPS Mountaineering King Kong Camping Chair chair gets great reviews for comfort and durability, which might justify the slightly higher price tag. Also check out the REI Camp Xtra Chair which is super popular for good reason.
Related: 10 tips for camping with children for the first time
9. Keep the bugs away.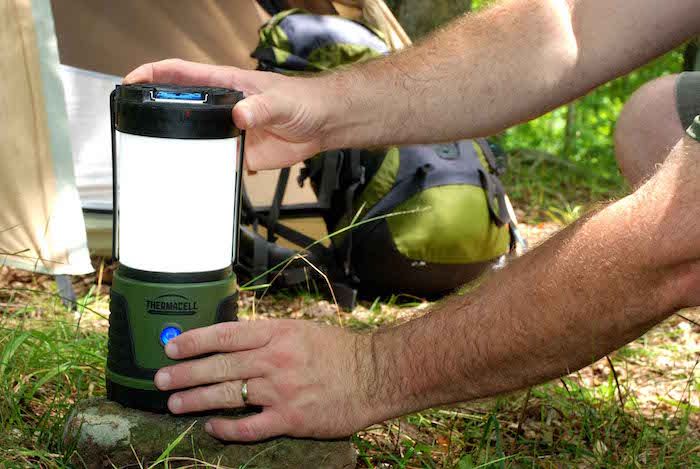 You are camping in the great outdoors, so, let's get real: bugs will be everywhere. I can't camp without this Thermacell lantern that also repels mosquitoes — it helps us see and stay comfortable without getting eaten alive while we read stories or play games in our tent. Three light settings mean you could leave this on overnight as a nightlight for your youngest kids, and the insect repellent feature works even with the lamp off so you can sleep bug-bite free.
And because lots of parents are worried about mosquitoes more than ever this year, we've got you covered with this guide to the best bug sprays for Zika virus protection. Check it out for helpful tips on which repellents are safest for kids, while still doing the job you need them to do.
Related: 3 genius mosquito solutions to keep your outdoor space pest-free
10. Set up a station to keep your campers clean.
You're going to get dirty while you're camping; it's just part of the experience. But if you set up a dedicated wash and trash station near your camp kitchen it will be a big help.
We love this cool idea for a DIY hand washing station spotted at Making Memories With Your Kids. It means my kids can wash up on their own before dinner, instead of looking to me for wipes and hand sanitizer. I'd add a trash bag nearby too, so the kids clean up after themselves after every meal. Ah, the simple pleasures.
11. Bring things that glow, so the kids can play after dark.
I prefer not to over-plan our camping activities and, instead, sometimes just let the kids roam and explore nearby. But when it gets dark, I get nervous if I can't see them. These halo safety belts are genius, helping parents keep an eye on their kids in the dusk without blinding everyone else who's nearby.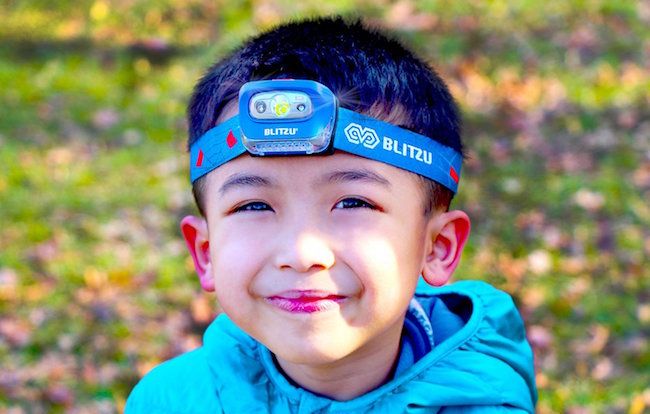 That said, there's a time for those blinding everyone nearby headlamps too — like, when you really need to see where you're going in the dark. Blitzu LED headlamps will help you see on those nighttime bathroom runs or while you're reading in your cots at night. They give kids little more independence, and the hands-free ease they can't get from flashlights when they're reading or helping out with tasks. Plus, it's a fun accessory! Just remind them not to keep them on all day, because they will want to play with them. A lot.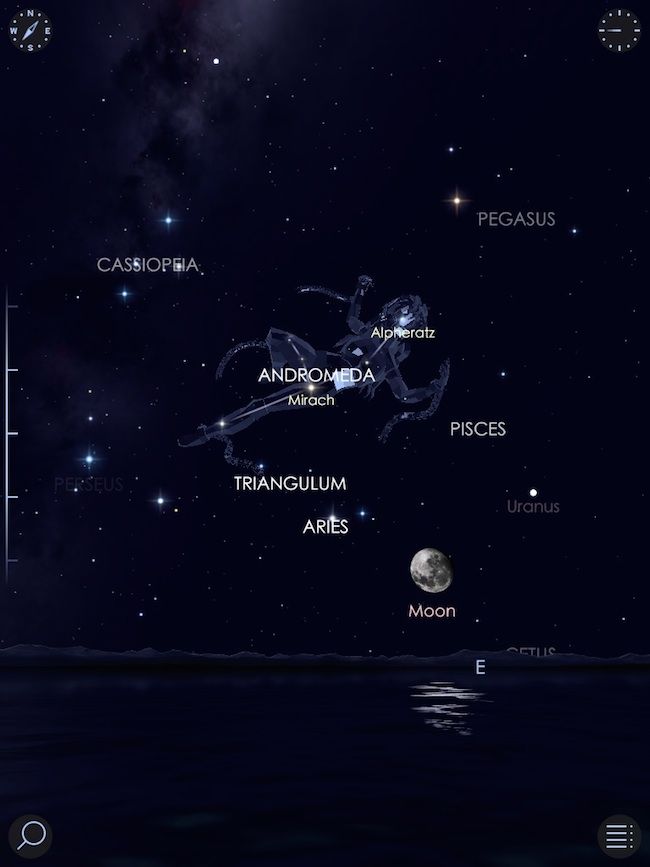 We also load up on glow sticks, glow bubbles, and glow balloons. And though we try to stay screen-free while we're roughing it, I have to admit if you use your tablet for anything at all, the Star Walk 2 app is a really cool way to get another perspective when viewing the night sky. And that activity is a must when camping with kids, naturally.