We just returned from our third tent-camping excursion, and while I wouldn't call us back-country experts, I've learned a lot since that first trip when I was still nursing a toddler while trying to keep the other two from falling into the campfire.
I think early fall is such a lovely time for an inaugural camping experience: fewer crowds, not too hot around the fire, and cool sleeping nights. So, if you are thinking of taking the plunge, here are my top 10 tips for a successful family camping trip.
1. Your first time? Go local
The first time our family tried camping, we went to a place less than 20 minutes from our home. If my then-toddler freaked out at the darkness, I was close enough to hop in the car and spend the rest of the night safely in our home. And when a huge rainstorm came and soaked our friends' bedding (they forgot the tarp!), their family of four just spent the night in their warm, dry beds before returning for a campfire breakfast.
2. Hope for the best, plan for the worst…weather, that is
If you are driving your car to the campsite, and not backpacking to some remote outpost, it's okay to overpack, especially if it means your kids will be comfy should the thermometer take a dive when the sun goes down. Think long sleeves, warm socks, rain gear, fleece jackets, and heavier PJs than the kids are wearing at home.
3. Pick your camp location wisely
Before kids, my idea of a good campsite was "as remote as possible." Now, I know that being near a bathroom trumps all, especially at 2AM (should you be camping somewhere with bathrooms). I also avoid being along the main roads, I stay away from streams near our site, and try not to back up to any deep woods, which can look irresistible to an exploring toddler unless you've got an eye on him at all times.
4. Don't scrimp on the tent
If you don't already own camping gear, the idea that camping is an "affordable" vacation will seem laughable since you can easily spend thousands getting all that gear the first time. But if you plan to tent camp, one place you should not scrimp is on a well-made tent.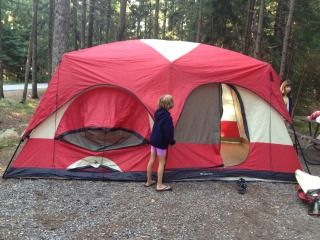 We have a big two-room tent for our family of five that allows us to stand up inside and walk upright, which is a big deal if you plan to spend more than one night. If you have a smaller family, you can handle a smaller tent in diameter, but I'd say you should still opt for the tallest tent you can afford. Check out REI tents for a great selection of high-quality shelters.
My other advice? Before you hit the woods, set up the tent once in your apartment or backyard and label all of the poles to make it easier to assemble when you arrive at the campsite (especially when night is falling and you're trying to keep an eye on the kids). And please, don't forget to lay down a tarp first!
5. Let there be (some) light
Camping is dark. D-A-R-K. We have sturdy Coleman lanterns, flashlights of every size, as well as the kid-friendly TerraKids lantern which helps provide enough light for us to play games in the evening, get dressed for bedtime, and make it to and from the bathroom in the middle of the night.
Headlamps are great too, especially for reading a story while you're snuggled under the covers, plus kids never want to take them off. Try one like this
Black Diamond Children's Headlamp
which is a solid brand. You might also get a light that can double as a nightlight, especially if your kids are used to one at home.
6. Get some sleep
If you want to be able to walk in the morning, I recommend investing in a couple of large, well-made camping air mattresses. Ours come with rechargeable blowers that inflate our two big mattresses in under five minutes. Once inflated, I can't feel those lumps and bumps and branches under our bums at all.If you don't already own sleeping bags, however, I think this is one area you can improvise. We've camped by making our air mattresses into "beds" with plenty of blankets (above and below–air mattresses are cold!), our own pillows, and super-warm PJs with heavy socks. (And sometimes even a knit hat.)
On cold nights, a proper sleeping bag can be a lifesaver of course, but not every kid is comfortable in one, including my son. Have you ever tried to stuff a sleeping seven-year-old back into a sleeping bag in the pitch black?
7. No, really, please go to sleep
It usually takes me two nights to get used to the night sounds of camping. Even a faraway highway or crashing ocean waves can wake me. And footsteps walking by our campsite towards a bathroom can sound extra loud when you are sleeping on the ground. Kids over three may prefer wearing earplugs. And I know some families who play ambient noises using an app like White Noise.
8. Food, glorious food
I take away a lot of the hassle of mealtime by cooking ahead of time. Pre-made chili, stews, or pasta dishes can be frozen and thrown in a cooler: They'll defrost en route and be ready to heat up at mealtime. Our propane-fueled cookstove has been around for at least a dozen years and is worth the investment, even if you plan to eat out most meals. MSR is one good brand to look for, and Jetboil stoves (below) get great reviews, depending on your needs.
A mug of hot chocolate or bowl of steaming oatmeal may be necessary to get the kids out from under the covers on a chilly morning.
And my kids will tell you that nothing beats hot dogs over a campfire. Followed by S'mores of course.
9. Plan for fun and games
Camping is a great way to unplug and spend time without staring into screens (the recent father-son-and-a-Nexus 7 ad notwithstanding). But no one wants to look for tiny pieces in the dark that get buried in sleeping bag crevices, so we prefer card games. Gamewright makes some of our favorites.  And their Story Cubes also are fun to play with at night since the whole family can get involved in the bedtime story–and the cubes are way bigger than monopoly pieces.
Also, don't forget that chores can sound fun to little ones. Who wants to sweep up the tent? Rinse off the dishes? Collect kindling? Do it before they are old enough to realize they are working.
10. Plan for rain
Nothing tests the mettle of even the biggest camping advocate as a rainy day with little kids in a tent. If you have enough games, a tarp on the ground, and a good tent, you should be able to weather the storm. Or, if you can't beat it, join it. Throw on the rain gear and go for a hike in the woods, or on the deserted beach. Yes, you'll get soaked, and may need to sit in the car with the heaters on high to dry off. But you may also have some of your most memorable family experiences, too.
Plus, if you took my first bit of advice and you're only 20 minutes from home, there's no saying you can't just run home to wait out the storm. Remember: Your goal is to make sure the kids want to take a second camping trip someday.