In light of the Nice, France Bastille Day celebration attack last night, our hearts are heavy  — again — as they have been far too many times lately. When we look for advice about talking to our own children about tragedies like these, it becomes clear that parents face our own unique set of challenges; while we are trying to process the immediate aftermath of a terrorist attack and seek out news, we are balancing our own fear, horror, outrage and despondency along with what to say to our children, how to behave, what to expose them to, and just how much.
So again (and just, ugh) we point you to some other posts that we know have helped thousands of parents.
1.
If you are struggling, please read how to talk to children about tragedy, a post first created in the wake of of the Paris attack in November of last year. It's full of helpful links and resources we find incredible valuable, from medical and mental health organizations to hotlines, and parenting sites specifically with outstanding advice.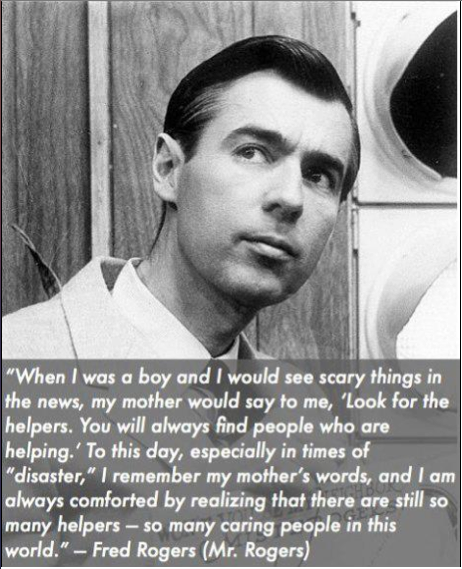 2.
We also suggest taking another look at Mr. Roger's much quoted advice, look for the helpers. It's a positive way to frame the events for kids (and adults) of all ages, and helps make even the youngest children feel more optimistic and safe when considering the enormity of events completely out of their control.
3.
If you want to do something even more active, Bustle has run an excellent list of 6 ways to donate to help the victims in Nice including The French Red Cross and the terrific Give for France which is a government initiative that boosts private donations to the orgs assisting communities affected by terrorism. (Just note their site has not yet been updated to reflect the most recent events in Nice.) We've found that empowering our older children to help decide what kind of donation to make and where gives them a sense of control that helps lessen the blow, psychologically.
Above all, we extend our sincere love and sympathies to everyone who is suffering right now, in France and beyond. Nous sommes Nice.

-Liz, Kristen and the CMP team
NOTE: If you have the artist credit for the lovely French flag hearts illustration above, please share it with us so we can properly attribute it.