We've always made it our mission to encourage kids to keep the art of handwriting alive, and to help parents looking to do the same. So we've put together some really terrific handwriting practice printables for kids of all ages. Yes, even teens. (We can tear them away from those keyboards sometimes, you know.)
Essentially, it's all about finding ways to get kids to write, whether it's basic worksheets for preschoolers, or opportunities to write stories, comics, even create a typeface of their own.
And we're so happy to bring you this post on behalf of our partner BIC, who's been our fantastic sponsor of this year's 2016 Back to School Guide. Like us, they're also dedicated to celebrating handwriting. And if you're with us, click over to check out their Fight for Your Write campaign where you can sign the pledge to encourage handwriting at home like we do, and BIC will even donate a pen or pencil to a classroom in need through AdoptAClassroom.org.
Plus, you'll find lots of good tips, planners, and printable activities for kids — including some of the fun handwriting practice printables we're happy to share here.
Alphabet Tracing Handwriting Practice Printables | Mr. Printables
A lot of parents look for handwriting worksheets they can download and print to help get their preschoolers and kindergarteners practicing letters. Some of the cutest and most useable ones that I've found are at Mr. Printables, where there's a full set from A to Z — and for a special touch, I love the "What is the next letter?" prompt at the end of each one.
Free printable Minecraft handwriting worksheets | Pepperscraps 
If you've got a kid who's a little older — say first or second grade — and still needs handwriting practice, it really helps to find a worksheet themed around their interests. That's why we totally love these Minecraft handwriting worksheet printables that we included in our post on 16 tips and ideas to get kids to practice handwriting. A is for Axe definitely beats A is for Apple when you're a big 7-year-old, amirite?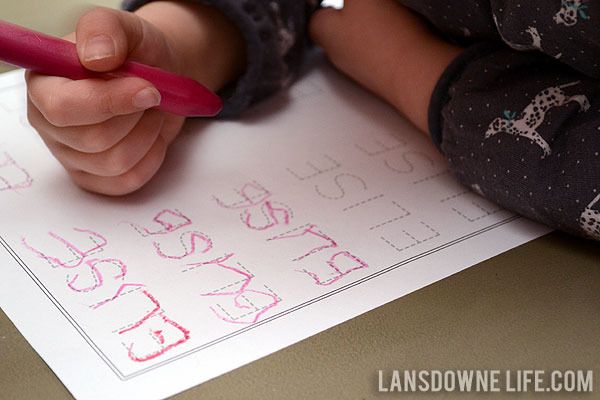 Custom printable handwriting practice sheets | Landsdowne Life
If you can't find your kids' favorite words on a practice worksheet, hey, why not make your own? That's just what you can do with this free PDF. Try your child's name, the names of the dogs in your neighborhood, a list of Harry Potter spells, the places you visited this summer. The template will automatically duplicate a series of lines with that word on the page, while a second page leaves space for your child to trace, then write freehand.
All About Me Fill-in-the-Blank Printable | Yellow Bliss Road
What do kids like writing about more than themselves? Probably nothing. That's why these are so clever. Download and print, so kids can jot down answers to questions about their favorite things, their friends and their goals, and you can even include a photo — or let your kid draw a self-portrait. If you're really committed, you can start a new back-to-school tradition and have your kids do one the first day of school each year through high school — then see just how much their handwriting transforms from year to year!
Story Starter Printables | BIC Fight for Your Write
While there's nothing wrong with a "What I did over my summer vacation" exercise, kids might have more fun completely making something up from their own imaginations. So I always love giving my kids prompts, like these which are ready-made for you on the BIC site. You'll find a Write Your Own Pirate Story Printable and an adorable Write Your Own Monster Story Starter, and knowing my kids, they'd want to do both.
Write Your Own Comic Printable | BIC Fight for Your Write
Handwriting practice is generally the most fun when kids aren't thinking about handwriting practice and comic templates are perfect for that! No lines, no real margins — just some fun superhero imagery waiting for a kid's creativity to bring it to life.
Free handwriting fonts from graphic artists | 1001 Fonts
So here's my very favorite secret handwriting practice resource: For older kids who start to see their handwriting and signatures as extensions of their own creativity, I go through a site like 1001 Fonts with my tween daughter and let her browse the handwriting fonts. If she loves one, I print out the alphabet page or sample writing from the "gallery" tab so she can trace or copy, and eventually make it her own. It's a great intro to typography as something more than just a way to write school papers or letters, and even gets them experimenting with different kinds of pens, markers, pencils and brushes so they can really see just how the writing implement itself can really change the writing.
Shown here: The Serif Hand by la goupil paris; New York Regular by Saji Johnny Kundukulam;
Loveletters Font by Pizza Dude;  Attack of the Cucumbers by Brittney Murphy
 Thanks so much to our amazing 2016 Back to School Guide sponsor BIC, who's celebrating handwriting in fun ways. Visit the BIC Fight for Your Write campaign, sign the pledge to commit to handwriting practice in your own home, and one pen or pencil will be donated to a classroom in need through AdoptAClassroom.org.