How do you display all of your kids' precious artwork? It's an age-old parenting conundrum.  Between school projects, art they bring home from summer camp, or just creative time they spend around my kitchen table, I end up with way more art than I can reasonably keep stored.
So, I've been scouring the Internet, looking for some creative ways to display kids' artwork for a time — and what to do with all of it when we're done.
Top: modern clothespin kids' atwork display | Historias de Casas
Related: Even more of the best ways to save and display kids' arwork: Updated for 2019
1. Display your kid's artwork as a photo book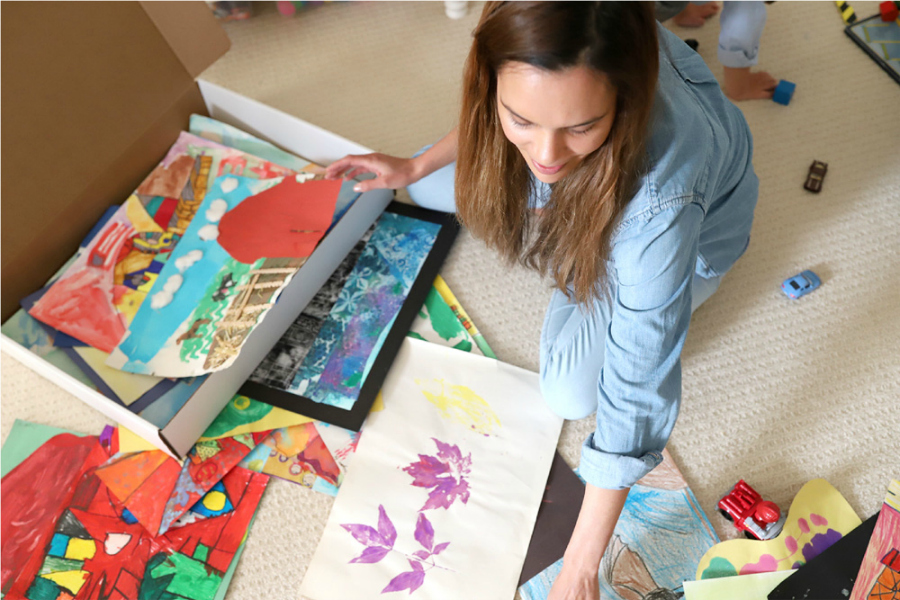 I've gotten in the habit of photographing every piece of art that comes home from school or camp with my kids, and adding it to their Artkive portfolio. The very favorite ones go in their memory boxes; the rest get tossed in the trash. Then, every year or two, I order a coffee table book straight from the app, and it shows off every piece of art they've made (or, just the ones I select to include) in a compact package. And in my house, pretty much every guest who comes over has picked up the book to flip through it, with the proud artists looking over their shoulder.
2. Create a display area that kids can curate themselves
Create a DIY gallery display, like this smart IKEA artwork display hack by Buttons for Lou Lou, or the modern clothespin kids' atwork display we found at Historias de Casas, at very top. (Use Google translate or just follow her clear photo instructions).
Set it up near the table where your kids make their art, so they can see their work as they create. Then, when they finish a new masterpiece, ask them to replace one on display with their new artwork. If you let them curate their own gallery, they won't fuss over what gets hung up on display and what gets stored away.
3. Pair a photo of your child with their art
I love this creative use of multi-photo frames that let you pair your child's art with their photo that we found at Design Improvised. Of course, you'd need to keep a stash of smaller-scale "canvases" on hand for them to draw on to be sure they'll fit in the frame, but that way you can rotate them regularly to show off their newest creations. And be sure you click through the blog to see smart tips for hanging up multiple frames together.
4. Choose a frame that's easy to update.
It can be a real pain to take frames off the wall every time you need to update your kids art, so we'd choose a sleek, modern magnetic hanging frame instead, like the ones from Stiicks on Amazon (similar to the ones seen above, which are no longer available). Kids can simply lift off the top piece of wood — it's connected with magnets — and hang their new artwork.
It's a handy way to let paintings dry too. And because the design is so simple and stylish, it's great to hang in a shared family space, and easy to switch to a more grown-up look with family photos once the kids are all grown.
5. Create an Instagram gallery for their work
Create an Instagram account just for displaying your kid's artwork work, like our editor Kristen did for her daughter. Public or private, this way long-distance friends and family can have the chance to see your kids' artwork too.
Of course, you can frame your favorites, turn them into refrigerator magnets you'll see every time you need a snack, or even make an inexpensive Instagram photo album of just their artwork so your offline friends can see it too.