For the little girls in my life, ages 6–9 has been a craftaholic phase. One that's moving away from cardboard and pipe cleaners and more toward DIY craft kits for kids that result in beautiful finished products they can keep themselves or give to others — like to their favorite aunt on Christmas (hint).
And since crafting can be a fun bonding time for us, I've been looking for artsy DIY kits for kids that don't require too much painstaking detail work and that are totally self-contained, so we can eliminate any frenzied last-minute trips to the art supply store. Three cheers for that.
At top: Rudolph light-up card kit and Snowflake light-up card kit | TechnoChic
CMP is an rstyle affiliate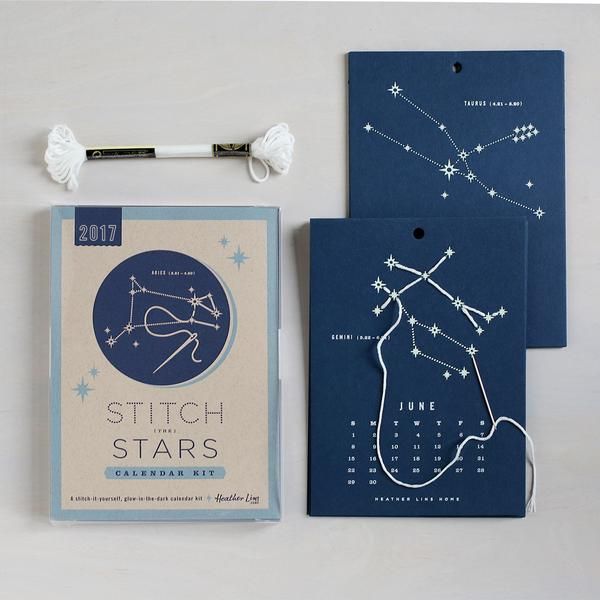 This 2017 Stitch the Stars Calendar Kit at Heather Lins Home is such a smart idea. The kit comes with glow-in-the-dark thread, so that after kids follow the simple stitch pattern and pin to their wall, the constellations light up at night. Such a sneakily fun way to learn about a bit more about astronomy too.
Let it glow, let it glow, let it glow. I love this Light-Up Paper Flowers Kit at Techno Chic that gives a nod to STEM. It includes LEDs and batteries that attach to the flowers to make them light up and shine bright. This kit comes with brooch pins, too, so your kids can show off their handiwork at holiday parties when they're done. Click through to see more of their brilliant ideas, from white-and-gold tree ornaments to the DIY Christmas cards (shown at the top).
Related: 62 cool gifts for kids under $15, and they don't feel like stocking stuffers
With intricately patterned birds, leaves, and woodland creatures, you're pretty much guaranteed to make something gorgeous with this dreamy Mon Petit Art Flowery Doe Creative Kit at Perfectly Smitten. We love the wreath-like look of this creation, but with this kit, kids can really make any composition they'd like. Gift this enchanted-forest-in-a-box to a special crafty kid in your life and watch their imagination run wild. We're sorry, but this item is no longer available.