Feats of strength, superhuman powers, outrageous costumes…our superheroes (and beloved supervillains) have it good. Which is why it was so much fun to pull together this list of amazing superhero party themes for girls we know our girls will love.
Of course, we know our boys will love these party ideas too, just as our girls love Batman, Spidey, and Captain America. But, here, we're giving some extra super-props to some super-fierce females who are capturing the hearts of our girls right now.
We searched the web to find the most wow ideas out there. From Wonderwoman and Batgirl to Harley Quinn and ooooh the new Iron Man (or, should we say woman?), here are 20+ ways to pack some punch with your daughter's next birthday party.
CMP is an rstyle affiliate
At top: Wonder Woman Superhero Birthday Party | Bella C Parties
Related: The awesomest superhero gifts for the awesomest superhero girls.
Superhero Party Themes for Girls: Wonder Woman
Wonder Woman is obviously the most popular of all superhero party themes for girls so we found a few fabulous ideas including a cool comic-style photo booth and a new twist on those gold cuffs. Also, be sure to check our post on best superhero party ideas on a budget because so many awesome ideas!
But first, this cake because WHAM!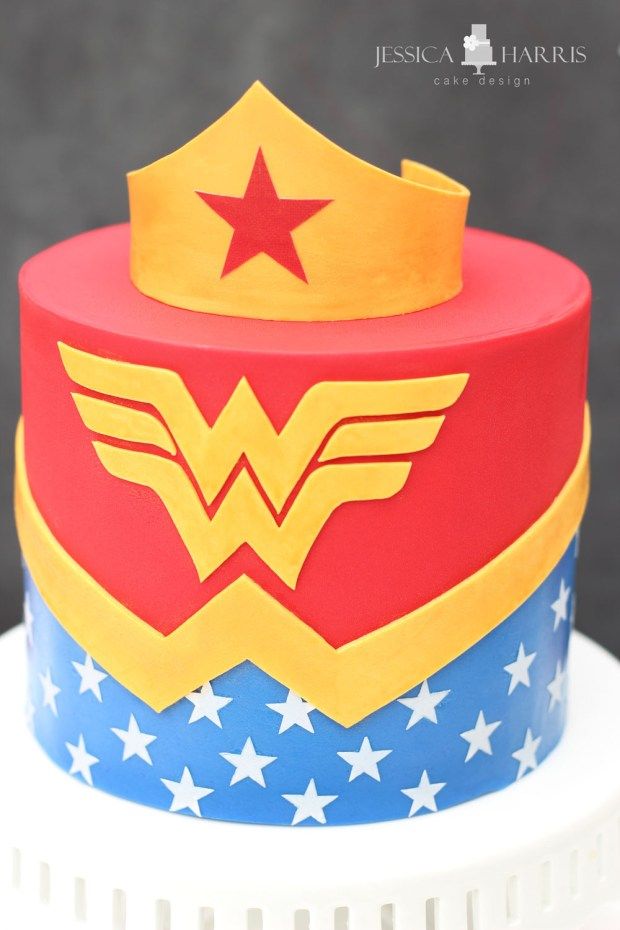 This Wonder Woman cake by Jessica Harris Cake Design is total perfection. While I am not suggesting us mere mortals attempt this cake (because, whoa!), I like it as inspiration. Maybe frost a two-tiered cake red and blue, or add white edible stars to blue frosting.
You can always finish it off with something like this awesome Wonder Woman cake topper set we found over at Etsy.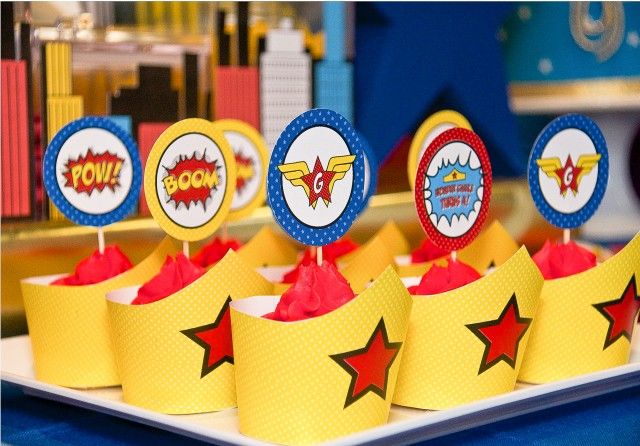 If cake baking isn't one of your superpowers, don't worry. Anders Ruff has a slew of creative Wonder Woman party printables you can buy, and these golden headband wrappers make every cupcake extra special.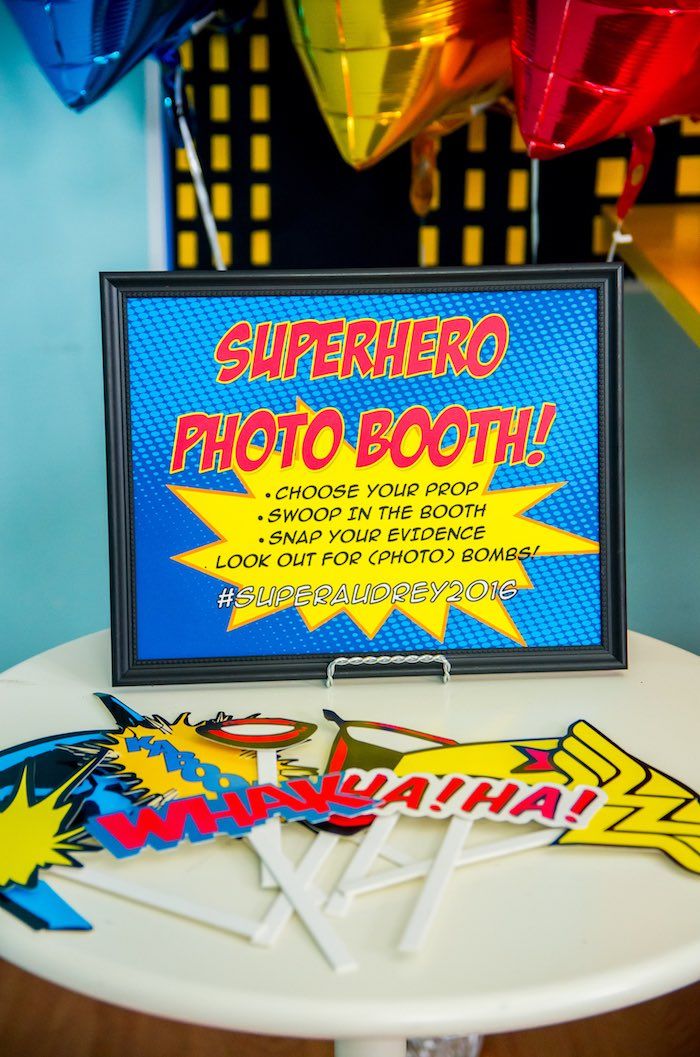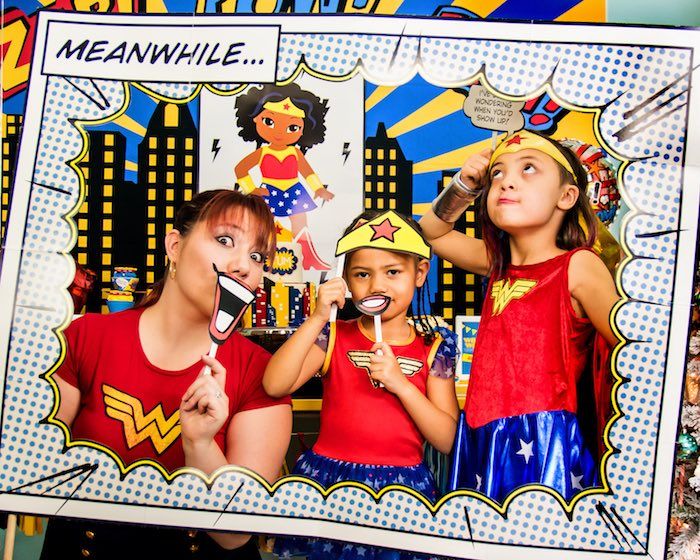 You have to check out this amazing Wonder Woman event by Bella C Parties (also at the top of this post) that went full pop art with Wonder Woman photo booth printables. Click over to see all her fabulous ideas. I especially adore this cartoon frame, which you could possibly DIY with large white poster board — and don't forget the strategically placed comic book speech bubbles! (h/t Kara's Party Ideas)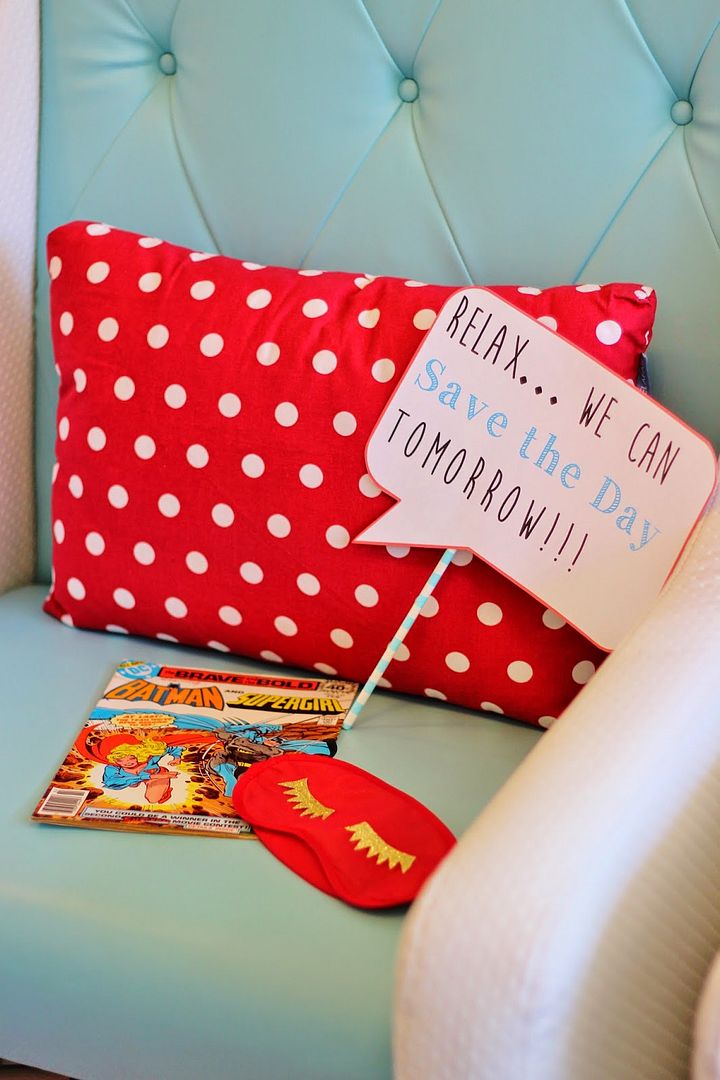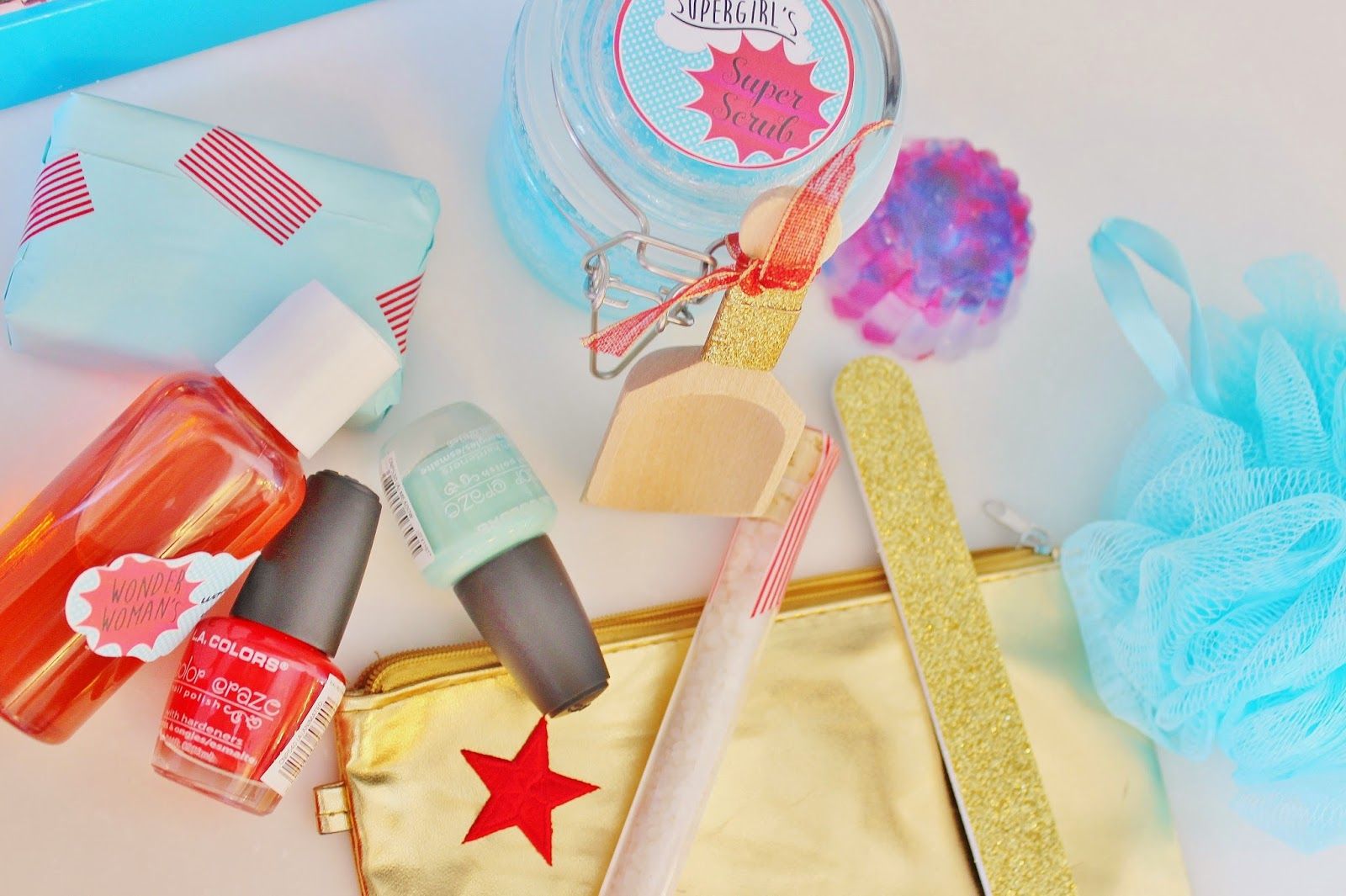 Million Dollar Smile Celebrations takes a different approach to celebrating one of our most beloved superheroes: a Wonder Woman spa party, because, even Wonder Woman and her pals need some pampering, right? What a cool idea for tweens and older girls.
Love the vintage comic books on pedi chairs and those awesome gold wristlet souvenirs — so clever! (h/t Hostess with the Mostess)
Superhero Party Themes for Girls: Batgirl
Batgirl has made a comeback this year thanks to the LEGO Batman Movie, and we love this superhero party theme idea for girls. In fact, be sure to check our LEGO Batman Movie party ideas post where there's tons of cool ideas that's just perfect if you're focusing on on one of our favorite female crimefighters.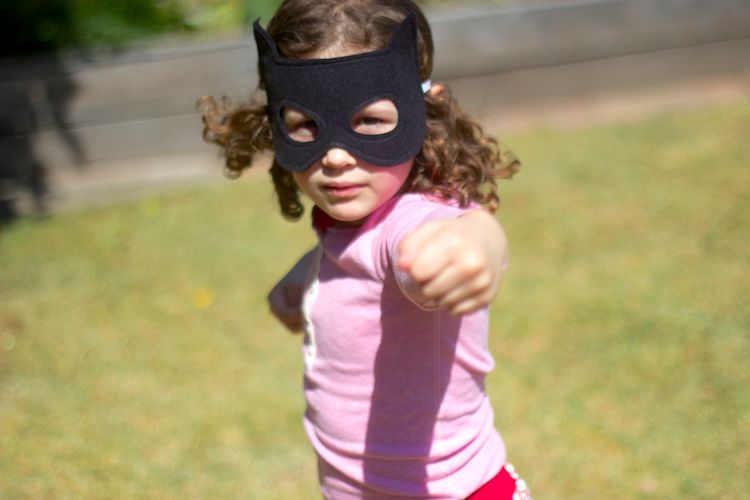 Because let's be honest, a lot of superhero party ideas are really about the masks, make them a DIY party activity, use them as place cards, or let kids decorate their own and they can double as party favors.
If you're handy with a needle and thread, Willow and Stitch has a free DIY superhero mask pattern you can use to make bat masks. Remember, Batgirl's colors are purple and black with gold accents.
Or if you'd rather save some time, you can buy an assortment online (like these bat masks from No Limit Parties and Crafts). Then, set out some fabric stickers and glitter glue and BOOM — crime-fighting costume complete.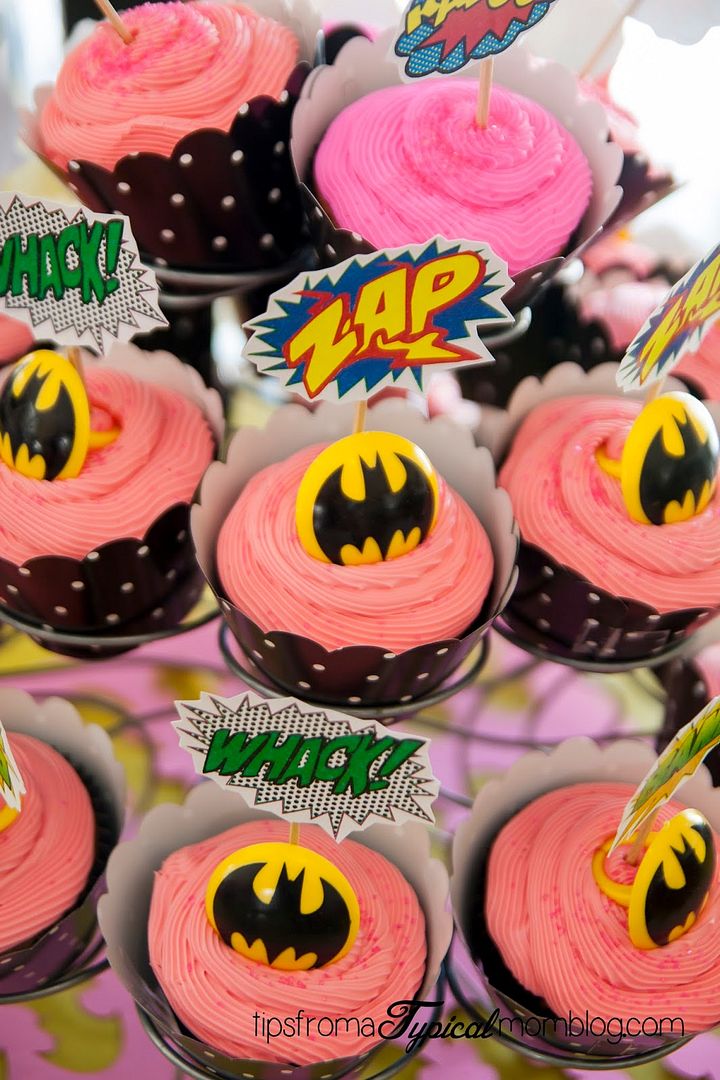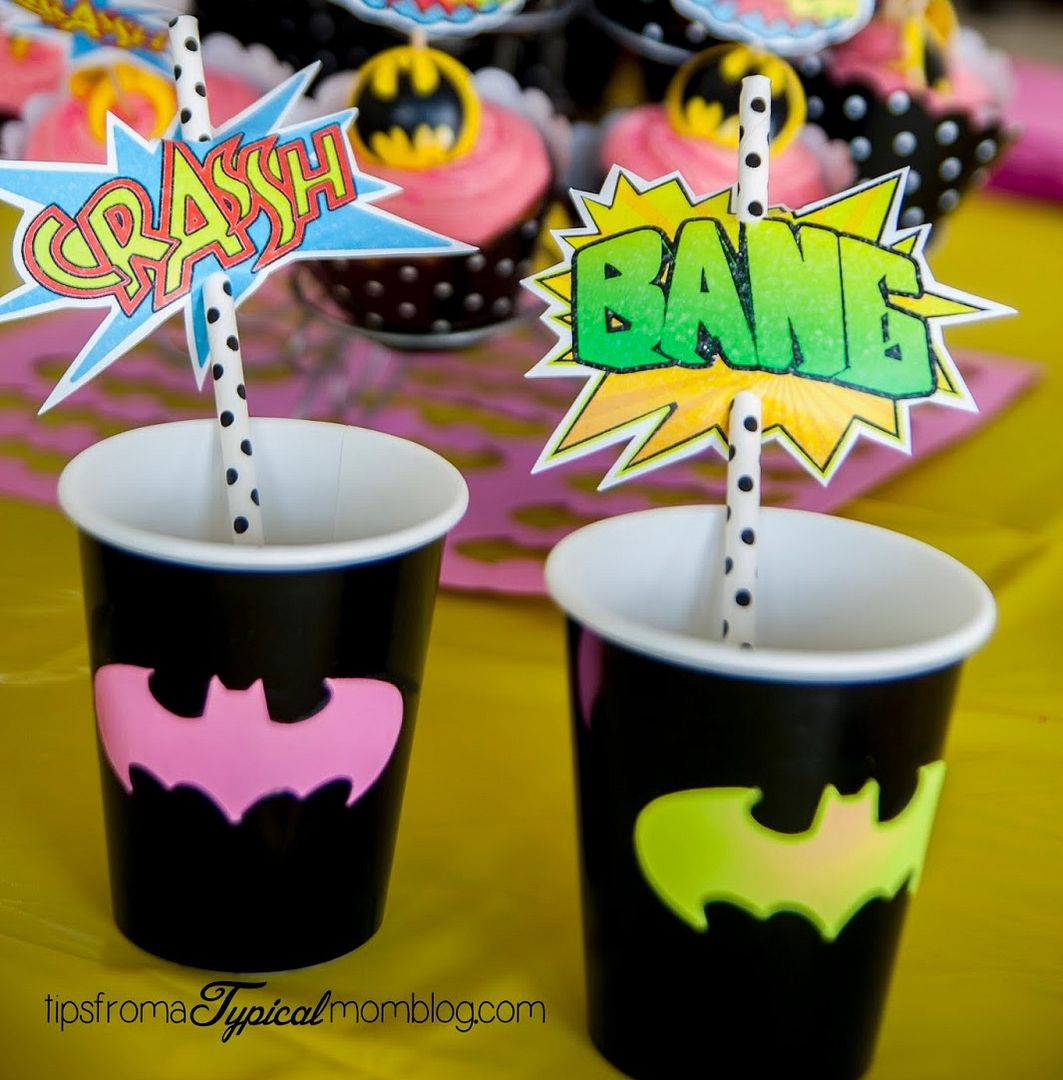 Tips from a Typical Mom Blog's super fun Batgirl birthday party went the way of retro comic books — with plenty of crash-bang Batgirl printables for cupcakes toppers, cups and straws. You can easily deck out the whole party this way — from the table decor to the favor bags. But we might go purple with the cupcake frosting.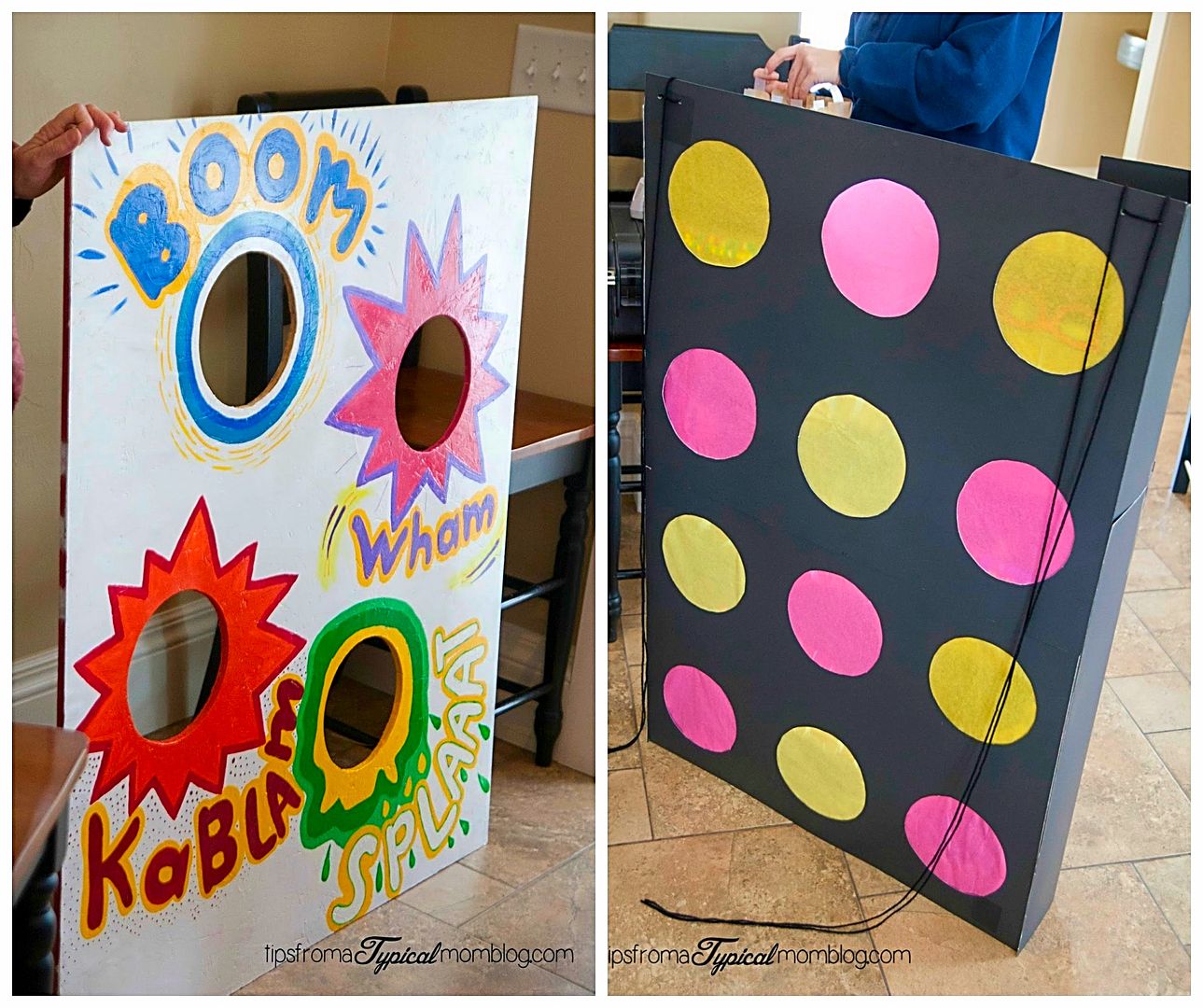 But the real showstopper from Tips from a Typical Mom Blog was the unique, interactive party games like a handmade beanbag toss and a punch-out prize grabber — possibly a bit time-intensive but totally worth it! Click over to check out all of the amazing ideas for an awesome superhero birthday party!
Also check out this tutorial from A Casarella on how to DIY this game where everybody wins.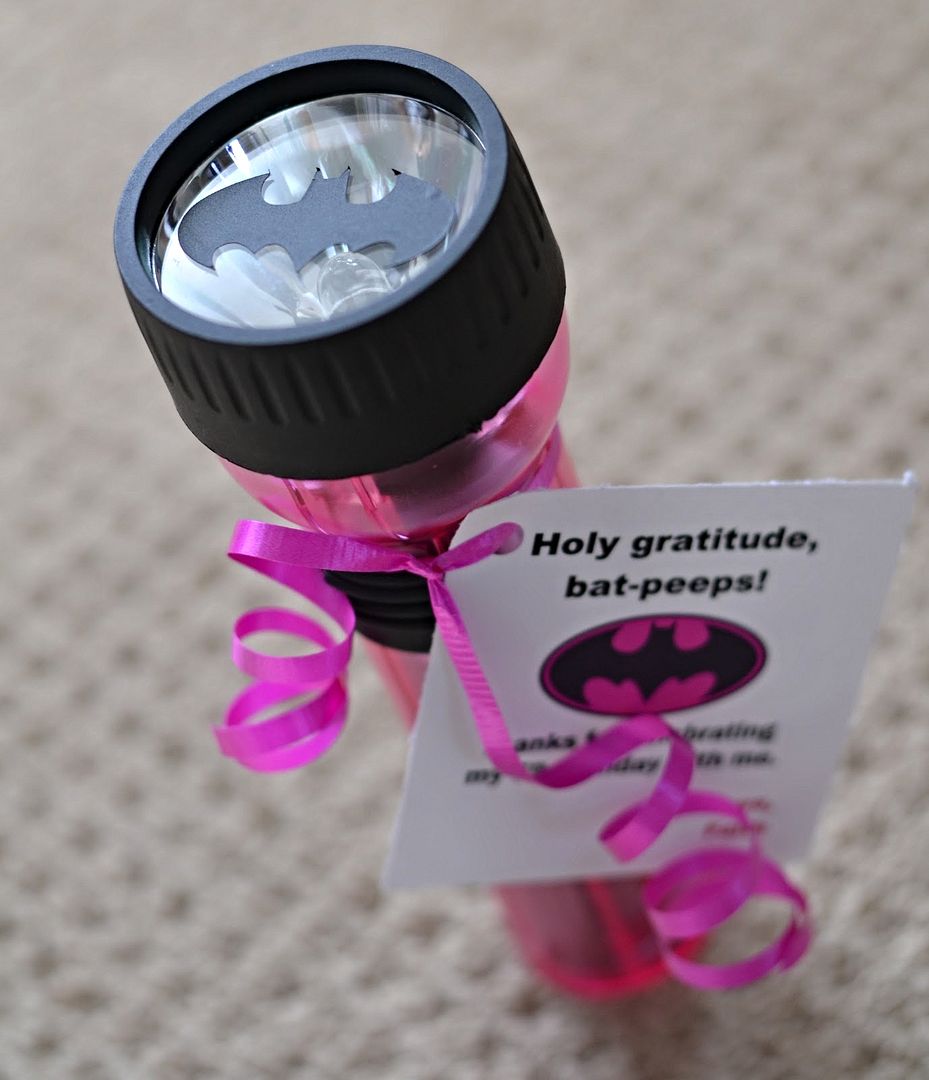 And what Batgirl birthday party would be complete without a bat signal? For her daughter's Batgirl birthday party, Busy Miss B bought mini flashlights and hand-cut bat logos to make cute bat lights for take-home favors.
Related: Superhero party ideas for super parents (who are on a super budget).
Superhero Party Themes for Girls: Harley Quinn
Harley Quinn is one of those supervillains that's so badass, it would be easy for HQ-themed parties to lean into PG-13 territory — as anyone who's seen Suicide Squad might guess. Luckily, there are super-awesome ways to keep this superhero party theme for girls on the G-rated side.
I found these cute custom Harley Quinn party invitations by Snips and Snail, which I think are just perfect for partygoers of any age. They start at about $13 for 12 invitations, but you can also download a digital file for about the same cost and print as many as you need at home.
Check out this Joker and Harley Quinn "Mad Love" party by Capes & Crowns — it's over-the-top awesomeness and rich with details like creative cake pops, jester-y souvenir bags, and these prescription pad signs, which would be fun for kids to doodle on while they wait for cake to be served.
Loving these Harley Quinn cheese-and-pretzel hammers that I found on Finspi. They look nutritious, delicious, and — most importantly for busy parents — way easy to assemble.
But for other treat ideas, think about red and black: two-tone cupcake frosting; bowls of single-colored M&Ms; red and black licorice whips — so many fun options. I might even sneak in some red pepper strips with dip.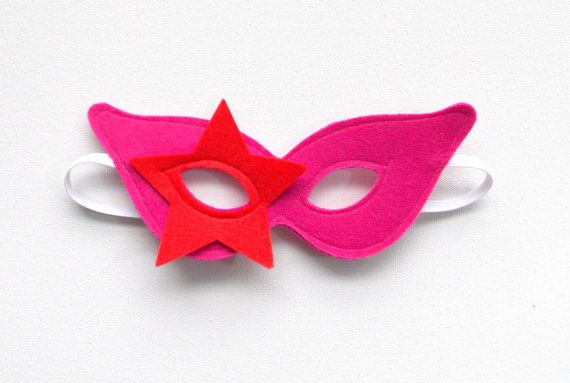 HQ has a certain glamorous circus-sideshow kind of style to her, which partygoers can emulate with this superhero mask by Monichelle Designs that we included in our roundup of cool superhero gift ideas for girls. Itt comes in lots of different colors and other styles too. Get one for every boy and girl at the party, and they even double as take-home favors for imaginative play long after the party is over.
Superhero Party Themes for Girls: Black Widow
Some of our girls like the dark side and are more inclined to want a theme like a Black Widow birthday party where they can play their favorite arachnoid super villainess.
So we searched around and found a few party ideas that are dark but still fun.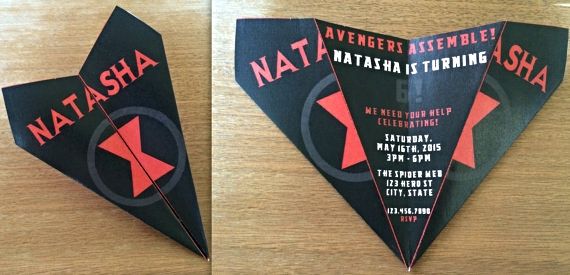 There aren't a billion Black Widow-specific parties out there from which to draw inspiration, so you have to get a little creative while snooping around the web. One trick I found: skimming ideas from Avengers parties is especially effective.
Rock Your Walls starts with some sleek Black Widow paper airplane invites, which are so cool and fun to play with too.
But also think about black, black, and black.
For craft that means making your own spiders out of black pipe cleaners, or having fun with origami paper. Set out black tablecloths or use black crepe paper banners and buntings. And of course, there's the food.
The Chic Site decks out a pizza pie with black olives and tomatoes for the Black Widow's logo — smart! Well, at least if you have kids who dig black olives. But the whole DIY personal pizza party activity and lunch idea is terrific and kids will love making their own if you follow her directions.
For kids who aren't big on either black olives or tomatoes (like mine, for instance), I would use pepperoni to shape out the hourglass symbol.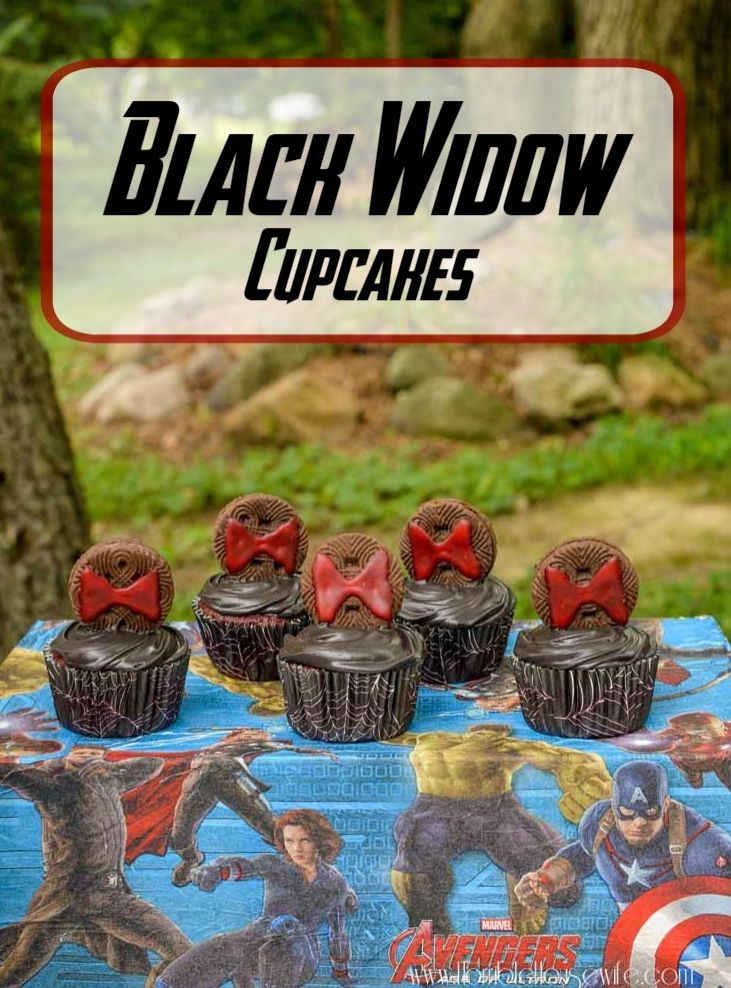 For dessert, I found these awesome Black Widow superhero party cupcakes at The Horrible Housewife: She iced Black Widow logos on chocolate sandwich cookies, and affixed them to the tops of red velvet cupcakes. Check out her semi-homemade shortcuts and you can totally pull this off without any super powers.
Related: The easiest DIY superhero cape project, no pattern required
Superhero Party Themes for Girls: Ironheart 
The next comic character to don the Iron Man suit…is actually a girl named Ironheart (whoo!). So I looked around for some favorite Iron (Wo)Man superhero party ideas for girls and found some really fantastic inspiration!
The good thing with this one, is you can just search for Ironman party ideas, then adapt them as you see fit.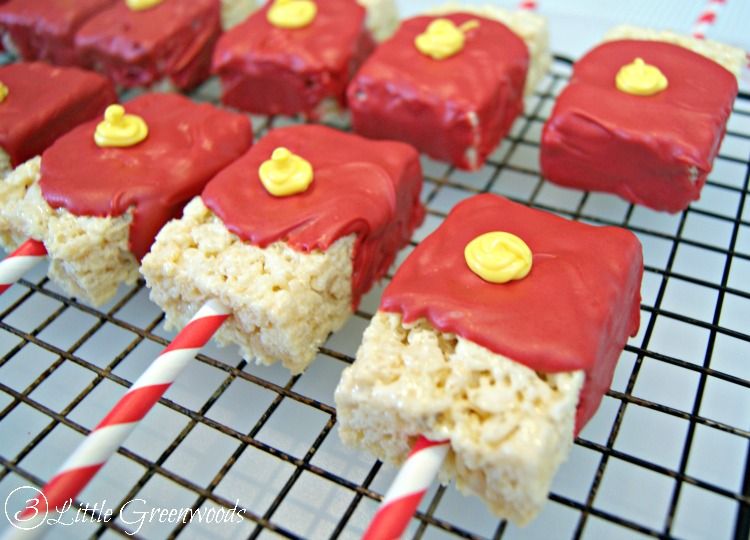 I saw lots of Iron Man cake pops, which were impressive, and you could always just use cupcake toppers on homemade or store-bought treats. But for something that splits the difference between homemade and grab-it-at-the-supermarket, check out these easy-to-make Iron Man themed Rice Krispy treats by 3 Little Greenwoods. Her instructions are so clear and I love how they come out.
Treats are actually so easy when you just think of gold and red: Yellow and gold layered jello cups; fruit skewers alternating strawberries or raspberries with pineapple; red and golden apple slices for dipping in nut butter or Sunbutter — use your imagination.
For something outrageous though, Ashleigh Nicole Events put out these rad Iron Man paint-your-own-cookies as a fun party activity; they're entirely edible and easy to clean up too. Her entire site is full of remarkable party inspiration, including those other beloved female super heroines: Anna and Elsa. Definitely take a look.
(And if you're in the SoCal area, hire her for an unforgettable party, seriously.)
For a DIY version of paint-your-own cookies, I found a tutorial at Sugar Coated Nanagrams. It does require some specific products (who knew about Stencil Genies?) but you will totally win Mom of the Year if you pull that off.
Party activities can get so creative: Pin the glowing hand on Iron Heart (ha), mask decorating, superhero relays, photo booths, face painting… but I really love this idea for flashlight tag using DIY Iron Man light-up gloves. Check out the DIY onTotally the Bomb because, how awesome are these?
Superhero Party Themes for Girls: Supergirl 
Last but definitely not least, there is Supergirl, our beloved superheroine and for many of us, the epitome of girl power. I found so many great ideas for throwing a cool supergirl birthday party and here are just some of my very favorites.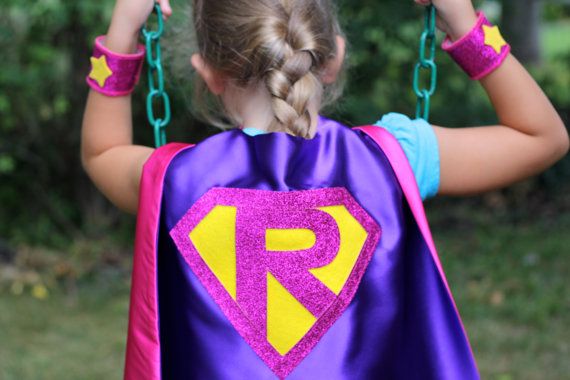 Every Supergirl party should start with a Supergirl cape, and Superkid Capes makes that happen with colorful customized initial capes. Definitely snag one for the birthday girl, and if you're having a smaller party and your budget can handle it, consider getting one for each of the other superkids in attendance too.
We're also massive fans of Sew Plain Jane whose custom capes are perhaps the most affordable we've seen anywhere. She even sells DIY kits so that each birthday guest can create their own capes as a fun party craft activity.
This supergirl party by Amanda Soloman of Fabracadabra Designs that we found at Hostess with the Mostess has genius ideas you can adapt to any superhero party theme for girls (or boys for that matter). Click over to see how she set out various fruits and veggies — along with plenty of treats and candy — with signs explaining the superpowers that each one imparts.
Of course, asparagus won't really give your kids X-Ray vision, but don't tell them that. (Do we still get to say that carrots help you see in the dark though?)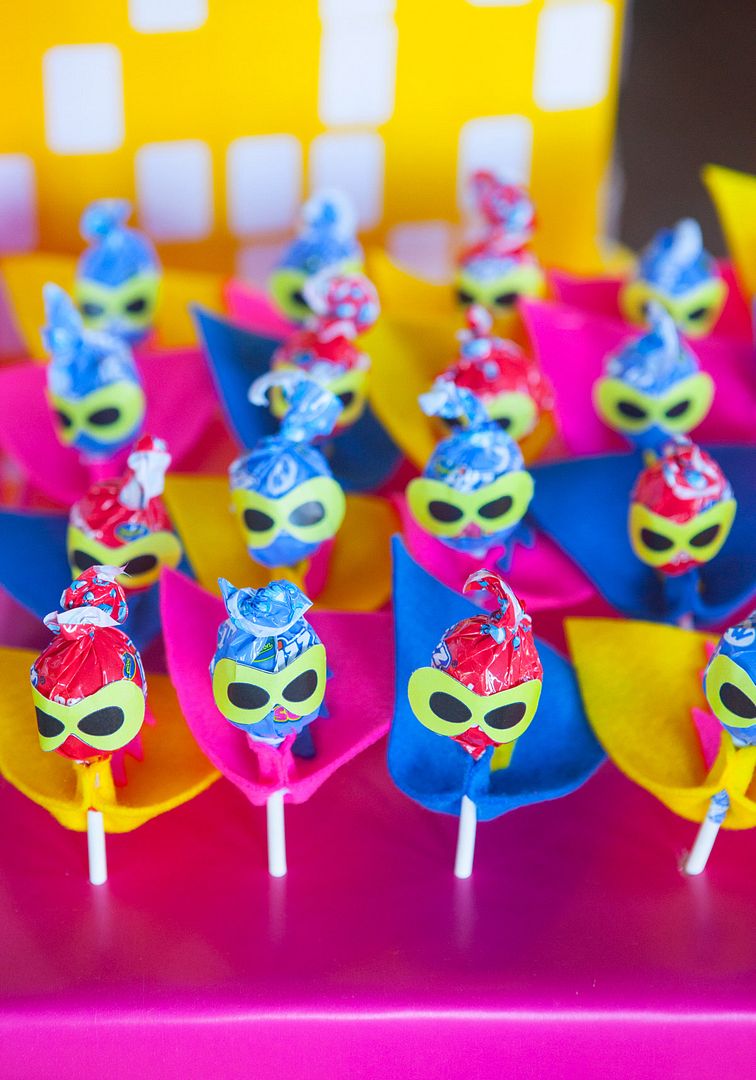 Love these amazing DIY superhero lollipops outfitted with masks and felt capes by Sunshine Parties. I think it's safe to say these probably wouldn't last too long so we suggest you snap photos right away. Because they sure are super to look at.  (h/t Pretty My Party)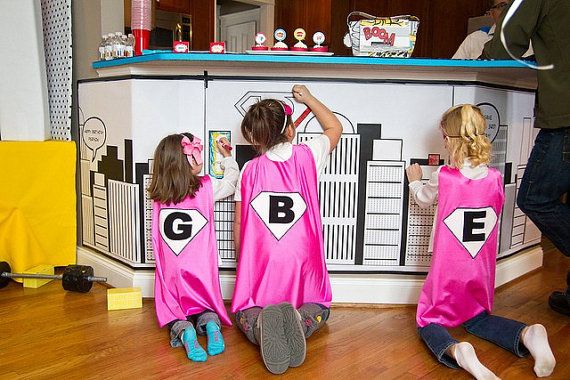 Craft and coloring activities are always great for when guests arrive, or as the party slows down and kids regain energy before cake. This customized cityscape poster from AR Party Printables provides plenty of party atmosphere, but it's also an all-hands-on-deck coloring activity that can keep kids busy a while.
And because all supergirls need somewhere secret to get their superpowers on, Sunshine Parties' shindig also included this superhero cardboard phone booth. What I love best about it is that I'm pretty sure it would remain a permanent fixture in my kids' playroom long after guests had gone home. (h/t Pretty My Party)