I love that it's become par for the course these days to raise our girls with the knowledge that they can do whatever they want and be whomever they aspire to be — astronaut, organic farmer, singer, plumber, President. And we're all hoping they use their undeniable powers for good, which, if you think about it, is kind of the essence of a superhero. So, in honor of National Superhero Day (yes, that's a real thing!), we've rounded up some of our favorite superhero gifts for girls who can do, well, anything.
(Top image: superhero capes from Lovelane)
From dolls and capes to books and artwork, I think these are some wonderful gifts that will remind your girls that they are just as strong, smart, and ready to take on the world as they feel they are.
And while yes, of course all superhero toys and gifts are for all kids, we do know there's something special our girls feel when they spot one made with just them in mind.
CMP is an rstyle and Amazon affiliate
Related: The coolest superhero gifts for every super kid. 
We're huge fans of the exquisite handmade superhero dolls from La Loba Studios on Etsy. So fun that their clothes are interchangeable and the masks are removable — you know, so they can go undetected when they're not saving the world. I love how you can order a doll made to look like your child, with the specific skin, hair, and eye colors you choose. Plus, you can ask Emese to add on a name tag to the cape to personalize it even more.
I mean, come on with these awesome superhero Robeez. These will win over many hearts at baby shower sand will make your new walker a real standout on the playground. They're available up to size 24 months, so your littlest super heroines can rock them in serious style.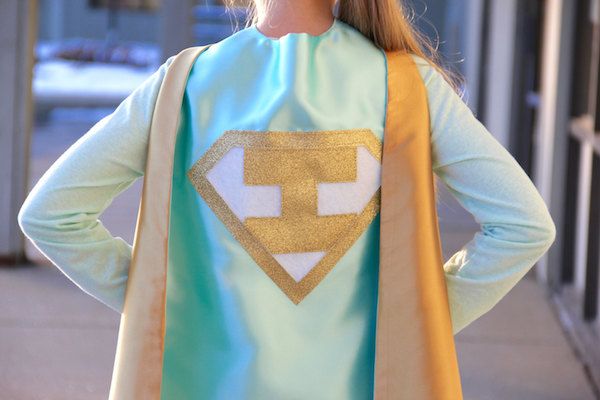 We discovered two Etsy shops that make incredible handmade superhero capes. The stylish, retro superhero capes at Lovelane (at very top) have a cool vintage vibe that reminds us of Evel Knievel in the best possible way.
Or, for girls who like a little more shine, check out the glitzy superhero capes (shown here) handmade by Super Kid Capes which can be customized with an initial or a trait like Super Reader or Super Sister. Then again, if your supermom power is crafting, you could always DIY a superhero cape instead.
I'm pretty much obsessed with the cute handmade arm cuffs made by Her Flying Horses on Etsy. And I think my kids would be too. The artist creates everything from these adorable girl power cuffs to lightning bolts, spider webs, and wings. Good luck trying to get these off at bedtime, though.
Related: The very best superhero party part ideas on a budget

With one of these Bowie-esque handmade felt superhero masks at Monichelle Designs, your daughter could be a superhero, a pop star, or any persona of her dreams. They're incredibly inexpensive, and this shop has a ton of great reviews.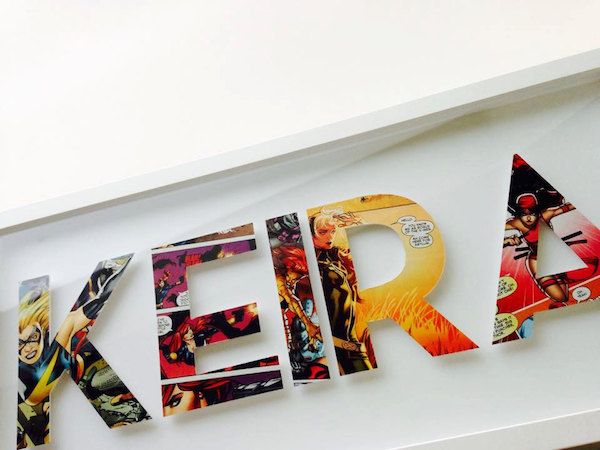 We first fell for the custom  lettered comic name art from Spotted Flats for Father's Day gifts, but we think our girls who are into superheroes and comics will love one too. You even get to choose the superheroes you want featured on each custom letter.
Is your daughter's superhero power reading? I think this superhero pencil pouch by Irena Sophia at Society 6 is great for our older girls. You can get this design printed on everything from an iPad to a rug, but we love this little linen pouch — perfect for holding pencils and a library card, or for older girls, a lip gloss, feminine products, and whatever other secret super treasures might be in her possession. No Kryptonite.
We're pretty sure My First Book of Girl Power by Julie Merberg is the board book every little girl needs, whether she's a superhero fan or not. It's a good lesson in being strong and courageous and kind and compassionate. Yes, these traits really do go hand-in-hand — a powerful combination I think the world needs more of these days. One small criticism: A little diversity please with the super gals?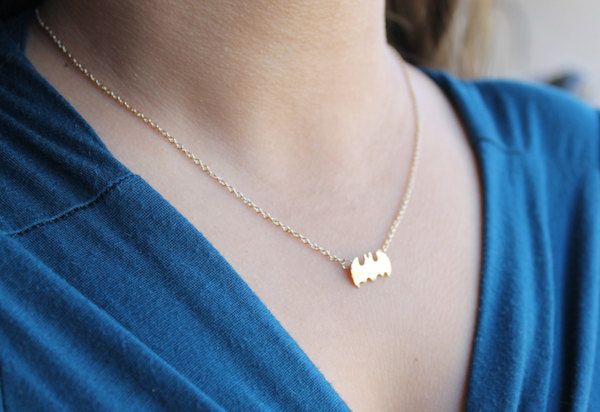 This tiny Batman necklace at MKBejewel is a perfectly subtle way to wear your love for the dark knight, and at a price we love, too. Definitely for the kind of girl who turns up her nose at the cute animals or rainbows her friends might be wearing around their necks.
We're clearly not alone as big fans of the edgy IAmElemental superhero action figures. What started as a Kickstarter launched a hugely successful line of action heroes, in part because each one's power comes from a character trait like Bravery, Energy, Honesty, and Persistence. The figures look more athletic than va-va-voom, plus, they're ethnically ambiguous, so they reflect every kind of girl who's playing with them.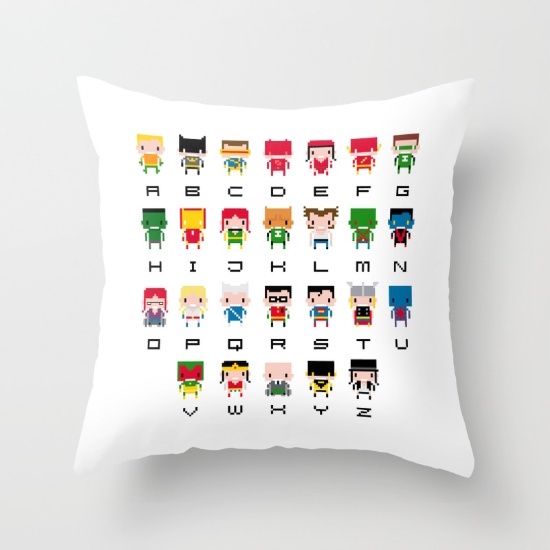 I'm geeking out over Pixel Power's pixel superhero alphabet print at Society 6. I love that you can get it printed on anything from a cute throw pillow to a mug, phone or tablet case, or even a duvet cover. Or maybe all of them.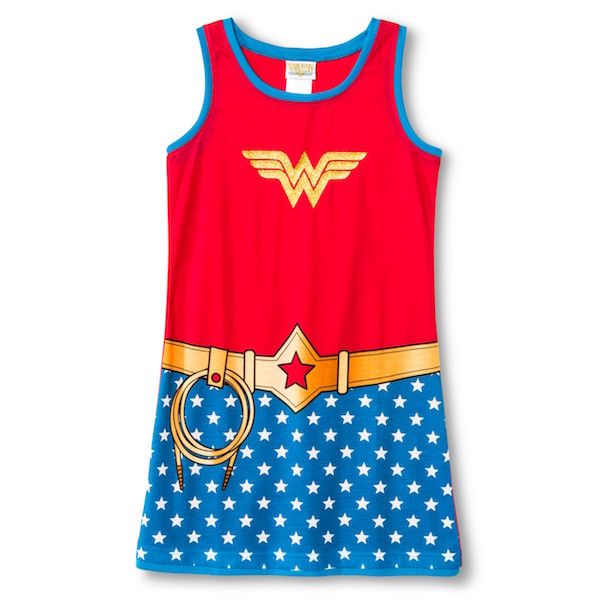 My only question is, why isn't this Wonder Woman nightgown at Target available in adult sizes? And it goes without saying, even though we all know this is a nightgown, I can pretty much guarantee it will be worn all the time, everywhere by most little girls. Who can argue with that?