I am especially egg-cited about these egg-ceptionally (ha!) fun and easy Easter crafts made entirely with household objects. No schlepping to the store, no waiting in line, no expensive price tags…just good old-fashioned crafting with what we have laying around at home.
Because when it comes to crafting, my kids and I share the same belief: The fewer trips to the craft supply store, the better.
At top: Cork bunnies for Easter |instructions at Willowday
Related: Irresistible Easter bunny crafts you'll like making as much as your kids do

These sweet Easter bunnies by I Heart Crafty Things prove that only good things come from cupcake liners (even if not actual cupcakes). Click over to get all her pro tips, including how to make those perfect teardrop-shaped bunny ears.

T-Shirt Yarn Bunnies Easter Craft
Red Ted Art has an easy-to-follow tutorial for how to strip all those old, never-to-be-worn-again T-shirts into yarn, and then loop-and-knot to create the most adorable yarn bunnies. Don't they look like they have the perfect amount of squish?
If you want to make an easy Easter craft from household objects, we know you have an egg carton lying around, right? Although we discovered this egg carton rooster by Tuteate Y last year, we knew we just had to feature him again this year because he's just so darn cool looking. The instructions are in Spanish, but hey — that's what Google Translate is for.
Related: Delish DIY Easter treats that are fun and easy to make. (Really!)
If you have a few spare champagne corks — or can manage to find some after a few rounds of Easter brunch mimosas (heh) — these cork bunnies by Willowday (also shown at top) are a sweet and easy project. Check her site for all the supplies you need; but if you don't have a glue gun or washi tape, I'll bet you can wing it with whatever glue and tape you do have at home.
We discovered these easy-breezy plastic spoon rabbits by Krokotak last year as an easy Easter craft made with household objects, and it easily became a cool craft that is high on our list of all-time favorites. Now you can finally make use of all those leftover take-out spoons that you can't seem to ditch (um, that's not just me, is it?).
Coffee Filter Watercolor Easter Egg Craft
Artzy Creations may just have turned us onto the prettiest possible use of spare coffee filters. That is, if you haven't used them all up yet, coffee lovers — hey, mornings can be hard! But this Easter craft definitely isn't, and she's got all the details at her site.
We love Melanie's idea to tie them together with ribbon for a festive garland. Another idea: Once dried, you could add people's names to them and use them as place cards for your Easter brunch.
Related: 2 easy methods for making your own natural Easter egg dyes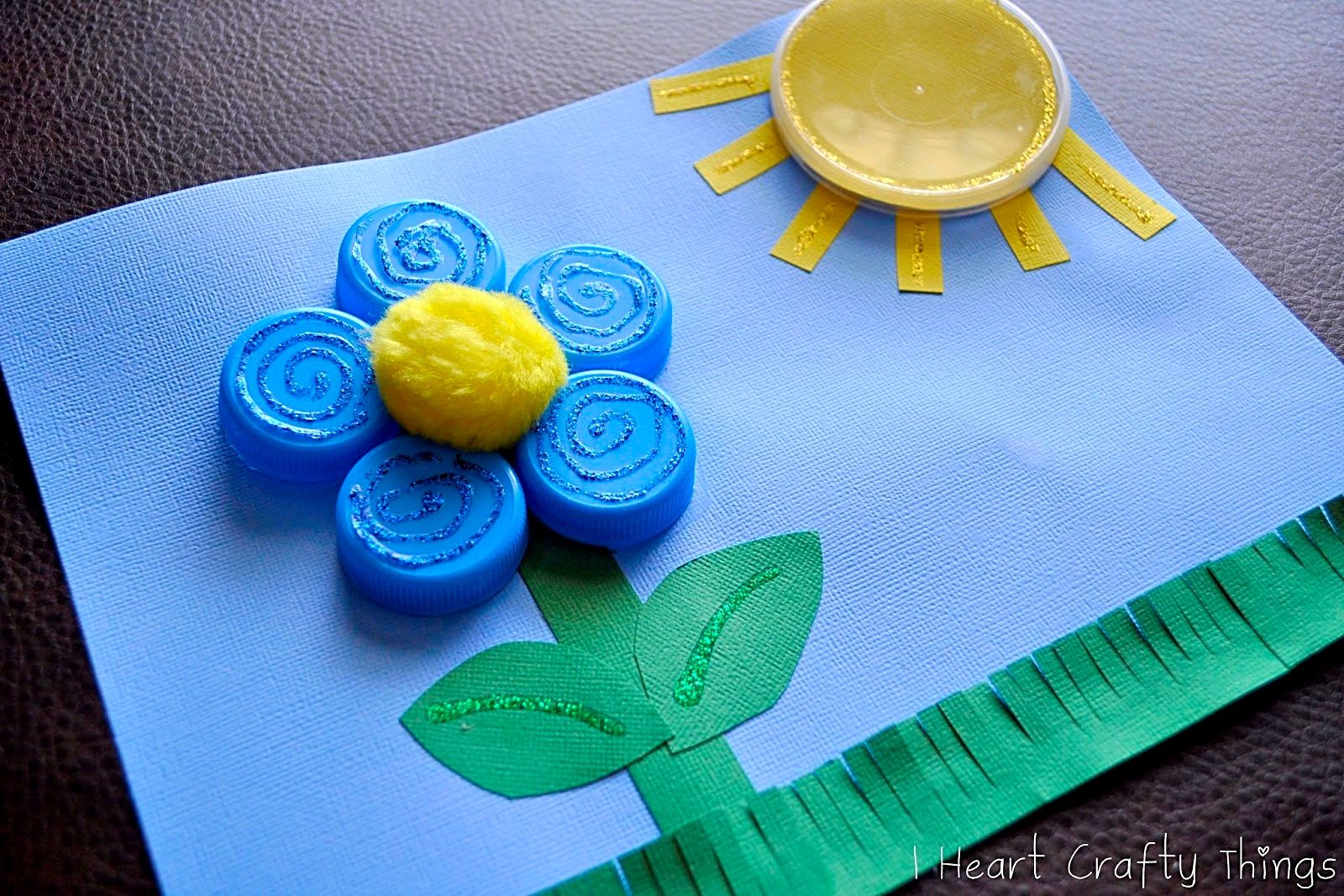 Our house has an abundance of bottle caps that I just knew would come in handy someday. Well, someday is today! I'm smitten with I Heart Crafty Things ideas for turning a mundane object into something pretty for spring, making it a very smart Easter craft with a household object we can all easily find somewhere.
She shares more ideas on her blog, so be sure to check it out, but I adore this Easter flower, which we also featured in our roundup of easy flower craft ideas for kids.
It's practically guaranteed that if you have kids, you already have everything you need for these craft cuties by Vicky Barone. Although if you don't have googly eyes or feathers on hand it's okay — improvise with paper cutouts, fabric scraps, buttons, or whatever other objects you do have in your craft bin.
Related: 9 more fun Easter crafts to make with everyday household objects
Spring Chicks Egg Carton Craft
I seriously giggle (out loud, by myself, at my desk) whenever I look at these cute little birdies with a tutorial found at Typically Simple — there's something about them that's just so bouncy and happy. Her instructions make this look like such a fun, easy Easter craft that I think I wouldn't be able to stop at a dozen!
This absolutely adorable Easter bunny craft by Meaningful Mama forgoes a cottontail in favor of a cotton face. At first glance, it looks a bit challenging to glue all of those fuzzy cotton swabs into perfectly concentric circles. But, really, if you read her tips (ha, tips!), it's actually pretty easy. Which should make even our littlest crafters hoppy. Er, happy.